What to Pack for a Day Hike: Essential Gear and Complete Packing List
Post summary: A comprehensive list of 40+ items to pack for a day hike, including the ten day hike essentials and a free day hike packing checklist!
This post contains affiliate links, which means that I will make a small commission if you make a purchase using my links – at absolutely no cost to you!
You picked the perfect hike, the weather forecast looks great, and you're ready to lace up your hiking boots and hit the trail. But not so fast. Before you head out on your hike, make sure you pack all of your essentials and the correct gear!
When you're getting ready for a day hike, the last thing you want to worry about is what to pack. That's why we've put together this essential gear and packing list to help make your day on the trails as enjoyable and as safe as possible.
Whether you're hiking in the Adirondack Mountains, across the desert in Sedona, or through the jungle of Costa Rica, make sure to bring along these key items!
Scroll down for a list of what to pack for a day hike, or jump to the following sections:
Short on time? Pin now, read later!
SELECTING THE RIGHT HIKING BACKPACK
When it comes to hiking, one of the most important pieces of gear is your backpack. The best backpack is comfortable and fits all of the essentials items you need to bring on your day hike!
There are a few key things to consider when selecting the right hiking backpack:
Size: Hiking backpacks are measured in liters. A 10-30L pack is the ideal size for most day hikes. A pack under 20L is a fine for short day hikes or if you're only packing the essentials. If you're like me and you like to bring a few extra layers, camera gear, and lots of snacks, then you will want to choose a backpack between 20-30L.


.

Fit and comfort: A hiking backpack that doesn't fit properly can leave you sore and uncomfortable. For this reason, it's extremely important to have a high quality hiking backpack that fits you properly before you hit the trails.


.


Check out REI's Fit & Torso Size Guide for more information on how your pack should fit.


.


The best way to test a backpack's fit and comfort is to try it on in store with the help of an expert. However, if you buy online, I suggest buying from REI or Osprey, who offer free returns and exchanges.


.

Features: Hiking backpacks have different compartments and features that can be helpful when packing for a hike. Here are some important features to look for in a hiking pack:


.

Lots of external and internal pockets for storage and organization
Padded hip belt and chest strap to distribute weight
Mesh back panels to allow airflow so your back doesn't get overly sweaty
Attachment points and gear loops
Hydration reservoir compatibility
BEST BACKPACK TO CARRY YOUR GEAR AND HIKING ESSENTIALS
I personally recommend investing in an Osprey backpack. Osprey makes some of the best-fitting, highest-quality hiking backpacks on the market.
For men, I recommend the Osprey Talon 22.
For women, I recommend the Osprey Tempest 20.
READ THE FULL GUIDE: Best Hiking Backpacks for Women: Find Your Perfect Hiking Pack
---
PACKING FOR A DAY HIKE: THE 10 ESSENTIALS
If you're wondering what to pack for a day hike, start with The 10 Essentials. The 10 Essentials are the things you should carry with you every single time you go hiking. They're the very basic items you would need to keep you safe and even save your life in the event of an accident, an emergency, or if you unexpectedly had to spend the night outside.
Whether it's 2 miles or 20 miles, these are the things that should always live in your backpack:
NAVIGATION
Even if you know where you're going, navigation is an essential item to bring on your day hike because you never know what could happen!
We personally carry a satellite phone for navigation, maps, and satellite communication. After having been unexpectedly stuck in the Oregon Wilderness overnight without service, we love the peace of mind a satellite phone provides should we ever be stuck in that situation again (*knock on wood*).
Here are the best options for navigation according to your budget:
Satellite phone ($$$): The Garmin inReach Mini 2 offers 2-way communication, tracking, maps, and emergency SOS capabilities. You can also share your location with your loved ones, which is a wonderful safety feature.


.

Paid apps ($$): Apps like AllTrails and Gaia GPS provide access to offline maps so that you can use your cell phone to navigate without cell coverage. However, you do need to purchase the premium subscription to access that feature. AllTrails premium costs $29.99 per year, while Gaia GPS premium is slightly more expensive at $39.99 per year.


.

Compass, paper maps, free hiking apps ($): The most reliable, budget friendly option is a compass or a good ole' paper map, which you can sometimes pick up for free at park offices. You can also use the free version of AllTrails or Gaia GPS, but they're essentially useless if you lose cell service.
FIRST AID KIT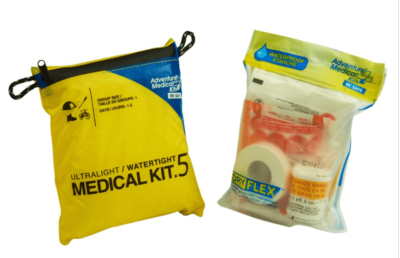 As much as we don't want to think about them, accidents can certainly happen – especially in the outdoors. That's why carrying a first aid kit is essential for any hike.
A well-stocked first aid kit should include items like bandages, antiseptic wipes, pain relievers, and sting relief cream. These items can be vital in the event of a minor injury or accident.
I recommend the Adventure Medical Kit because it contains everything you need to treat common hiking injuries, such as cuts, scrapes, blisters, minor allergic reactions, and bug bites. It's also ultra lightweight and watertight so the contents stay clean and dry. I've used mine many times for myself and to help fellow hikers on the trail.
Remember to take inventory of your first aid kit on a regular basis and restock as needed!
EMERGENCY SHELTER
If you get lost or injured, an emergency shelter can provide crucial protection from the elements and prevent hypothermia until help arrives. While most hikers will never need to use their emergency shelter, it's always better to be safe than sorry.
Your emergency shelter doesn't have to be a tent, either! An effective emergency shelter can be a tarp, a thermal blanket, or a bivy (which is essentially just a waterproof sack).
HEADLAMP AND EXTRA BATTERIES
A headlamp is one of the most important items you can bring on any hike. Not only will it help you see where you're going in the dark, but it also allows you to signal for help if you get lost.
I recommend a headlamp over a regular flashlight, because they free up your hands so that you can use them for other things, like holding trekking poles or navigating tricky terrain.
There are a variety of different headlamps to choose from, but in general, they're all relatively inexpensive and easy to use. The Black Diamond Spot 350 Headlamp is a great compact headlamp that comes with multiple brightness settings, red night vision, and a strobe light.
Don't forget to always carry extra batteries!
EXTRA WATER
As a rule of thumb, you should carry at least 1L (33.8 oz) of water for two hours of hiking. This doubles for strenuous hikes, or if you are hiking in hot and dry environments.
Carry your water in a reusable water bottle. Look for a bottle that's lightweight and skinny enough to fit in your backpack pockets. I recommend this 0.75L bottle for short day hikes.
For longer day hikes, you may want to use a hydration bladder instead of a water bottle. This one from Osprey holds 3 Liters of water and fits in a hiking backpack.
The downside to using a hydration bladder is that they can freeze in the winter. To prevent your hydration bladder from freezing on winter hikes, fill it with hot (not boiling) water and slip a cover over the hose to insulate it.
We also never hit the trail without an emergency water filtration system. I personally recommend the Katadyn BeFree Water Filter Bottle or a Lifestraw, but water purifying tablets work just as well.
NUTRITIOUS FOOD
Stave off hiker hunger by packing enough food to keep you going on your hike – plus some extra in the event of unexpected changes to your trip.
The best kind of food for hiking are things that are calorie dense and ready to eat. I prefer trail mix, granola, nuts, and GoMacro Bars. If you are hiking in hot, arid environments, pack some extra salty snacks to help replace the sodium you lose when you sweat.
EXTRA CLOTHES
When you head out for a day hike, it is important to pack a few extra layers or a change of clothes. Even if the weather seems fine when you set out, conditions can quickly change in the outdoors, leaving you cold and wet if you don't have appropriate clothing on hand.
Extra layers of warm clothes can also be helpful when climbing to higher elevations or facing strong winds, while waterproof pants and jackets can provide extra protection against rain or snow. In addition to keeping you dry and warm, having extra clothes in your pack can help to prevent common injuries like blisters and chafing caused by damp or sweaty clothing.
You will have to adjust your packing list according to your environment. But at the very least, I recommend always packing an extra pair of socks and a rain jacket.
For winter hiking, add an extra pair of mittens, a hat, and micro-spikes. Microspikes are essentially just a net of stainless steel spikes that fit over your boots to give you traction on icy trails. These ones from Kahtoola are the best on the market.
Read next: The Best Microspikes for Hiking on Ice and Snow
KNIFE/MULTI-TOOL AND REPAIR KIT
A knife or multi-tool is an item that you should pack for all of your day hikes because it can be useful for so many tasks, from cutting rope to preparing food.
You should also carry a small repair kit, which can be used to patch up holes in gear or clothing. A small roll of duct tape and some zip ties (for shoe lace repairs) are usually all you need for short day hikes.
FIRE STARTER / HEAT SOURCE
A reliable fire starter or heat source is essential to pack, even for a day hike. It doesn't matter what time of year it is. You will be glad for the ability to make a fire or keep warm if you ever needed to.
Your fire starter doesn't have to be super fancy or take up a lot of space. In fact, I recommend a few hand warmers, a box of storm proof matches, and a fire starter. Throw those into a small waterproof bag and you're good to go.
For longer hikes in cold weather, I recommend taking along a small camp stove as well, which you can use for extra warmth if needed.
SUN PROTECTION
Your level of sun protection will depend on where you're hiking. But at a bare minimum, you should carry a small bottle of sunscreen, sunglasses, and a hat to shade your face. This applies even if it's cold or cloudy!
For tropical environments, add a long sleeve sun shirt and a hat that covers your ears.
READ MORE: Top picks for Eco-Friendly Sunscreen
PERSONAL ITEMS AND MEDICATION
While not one of the 10 essentials, you will still need to pack any essential medication or personal items. I like to carry a small pouch on my day hikes with my ID, car keys, and some extra cash.
---
WHAT TO WEAR ON A DAY HIKE
Proper clothing is an important part of deciding what to bring on your day hike.
When it comes to hiking clothes, you should avoid cotton at all costs. This is because cotton retains water and holds the sweat close to your body, which will make you soggy and uncomfortable. Instead, choose hiking clothes that are made of breathable, sweat-wicking material, such as Merino wool, nylon, and polyester.
COMFORTABLE HIKING BOOTS
If there is one piece of hiking clothing you decide to splurge on, make it your hiking boots.
High quality hiking boots are an absolute must! The right hiking boots will keep your feet comfortable and dry, as well as provide increased stability and traction on the trail.
For technical hikes or long day hikes on rough trails, I recommend choosing a durable hiking boot with ankle support. There are a lot of good hiking boot brands out there, but Danner boots are my favorite.
For shorter hikes or walks on well maintained trails, choose lightweight hiking shoes instead.
Always remember to break in your new hiking boots before you hit the trail! There's nothing worse than blisters half way into your hike.
BREATHABLE BASE LAYERS
Your base layers and underwear are what will be sitting against your skin while you're hiking. That's why its important to choose base layers that wick away moisture and regulate your body temperature.
The absolute worst material you can wear hiking is cotton. It's heavy and takes forever to dry, which can draw heat away from your body and lead to hypothermia.
The best base layers are made out of Merino wool, polyester, nylon, or some combination of the three.
Check out the lists below for some of my favorite base layers.
Women's Tops:
Women's Bottoms:
INSULATING LAYERS AND OUTERWEAR
Dressing in layers allows you to easily modulate your core temperature throughout your hike. Of course, the layers you wear will depend on your specific day hike and environment, so you will have to adjust accordingly.
Start with your base layer and then add layers as needed, or store them in your backpack.
For warm weather, a light weight fleece zip up or Merino wool pull over will be enough. In cold weather, you will want to add a mid-weight or heavy-weight fleece and a packable, windproof jacket to keep warm.
Keep in mind that high elevation summits bring strong winds and cold temperatures, even in the summer. Keep warm by packing a jacket, like the Patagonia Nano Puff Jacket, which is super warm but packs up nice and small.
HIKING PANTS
Choose hiking pants that are durable and breathable. Good hiking pants will keep your legs cool and protect you from twigs, thorns, and brush along the trail.
I typically hike in my leggings from lululemon, but they definitely don't hold up as well as pants designed for hiking.
For more technical or high elevation hikes, I wear the prAna Halle Pants II. They're stretchy, fast-drying, super flattering and worth every penny.
For cold weather hiking, you can add Merino wool leggings underneath your hiking pants for added warmth (see the list of base layers above).
RAIN JACKET
The weather can be unpredictable, especially on longer hikes or at higher elevations. For this reason, I recommend always packing a rain jacket, just in case.
When it comes to rain jackets, you can buy ones that are *actually waterproof* or ones that are water-resistant.
Water-resistant rain jackets are a lot cheaper than waterproof jackets, and generally work fine for very light wind and rain showers.
However, I 100% think it's worth paying a little bit more for a rain jacket that is fully waterproof and will hold up against heavy downpours and a much wider range of conditions overall. You'll get much more use out of it this way.
I recommend the Patagonia Torrentshell Rain Jacket , which is constructed from 3-layer waterproof, breathable polyester. It also packs up super small, which makes it convenient to throw into your backpack.
HIKING SOCKS
Do yourself a huge favor. Leave your everyday socks at home and invest in a quality pair of wool hiking socks. Admittedly, it took me years to figure out the value of socks specifically designed for hiking, but now I will absolutely never hike without them.
Wool hiking socks provide cushion and support in all the right places to prevent chafing and blisters. They also help wick moisture and dry very quickly, keeping your feet cool when it's hot out and warm when it's cold.
Here are the hiking socks I recommend:
HATS, GLOVES, ACCESSORIES
Most of your body heat escapes through your head, so its always a good idea to carry a beanie for cold weather and high elevation hikes. For winter hiking, add a pair of mittens.
---
BEYOND THE 10 ESSENTIALS: ADDITIONAL ITEMS TO PACK FOR YOUR DAY HIKE
In addition to the 10 day hike essentials, there are a few other items that can make your hike more comfortable. These are the items that you should absolutely pack if you have room because, chances are, you'll be glad to have them.
TREKKING POLES
While not essential, trekking poles are wonderful to have on longer or steeper trails, especially if you have sensitive knees. They're also there to lend support on mud, scree slopes, or other treacherous terrain.
These Black Diamond trekking poles are lightweight, sturdy, and super easy to adjust, so you can spend more time enjoying your hike and less time worrying about your gear.
GARBAGE BAG
By following the Leave No Trace Principles, we can all help to keep our trails clean and pristine. This means packing out everything you pack in, including all garbage, toilet paper, and all food scraps.
Carrying a garbage bag with you is a super easy way to carry out all of your trash. You can also use it to pick up any litter you come across on the trail.
I always carry a compostable grocery bag with me, but you can use whatever trash bag you have handy. It also weighs nothing, so there's really no reason not to bring it along.
Once the bag is full, simply use a small carabiner to attach it to the outside of your pack until you find a trash can.
TOILET PAPER
If nature calls during your day hike, having a few squares of toilet paper will make you a lot more comfortable. Be sure to follow the Principles of Leave No Trace and pack out the toilet paper when you're done.
PORTABLE CHARGER
Goal Zero portable charger (weight: 4.4 oz)
Having a portable charger is essential for keeping your phone powered up on the trail so that you can enjoy a worry-free adventure. After all, your phone's battery drains much faster when it's actively using GPS or searching for signal out in the wilderness.
Getting caught with a dead phone halfway through your hike can be not only inconvenient, but also potentially dangerous if you end up losing your way in unfamiliar territory.
Fortunately, there are plenty of options when it comes to portable chargers. For a lightweight and compact solution, consider using a charging case that fits on your phone or a tiny power bank that can provide your phone with an extra boost of power, if needed.
WET WIPES
Wet wipes come in handy for removing dirt, cleaning off sweat, and leaving your skin feeling a little bit fresher. Buy a travel size or pack a few in a zip lock bag and throw them in your hiking backpack for when you need a little refresh.
I like to bring these Sea to Summit Wilderness Wipes along when hiking and camping. While they say they are compostable, you should never leave them behind. Always follow the LNT principles and pack them out!
BUG SPRAY
There's nothing worse than constantly swatting at bugs while you're hiking. Add a small bottle of bug spray to your list of day hike essentials to deter mosquitos, flies, and other annoying insects.
There are a number of effective insect repellents on the market. DEET is one of the most popular and longest-lasting options, but there are also natural repellents made from ingredients like lemon eucalyptus oil that can provide protection for up to six hours.
Here are my favorite, most effective DEET-free bug repellants:
READ MORE: How to Survive Black Fly Season in the Adirondacks
BEAR SPRAY
If you're hiking in grizzly bear country, you should carry bear spray as a bear deterrent. Bear spray is essentially like pepper spray on steroids, formulated specifically to deter an aggressive or charging bear.
Carrying bear spray is highly encouraged if you are hiking in places like Grand Teton National Park, Yellowstone, Glacier National Park, Banff, and British Columbia.
However, bear spray is the absolute last tool you should use to deter a bear, and it does not justify complacency in bear country.
Some parks, such as Yosemite, do not allow you to carry or use bear spray. Check park regulations before your trip.
You can buy bear spray online or in person at outdoor retailers.
CHAPSTICK
While not part of the 10 day hike essentials, every hiker should still carry a tube of chapstick in their backpack.
Not only are chapped lips no fun, but being outdoors in the sun can lead to sunburnt lips. Choose a chapstick that contains SPF and store it in the pocket of your hip belt for easy access.
PACKABLE TOWEL
A small backpacking towel comes in handy for everything from wiping your hands to drying off after an impromptu swim. I've also used mine as a picnic blanket a few times.
---
PACKING FOR A DAY HIKE: LUXURY ITEMS
To round out our list of what to pack on a day hike, let's cover some luxury items that you might want to bring along. These are the things that you don't need to bring with you, but are nice to have!
CAMERA
Lets be honest – hiking to photo-worthy views is one of my favorite things to do.
While a camera isn't an essential item to pack for a day hike, having one with you can make your hike that much more special.
Whether you're taking photos of the scenery, the wildlife, or your hiking buddies, a camera can help you preserve memories of your hike that you can look back on later. And if you're lucky enough to see something truly unique, like a rainbow or a brilliant sunset, a photo can help you remember the experience for years to come.
As a photographer, I always carry my Canon EOS R5 with me. But if you don't feel like dragging a giant DSLR with you up a mountain, a GoPro or your cell phone will also do the trick!
YOU'LL LOVE: 20 Bucket List Hikes in Upstate New York for Every Skill Level
TRIPOD
A tripod is convenient for taking selfies or long exposure shots. Tripods for full size cameras can be cumbersome and heavy, so I invested in the Sirui Carbon Fiber Travel tripod, which only weighs 1.87lbs and easily fits in the side pocket of my backpack.
I also bring along this travel-sized Gorillapod for my cell phone. You can mount it almost anywhere in order to take photos or videos of yourself, which is SO convenient.
BOOK OR KINDLE
Books are a great way to relax when you reach your destination. Simply climb into your hammock and dive into a good story after you take in the views. You can also pack a small survival book to help you identify local plants and animals along the trail.
Whatever book you choose, opt for paperback books, which are much lighter and easy to replace than hardcover books.
Bonus if have a kindle, so you can bring more than one book!
BINOCLUARS
A small pair of binoculars can be a valuable addition to your hiking kit! They can help you spot birds, get a better view of the landscape, and allow you to see wildlife up close while maintaining a respectful distance.
They're also small and lightweight, so they won't add much bulk to your pack. I recommend investing in a cheap pair like these Nikon Trailblazer Binoculars, which are also waterproof and weigh less than 1lb.
HAMMOCK
I can't even count how many times we've strung up our hammock on our day hikes. There's honestly nothing better than arriving at your destination and getting to relax in total comfort while you soak in the views.
The ENO double nest hammock is a wonderful option that fits two people. It's relatively lightweight and super easy to set up. Simply string it up between two sturdy trees and kick back and relax.
---
WHAT NOT TO TAKE ON A HIKE
When it comes to what to pack for a hike, it can be easy to get carried away with all sorts of gear and equipment. However, there are certain things that you should avoid bringing on your day hike.
Jewelry – Fancy jewelry has no place on trail. It's too easy to lose it or ruin it, and it might end up irritating you once you start sweating.


.

Cotton clothes – say no to cotton clothes. Cotton is too thick and absorbs water, which can be irritating in the summer and down right dangerous in the winter when you run the risk of hypothermia. Your entire hiking wardrobe should be Merino wool or synthetic fabrics that are quick drying and breathable
Speakers – Part of good hiking etiquette is to respect fellow hikers, and no one wants to listen to someone else's music on the trail. If you want to listen to music, try wireless ear buds instead :)


.

Too many clothes – I know, I know. I just told you to pack layers. But you should only pack the layers you need, nothing less, nothing more. Anything else will just weigh you down. This also goes for carrying winter gear in the summer.


.

Expensive electronics – You won't need electronics, like your laptop or unnecessary camera accessories.
---
DOWNLOAD THE PACKING CHECKLIST
Now that you know what to pack for your day hike, grab this free downloadable checklist. You can print it out and use it to make sure you have everything you need next time you hit the trails.
If you have any questions or need advice on what to wear or pack for your specific hike, leave a comment below. I love getting feedback from you and helping hikers of all levels get the most out of their outdoor adventures!
Are there any other items that you would add to this list? Let me know in the comments!
Day Hike Inspiration
Indian Head and Fish Hawk Cliffs in the Adirondack Mountains (The Complete Hiking Guide)
Hike the Artists Bluff Trail in Franconia Notch State Park NH
Hiking the Tiger Fern Falls Trail in Cockscomb Basin Wildlife Sanctuary, Belize
Hiking the Mount Van Hoevenberg Trail in the Adirondacks (Amazing Views for Little Effort!)
Pins for your Pinterest
WANT TO SAVE MONEY TRAVELING?
Check out my list of reliable budget-friendly travel resources that are guaranteed to save you the most money, without compromising your experience.