Hiking the Mount Van Hoevenberg Trail in the Adirondacks (Amazing Views for Little Effort!)
Mount Van Hoevenberg is best known as the hub of Lake Placid's Olympic sites, including the skeleton and bobsled track, and over 50km of cross country ski trails. But there's more to this mountain than Lake Placid's Olympic Legacy!
On the other side of the mountain, you can access the summit of Mount Van Hoevenberg via a four-mile round trip hike with unobstructed views of the surrounding High Peaks. In fact, The Mount Van Hoevenberg Trail boasts some of the best views in the Adirondacks – and for relatively little effort!
In this post, I'm sharing everything you need to know about hiking the Mt. Van Hoevenberg Trail in Lake Placid, NY.
So, keep reading for directions, trail information, maps, and some gorgeous photos that will have you lacing up your hiking boots and running out the door!
Are you planning a trip to Lake Placid? Check out these posts to help you plan your trip to the Adirondacks!
17 Cozy Cabins to Rent on Airbnb in the Adirondacks
How to Plan Your Road Trip Using Google Maps
10+ Incredible Hikes Near Lake Placid
Need help planning your Adirondacks itinerary? Contact me for customized itinerary planning, starting at $25/day!
MT VAN HOEVENBERG TRAIL OVERVIEW
Distance: West trail: 4.4 miles out and back; East trail: 3.6 miles out and back
Mt Van Hoevenberg Trailhead Location: South Meadow Trailhead (West Trail); Olympic Sports Complex (East Trail)
Elevation Gain: 892 ft (272 meters)
Total Hike Time: Approximately 3 hours round trip
Trail Rating: Moderate
Parking Fee Required: No
WHERE IS MOUNT VAN HOEVENBERG AND HOW DID IT GET ITS NAME?
Mt. Van Hoevenberg is a lower-elevation summit point located in the town of North Elba in the Adirondack Mountains of Upstate New York. Here are some drive times and distances to Mt Van Hoevenberg from major towns/cities nearby:
Lake Placid, NY to Mt Van Hoevenberg: 9 miles south, 15 minute drive.
Keene Valley, NY to Mount Van Hoevenberg: 15 miles north, 25 minute drive.
New York City to Mount Van Hoevenberg: 287 miles north, 5 hour drive.
Mt Van Hoevenberg is named after Henry Van Hoevenberg (1849 – 1918), who was a well-known Adirondack pioneer, and builder/owner of the original Adirondack Loj. Van Hoevenberg is also credited with naming Heart Lake and Mt. Jo after his lover, Josephine Schofield.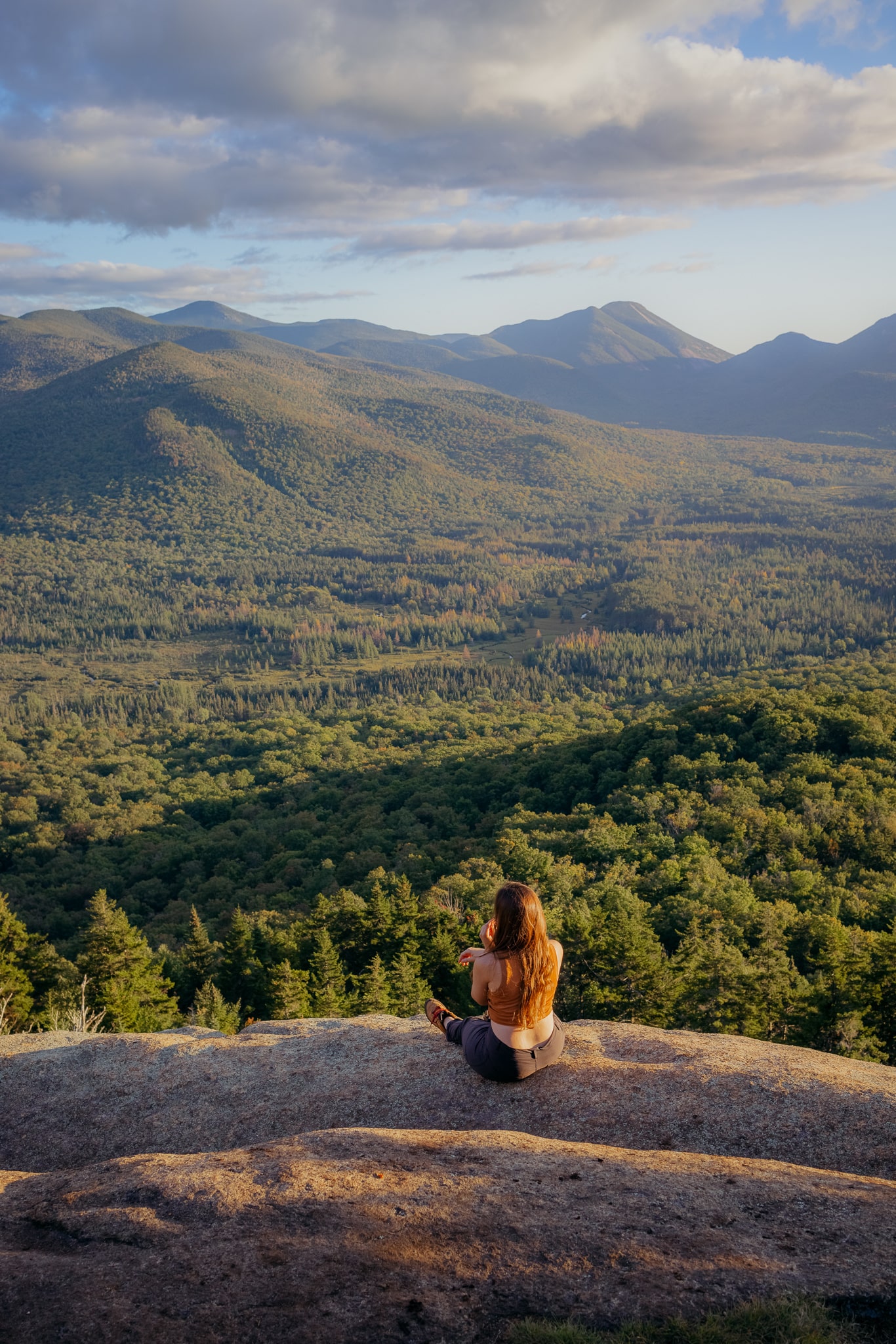 GETTING TO THE MT VAN HOEVENBERG TRAILHEAD
There are two trails that lead to the summit of Mt Van Hoevenberg. Both trails meet at the summit and are rated as moderate.
Since both trails meet at the summit, the Mount Van Hoevenberg hike can be done as loop. However, I suggest just choosing one trail and following it out and back. If you do choose to complete the loop, you need to have two cars, as its about a 7 mile drive between both trailheads.
West Trail from South Meadows Road
The Mt. Van Hoevenberg West Trail is reached via the South Meadow Trailhead, located on South Meadows Rd near Lake Placid. This trail is more rugged and 0.4 miles longer than the East Trail.
By default, Google Maps will direct you to the East Trail. To get to the West trailhead, follow Adirondack Loj Road for approximately 4 miles and then turn left at the sign for South Meadow. Continue on South Meadows Road for about 0.3 miles until you see the sign to Mt Van Hoevenberg on the left. Park off to the side of the road.
South Meadows Road is closed in the winter and parking is limited to the few spots at the start of the road.
If you are planning to camp at Mt Van Hoevenberg, you are allowed to park/camp for free at the designated campsites along South Meadows Road.
East Trail from the Olympic Sports Complex
The Mt. Van Hoevenberg East Trail begins on Bob Run Rd at the Olympic Sports Complex in Lake Placid.
This trail is much newer than the West Trail, and it's sustainable design and series of switchbacks make it the best trail option for groups, families, and anyone with sensitive knees.
The road to the East Trail is open between the hours of 9am-4pm.
The ridge along the Mount Van Hoevenberg trail
HIKING THE MT VAN HOEVENBERG TRAIL IN THE ADIRONDACKS OF UPSTATE NEW YORK – THE WEST TRAIL
The hike up Mt Van Hoevenberg via the West Trail is 2.2 miles one way. I suggest budgeting around 3 hours for this hike if you want to enjoy the views for awhile, but it only takes around 1 hour to reach the summit if you're hiking at a moderate pace.
The hike is rated as moderate, with a mix of flat stretches and steep sections along the trail.
And don't worry about leaving your dog at home! The Mount Van Hoevenberg hike is dog friendly.
TRAIL MAP OF THE WEST TRAIL FROM SOUTH MEADOWS ROAD
This is an interactive trail map of the Mt Van Hoevenberg hike via the West Trail off South Meadow Road. Don't forget to download offline AllTrails Maps before you head out!
TRAIL DESCRIPTION (WEST TRAIL)
The hike up Mt Van Hoevenberg via the West Trail begins on South Meadow Road, off Adirondack Loj Road in Lake Placid, New York.
Look for the sign at the trail entrance, which is located right next to the parking area off the side of the road. Walk straight into the woods, past a vehicle barrier, and onto the trail. Don't forget to sign in at the trail register!
The first section of the hike is incredibly pleasant. It's basically just a flat walk along a wide, well maintained path through thick coniferous and deciduous forest.
This flat part of the trail continues for approximately 1 mile before reaching a bog. You're close to the bog when the trail begins to narrow quite a bit. And by that, I mean that the wide, maintained trail transforms into a bit of a muddy herd path as it skirts around the perimeter of the bog.
Take a second to enjoy the view here! We saw tons of birds, some wildflowers, and a few beaver dams. And if you look straight head, you'll see Mt Van Hoevenberg along the edge of the opposite shore.
As you pass around the bog, be mindful of muddy areas and try to stay on the trail to avoid widening the trail and trampling vegetation. The NYS DEC has laid out several logs and boards to help you pass over more difficult sections.
We hiked this trail in late summer, so the mud wasn't too bad. But I can imagine this part of the trail becomes extremely muddy in the spring or after a hard rain.
Up until this point, the trail is flat. But as you clear the bog, the trail ascends toward Mount Van Hoevenberg's western ridge. The climb isn't overly difficult, but there are a few pretty steep, rugged sections to navigate before reaching the overlooks.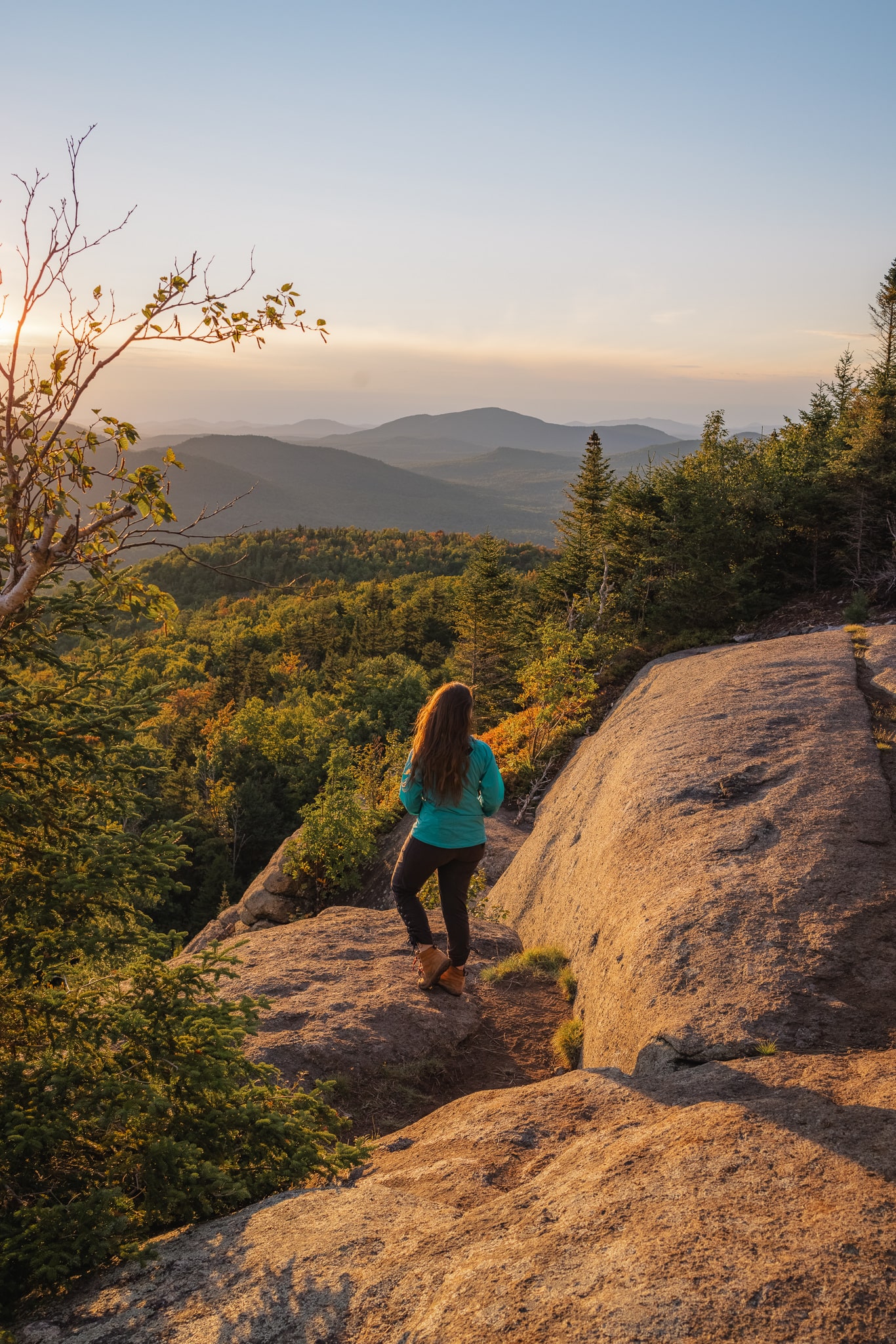 MOUNT VAN HOEVENBERG SUMMIT
The real summit of Mount Van Hoevenberg leaves much to be desired. However, there are a series of ledges along the ridge as you approach the summit that offer incredible 180-degree views of the surrounding High Peaks. The visible High Peaks include Marcy and Algonquin, with the expanse of South Meadow stretching through the valley below.
These ledges are accessible via both the East Trail and the West Trail.
The first two ledges have the best views, but you can continue up the ridge for alternate viewpoints. However, if you continue too far, you'll begin descending the East Trail.
This hike is not overly popular (yet), but don't expect to have it to yourself on a gorgeous summer or fall day. However, the good news is that there is plenty of space on the ledges to spread out, linger for a bit, and soak in the views!
THE BEST TIME TO HIKE MT VAN HOEVENBERG
A great time to hike Mt Van Hoevenberg is in the summer. However, due to its low elevation and expansive views, Mt Van Hoevenberg also makes an excellent hike to witness the Adirondack's world-renowned foliage display in the fall.
Do you love spending time outside in the winter? Then you're in luck! Hike Mount Van Hoevenberg in the winter to have the greatest chance of having the trail all to yourself. The well maintained trail is great for snowshoeing and cross country skiing.
The only time I'd advise against hiking Mount Van Hoevenberg is in the spring, due to muddy conditions and the notorious black fly season in the Adirondacks.
The best time of day to hike Mount Van Hoevenberg is just before sunset or just after sunrise for the best light. The largest ledge faces northeast and the smaller ledge faces north.
READ MORE: When and Where to Find the Best Fall Foliage in Upstate New York
BECOME A LAKE PLACID 9ER
The hike up Mount Van Hoevenberg is part of the Lake Placid 9! Become a Lake Placid 9er by summiting all 9 of these incredible hikes around Lake Placid:
1. Cobble Hill: 2.2 miles round-trip (moderate)
2. Mt. Jo: 2.6 miles round-trip (moderate)
3. Baxter Mountain: 2.4 miles round-trip (moderate)
4. Mt. Van Hoevenberg: 4.4 miles round-trip (moderate)
5. Big Crow Mountain: 1.3 miles round-trip (moderate)
6. Bear Den Mountain: 4.5 miles round-trip (moderate)
7. Pitchoff Mountain: 5.2 miles round-trip (hard)
8. Catamount Mountain: 3.6 miles round-trip (hard)
9. Hurricane Mountain: 6.8 miles round-trip (moderate)
MT VAN HOEVENBERG FAQs
How long does it take to climb Mount Van Hoevenberg?
The Mount Van Hoevenberg west trail is 2.2 miles one way, or 4.4 miles round-trip. The time to the top is roughly 1 hour if you are hiking at a moderate pace.
The east trail is 1.8 miles one way, or 3.6 miles round trip, and takes approximately 30-40 minutes to reach the top.
How high is Mount Van Hoevenberg?
The elevation of Mount Van Hoevenberg is 2,940 feet (896 meters). Given its relatively low elevation, MVH is a great hike for fall foliage around the end of September.
Is Mt Van Hoevenberg a 46er?
While Mt Van Hoeverg is not a 46er, you can summit two of the 46 High Peaks via the Van Hoevenberg Trail. The two peaks are
Table Top Mountain
(10.0 miles round trip) and
Mt Marcy
(16.7 miles round trip). Both hikes are rated as difficult.
Is hiking Mt Van Hoevenberg difficult?
The Mt Van Hoevenberg Trail is rated as moderate, in which you gain 892 feet of elevation over roughly 4 miles. The hike is not overly difficult, although some people may find the steep sections challenging. Always remember to take a break when you need to!
OTHER THINGS TO DO AT MT VAN HOEVENBERG
Mt Van Hoevenberg isn't just for hiking! There are actually tons of things to do at/around Mt Van Hoevenberg, so you can make it an all day (or even multi-day) destination during your visit to Lake Placid. For more information on things to do, visit the Mt Van Hoevenberg official website.
***
And that wraps up everything you need to know about hiking Mt Van Hoevenberg! I hope you found this post super helpful in planning your hike. And always remember to leave these wild places better than you found them by packing out your trash and following the Principles of Leave No Trace.
Happy hiking!
More posts about the Adirondacks!
Hiking Indian Head and Fish Hawk Cliffs in the Adirondacks
How to Survive Black Fly Season in the Adirondacks
Short Hikes with Incredible Views in the Adirondacks
Have you hiked the Mt Van Hoevenberg trail in the Adirondacks before? Let me know in the comments! I love to hear from you!
Don't forget to pin for later
WANT TO SAVE MONEY TRAVELING?
Check out my list of reliable budget-friendly travel resources that are guaranteed to save you the most money, without compromising your experience.