Hiking in Lake Placid: 10+ Amazing Hikes Near Lake Placid in the Adirondacks
Hiking in Lake Placid is one of the best things to do around this small mountain village. From leisurely walks to sprawling mountain views above the clouds, there's a Lake Placid hiking trail to suit all ages and skill levels.
In this post, I'm sharing some of my favorite Lake Placid trails within a short drive of the village center, including:
Mt Jo
Mount Marcy
Haystack Mountain
Cascade Mountain
Whiteface Mountain
…. plus a few lesser known gems!
So lace up your hiking boots and let's dive into the planning, packing list, and trail details for each of these incredible Lake Placid hikes!
Are you planning a trip to Lake Placid? Check out these posts to help you plan your next trip to the Adirondacks!
17 Cozy Cabins to Rent on Airbnb in the Adirondacks
How to Plan Your Road Trip Using Google Maps
When and Where to Find the Best Fall Foliage in New York State
Need help planning your Lake Placid itinerary? Contact me for customized itinerary planning, starting at $25/day!
REMEMBER TO LEAVE NO TRACE
Areas like the Adirondacks are particularly effected by the negative impacts of exposure on social media (and the internet in general) because they lack the funding, trail systems, and oversight to mitigate the negative resource and social impacts caused by overcrowding, overuse, and pollution.
However, I firmly believe that the outdoors is for everyone. I also believe that people are much more likely to protect nature when they are able to foster a personal connection with it. Part of forming that connection and protecting the outdoors is to follow the Leave No Trace Principles.
The Leave No Trace (LNT) Principles are 7 principles built on scientific research, that aim to minimize human impact through respectful, responsible and sustainable outdoor practices. The Principles include:
Plan ahead and be prepared
Travel and camp on durable surfaces. Always stay on the trail, especially in fragile alpine vegetation zones!
Carry out all of your trash (that includes apple cores, orange peels, etc.)
Minimize campfire impacts. Know where campfires are allowed and where they are not
Respect all wildlife
Be considerate of other visitors
Leave what you find. Take only pictures
.
For additional information, please review the Social Media Guidelines for Leave No Trace.
Overall, it is my hope that by sharing these special places with you, that you will take part in the collective effort to protect them, so they can remain wild and free for generations to come.
BEST TIME TO PLAN A LAKE PLACID HIKING TRIP
If you ask me, summer and fall are the best time to take any of these hikes in Lake Placid!
However, deciding the best time to hike in Lake Placid depends on what kind of adventure you want to have. Looking for long days and cotton candy skies? Visit in the summertime. Do you want to witness some of the best foliage displays in the United States? Book a trip in the fall!
Or maybe you're an avid skier or snowshoer, looking for some epic winter adventures. If that's the case, then you'll want to visit around December and January!
If empty trails and escaping the crowds are important to you, aim to visit between late October – late November, when peak fall season passes and the snow (hopefully!) hasn't accumulated yet.
I would, however, caution against booking a Lake Placid hiking trip in the spring (early April – early June). This time of year is known as "mud season". It's when the melting snow creates extremely muddy trail conditions. Not only does it make for an unpleasant hiking experience, but hiking in mud season can quickly erode fragile trail systems.
The notorious black flies also come out in the spring. And anyone who's hiked in the Adirondacks during black fly season knows that there's no faster way to ruin your vacation.
For more information on black flies, visit my post on How To Survive Black Fly Season in the Adirondacks
IMPORTANT TIPS TO KNOW BEFORE YOU GO
Over the last few years, the Adirondacks have seen an unprecedented number of search and rescue calls. These calls are almost always a result of lost hikers who have failed to do their research, or who have gotten injured as a result of being unprepared.
You never know what kind of conditions you may encounter on the trail in this wilderness area, so here are a few tips to help you be best prepared before you hit the trails:
Use AllTrails Maps. Some trails in the Adirondacks are poorly marked, so AllTrails is always good to have. The basic version is free, but I suggest subscribing to the PRO version for $30 per year to gain access to offline maps because you likely won't have cell phone service.
Do your research. This includes checking the current trail conditions, knowing how long it will take you to complete the hike, and assessing whether the hike is within your current skill level.
Be prepared! This includes, but is not limited to: wearing proper gear and carrying proper supplies, knowing what kind of trail conditions to expect, and telling someone where you're going and when you'll be back..
.
.
.
So, how exactly do you pack for these Lake Placid hiking trails?
Many of the trails in the Adirondacks are steep, rocky, and occasionally very muddy. And the higher you go in elevation, you can expect to encounter weather, temperature, and visibility that changes very quickly. Therefore, it's proper gear is paramount so you can stay safe and have fun!
Here's what I suggest packing for your Lake Placid hiking trip:
Sturdy, waterproof hiking boots: One of the most important things to have for your Lake Placid hikes is a pair of comfortable, waterproof hiking boots. Check out these ones from Danner!
Windproof jacket: High elevation summits bring strong winds and colder temperatures, even in the summer. Keep warm by always carrying a jacket, like these PrimaLoft jackets from REI.
Head lamp: You never know if you might get stuck hiking down in the dark. Always carry a headlamp, like this one from Black Diamond.
Trekking poles: Trails in the Adirondacks are very steep and trekking poles can help alleviate some of the stress on your knees, especially on the way down.
Day pack: A quality daypack is comfortable, waterproof, and has a lot of pockets. Bring one on these Lake Placid hikes to carry your water, snacks, and extra gear. Here's a list of all the best hiking backpacks for women!
Shop this Osprey Daylight Plus Pack
Microspikes: Hiking in the winter? Carrying microspikes is a good idea. They fit over your boots for extra traction on icy trails, which can start as early as October and last until May. These ones from Kahtoola are the best on the market. Snowshoes are also required by law in the Adirondack High Peaks Wilderness when there is 8 or more inches of snow.
Did you forget something? Swing by the Mountaineer in Keene to pick up what you need!
READ NEXT: What to Pack for a Day Hike: Essential Gear and Complete Packing List
BEST HIKES NEAR LAKE PLACID, NY
To share the best hikes in and around Lake Placid, I'm sharing this list of hikes within a 20 mile radius from the center of town.
MT. JO
Mount Jo is a popular hike that's best known for its amazing views of the surrounding High Peaks. At just over 1 mile, the hike to the top is incredibly short, making Mt. Jo a great hike for beginners, groups/families, children, and those who have a little extra energy left after climbing nearby High Peaks.
The trail begins at the Adirondack Loj parking lot, just across from the payment booth. It takes you past Heart Lake before ascending slightly to a junction, where you can choose to take the steep "short trail" (1.1 miles), or the moderate "long trail" (1.3 miles). Both trails rejoin just before the summit, where you're treated to breathtaking views of Heart Lake, the surrounding High Peaks, and the McIntyre Range.
Location: North Elba, NY; 7.7 miles from Lake Placid
Hike distance: Short trail: 1.1 miles one-way; Long trail: 1.3 miles one-way; Loop: 2.4 miles
Trail rating: Short trail: Strenuous; Long trail: Moderate
Elevation gain: 700 feet (213 meters)
Price to park: $15 per car (cash) at the Adirondack Loj
MT. VAN HOEVENBERG
Mount Van Hoevenberg is mostly known as the location of the Lake Placid Olympic bobsled and luge run. But on the opposite side of the mountain is a relatively short and moderately easy hike that leads to magnificent panoramic views of Mt. Marcy, Mt. Jo, and the McIntyre Range. Having only been constructed in 2018, this is a fairly new trail and is still relatively unpopular. This makes it an excellent hike for anyone looking to escape the crowds while staying close to the town of Lake Placid.
The there are two trails to the top of Mount Van Hoevenberg called the West Trail and the East Trail. The 'West Trail' begins at the trailhead on South Meadows Road, while the East Trail begins at the Olympic Sports Complex in Lake Placid, New York.
Check out full hiking guide on Mt Van Hoevenberg for all the details!
Location: North Elba, NY; 8.7 miles from Lake Placid
Hike distance: 4.3 miles round trip (West Trail)
Trail rating: Moderate
Elevation gain: 892 feet (272 meters)
COBBLE LOOKOUT
Looking for more of a leisurely stroll than a strenuous hike? Then this one's for you! Cobble Lookout is a relatively new hike near Lake Placid, located only 20 minutes north of the town center, in the Wilmington Wild Forest. Cobble Lookout is one of the easiest hikes on this list, and the views at the end are so stunning that it's almost hard to believe how little effort it takes to get there.
The 1.3 mile trail starts off at a gentle incline and then flattens out as it twists and turns through the forest. It takes about 20 minutes to reach the end. From there, the path opens up to a lookout with unobstructed 180 degree views of Whiteface and Esther Mountain. On a clear day, you might even see the Jay Range and Giant Mountain looming in the distance. Stay for sunset to see the town of Wilmington twinkling in the valley below.
Location: Wilmington, NY; 15.2 miles from Lake Placid
Hike distance: 1.3 miles one way
Trail rating: Easy
Elevation gain: 242 feet (74 meters)
WHITEFACE MOUNTAIN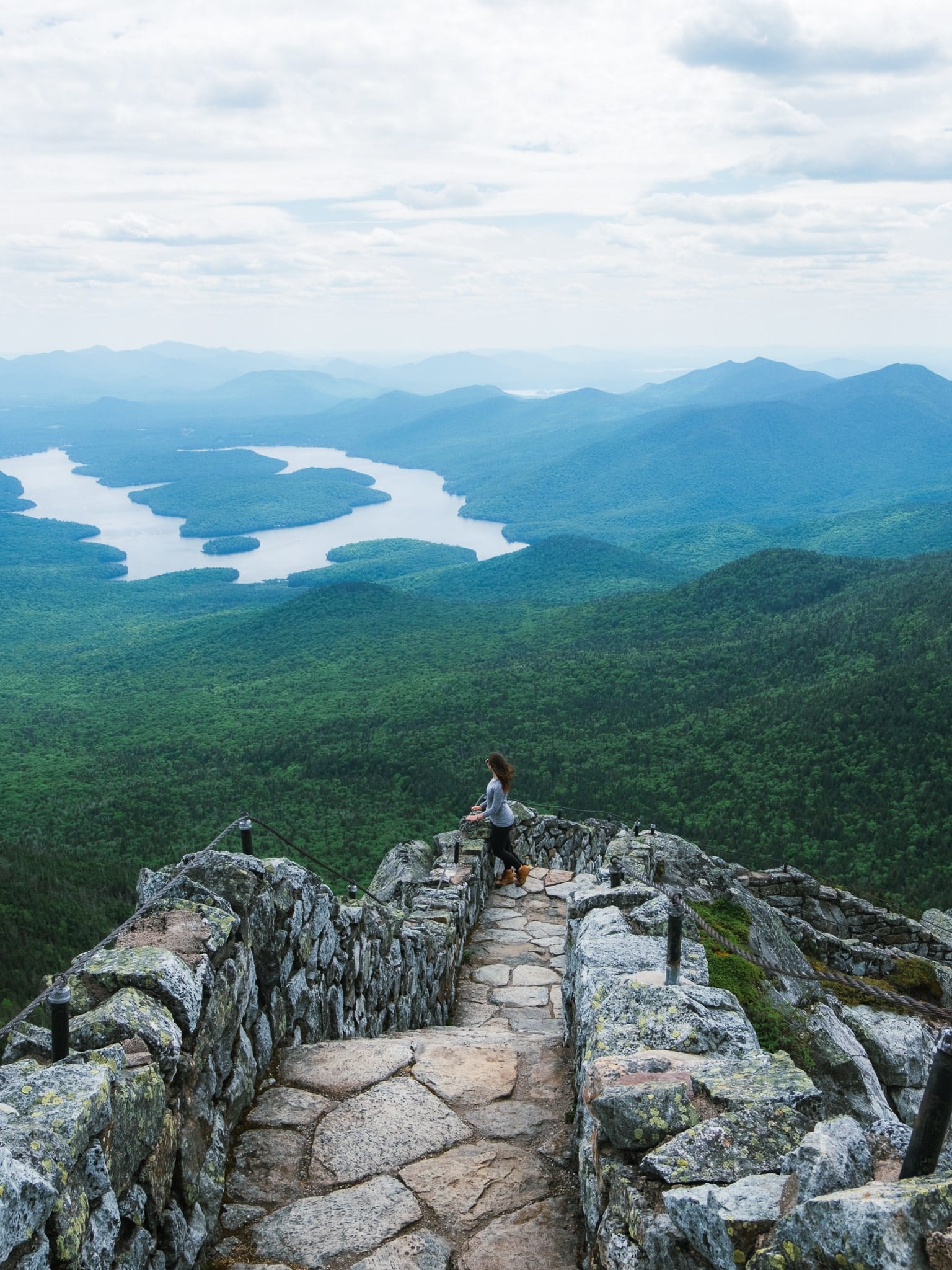 At 4'867 feet, Whiteface Mountain is the fifth highest peak in New York and one of the most iconic mountains in the Adirondacks! The trail to the top of Whiteface is 5.0 miles, climbing steeply over rocky (and often times very muddy) terrain. This strenuous hike is often paired with Esther Mountain, as part of the 46 Adirondack High Peaks.
You don't have to be a strong hiker to hike Whiteface though! You can easily access the same sweeping summit view by taking a drive up the Whiteface Memorial Highway. The paved road gains over 2,300 feet over 5 miles, as it twists and turns up the face of the mountain. It ends 0.5 miles from the summit. From there, take the 0.5 mile hike to the top for gorgeous views spanning hundreds of miles.
Location: Wilmington, NY;20 miles from Lake Placid
Hike distance: 10.1 miles
Trail rating: Difficult
Elevation gain: 3618 feet (1103 meters)
HIGH FALLS GORGE
Witness four majestic waterfalls tumbling into a dramatic granite crevice carved over a billion years ago at High Falls Gorge. This is a short, scenic, and family friendly hike in Lake Placid that is easily accessed by all ages and skill levels.
With sturdy bridges, glass floor walkways, and well maintained paths hugging the gorge, High Falls Gorge is the easiest hike in Lake Placid and an excellent spot for waterfall photography. You can easily complete this hike in under an hour, so it makes a perfect stop when driving between Lake Placid and Whiteface Mountain.
Visit in the spring to see the waterfalls at their most powerful, in autumn for fall foliage, or in the winter to experience the spectacular ice formations that form in the gorge. Click here for most up to date hours, closures, and entrance fees.
Location: Wilmington, NY; 7.7 miles from Lake Placid
Hike distance: 0.5 miles
Trail rating: Easy, wheelchair accessible
Entrance fee: $13.10/adult
COPPERAS POND TO OWENS POND
This Lake Placid hike doesn't end at a sprawling mountain vista. Instead, it ends at a beautiful alpine pond, which – in my opinion – might be even better, especially on a hot summer day. This gorgeous pond is a great spot for swimming, and features a lean-to and two primitive campsites if you want to stay overnight.
The hike to Copperas Pond is easy or moderate, depending on your fitness level. The rocky trail goes straight uphill, and makes for a steep and steady climb. However, at 0.5 miles, it's very short and is good for all skill levels.
You can stop at Copperas Pond, or take the scenic loop that passes by Owens and Winch Pond. The loop ends at the trailhead just down the road, so you'll have to walk a short distance back to your car.
Location: Wilmington, NY; 6.0 miles from Lake Placid
Hike distance: 1.0 miles out and back; 3.5 mile loop
Trail rating: Moderate
Elevation gain: 354 feet (108 meters)
BALANCED ROCKS
Balanced Rocks is a short hike with big, big views. In fact, this little hike has some of the most dramatic views I've seen on a low elevation hike in the Adirondacks. The trail to the summit undulates over steep and eroded terrain, before delivering you to a bald summit with 180 degree views of the surrounding High Peaks and the valleys below. Balanced at the edge of the mountain are – you guessed it – two huge rocks that were left behind by a glacier in the last Ice Age.
The trail to Balanced Rocks starts on Route 73, just across the street from Cascade Mountain.
Note: The trail ends at a three way junction. Turn right to reach Balanced Rocks.
Location: Keene, NY; 8.6 miles from Lake Placid
Hike distance: 1.6 miles one way
Trail rating: Moderate
Elevation gain: 850 feet (259 meters)
CASCADE MOUNTAIN
Conquer one of the 46 high peaks by hiking Cascade Mountain. Standing at 4098 feet, Cascade is the 36th High Peak and generally considered to be the "easiest" of the 46 peaks. (But don't be fooled – the hike up Cascade is still a challenge!)
The trail ascends 2,286 feet over 3 miles, weaving between large rocks and thick forest before ending at bald summit with 360-degree panoramic views. Cascade's summit is home to extremely fragile alpine vegetation, so always stay on the rocks to avoid trampling it.
This hike is usually combined with adjacent Porter Mountain to summit two high peaks in one hike.
Location: Keene, NY;7.6 miles from Lake Placid
Hike distance: 5.8 miles round trip
Trail rating: Difficult
Elevation gain: 2286 feet
Note: The parking area for Cascade tends to fill up very quickly, especially in the fall and summer. If you can't find parking, consider choosing a less popular, and less crowded, trail.
JAY MOUNTAIN
Jay Mountain is a unique hike through stunning forests, which leads to an open ridge-line trail known as as the "Highway in the Sky". This is highly underrated hike in Lake Placid, and is an excellent option for anyone looking for a bit of adventure without all the crowds.
This moderate trail passes through a mixed forest before reaching the ridge at 2.5 miles. This is the end of the marked trail, so you can always stop here and enjoy the views! But if you're looking for a bit more adventure, follow the spur trail along the ridge for another 1.5 miles until you reach the official summit.
Location: Jay, NY; 18 miles from Lake Placid
Distance: 8.0 miles out and back
Trail rating: Moderate
Elevation gain: 2,401 feet (732 meters)
MOUNT MARCY
Up for a bit of a challenge? Why not tackle Mount Marcy? Not only is Mount Marcy one of the best hikes near Lake Placid, but it's also the tallest mountain in New York.
The views from the summit of Mount Marcy are some of the best in the northeast, but at 5,344 feet, Mount Marcy is a challenging hike that should only be attempted by experienced hikers.
If you're up for the challenge, conquering this mountain is an all day affair! The shortest route to the summit is from the Adirondack Loj Parking Area. From here, the 7.4 mile trail starts off deceivingly easy as it approaches the former Marcy Dam, before ascending over varied terrain to the bald summit.
After a 7.4 mile trek, you're rewarded for all of your efforts with 360-degree views of the vast Adirondack wilderness from the highest vantage point in New York State.
Be sure to watch your step though, as Marcy is home to fragile and endangered alpine vegetation. Only walk on open rock and designated paths at all times.
Location: Keene Valley, NY; 7.9 miles from Lake Placid
Hike distance: 14.8 miles round trip
Trail rating: Difficult, average hike time is about 7-8 hours
Elevation gain: 3,166 feet (965 meters)
Price to park: $15 per car (cash) at the Adirondack Loj
Note: Always be prepared and check the forecast before hiking Mount Marcy. And be aware that wind, temperature, and visibility can change very quickly at such high elevation.
HAYSTACK MOUNTAIN
Not to be confused with the High Peak Mount Haystack, this hike in Lake Placid offers a much friendlier climb. The trailhead is directly off Route NY-86, less than a 10 minute drive from the center of Lake Placid.
The 3.3 mile trail starts off easy through a beautiful forest at the base of Little Burn Mountain, before climbing steeply to gorgeous views from the summit ledge. From the summit of Haystack Mountain, you'll have 180 degree views of Whiteface, the High Peaks, and Saranac Lake.
The best time to hike Haystack Mountain is in the summer and fall, when the trail isn't so muddy. This is also a very popular and challenging snowshoe hike in the winter.
Location: Lake Placid, NY; 4.0 miles from Lake Placid
Hike distance: 3.3 miles one way
Trail rating: Moderate
Elevation gain: 1,240 feet (378 meters)
BECOME A LAKE PLACID 9ER
Interested in more Lake Placid hikes? Become a
Lake Placid 9er
by summiting all 9 of these hikes around Lake Placid:
1. Cobble Hill: 2.2 miles round-trip (moderate)
2. Mt. Jo: 2.6 miles round-trip (moderate)
3. Baxter Mountain: 2.4 miles round-trip (moderate)
4. Mt. Van Hoevenberg: 4.4 miles round-trip (moderate)
5. Big Crow Mountain: 1.3 miles round-trip (moderate)
6. Bear Den Mountain: 4.5 miles round-trip (moderate)
7. Pitchoff Mountain: 5.2 miles round-trip (hard)
8. Catamount Mountain: 3.6 miles round-trip (hard)
9. Hurricane Mountain: 6.8 miles round-trip (moderate)
LAKE PLACID HIKES – MAP
Here's a map of all of these hikes in Lake Placid so that you can easily reference them on the go!
***
And there you have it! All of the best hikes in Lake Placid. If there's a hike that you love and think I should add to this post, feel free to leave a comment below!
As I mentioned, this post doesn't even scratch the surface of how many wonderful places there are to discover around Lake Placid and within the Adirondack Park! I'll continue to add to it as we continue to uncover more hidden gems and wonderful things to do in the area.
Other Adirondack hiking guides you'll love!
Short Hikes with Incredible Views in the Adirondacks
Indian Head and Fish Hawk Cliffs: The Complete Hiking Guide
Hiking the Mount Van Hoevenberg Trail (Amazing Views for Little Effort!)
Did you like any of these hikes in Lake Placid? Don't forget to pin them for later!
WANT TO SAVE MONEY TRAVELING?
Check out my list of reliable budget-friendly travel resources that are guaranteed to save you the most money, without compromising your experience.