Short Hikes With Incredible Views in the Adirondacks
Post summary: Short hikes with the best views in the Adirondacks in Upstate New York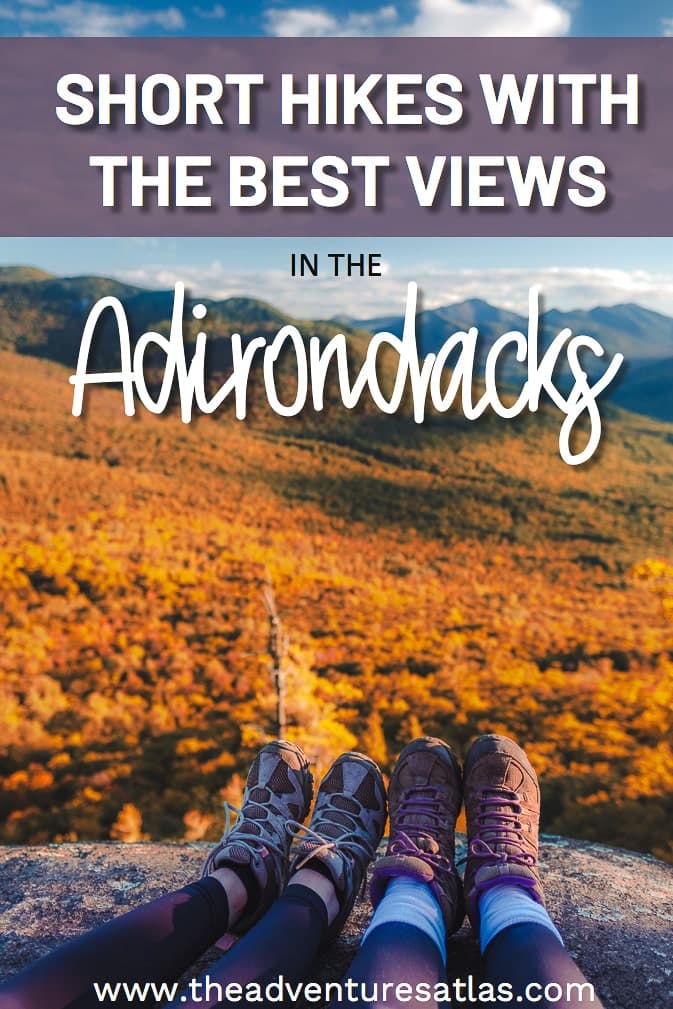 The Adirondack Park is famous for its sprawling old growth forests, pristine lakes and rivers, and expansive trail system. The 46 Adirondack High Peaks, in particular, have been a magnet for outdoor enthusiasts for over 150 years. They tower over 4000′ above sea level, attracting hikers and explorers from all over who wish to take on one of the greatest challenges in the Adirondack Park. And, they've seemed to attract even more attention in the wake of the outdoor movement, sometimes seeing hundreds of visitors per day.
But climbing some of the most famous mountains in the Adirondacks takes time, skill, and a lot of perseverance. And while the views from the top of those mountains are highly impressive, tackling one can sometimes take more time and effort than many hikers are willing to commit. So, in this blog post, I'm sharing some of the SHORTEST HIKES WITH THE BEST VIEWS IN THE ADIRONDACKS.
This year, I've made it my goal to track down all of the hikes in the Adirondacks that don't take up too much time or energy, but that also have views that rival those of the High Peaks. And while I definitely haven't found them all, I'm confident that the hikes that I have found so far will surely take your breath away. These hikes are perfect for groups, beginners, and anyone who likes immediate scenic view gratification.
Planning a trip to the Adirondacks? Check out these helpful guides:
The Complete Guide to Hiking Indian Head and Fish Hawk Cliffs
17 Cozy Cabins to Rent in the Adirondacks
How to Survive Black Fly Season in the Adirondacks
Remember to Leave No Trace
.
Its no secret that outdoor spaces continue to suffer the negative impacts of exposure on social media (and the internet in general). Areas like the Adirondacks are particularly effected because they lack the funding, trail systems, and oversight to mitigate the negative resource and social impacts caused by overcrowding, overuse, and pollution.
However, I firmly believe that the outdoors is for everyone. And that people are much more likely to protect nature when they are able to foster a personal connection with it. Part of forming that connection and protecting the outdoors is to follow the Leave No Trace Principles.
The Leave No Trace (LNT) Principles are 7 principles built on scientific research, that aim to minimize human impact through respectful, responsible and sustainable outdoor practices. The Principles include:
Plan ahead and be prepared
Travel and camp on durable surfaces. Always stay on the trail!
Carry out all of your trash (that includes apple cores, orange peels, etc.)
Minimize campfire impacts. Know where campfires are allowed and where they are not
Respect all wildlife
Be considerate of other visitors
Leave what you find. Take only pictures


.
For additional information, please review the new Social Media Guidelines for Leave No Trace.
The Leave No Trace Principles are meant as guidelines for enjoying the outdoors responsibly, regardless of how you choose to do so. They are not all inclusive. In fact, I encourage you to look for additional ways that you can do your part to mitigate human impact in the outdoors.
Overall, it is my hope that by sharing these special places with you, that you will take part in the collective effort to protect them, so they can remain wild and free for generations to come.
Short Hikes With the Best Views in the Adirondacks
.
Most of the short Adirondack day hikes listed here are concentrated around Keene, but a few are scattered around other parts of the Adirondacks as well. The Adirondack Park is 11.9 million acres. For perspective, its the size of Yellowstone, the Grand Canyon, Yosemite, the Everglades, and Great Smoky National Park…combined. So, if you want to check out all of these hikes, the best way would be to make it a road trip!
For the best way to plan your Adirondacks Road Trip, check out my guide on How To Plan Your Trip Using Google Maps.
And don't forget to download my FREE and customizable Travel Expense Planner below. Use it to easily and automatically calculate how much money you'll spend on gas, lodging, food (and more) on your next road trip!
.
.
Not all of these hikes are easy (in fact, some of them are reallyyyy steep), but they
are
short, with views that are a solid 10/10. Their low elevation also makes them excellent options for enjoying
breathtaking fall foliage displays
!
"Short" is obviously a relative term. When deciding which hikes to include in this blog post, I tried to stick to Adirondack day hikes that are 4 miles or less round trip. I did not take into account the effort required, though I did try to find a good mix of trail conditions.
.
Crane Mountain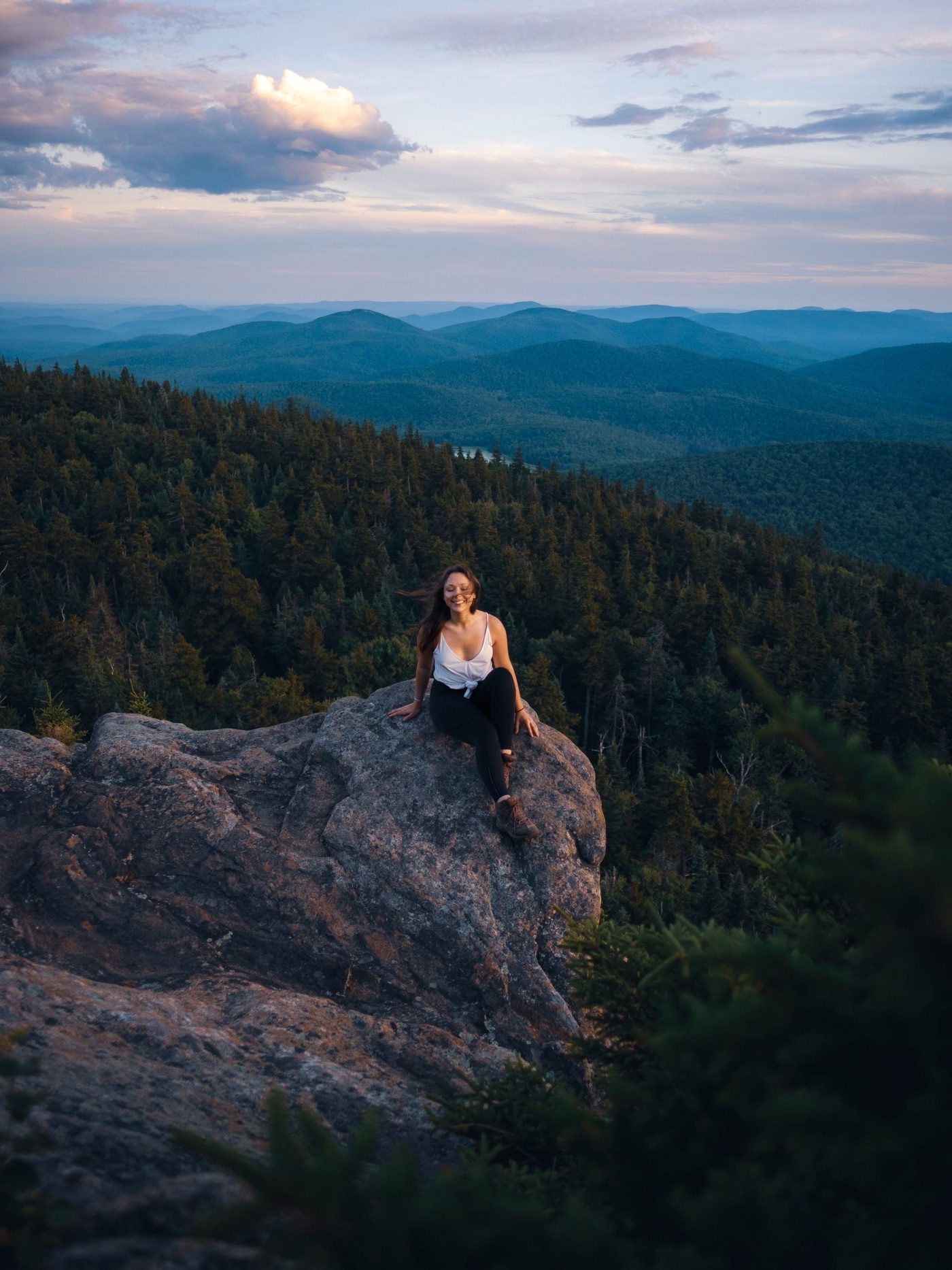 Crane Mountain is a fantastic, short Adirondack hike if you're looking for a fun climb to panoramic views of the hills around the lower Adirondacks. The trailhead to Crane Mountain offers two options to the summit. The first option is a strenuous 1.4 mile climb directly up the mountain. It's more reminiscent of a rock scramble than a casual hike in the woods and ends at a 30ft wooden ladder just before you reach the summit. The second option is a tamer 3 mile trail that passes around Crane Mountain Pond before ascending steeply for the last 0.5 miles to the summit.
Both trails originate at the same trailhead, so you can hike them as a loop or choose one to take out-and-back.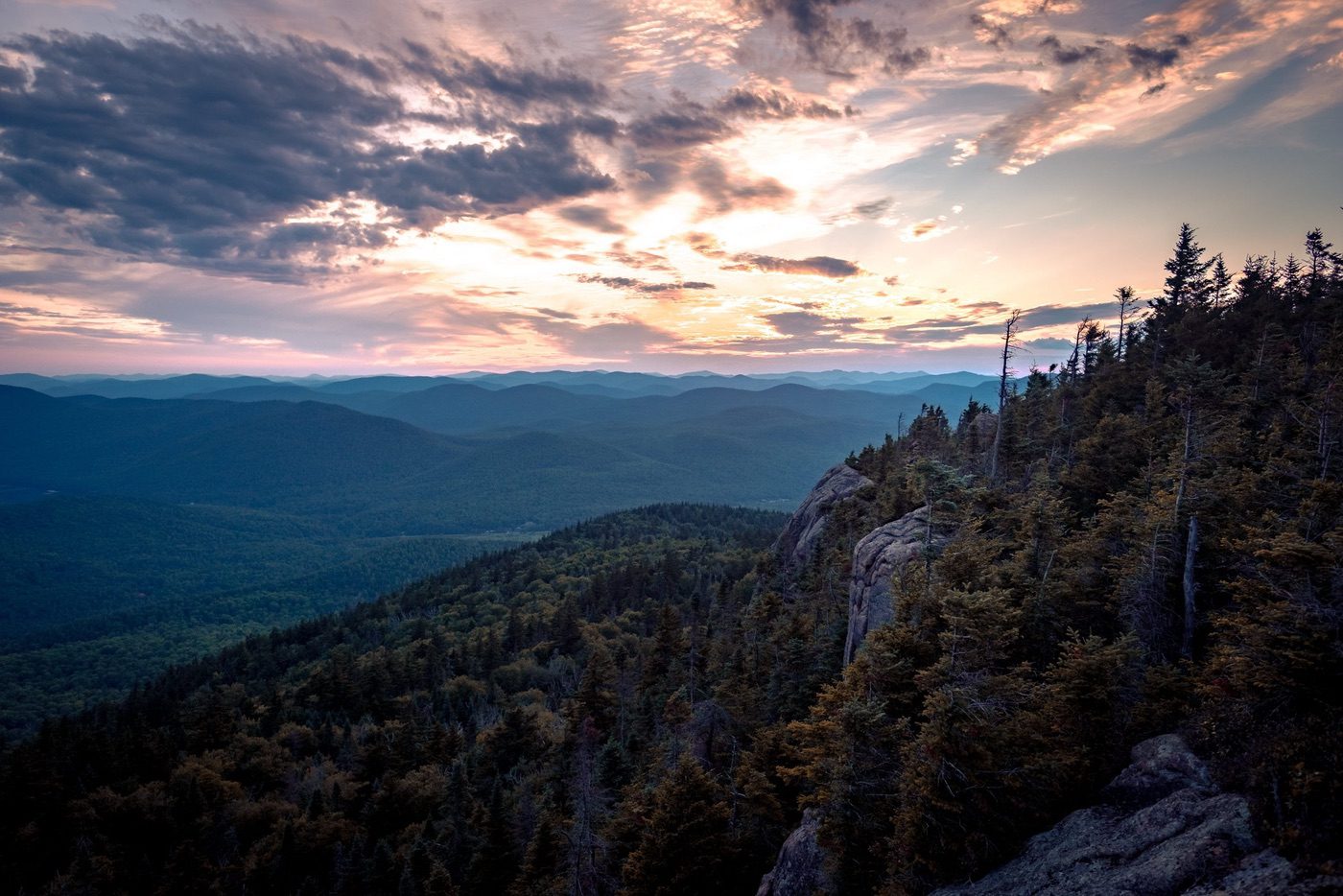 Crane Mountain summit at sunset
Pro tip: Grab take out and hike to the top of Crane Mountain for sunset to have dinner with a view! Or camp at one of the primitive campsites at Crane Mountain Pond and hike to the summit for sunrise. Campsites are first come, first serve.
Location: Johnsburg, NY; Southern Adirondacks
Distance: 3.1 mile loop; 2.8 miles out and back
Trail rating: Strenuous
Elevation Gain: 1,345 feet
Baxter Mountain
You won't gain a ton of elevation hiking Baxter Mountain, but the views will sure make you think you did! This easy/moderate short Adirondack hike follows a well maintained path along a series of gentle switchbacks through old pine forest. About 30 minutes of hiking leads to expansive views of Keene Valley, the Great Range, and Mount Marcy.
When you think you've reached the summit, keep going! There's a false summit just before the last scramble to the top, and a lot of people choose to stop here. While the views at the false summit are nice, the real views are waiting for you a bit further up the ridge (continue to follow the trail up, but if you start to descend down the back side of the mountain, you've gone too far). The summit of Baxter isn't bare, rather you'll have to navigate your way to the edge of the cliffs. Carefully follow the herd paths down to the rocks along the ledges, where you'll find breathtaking, unobstructed, mountain views.
Location: Keene, NY; Northern Adirondacks
Distance: 1.2 miles one way
Trail rating: Easy to moderate
Elevation gain: 770 feet
Mt. Jo
Mt. Jo is a short hike in the High Peak region of the Adirondacks that offers incredible mountain views for a very small amount of effort. It's also the most popular hike on this list due to its ease of access and proximity to Lake Placid/surrounding High Peaks. Mt. Jo is a great Adirondack hike for beginners, groups/families, children, and those who have a little extra energy left after climbing nearby High Peaks.
The trail begins at the Adirondack Loj parking area, where you'll pass by Heart Lake before ascending slightly to a junction. The junction offers two options to the top. You can opt to take the steep and rocky "short" trail (1.1 miles), or the much more moderate "long" trail (1.3 miles). Both trails rejoin at the summit, where you're treated to incredible views of Heart Lake, the surrounding High Peaks, and the McIntyre Range.
Pro tip: Combine this hike with the 1.2 mile Heart Lake Loop Trail!
Location: Lake Placid, NY; Northern Adirondacks
Distance: Short trail: 1.1 miles; Long trail: 1.3 miles; Loop: 2.4 miles
Trail rating: Short trail: Strenuous; Long trail: Moderate
Elevation Gain: 700 feet
Price to park: $10 per car (cash) at the Adirondack Loj
.
Balanced Rocks
Short hike. Big, big views. Balanced Rocks has some of the most dramatic views I've seen on a low elevation hike in the Adirondacks. The 1.6 mile trail undulates over steep and eroded terrain, eventually delivering you to a bald summit with expansive views of the surrounding High Peaks and the valleys below. Balanced at the edge of the mountain are – you guess it – two huge rocks that were left behind by a glacier in the last Ice Age.
The trailhead to Balanced Rocks is located directly off Route 73, just across the street from Cascade Mountain. But unlike Cascade, you may just have a shot at having Balanced Rocks all to yourself! We hiked Balanced Rocks during peak leaf season this year, and while there were miles of cars (not exaggerating) lined up to hike Cascade, we had the summit of Balanced Rock pretty much to ourselves for hours.
Note: The trail ends at a three way junction. Turn right to reach Balanced Rocks.
Location: Lake Placid, NY; Northern Adirondacks
Distance: 1.6 miles one way
Trail rating: Moderate
Elevation Gain: 850 feet
Cobble Lookout
Looking for more of a walk than a hike? Then this one's for you. Cobble Lookout is a relatively new trail, located about 20 minutes north of Lake Placid in the Wilmington Wild Forest. It's the easiest hike on this list, and the views at the end are so stunning that it's almost hard to believe how little effort it takes to get there. The 1.3 mile trail beings at a gentle incline and then remains almost flat as it twists and turns through the woods. It takes about 20 minutes to reach the end. From there, the path opens up to a lookout with unobstructed 180 degree views of Whiteface and Esther. On a clear day, you might even see the Jay Range and Giant Mountain looming in the distance. Stay for sunset to see the town of Wilmington twinkling in the valley below.
Pro tip: Couple this hike with a drive up neighboring Whiteface Mountain via the Whiteface Memorial Highway (the entry fee is $30 per car, but its well worth the money).
Location: Wilmington, NY; Northern Adirondacks
Distance: 1.3 miles one way
Trail rating: Easy
Elevation gain: 242 feet
The Brothers Trail
The Brothers are actually comprised of 3 distinct peaks, often used as a route to access Big Slide Mountain. The entire trail is a rugged, steep hike, that traverses an open ridge-line with incredible views of The Great Range and Hurricane Mountain. Its rare to find views that truly rival those of the High Peaks in the Adirondacks, which makes The Brothers a real gem.
The view from The First Brother is impressive enough to make a destination, as you gain 1,326 feet over 1.3 miles. But if you have extra energy, you can continue along the trail to the other Brothers or choose to summit Big Slide, because how do you get that close to a high peak without climbing it? ;)
But even if you're not planning to hike Big Slide, the climb to The Brothers is well worth the effort
Location: Keene Valley
Distance one-way: First Brother 1.3 miles; Second Brother, 1.7 miles; Third Brother, 2.5 miles
Trail rating: Strenuous
Elevation gain: First Brother 1,326′; Second Brother, additional 255′; Third Brother, additional 550′ 980
Price to park: $10 (cash) at The Garden Parking Lot
Chimney Mountain
Calling all geology lovers! Chimney Mountain is about unique as it gets when you're looking for short hikes in the Adirondacks. In addition to 360 degree mountain views, the summit is peppered with natural stone structures, caves, peaks, and crevasses, where near constant erosion has worn away at the mountain. It's most prominent feature is an enormous rock, named The Chimney, from which Chimney Mountain gets its name.
Though steeper than some of the other hikes listed here, Chimney Mountain has quickly become one of our new favorite hikes in the Central Adirondacks; both for the workout it offers and for the endless hours you could spend exploring the summit.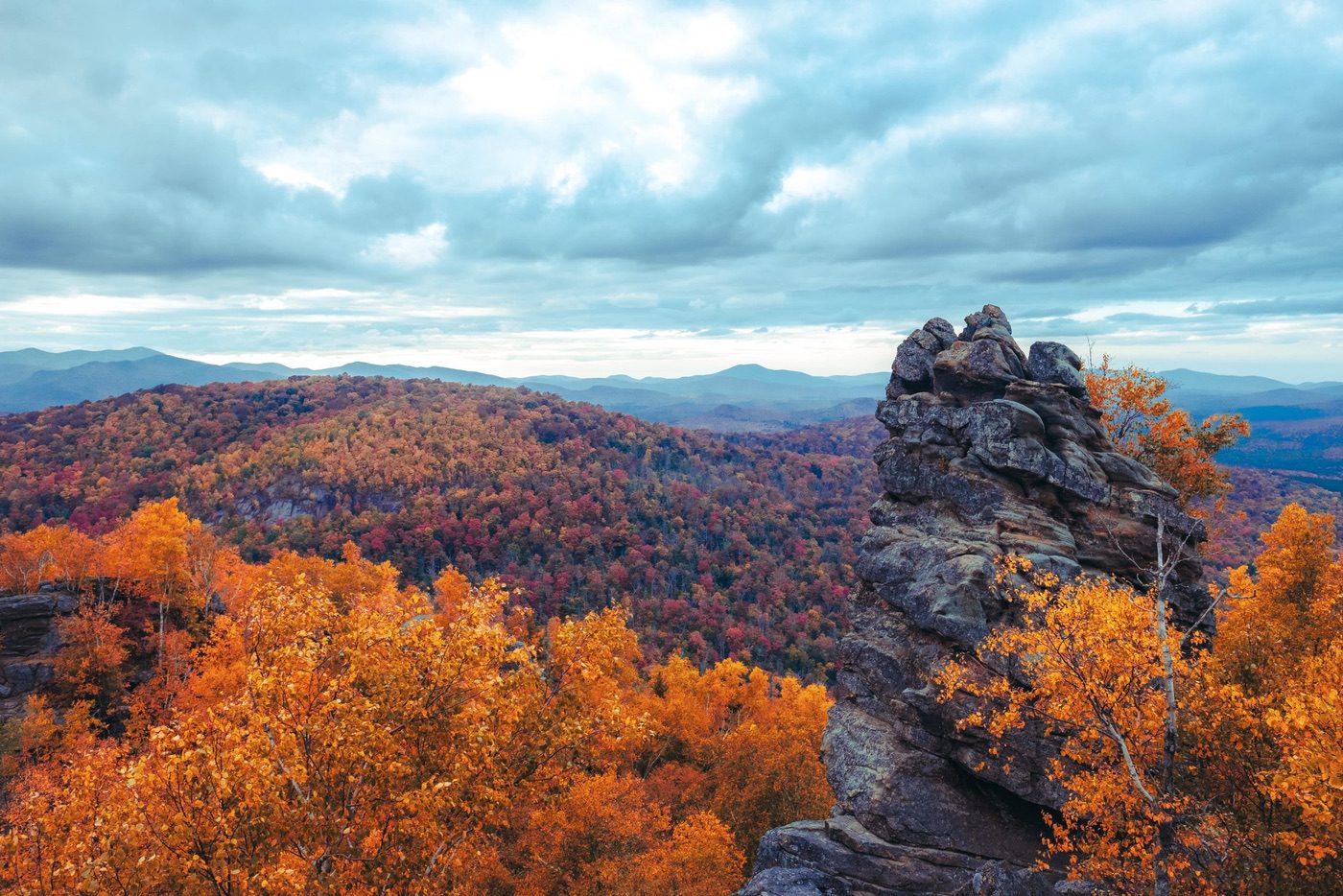 The trail is well worn and easy to follow. It ascends gently until the last 0.5 miles, where it turns into a steep scramble to the top.
NOTE: The caves on the mountain are only accessible from June 1 to October 14 to protect the bats the hibernate there.
Location: North River, NY; Central Adirondacks
Distance: 1.3 miles one way
Trail rating: Moderate
Elevation gain: 980 feet
Price to park: $5 (cash) in the pay box at the Chimney Mountain Cabins
***
And there you have it! My top picks for best short hikes in the Adirondacks. As I mentioned, this post doesn't even scratch the surface of how many wonderful places there are to discover within the Adirondack Park! I'll continue to update this list as I explore more hikes with awesome views in the Adirondacks. In the meantime, if there's a hike that you love and think I should add to this post, feel free to leave a comment below!
But for now, happy hiking and always remember to Leave No Trace.
More Hiking Inspiration:

.
Hiking the Tiger Fern Falls Trail in Belize
A 5-Day British Columbia Road Trip Itinerary
A Comprehensive Guide to Visiting Havasupai
Yoho National Park One-Day Road Trip Itinerary
Did you like any of these short hikes in the Adirondacks? Don't forget to pin them for later!
WANT TO SAVE MONEY TRAVELING?
Check out my list of reliable budget-friendly travel resources that are guaranteed to save you the most money, without compromising your experience.