Hiking the Tiger Fern Falls Trail in Cockscomb Basin Wildlife Sanctuary, Belize
If you're looking for the best (and most underrated) hike in Belize, look no further than Tiger Fern Falls, located in the dense jungle of the Cockscomb Basin Wildlife Sanctuary in south-central Belize.
The hike to Tiger Fern Falls is one of the best things to do around Hopkins, Belize and makes the perfect day trip from Placencia or Belize City.
In this post, I'm sharing everything about the hike to Tiger Fern Falls in the Cockscomb Basin Wildlife Sanctuary, Belize so you can experience this incredible place for yourself.
.
Read more: An Adventurous 12 Day Belize Road Trip Itinerary
WHAT'S SO GREAT ABOUT TIGER FERN FALLS?
.
In my opinion, Tiger Fern Falls is – BY FAR – one of the most magical, hidden gems in all of Belize. Seriously, I love this place so much that we hiked this trail 3 separate times in one week last time we were here.
The trail to Tiger Fern Falls has a little bit of everything – lush tropical jungle, sweeping mountain views, and breathtaking double waterfalls with natural swimming pools. Plus, it's not a heavily trafficked trail, so you have an excellent shot at having it all to yourself!
The Tiger Fern Falls trail is a rigorous hike, snaking through dense jungle before steeply ascending (and then descending) a mountain with panoramic summit views. To be honest, its not exactly a walk in the park. But for all the sweat and effort you put in, you're rewarded 10-fold when the trail ends at – not one, but TWO – pristine waterfalls with natural swimming pools. Don't forget your bathing suit!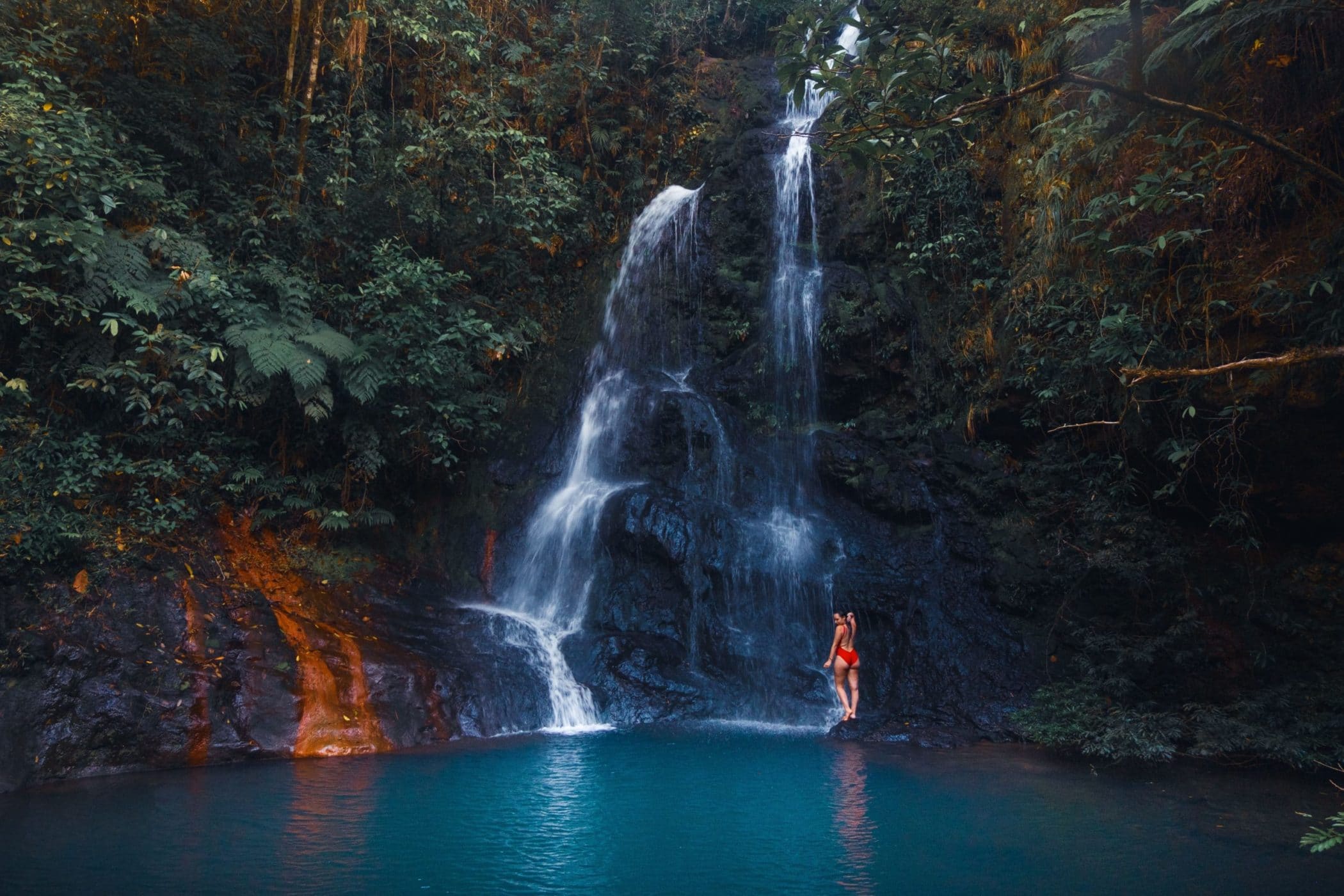 Quick reference trail info:
Trail overview: Easy-to-follow path. Begins as an easy walk before ascending steeply to the top of a mountain, followed by a steep descent to two waterfalls with natural swimming pools.
Distance: 6.7 km round-trip
Difficulty: Strenuous
Hike time: 3-4 hours round-trip
Elevation gain: 500 meters
Dog-friendly: Nope! No pets allowed in the Cockscomb Basin Wildlife Sanctuary
Entrance fee: $10BZD per person
LEAVE NO TRACE
.
Before I delve into the details of how to find this place that's so close to my heart, there's something I want to say:
On my last visit to Tiger Fern Falls, I found a cigarette butt lodged between the rocks at the upper waterfall.
That's right. A cigarette butt.
Even though the cigarette butt was the only piece of trash I found along this trail, it really upset me to see the effects of human impact polluting a place so remote, so serene, so beautiful. I picked up the cigarette butt and walked away deeply saddened. So, I beg you – please don't be that person.
I trust that you're not that person, and I'm not here to lecture, but please take a second to review the seven core principles of Leave No Trace (just for good measure):.
The Leave No Trace (LNT) principles are built on scientific research, which ensure respect for nature through responsible, sustainable, and minimal human impact.
So, in a collective effort to keep these beautiful places wild and free for generations to come, please leave all areas better than you found them and practice the seven principles of Leave No Trace:
Plan ahead and be prepared – keep reading for notes on jungle hiking safety
Travel and camp on durable surfaces – always stay on the trail!
Dispose of your waste properly – carry out what you carry in
Minimize campfire impacts – Campfires are NOT allowed in Cockscomb Basin Wildlife Sanctuary
Respect all wildlife


.

Be considerate of other visitors


.
Okay, now that we've covered LNT, let's just into the good stuff!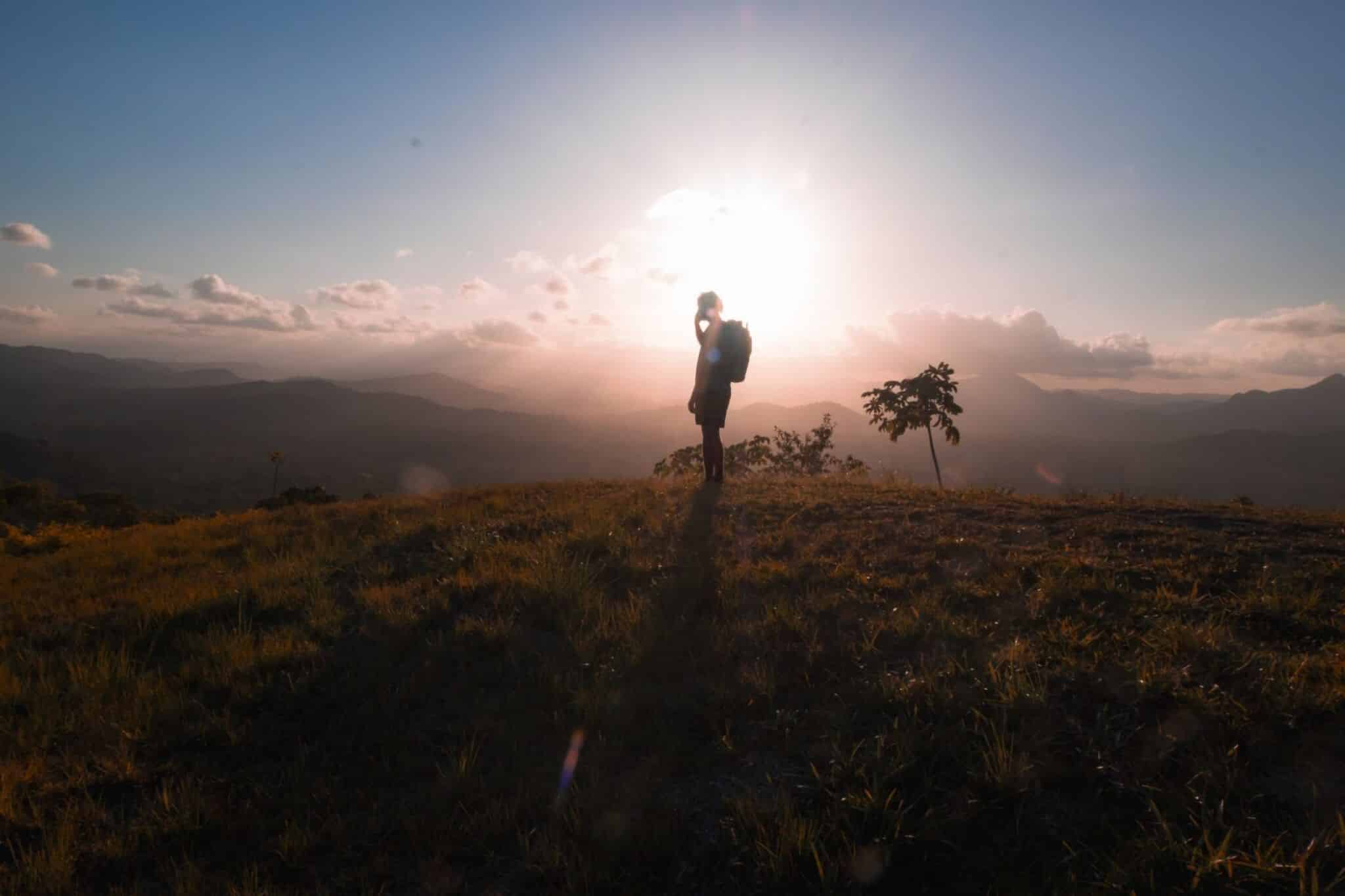 .
HOW TO GET THERE
.
Most people who visit Belize would consider Tiger Fern Falls in Cockscomb Basin more of an "off-the-beaten-path" destination. I'm not sure why though, because its super easy to get there by car, public bus, or private shuttle!
Cockscomb is located directly off the Southern Highway in the Stann Creek District of western Belize. It's approximately 2.5 hours from Belize City, 30 minutes from Hopkins, and about 1 hour from Placencia
Here's a map of driving directions from Belize City to the parking lot of Cockscomb Basin via the Hummingbird Highway:
SAFETY NOTE
By default, Google Maps will always try to take you down the Coastal Highway if you're driving from Belize City. But do NOT take the Coastal Highway. It's a rough 36-mile gravel road with unpredictable driving conditions. Manually change the route on Google Maps to take you down the Hummingbird Highway instead (or first head to Belmopan and then to Cockscomb Basin).
.
Read more: How To Plan Your Road Your Road Trip Using Google Maps
.
ENTRANCE FEE TO COCKSCOMB BASIN WILDLIFE SANCTUARY
.
The entrance fee to Cockscomb Basin Wildlife Sanctuary is $10BZD per day per person for tourists and $5BZD for locals. You can pay at the visitors center when you get there, or at the Maya Village Center at the start of the access road.
Prepare to pay cash. I'm not sure if they accept credit cards.
Entrance fee information is up to date as of March 2020.
Overlooking the Cockscomb Basin Wildlife Sanctuary from the Tiger Fern Falls Trail summit
DO I NEED A GUIDE TO HIKE TO TIGER FERN FALLS?
.
Nope. There's no need to book a guide/tour to hike the Tiger Fern Falls Trail. Just go on your own. The trail is well maintained, so you'll be fine if you follow it, along with a few important safety measures:
Always stay on the trail! And avoid hiking alone at night. Belize is home to several highly venomous spiders and deadly snakes, including the coral snake and the fer-de-lance (the most dangerous snake in Central America). These critters are typically nocturnal, and like to hide under rocks/logs and in the brush off the trail. ALWAYS stay on the marked trail in your best effort to avoid them.


.

Wear closed toe shoes. Sneakers will work fine, but its advised to wear sturdy hiking boots if you have them. Don't hike in sandals.


.

Try to avoid hiking in the dark, especially if you're alone. Plan to be out of the jungle before sunset, but always carry a flashlight or headlamp just in case.


.




.
HIKING TO TIGER FERN FALLS [TRAIL DESCRIPTION]
.
The hike to Tiger Fern Falls begins at the Tiger Fern Falls trail head located along the access road to the Cockscomb Basin parking lot. You'll see it on your left on the way in.
After you park your car and check in/pay at the visitors center, walk back up main road until you get to the trail head.
.The hike starts out as a flat, easy walk along a wide path through the jungle. A few minutes into the hike, you'll encounter a small river crossing equipped with sturdy flat rocks to help you cross.
This flat, easy, part of the hike is a perfect time to look around and admire your surroundings. This is something I always wish I did more of, regardless of how many times I do this hike. The jungle here seems to exude some kind of magic if you pause to notice it; from the delicate flowers and towering foliage, to the smell of damp earth and [seemingly endless] lines of hard working leaf cutter ants snaking their way along the jungle floor.
So, I'm serious. Leave yourself enough time to [literally] stop, listen, breathe deeply, and look around. You'll be glad you did (and you can thank me later!).
About 15 minutes or so from the river, the trail abruptly changes from an easy walk to a steady climb up the mountain.
The climb takes about 30-45 minutes, depending on your fitness level. There are 4 benches strategically placed along the trail in case you need to rest on the way up. So don't forget to rest when you need it and drink plenty of water!
You're close to the summit after you pass the 4th bench and the foliage changes from lush jungle to more shrubby/pine forest.

Ascending to the summit on the Tiger Fern Falls trail.
The Summit
With sweeping views of the Cockscomb Basin jungle below you, the views from the summit of the mountaintop are enough to make it a destination in itself. On a clear day, you can even see Mt. Victoria – the 2nd highest mountain Belize – in the distance.
For the best views, follow the short trail offshoot to the campsite.
From the mountaintop, its 500 meter descent to Tiger Fern Falls.

View from the campsite lookout at sunset

It takes about 20 minutes (500 meters) to get from the mountain summit to Lower Tiger Fern Falls
Lower Tiger Fern Falls
Follow the trail from the summit as it steeply descends back into the jungle. The air gets a lot cooler and heavier the further down into the jungle you get.
The trail is steep and slippery, so make sure you watch your footing and use the railings and benches provided if you need them!
The descent from the mountain summit to Tiger Fern Falls
Lower Tiger Fern Falls is the first waterfall you'll encounter. Its the smaller of the two waterfalls, but equally as beautiful.
The lower falls is similar to the upper falls in that the natural swimming hole is deep and clear, so don't be afraid to jump in!
If you have extra time, I suggest exploring downstream a bit. Its really beautiful down there and a great place to escape any people who might join you at the waterfalls. Just watch for snakes and water spiders.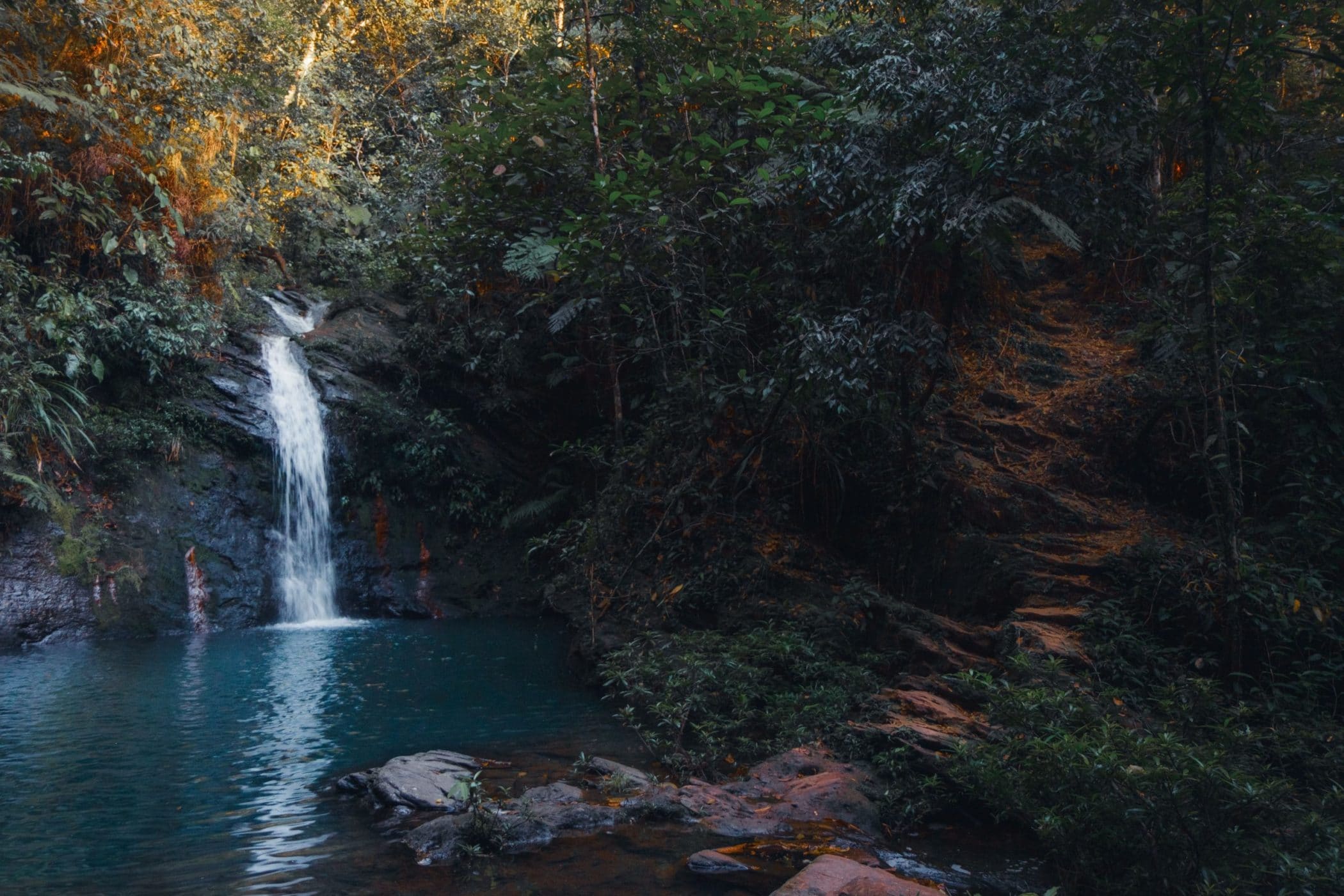 Lower Tiger Fern Falls. Follow the stairs to the right of the lower falls to reach the upper waterfall.
.
Upper Tiger Fern Falls
Make sure you don't miss this one! Upper Tiger Fern Falls is a short hike away from the lower falls. It's the larger and most iconic of the two. It's also no longer marked, so its fairly easy to miss if you don't know what you're looking for (speaking from experience here…).
To get to the upper falls, follow the "stairs" to the right of the lower falls (refer to the photo above). Then follow the faint path through the forest at the top of the stairs until you get to the upper falls. It only takes about a minute or so.
The swimming hole at the upper falls is clear, deep, and pretty chilly, but offers a welcomed respite from the sweaty hike you just took through the jungle. There's nothing in the water except a few minnows, so swim without worries!
And, again, (I know I say this all the time) take a second to breathe deeply and look around. This is really a special place and you'll be glad you took the time to notice.
.

BEST TIME TO VISIT TIGER FERN FALLS
.The best time of year to visit the Tiger Fern Falls is during the dry season, when the water runs clear(ish). The dry (or, should I say, drier) season in Belize is typically December to mid-April.
If you visit in the rainy season or after any period of heavy rain, expect the waterfalls to be overflowing and the water to be brown and murky. You can still swim in it, but it's obviously less visually appealing.
The best time of day to visit depends on your personal preference. Its always ideal to give yourself more time than you think you'll need, so its best to start as early as possible. The visitor center opens at 8:00am, but if you have paid your entrance fee, then you can start hiking as early as you want.
If you start early in the morning or early afternoon, you'll avoid the midday crowds (and the midday sun!).
If you opt for an afternoon hike, then you can catch golden hour on the mountain on your way back – around 5:00PM or so. Its really beautiful, but don't linger too long! Aim to leave the summit by 5:30PM at the latest, so you don't get stuck in the dark.
PACKING SUNSCREEN?
Minimize your environmental impact by using these all natural, organic sunscreens
.

OTHER THINGS TO DO IN COCKSCOMB BASIN WILDLIFE SANCTUARY

.Not ready to leave, yet? I don't blame you.

Check out my guide to exploring Cockscomb Basin Wildlife Sanctuary in Belize [coming soon!] for information on other hiking trails, guided tours, river tubing, camping + more!

Have you ever hiked the Tiger Fern Falls trail in Cockscomb Basin Wildlife Sanctuary, Belize? As always, I'd love to hear from you! Drop your thoughts in the comments below!
..
FOR MORE BELIZE + CENTRAL AMERICA ADVENTURES, VISIT
Important Tips for Renting a Car in Belize (Cost, Tips, and FAQs; Updated 2022)
An Adventurous 12-Day Belize Road Trip Itinerary
How to get from San Ignacio, Belize to Tikal in Guatemala without a tour
Travel Guide to Caye Caulker, Belize (Coming soon!)
How to Self-Drive to Caracol Mayan Ruins, Belize
WANT TO SAVE MONEY TRAVELING?
Check out my list of reliable budget-friendly travel resources that are guaranteed to save you the most money, without compromising your experience.