All You Need to Know About Renting a Car in Belize | Cost, Tips, FAQs – Updated Guide 2023
If you're thinking about renting a car in Belize, here is everything you need to know! In this post, I break down the cost of renting a car in Belize, the best car rental agencies, mandatory insurance, and the benefits of having your own form of transportation, so that you can stress less about the logistics and focus more on your incredible upcoming Belize adventure.
All prices below are listed in USD unless otherwise noted. For reference: 1 USD = 2 Belize BZD
Planning your adventure to Belize? Check out these helpful guides!
An Adventurous 12-Day Belize Road Trip Itinerary
How to Plan Your Road Trip using Google Maps
Important Things to Know About Driving to Caracol Mayan Ruins in Belize
Hiking Tiger Fern Falls in Cockscomb Basin Wildlife Sanctuary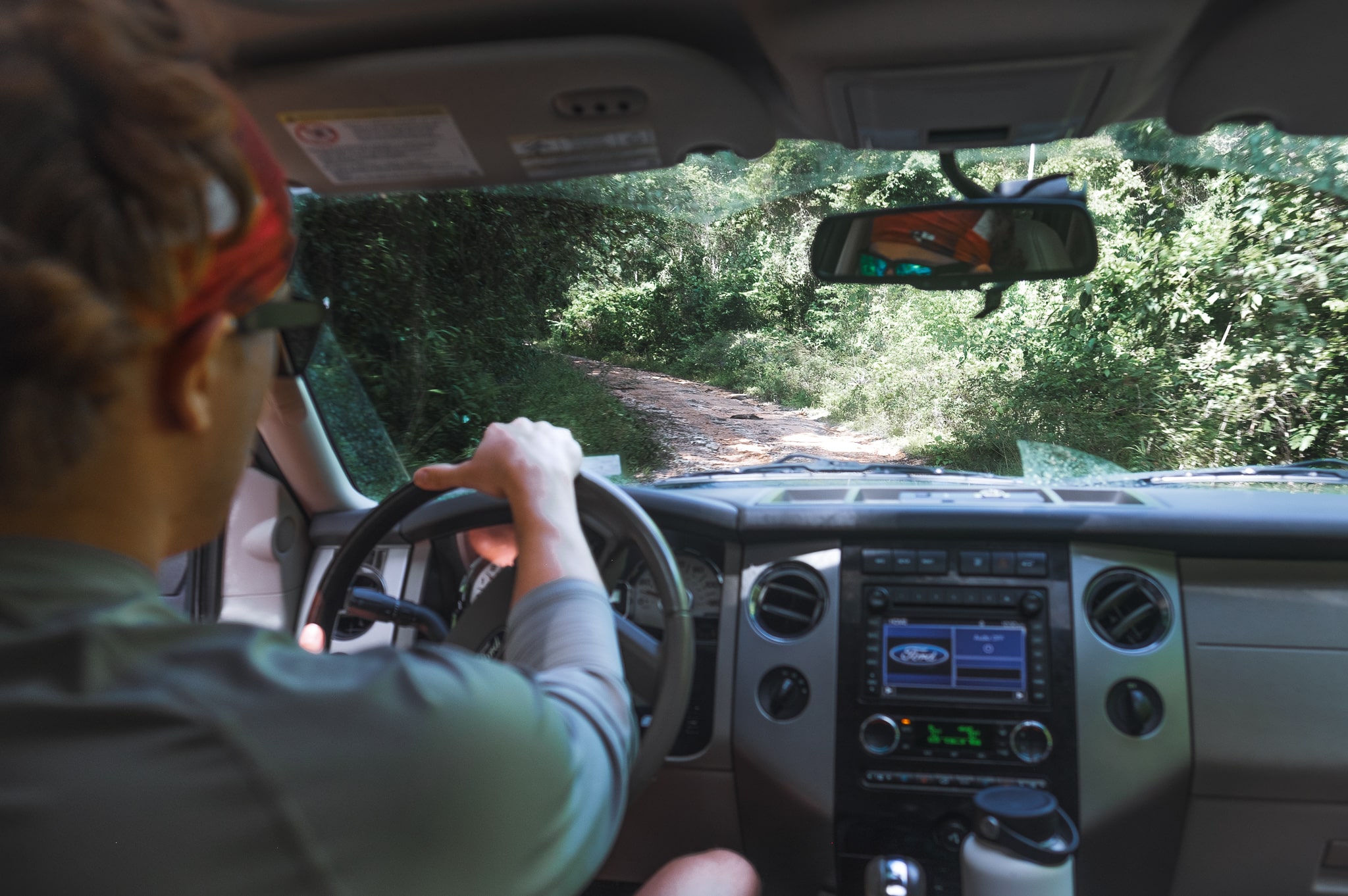 WHY YOU SHOULD RENT A CAR IN BELIZE
Renting a car in a foreign country can seem intimidating. There are typically a lot of questions, unknowns, and foreign road laws to follow. But trust me when I tell you that driving in Belize is not nearly as scary as it seems and that renting a car is the absolute best way to see the beauty of this amazing country.
Here are my reasons why you should rent a car in Belize:
Get off the beaten path on an adventure packed road trip!
I'm a huge lover of packed, adventurous itineraries and getting off the beaten path – and renting a car in Belize helps you do just that!
There are so many hidden gems in Belize just waiting to be discovered and the most convenient way to reach them is by car. Renting a car is also one of the easiest ways to truly experience Belize as a local.
Need help planning an unforgettable Belize adventure? GET IN TOUCH for customized itinerary planning, starting at $25/day!
Easy way to social distance
As of writing this (December 2021), it looks like COVID-19 might be here to stay. At least for awhile. Which also means that social distancing won't be leaving any time soon either. Luckily, renting a car in Belize is a super easy way to practice social distancing. Avoid cramped buses or shared taxis and opt to explore Belize on your own adventurous road trip.
Need some inspo? Check out this 12 Day Adventurous Belize Road Trip Itinerary!
More Flexibility, Explore at Your Own Pace
Perhaps the best perk of having your own rental is that you get to go wherever, whenever. No coordinating with tour guides or scheduling trips months in advance required! Just hop in your car and take off down any road that looks interesting.
By renting a car in Belize, you also won't be restricted to anyone's time schedule but your own, which is ideal for packing a ton of adventure into a short time frame to maximize that precious PTO!
Rental car prices are comparable/cheaper than private shuttles and domestic flights
Renting a car in Belize is a little pricey. But it's not as expensive as you might think – at least not once you add up the cost of private shuttles, taxis, and domestic flights.
For example, a round trip domestic flight from Belize City to Placencia costs approximately $200 per person. Likewise, a private shuttle from Belize City to Placencia or San Ignacio costs about $150-450 per group each way. Then you need to take a taxi or book a tour to get around.
Of course hiring a shuttle or taking a domestic flight might make sense if you plan to stay in the same spot for the majority of your trip. However, if you're keen on making the most of your time, then renting a car is the cheapest and most convenient option by far.
---
REQUIREMENTS FOR RENTING A CAR IN BELIZE
The actual requirements for renting a car in Belize are pretty straightforward.
To rent a car in Belize, you will need: Your passport, a valid original driver's license from your home country, and a credit card for the deposit.
A common question I get asked is "can you drive in Belize with a US license" and the answer is yes, you can. In fact, most countries' driver's licenses are accepted in Belize.
You will also need mandatory liability insurance. It's a requirement in Belize and is usually included in the price of the car. I'll talk more about insurance later!
Minimum age
The minimum age to rent a car in Belize is 21 years old, but there is a young drive surcharge applied to all renters under the age of 25. This is pretty much standard across the board, with the exception of a few local rental agencies.
Here's a quick breakdown of age requirements for car rental agencies around Philip S.W. Goldson International Airport, Belize City:
Crystal Auto: Must be 25. Drivers between the ages of 21 – 24 may be allowed to drive by paying double the standard security deposit.
AQ Belize Car Rental: 23 and under is considered under-age and requires additional ID and insurance, as well as a cash deposit.
Budget and Alamo Belize: Must be 25. Drivers between 21-24 will incur an additional daily fee.
Hertz Rent-A-Car Belize: Must be 25. Additional daily fee for drivers between 21-24. However, booking with a AAA membership may waive all age-related surcharges.
The exact price of the young driver fee depends on the rental car company and usually isn't displayed online. For this reason, it would be worth calling around to make sure you get the best deal if you're under 25.
The maximum age to rent a car in Belize is 75.
What side of the road does Belize drive on?
Belize drives on the right side of the road. The same side as the United States and Canada.
---
THE ACTUAL COST OF RENTING A CAR IN BELIZE
Overall, Belize is a bit more expensive than other countries in Central America. The cost of renting a car in Belize depends on the type of vehicle you choose, the length of your rental period, and when you're booking.
Generally speaking, the average daily rate for renting a car in Belize in 2023 costs around $60 per day for an economy car and up to $120 per day for a full size 4×4 SUV. These prices are only a ballpark daily rate for the car and don't factor in any extras or added insurance.
Some rental agencies are cheaper than others. Like all places, renting a car at the airport will be most expensive due to airport taxes and fees. For this reason, I recommend booking from a local-off site agency like Crystal Auto Rental's downtown office for the best prices.
**Please note that due to the pandemic, rental car prices have increased due to the increase in demand and decrease in availability**
Cheapest time to rent a car
The cheapest time to rent a car in Belize is typically during the low season, which runs from May – November. You shouldn't have any trouble finding an average priced rental during those months and can typically take your time booking.
Most expensive time to rent a car
The most expensive time to rent a car in Belize is typically during the high season, which runs from December – April. The prices around Christmas and New Year's will be the highest.
If you are visiting Belize around the holiday season, make sure to book your car several months in advance. Car rentals sell out very fast this time of year and prices skyrocket as the date gets closer.
Cost of Gas in Belize
The price of gas in Belize is much higher than other Central American countries, due to super high government tax and transport costs.
As of January 2023, the average cost of gas in Belize is $1.63 USD per liter, which is about $6 USD per gallon. Diesel is only slightly cheaper, at around $1.77 USD per liter ($6.70 USD per gallon).
In a compact SUV with a standard 45 liter (11 gallon) tank, it would cost about $66 to fill up the gas tank.
Luckily, Belize is a super small country and, in terms of mileage, things are relatively close together.
For perspective, the distance between Belize City and San Ignacio is only 114km (70 miles). On average, you can drive a compact SUV approximately 402-482km (250-300 miles). That means you can drive straight across the entire country and back on less than 1 tank of gas.
You can download my FREE Travel Expense Planner below to help you plan your next trip. Use it to easily and automatically calculate how much money you'll spend on gas, flights, accommodation, food + more
.
Additional Costs
There aren't a ton of additional costs to renting a car in Belize. However, there are still a few to keep in mind:
Tolls: The only toll bridge is at the bridge when accessing Orange Walk Town from Belize City via the Northern Highway. The toll is 38 cents (75 cents BZD).
GPS: A GPS from the car rental agency costs $5-15/day depending on the rental company. However, you can save on that cost by using Google Maps to navigate. Check out my Google Maps guide to learn how to access offline Google Maps on your phone.
Extra driver: Extra driver fees cost roughly $40 per week. Crystals allows one additional driver at no cost.
Mileage: Most rentals in Belize come with unlimited mileage, but always double check to be sure.
Insurance: The cost of additional insurance can add up. Check with your credit card company to see if they already include any coverage benefits before purchasing additional insurance.
How to save money on your rental car
Travel in the low season when rental car prices are the lowest.
Use travel credit card benefits to cover CDW insurance instead of adding it to your rental package. This will save you about $20 per day.
If you're under 25, avoid young driver fees by using a AAA membership to book with Hertz.
Pick up and return at the same location. Companies charge between $100-$400 extra for a one-way rental.
Are you highly proficient at driving a manual car? If so, renting a manual instead of an automatic car will save you about $35 a week.
Check your route to determine if you really need a 4×4. A regular car is just fine for most main roads in Belize, so if you don't plan to stray too far from the cities, then renting a sedan instead of a 4×4 will save you a bunch of money. More information on that below!
---
THE PROCESS OF RENTING A CAR IN BELIZE
Deciding what company to rent from
Several global chains, such as Hertz and Avis, have offices at the Belize International Airport. However, Crystal Auto Rental is always my go to. Crystal is a local car rental agency in Belize. They have offices at the airport and in downtown Belize City.
Crystal has the largest selection of vehicles, which are all in pretty good shape. They also have excellent customer service, and provide you with a cell phone and cooler at no additional cost. Most importantly, they're usually much cheaper than the larger companies, and they're one of the few car rentals that allow you to take the car to Guatemala or drive down the road to Caracol.
Belize car rental insurance
Belize requires all drivers to have basic third-party liability insurance. This is almost always already included in the rate of the rental car, but some companies may add it on separately for $20 per day in order to give you a cheaper quote per day for the car (*eyeroll*). Anyway, the third party liability insurance is mandatory and is the most basic insurance, which only covers damage to the car in the event of a collision with another vehicle.
Then there's additional car rental insurance coverage. Additional coverage options can be confusing because every company sells insurance differently.
For example, Crystal's Auto Rental sells three types of additional insurance: zero deductible credit card excess, collision waiver (CDW), and zero deductible non-collision waiver.
Collision waiver (CDW): Insurance that limits you to paying a maximum of $850 USD out of pocket for repairs in the event of a collision.
The add-on collision damage waiver (CDW) Insurance is largely the same as the mandatory liability insurance. However, there may be different deductibles or certain situations that are covered by CDW Insurance (such as driving on unpaved roads) that might make CDW worth the extra money for peace of mind. Do some research and know what the liability policy covers, and whether your credit card offers CDW Insurance as a benefit.
Zero deductible: Credit Card Excess: This insurance protects you from what your credit card insurance doesn't cover, such as damage to windshields, tires, keys, and additional liability coverage up to $400,000 USD.
Zero deductible: Non-collision waiver: This protection package covers 100% of the damage to tires, lost keys, and windshields, as well as additional liability coverage up to $500,000 USD.
Names and types of additional rental car insurance differ by company.
Is renting a 4×4 necessary in Belize?
Do you need a 4×4 to drive around Belize? Well, that depends on your itinerary.
Most people rent a 4×4 just to be on the safe side, but the reality is that many roads in Belize have been repaved in recent years, so they're in better shape than a lot of people expect.
Conversely, many popular tourist sites require a drive down unpaved roads. Many of those dirt roads are in decent shape, but your rental company may or may not allow you to drive on unpaved roads unless you rent a 4×4.
There are other roads, such as the Mountain Pine Ridge Reserve and the road to Caracol Mayan Ruins that always require a high clearance 4×4.
Here's a quick reference for car recommendations for popular areas:
Belize City to San Ignacio: 4×4 not necessary.
Hopkins to Placencia: 4×4 not necessary. The roads in Hopkins aren't too bad and wealthy expats keep the roads around Placencia in amazing condition.
Cockscomb Basin Wildlife Sanctuary: 4×4 recommended but not necessary. The road to Cockscomb is a dirt road, but is well maintained and generally not too rough going. A 4×4 may be required in the rainy season.
Mountain Pine Ridge Forest Reserve: 4×4 required due to unmaintained forest roads.
Caracol Mayan Ruins: 4×4 with high clearance absolutely required due to the poor condition of the unmaintained jungle road.
Northern Highway, Western Highway, Hummingbird Highway: 4×4 not necessary.
Pick up and drop off at Philip S. W. Goldson International Airport (Belize International Airport, BZE)
Can you pick up your car rental at the airport?
Yes…kind of.
Philip S.W. Goldson International Airport (BZE) is too small to have the car rental companies located inside. Instead, you'll find a row of small car rental offices lined up directly outside of the main exit.
Just walk outside and across the main parking lot to the auto rental building. It's a row of small global and local rental car offices with cars parked out front of it. You can't miss it.
Here's a list of companies that provide car rentals at Belize International Airport:
Avis Car Rental
Budget Car Rental
Hertz Car Rental
Dollar / Thrifty Rent-A-Car
Crystal Auto Rental also provides complimentary transportation from the airport to their downtown Belize City office. Renting from their downtown Belize City office saves you $35 per week because you won't have to pay the airport fees.
---
THINGS TO CHECK BEFORE YOU SIGN THE CONTRACT
Before you sign on the dotted line and drive away, here are a few things you should double check:
Are you allowed to drive on dirt roads? This is an important thing to check before you drive away! Some companies will only allow you to drive on unpaved roads if you rented a 4×4. If you're not allowed on dirt roads, taking them anyway will void any and all of your insurance coverage if anything happens.


.

Are you going to Caracol? Most rental companies will not allow you to drive the unmaintained jungle road to Caracol. In fact, Crystals Auto Rental and Tour Belize are the only two companies at the airport who will allow it.
Going to Caracol Mayan Ruins? Be sure to READ THIS before you make the drive!.
Check the integrity of the tires. And ensure that you have a working jack and an inflated spare tire in the event of a flat. The first time we road tripped Belize, we ended up with a nail in one of our tires. The tire went flat along the Hummingbird Highway and we had neglected to check the quality of the spare at the rental agency. Turns out, the spare was old and deflated, and it took a bit of creativity, a small bike pump and several hours before we were back on the road.


.

Always take before and after pictures/videos of your rental, especially if you see any existing damage when you pick it up. Cars in Belize are usually older, so chances are high that your vehicle will have some wear and tear. When you drop the car off, have the attendant do a walk around of the vehicle with you. Doing this will document any damage that was already present and proof that no damage occurred to the rental while you had it.


.

Check the features of the vehicle. Does it take gas or diesel? Belizean rental cars are usually old models, so your car may have features you're not familiar with. Make sure you know how everything works, including the windows, radio, air conditioning, and dashboard display.
---
OTHER IMPORTANT THINGS TO KNOW ABOUT BELIZE CAR RENTALS
Can I drive my rental car from Belize to Guatemala?
If you're keen on visiting Tikal in Guatemala, then this is an important question to ask when renting a car in Belize!
Most Belize car rental agencies do not allow their vehicles to be taken to Guatemala or Mexico. Crystal Auto Rental in Belize City is one of the only agencies that does allow its vehicles into Guatemala. They will even help you prepare and organize the necessary paperwork for crossing the border.
Do keep in mind that your Belize auto liability insurance does not provide coverage in Guatemala and there is no place to buy liability insurance at the border.
If you book with anyone other than Crystal or decide not to drive across the border, here's how to get to Tikal from San Ignacio using public transport. Or you can just book a tour.
***
That's all of the information you need to know to make your Belize car rental a quick and easy process!
All in all, renting a car in Belize is absolutely the best way to see the country and experience all of the breathtaking scenery along the way.
I hope you found this guide helpful! If you have any questions, just drop them in the comments below.
Happy Adventuring!
Did you find this guide helpful for renting a car in Belize? Let me know in the comments! I love to hear from you!
PINS FOR YOUR PINTEREST
WANT TO SAVE MONEY TRAVELING?
Check out my list of reliable budget-friendly travel resources that are guaranteed to save you the most money, without compromising your experience.