Read This Before You Drive to Caracol, Belize
Post summary: How to drive from San Ignacio to Caracol Mayan Ruins in Belize, tips for visiting Caracol, and how to get there without booking a tour
If you love history, ancient ruins, and off-the-beaten-path adventures, you'll want to add the Caracol Mayan Ruins in Belize to your list of places to see! Tucked away in the jungle of Western Belize, Caracol is a hidden gem that makes a unique (and super adventurous) addition to your Belize itinerary.
Most people who visit Caracol book a tour from Belize City or San Ignacio. If you're interested in joining a tour, you can skip this post and follow this link, because this blog post is allllll about how to skip the tour and drive there yourself! Not only will you save yourself a bunch of time and hundreds of dollars by skipping the tour, but – assuming you've got a bit of nerve – driving to Caracol is also WAY more fun!
But the driving to Caracol takes a bit of planning.You can't just safely hire a car and drive there on a whim. So, if you want to drive to Caracol, here are some things to know so you can stay safe and have fun!
Helpful guides for your trip to Caracol:
Important Tips for Renting a Car in Belize (Cost, Tips, and FAQs; Updated 2022)
An Adventurous 12-Day Belize Road Trip Itinerary
How To Plan Your Road Trip With Google Maps (Tutorial With Examples)
But first…A (very brief) history of Caracol
Flashback to the Classic Period: 600AD. Caracol is the largest known ancient Maya site in Belize and among the largest in the world. It had a complex urban center spreading over 200 square kilometers and a population of over 100,000 people at its height.
Caracol was connected to other Mayan cities throughout Belize, Mexico, and Guatemala, and engaged in several notable conflicts with Tikal, before its eventual collapse around 1000AD.
Archaeologists rediscovered Caracol in 1937, and it has since served as an important resource for understanding Ancient Mayan civilizations.
Aaaand, that's all I've got. Told you it was brief!
For a much more thorough history lesson, check out this paper on Caracol, Belize and Changing Perceptions of Ancient Maya Society.

What makes the drive to Caracol so difficult?
Caracol is one of the best Mayan ruins in Central America, and makes the perfect adventure for anyone wanting to get off the beaten path. Classified as a true hidden gem, Caracol is arguably the most under exploited ruin in Belize. The reason? The location.
Among being one of the most well-preserved and interesting cultural sites in Belize, Caracol is also one of the most remote. I meaaaan, you're looking at a long and bumpy drive down a poorly maintained jungle road… with a military escort. The drive to Caracol is a serious commitment, ya'll (and obviously it's the reason why most people just book an organized tour from San Ignacio).
So, should you make the drive?
Well, whether or not you're comfortable driving yourself is personal decision. BUT don't listen to the advice that tries to scare you away from making the drive without a tour guide (there's a lot of that out there!). As long as you're prepared and informed, you'll be totally fine. Besides, driving yourself gives you the ultimate freedom to come and go as you please, explore at your own pace, and explore the waterfalls along the way!
Driving Logistics
.

Directions from San Ignacio

Caracol is nestled deep within the Chiquibul Forest Reserve of Western Belize, making it both remote and difficult to access.

The drive from San Ignacio, Belize to the Caracol ruins takes about 2 hours.

Here's the Google Map directions:
Road Conditions
The first half of the road is relatively easy going over red dirt through pine forest. But the second half of the road becomes a lot rougher as it twists and turns though increasingly lush jungle.
Expect to navigate massive potholes, broken bridges, areas of thick mud, and washed out portions of the road marked only with a single tire or a piece of flagging tape.
Honestly though, it sounds scarier than it is. I've done this drive twice and haven't found it to be that bad, but definitely don't attempt it after a storm or heavy rain.
Keep reading for more tips and advice on how to safely navigate the drive to Caracol.
RELATED READING: An Adventurous 12-Day Belize Road Trip Itinerary
.
Caracol, Belize Safety
.A question I see popping up often is: "is it safe to drive to Caracol in Belize?". And I'm not talking about the driving conditions.
In short, my answer is: it depends how you feel.
Let me explain.
If you do a bit of digging, you'll probably stumble across old reports of tourists robbed at gunpoint along the road to Caracol. These robberies were conducted by Guatemalan bandits over a territorial dispute along the border between Belize and Guatemala.
But, the good news is that there have been no reports of any incidents involving tourists since 2006.
Since 2006, the Belize government has put in great effort to ensure the safety of tourists visiting Caracol. A few of these safety measures include a daily military escort along the road by the Belize Defense Force (the BDF), and military patrol of the ruin site (so don't be scared to see men with machine guns patrolling the ruins).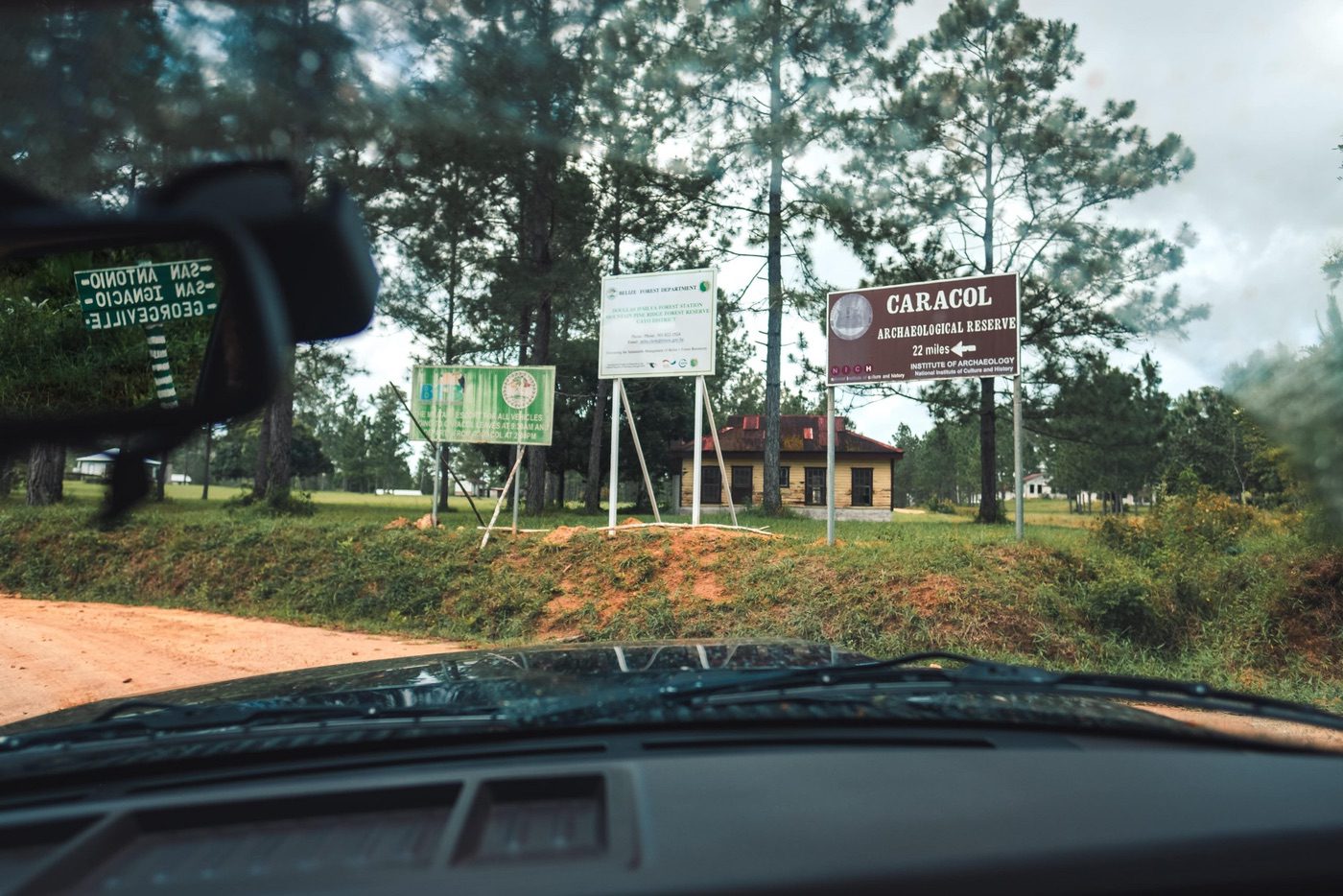 Military Escort Information
.MARCH 2020 UPDATE: the BDF military escort is unavailable until further notice. Visitors must check in at the BDF security checkpoint and then proceed on their own.

Caracol is guarded by the Belize Defense Force (BDF), due to its proximity to Guatemala and the history of political conflict between Guatemala and Belize.
There are active BDF personnel actually patrolling the ruins once you get there, as well as a military escort that escorts visitors along the way.
If you want a military escort along the road to Caracol, you are welcome to meet at the military base and have them escort you.

Here's what you need to know about the military escort:
The military escort leaves from the Douglas D'Silva Forest Station (the BDF base) at 9:00AM every day.
The convoy returns from Caracol at 2:00PM.
You are allowed to proceed without an escort at your own risk.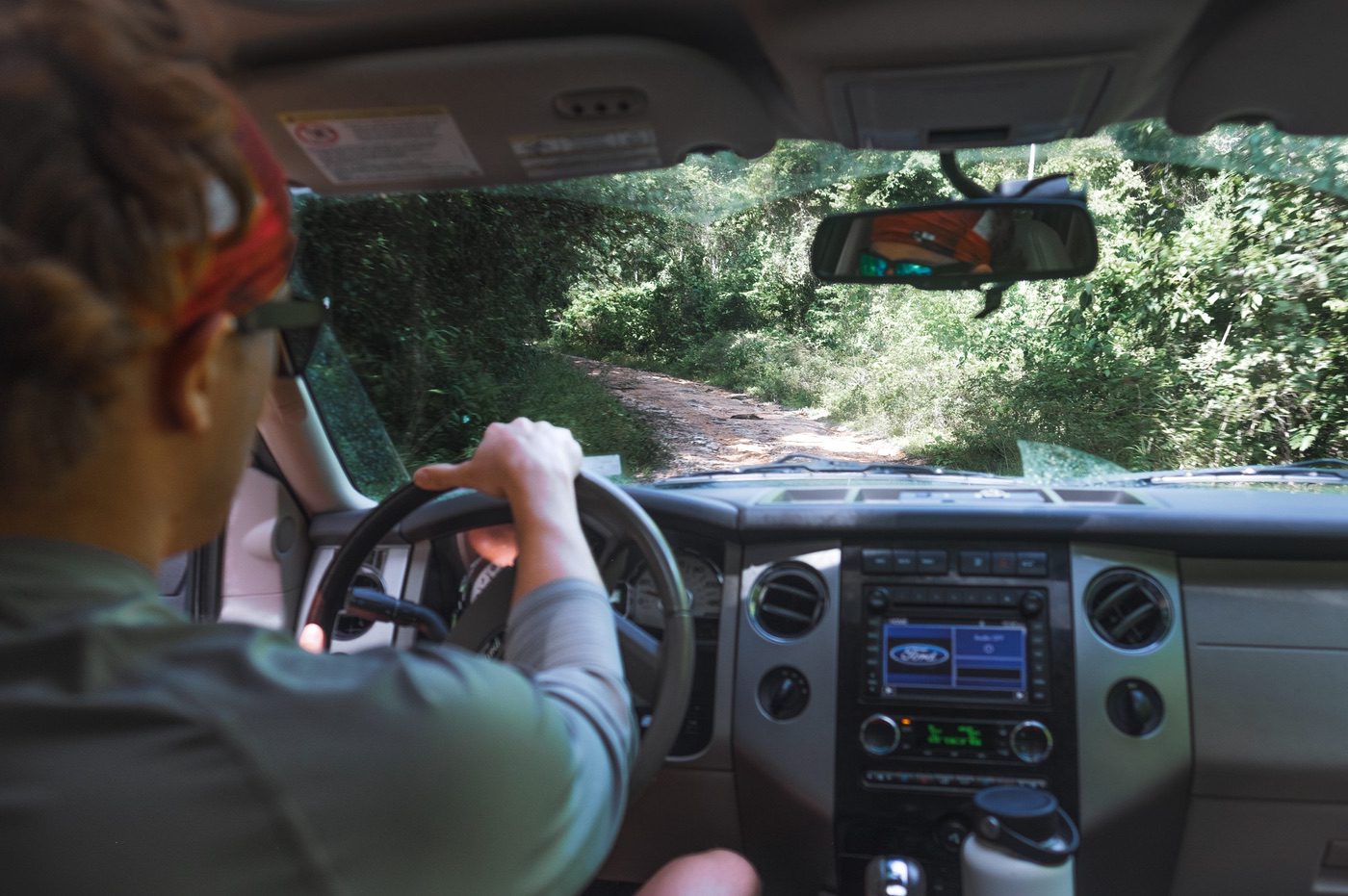 The rough and bumpy second half of the road to Caracol
Caracol Belize Entrance Fee
.The Caracol Belize entrance fee is $15BZD ($7.50 USD) per person. You'll pay at the information center upon arrival.
I don't think they accept credit cards. I've always paid in cash, as that seems to be the standard throughout most of Belize.
Entrance fee information is up to date as of March, 2020..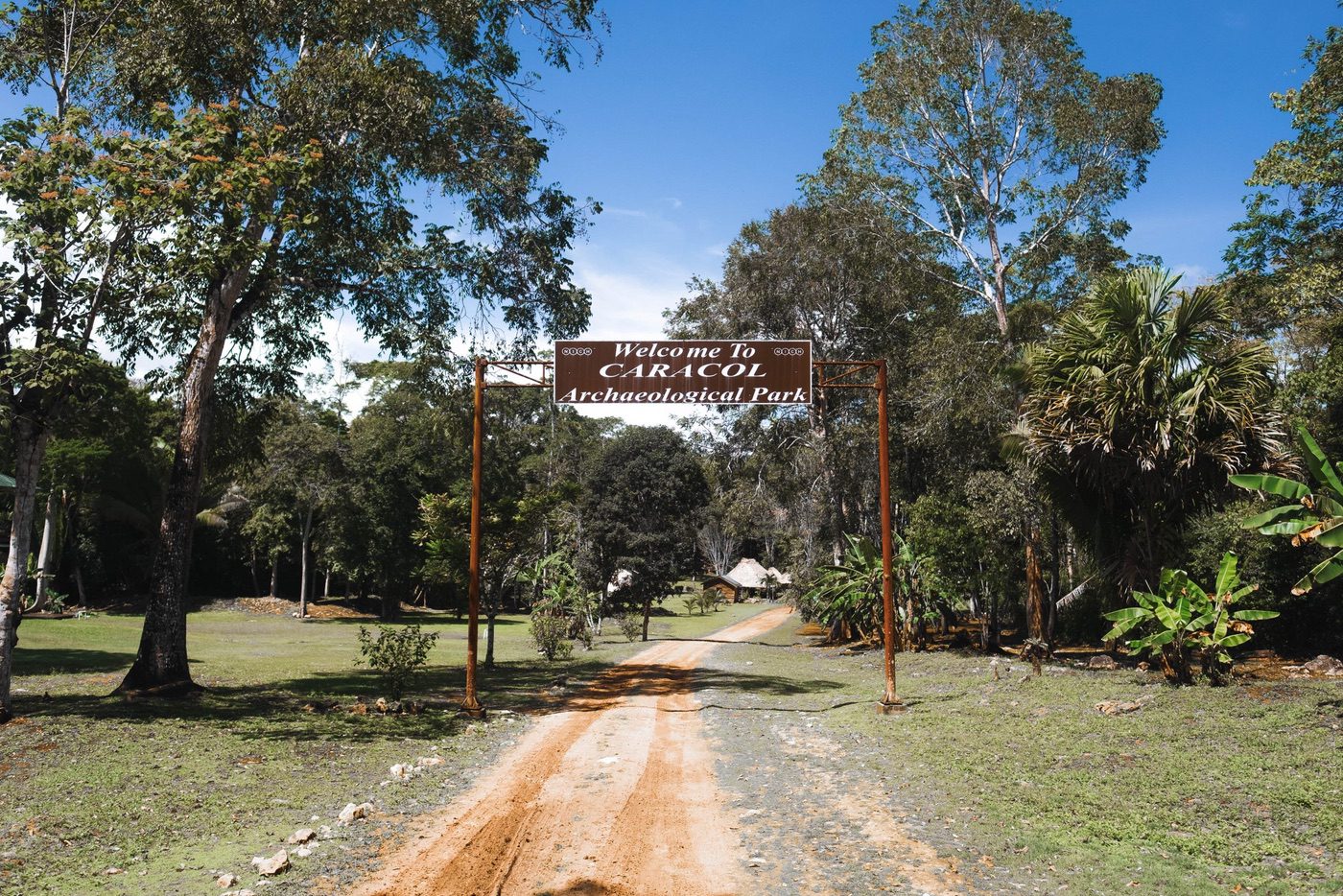 .
Can I hire a guide once I get to Caracol?
.Probably not. There are no guides for hire at Caracol. So, unless you book a tour in advance, you'll probably have to make do without a guide.
If you really want a guide, you could try asking to tack onto a tour group once you get there. I've heard of people having luck this way. You'll have to ask the tour guide and then pay the price they ask for.
I've also heard of people just following close enough to a tour group to hear what the guide is saying. That method kind of works, but you have to be careful not too look overly creepy while you do it.
Unfortunately, there aren't any plaques or signs at the site explaining the history of the temples, but there is a little museum at the info center that has some good information.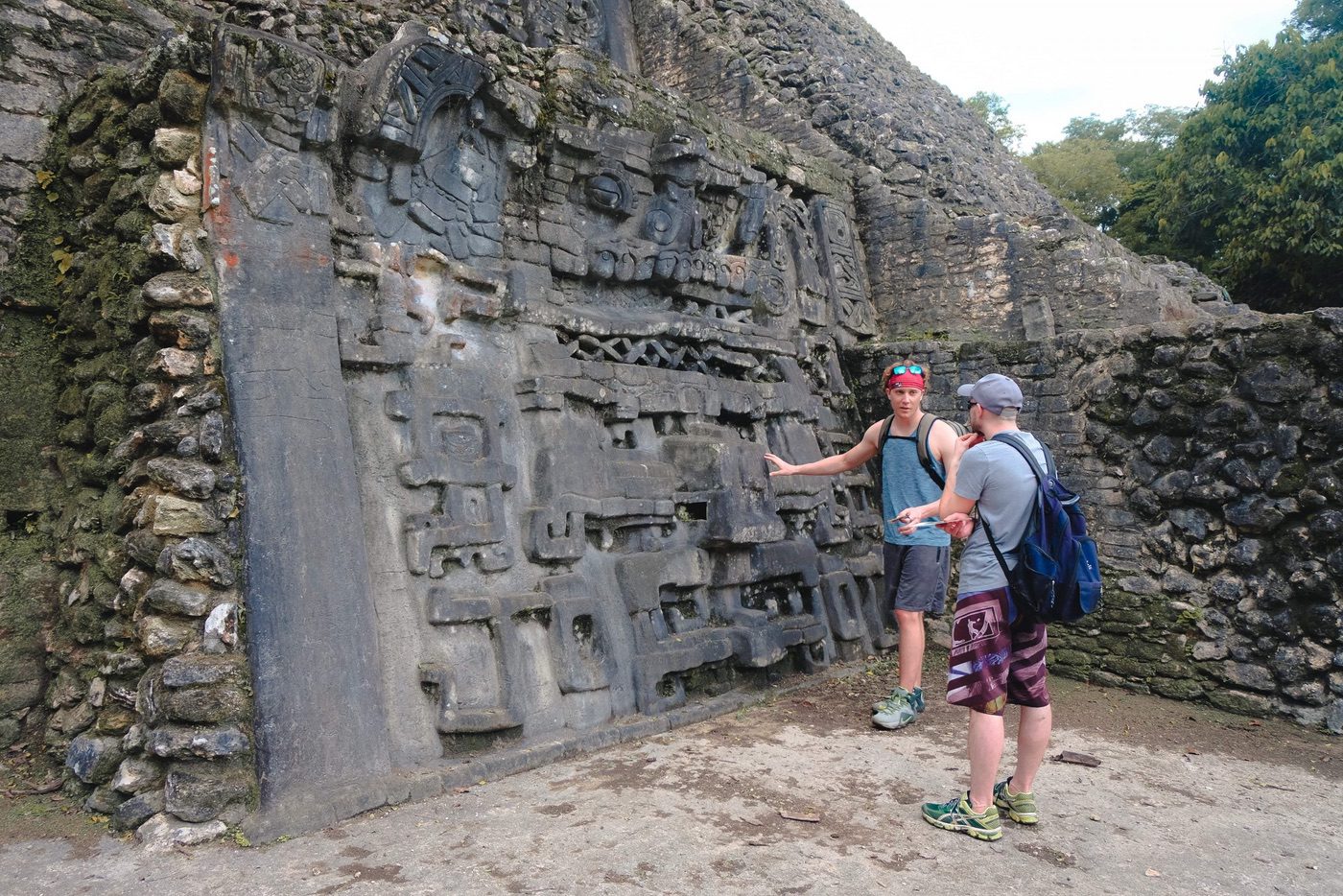 .
.
Tips for driving to Caracol Mayan ruins in Belize
.


YOU NEED A 4X4

.This is NOT optional.
.
Before we knew anything about what it was like to drive to Caracol, Greg and I reserved an economy car in advance with Hertz at the airport.

The lady behind the desk pulled out a map of Belize. Tracing the highways with her finger, she said, "You should be good to go on any of these roads. The only road that you are not allowed to take this car is on the road to Caracol. You will not make it without a 4×4."

Damn.

So, we left and spent some time bouncing between rental car companies in search of a car that could safely deliver us to the southern boundary of the Chiquibul Forest Reserve. After some negotiating, we eventually secured a Kia SUV with 4 wheel drive from TourBelize.

The best car companies to rent from if you know you'll be visiting Caracol are: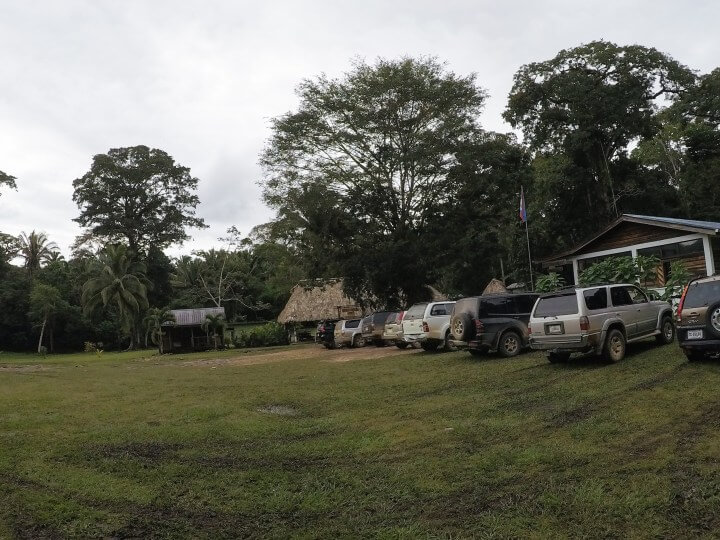 SUV's lined up at the entrance to Caracol Mayan ruins.
Read next: Important Tips for Renting a Car in Belize (Cost, Tips, and FAQs; Updated 2022)
.
MAKE SURE YOUR GAS TANK IS FULL

.Before you drive to Caracol, make sure your gas tank is full! The last gas station is in San Antonio Village – about 2 hours away from Caracol, so plan accordingly.
.

BRING A GPS SATELLITE PHONE

.Caracol's hidden location is a huge part of its appeal. And the huge amount of effort it takes to get there the reason why this site isn't overrun with tourists (even on a weekend, you'll probably be sharing the entire site with only a handful of other people. Yes, including tour groups).

It also means that the road isn't exactly busy. And Belize doesn't exactly have a 4G signal in the middle of the jungle.

See where I'm going here?

Basically, you won't have cell service if anything happens to you out there. So, for your own safety and peace of mind, its always a good idea to travel with a satellite phone so you can call for help if you need it. We use the Garmin inReach Explorer+ and we love it!
YOU MUST CHECK IN AT THE Belize defense force (BDF) BASE
ALL visitors must check in at the BDF base, located approximately half way to the ruins.
You're close to the checkpoint when you suddenly pass through a ghost town in the middle of nowhere.
When you reach the checkpoint, park your car and get out to check in with the guards. They'll ask for the name of the driver, number of people in your group, and your license plate number.
Checking in is required for everyone – partly to keep track of tourism and partly to know if you get stuck on the road and don't return (seriously, it happens). And don't forget to check out when you leave!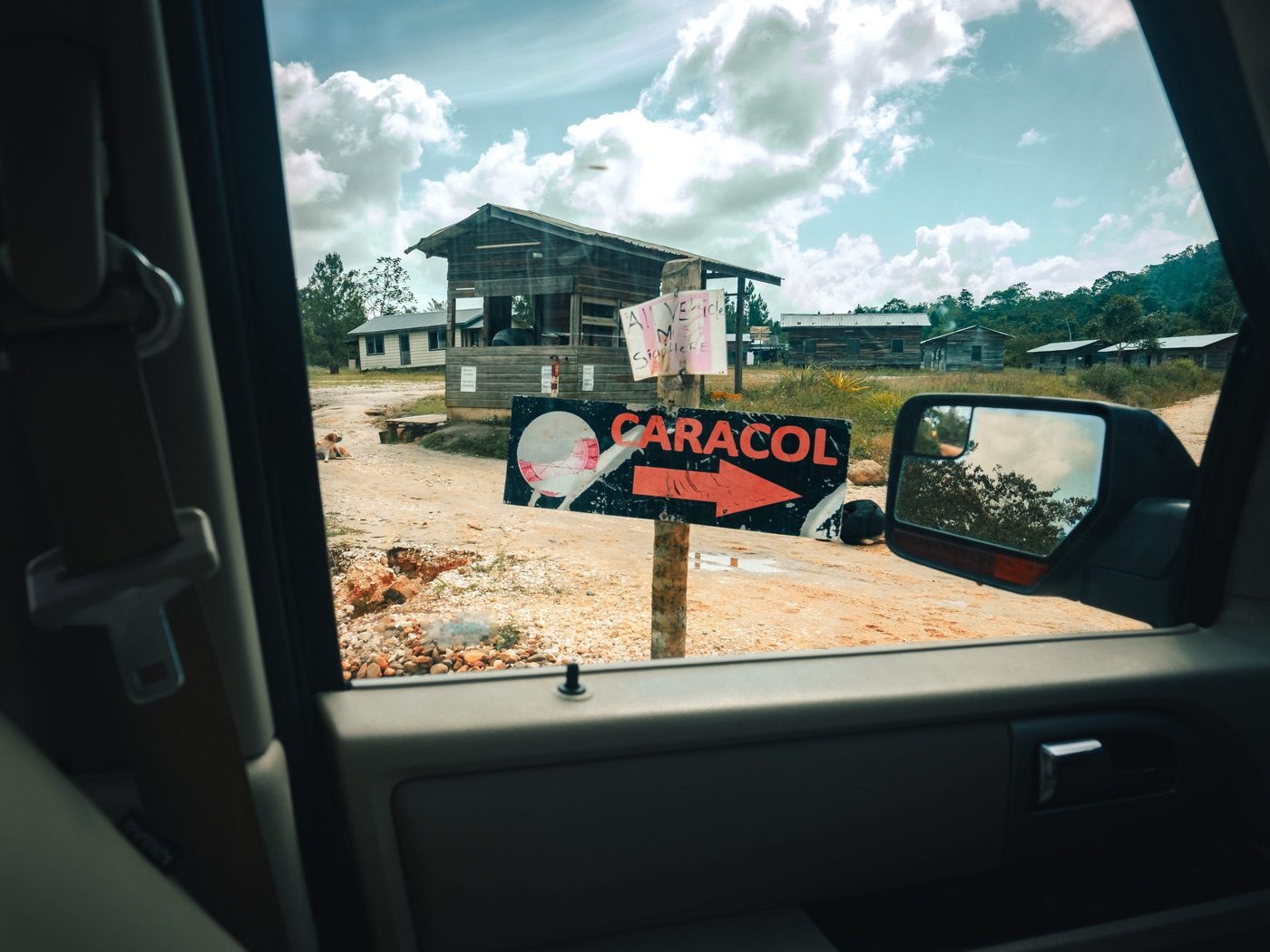 GET AN EARLY START
.Visiting Caracol is an all day affair.
Caracol opens at 9AM and you should arrive as close to that time as possible!
Starting early gives you plenty of time to account for unforeseen events, poor road conditions, time to explore the ruins, and any side trips to the nearby caves/waterfalls. (Plus, the drive in is so long and tiring, that you want to make the most of your time, right?)
We like to leave San Ignacio between 7:00-8:00AM (at the latest), so we get to Caracol sometime around 10:30-11:00AM. This leaves plenty of time to walk around the ruins and still explore a waterfall on the way out!
Keep reading for information on caves and waterfalls near Caracol.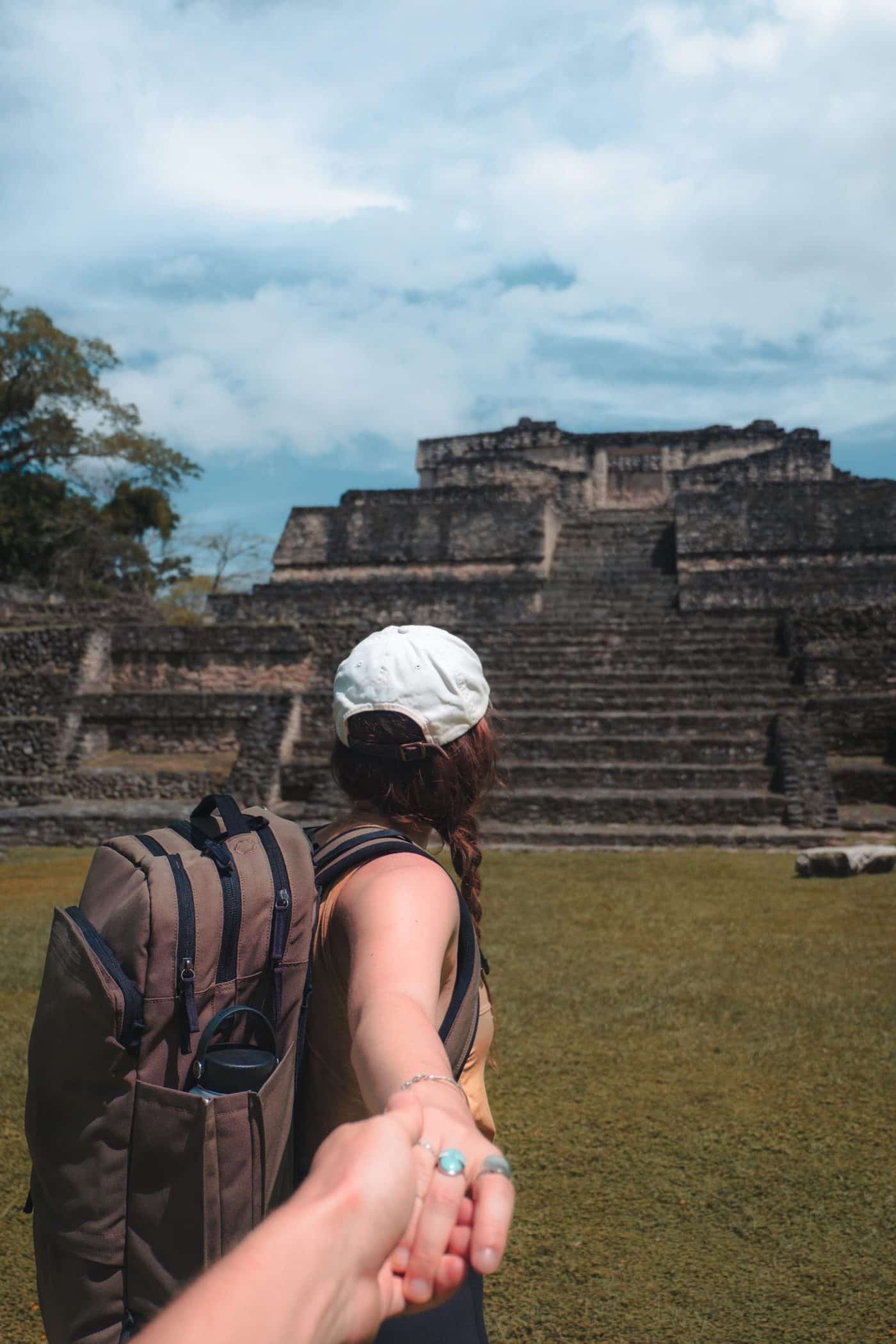 .

TAKE YOUR TIME EXPLORING THE RUINS

.Caracol is huge. It's the largest Mayan ruin site in Belize, so there's a ton to see! (This is where it comes in handy to arrive as early as possible)

Archaeologists have used LIDAR technology to reveal the distribution of Caracol's plazas, tombs, reservoirs, temples, pyramids, and causeways, which sprawl over 200 square kilometers (you can read about it here, if that's something you're into)!

But – luckily for your legs – most of Caracol is still waiting to be excavated, so only you can only access the central core. Don't let that fool you, though. There's still so much to see!

As of 2020, there are 4 plazas that are actually excavated. Within those plazas, you're free to explore several of the 70 tombs, view the original hieroglyphs and stone altars, walk through the ball courts, and actually climb the pyramids and temples (including Caana, which is Caracol's main pyramid and the largest man-made structure in Belize).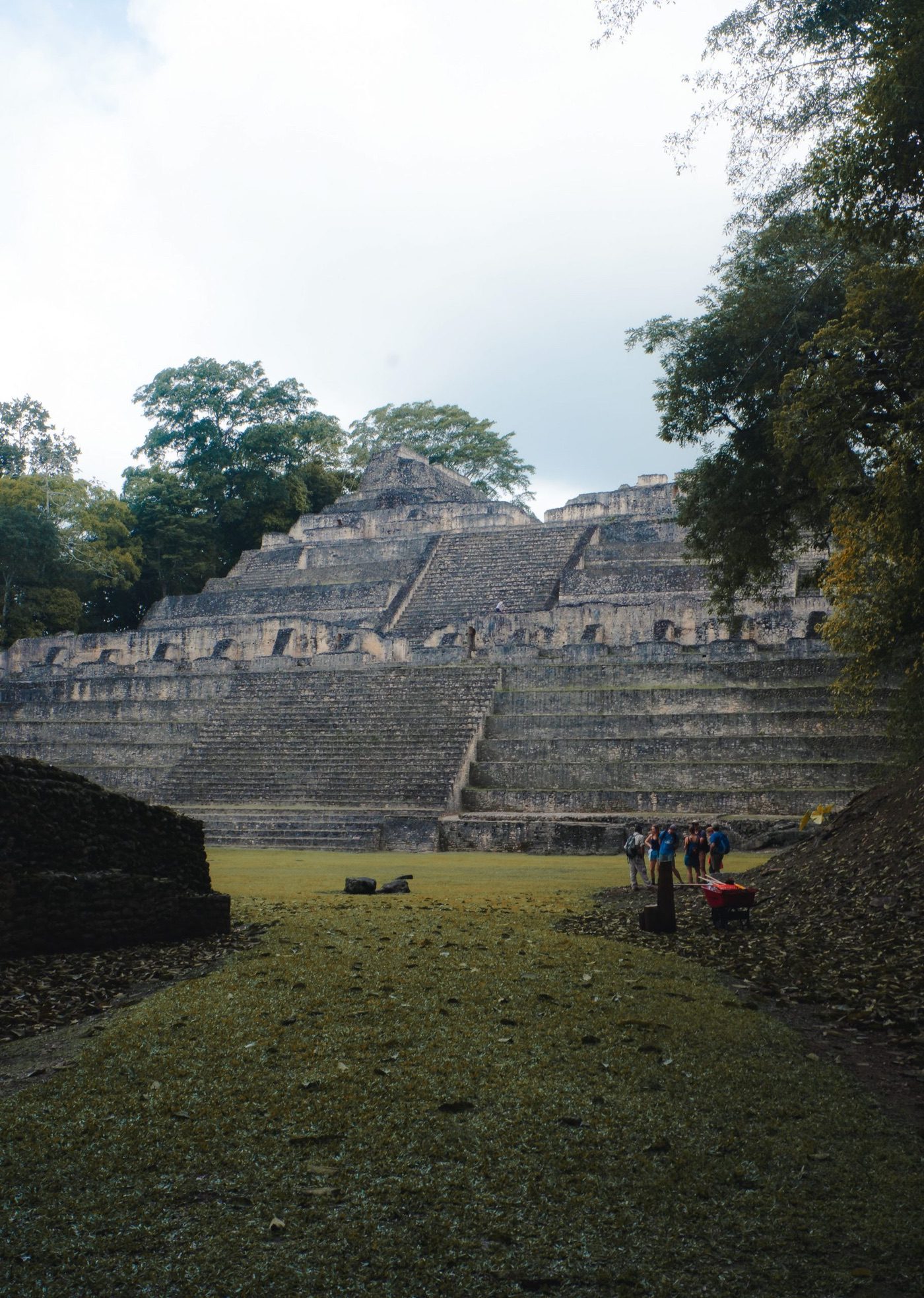 .

KEEP AN EYE OUT FOR WILDLIFE

Caracol's remote location is perfect for spotting wildlife. Keep your eyes (and ears!) peeled for oscellated turkeys, tapirs, jungle birds, and howler monkeys roaring in the not-so-distance.

PS: don't forget to venture off the main path a bit to see the twin Ceiba Trees! They're awesome.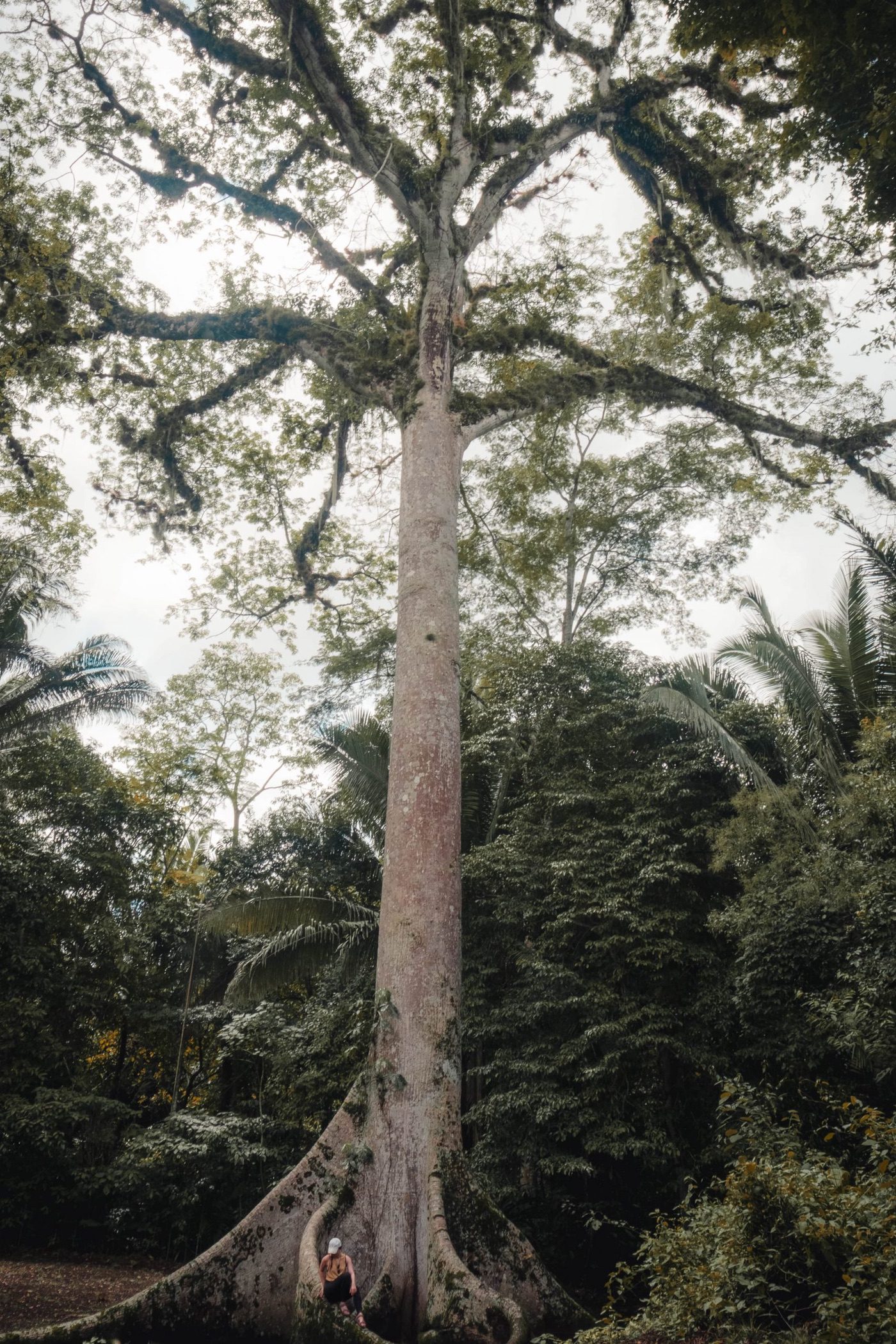 To the ancient Mayans, the ceiba was known as the Tree of Life, connecting heavens (the umbrella of branches at the top) with the terrestrial realm (the tall, straight trunk), and the underworld (the intricate network of roots securing it to the ground).
PACK A LUNCH AND PLENTY OF WATER
You'll be far away from the nearest town, so don't forget to pack your lunch!
That includes bringing plenty of water, too. There are no vendors selling food or water when you get to Caracol.
If you're staying at a resort, you can ask them to pack you a lunch (shoutout to the wonderful people at Chaa Creek Casitas for making us lunch when everything else was closed on a holiday!)
Otherwise, a great place to grab a local home-made lunch is at First-Stop Fast Food (here are the Google Map directions/coordinates).They have some of the best burritos in Belize – and they're only $2! You'll pass their little shack on your way to the ruins.


DON'T SKIP THE WATERFALLS OF MOUNTAIN PINE RIDGE
.The Mountain Pine Ridge is famous for several awesome caves and waterfalls – and luckily, they're relatively easy to find because they're located just off the road to Caracol.
The most popular spots are Rio on Pools and Rio Frio Cave. I've personally never been to these, because the tour buses go here for lunch after they leave Caracol. But I've been told the cave is great, so if you're looking for an easy and relaxing stop, these might be for you!
Our favorite waterfall is Big Rock Falls. It's a short (but steep) hike, a great place to swim, and it's a local favorite. Don't be surprised to find groups of locals swimming and hanging out on a nice day!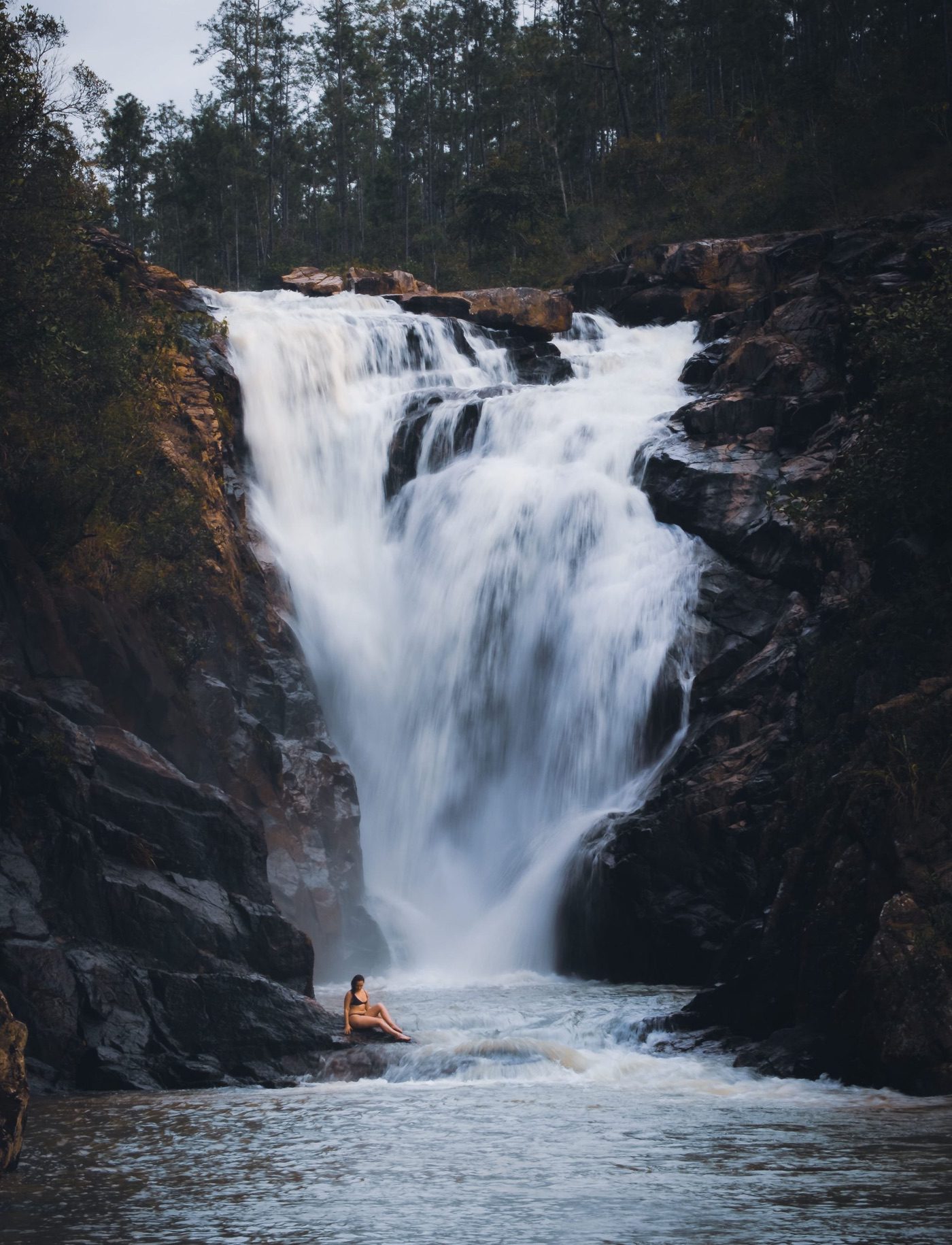 If you plan to stop at Big Rock Falls, wear shoes with good traction, bring a towel and eco-friendly sunscreen, and hope that you're lucky enough (like we were!) to get the place all to yourself.
Side note: there's nothing in the water but a bunch of rocks, so swim without worries!
Best Places to Stay near Caracol
.Here are the best places to stay near Caracol, broken down by budget:
Luxury
Mid-range
Budget
Ultra budget
CARACOL AND WATERFALL DAY HIKE PACKING LIST

.



$15 BZD Caracol entrance fee
Light day pack
Good walking shoes!
Sunscreen
Camera with extra batteries
A full gas tank!!
Tow ropes
Water
Bug spray
Comfortable clothes
Towel
Lunch
Are you thinking of driving yourself to Caracol? Have you already been here? As always, I'd love to hear from you!
More Belize travel guides:
How to Visit Tikal in Guatemala Without a Tour
WANT TO SAVE MONEY TRAVELING?
Check out my list of reliable budget-friendly travel resources that are guaranteed to save you the most money, without compromising your experience.