An Adventurous 12-Day Belize Road Trip Itinerary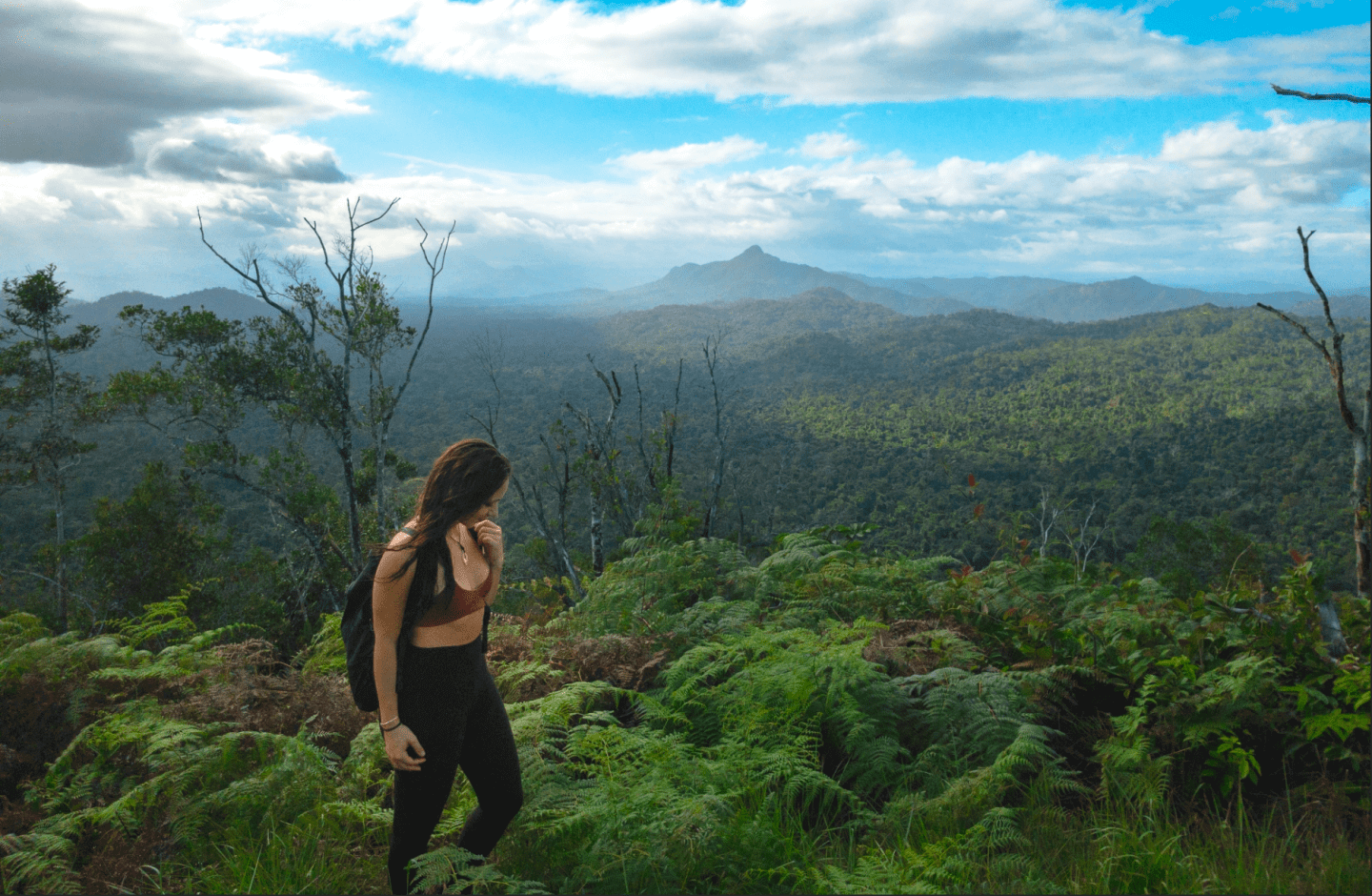 The first thing that came to mind when I thought of Belize was the Great Blue Hole, coconuts and white sand beaches. And while we did dive into the Great Blue Hole and sip rum out of coconuts, we spent hardly any time on the beach. Because what I didn't know was that this tiny little country is packed full of ancient ruins, awe-inspiring scenery, intoxicating adventures, and thousands of square miles of untouched jungle.
THE LOGISTICS
.
For us, getting to Belize was anything but straightforward. Our flight was scheduled to deliver us to Belize City 6 hours after our departure from Toronto. After a lot of last minute packing, a sleepless night, and a long white-knuckled drive through heavy fog at 2am, we arrived at the airport to be told that our flight was cancelled and our next available departure was 8 hours later. Bad luck? Maybe. But little did we know that it was the prelude to an entire host of unfortunate circumstances, including, but not limited to: 18 additional hours of travel time, airline change complications, missed connections, lost bags, botched accommodation plans, torrential downpours at the beginning of the dry season, a flat tire in the middle of the jungle, and all the money lost that goes with the solutions to all of those things.
We basically found our plans to be anything but etched in stone, but welcomed the promise of new adventure that each change in our itinerary offered us. So we discarded our original schedule, instead opting to semi-wing it, which proved that sometimes the best adventures are, in fact, unplanned.
.
THE ROUTE

.
.


CAYE CAULKER


Ambergris Caye or Caye Caulker? It seems to be the debate that plagues visitors who seek to visit the chain of islands that lay between the east coast of Belize and its barrier reef. But Greg and I quickly decided on Caye Caulker for its laid back Caribbean vibe and smaller price tag.

Once a top destination for young, budget travelers, Caye (pronounced Key) Caulker now attracts vacationers from all walks of life who are attracted to the island's "Go Slow" directive. And its taken seriously. The island is small, quaint, and completely chill. The local population hovers around 1000 people compared to the much larger population of Ambergris Caye.
You won't find any cars, air pollution or stretches of white-sand beaches on Caye Caulker, but you will find plenty of hammocks, salty breezes, golf carts, and barefoot bicyclists maneuvering around dogs napping in the middle of the dirt roads. And while you'll have plenty of time to sit back, relax, and sip on rum in coconuts, you'll still find plenty of things to keep you busy, such as:
snorkeling with manatees, snorkeling and/or scuba diving the barrier reef, swimming, stand up paddle boarding, bird watching, adopting a dog
Read about our adventure SCUBA diving the Belize Barrier Reef
Where to stay: Go Slow Guesthouse
Caye Caulker is a really small island, so unless you book far in advance you'll find most (if not all) of the budget-friendly Airbnbs completely sold out as your travel date approaches. But thankfully, because Caye Caulker attracts a very backpacker friendly crowd, hostels are a really awesome, abundant, and affordable last minute option.
And The Go Slow Hostel was exactly what we were looking for. Clean, cozy and totally colorful, the hostel is inviting and the staff is knowledgeable and friendly. Located down a side street, but within a 5-minute walk from the most popular bars and restaurants. The atmosphere was friendly – full of conversation, music, and (of course) rum and coconuts. It didn't hurt that the wifi was only available in the courtyard, giving everyone a little nudge to gather around together.
How to get to Caye Caulker from Belize City: You'll exit the airport and take a taxi to the San Pedro Water Taxi Terminal, located in Belize City. Buy a ticket to Caye Caulker and get on the boat! Its that simple. There are no cars allowed on Caye Caulker, but once you get there you'll see a bunch of golf carts lined up in front of the dock. You'll be able to rent one of them to help transport your bags.
Important note for the return trip: If you're heading back to the mainland, then you're going to Belize City, NOT San Pedro (San Pedro will take you to Ambergris Caye)
You can also find any information you need on bus schedules and tours when you arrive back at the San Pedro Water Taxi Terminal.
.
.
CAYO
Cayo is where we spent most of our time during our road trip in Belize. Famous for its lush forest, waterfalls, and assortment of Mayan archaeological sites, Cayo is the largest (and arguably most beautiful) district in the country.
.
Mountain Pine Ridge Forest Reserve and Caracol
Our first mainland stop on our road trip through Belize was the Mountain Pine Ridge Forest Reserve. The mountainous reserve is comprised mainly of needle-like trees, red clay, sinkholes, caves, and several noteworthy waterfalls (including 1000 Foot Falls – the highest waterfall in all of Belize). But it felt a little less like a Central American jungle and much more like the American Southwest to me. A stark contrast to the tropical paradise we had just left behind on Caye Caulker.

We set our sights on this area after a glowing recommendation from our taxi driver in Belize City and because Greg wanted to visit Caracol – the largest Mayan ruin in Belize, located just outside the southern boundary of the reserve.
Read about our adventure to Caracol and what to know before you do it for yourself
San Ignacio
Its no secret that I'm not much of a city person, but I was pleasantly surprised by San Ignacio. Maybe because its not so much a city, but more like a large vibrant town, located on the banks of the Macal River. Many travelers choose to visit San Ignacio for its central location, budget accommodation, food, nightlife, and ease of navigation via taxi, bus or on foot.
We also found that it was most central to a handful of Mayan sites, including Cahal Pech, Xunantunich, El Pilar and ATM Caves, as well as the Iguana Sanctuary. There's also a market every Saturday where locals gather to sell fruit, vegetables, souvenirs, art and play music.
Although we didn't spend as much time in San Ignacio as we would have liked, we did make it a point to dedicate half a day to exploring Xunantunich.
Xunantunich
The name Xunantunich is derived from Maya language and means "Stone Woman". The legend tells of a beautiful and elusive stone woman who lives in a cavern near the base of El Castillo, the most prominent structure of this ancient city.
The reserve was easy to find and is located just across the river from San Ignacio near the western border. If you plan to visit this archeological site, you'll find yourself entertained by the small hand-crank ferry that escorts you and your vehicle across the Mopan river.
I was instructed to exit the car, while Greg navigated it onto the ferry. Thoroughly amused by the fact that the ferry was actually operated only by a hand crank and some cables, I was happy to ride alongside our car until we were delivered to the paved road on the other side of the river.
From the ferry, it was a bit less than a mile to the reserve.
We parked our car, paid the $10 entrance fee and walked up the path to the ruins, where we left behind the bustle of the town and entered the rustling of the jungle. Although the reserve covers a relatively small area, it is quickly becoming the only piece of jungle left surrounded by an otherwise urban area.
We wandered around the courtyards, lingering to admire the lush green foliage and well-preserved architecture. Like many of the other Mayan sites in Belize, it is possible to climb the pyramids and, of course, Greg wanted to climb every one of them. But the views were breathtaking, offering sweeping views of the plaza below us, howler monkeys frolicking in the palm trees, and the not-so-distant Guatemalan border.
GUATEMALA
Given its proximity to Guatemala, We used San Ignacio as our Belizean home-base for our side trip to Tikal.
Read about our trip to Tikal in Guatemala and how to make the side trip on a budget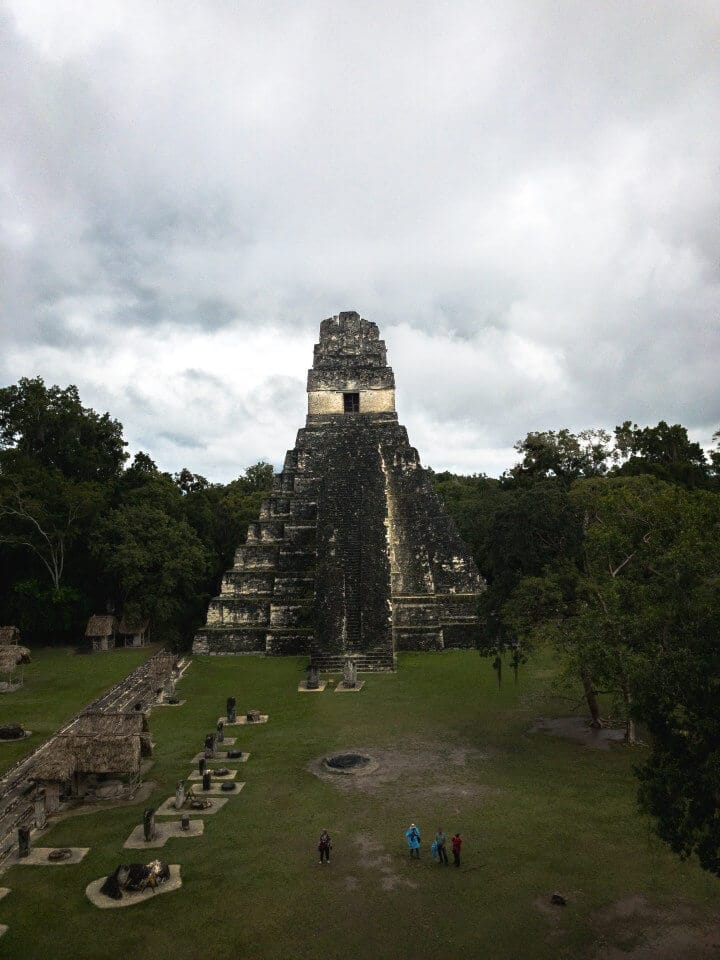 .


THE HUMMINGBIRD HIGHWAY

The hummingbird highway connects you from Belmopan in Cayo all the way to Dangriga in the Stann Creek District. 55 miles of twisting, turning, winding road that carries you through several villages, untouched Belizean jungle, valleys of towering mountains, and lowland citrus farms. Along the way you'll find a mixture of newly paved double-lane road, a (very) healthy dose of speed bumps, and old one-lane bridges left over from when the road was used for transporting citrus fruits to Dangriga.

It down poured 90% of our drive along the highway, so we didn't get to stop nearly as often as I would have liked. But keep your eyes out for fresh fruit stands, local road side restaurants, flocks of green parrots, trucks hauling loads of orange citrus, and many of the noteworthy stops and sights along the way including:
Magnetic Hill at mile 29. Read about the phenomenon here.
Hermans Blue Hole National Park at mile 42
Lamanai Chocolate at mile 43. Stop for stone ground coffee and home made chocolate (I recommend splurging on the cinnamon chocolate nibs)
Marie Sharp's Factory and Farm, located just outside of Dangriga. She has been making her own carrot. based hot sauces, jellies and jams since 1980. There is at least one bottle of her hot sauce on every table in Belize.


.
COCKSCOMB BASIN
Cockscomb basin is a wildlife reserve in the Stann Creek District of south-central Belize. It was the last stop on our Belize road trip. The reserve's 400 sq kilometers protect the area's unique flora and fauna and the eastern slopes of the Maya Mountains. It's also noted as the world's premier site for jaguar preservation.
Besides the Barrier Reef, Cockscomb was my absolute favorite stop during our trip. I really wish we had spent more time here (I find myself saying that a lot…), but due to our string of bad luck (i.e. the weather, and a flat tire that we acquired along the hummingbird highway) we only had half a day to explore.
From the highway, we turned into the reserve and followed a red dirt road, which stood in stark contrast to the surrounding green foliage. And Obviously I made Greg pull over so he could take pictures of me frolicking in the road…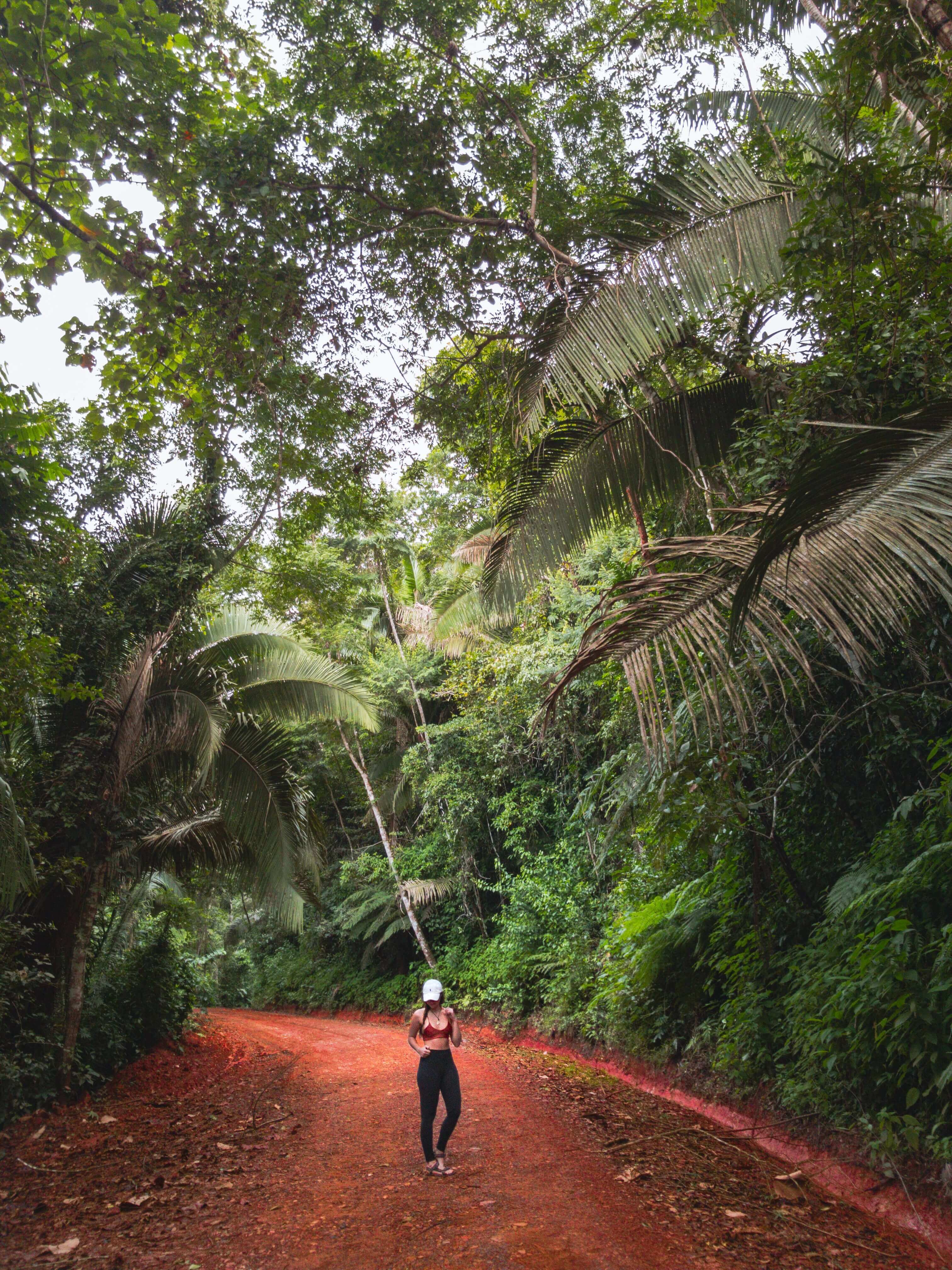 Anyway, once we got there, we checked in at the park entrance desk. That's when we learned that there's so much to do in Cockscomb – a plethora of trails ranging from short, easy day hikes to multiple day treks up Mt. Victoria, to lazy tubing down the river. But given our hiccup with the tire, we picked the guide's brain on how to make the most of our short stay. He recommended the hike to Tiger Fern Falls.
This was my first hike in the jungle. Unlike the crisp alpine air I'm used to hiking in, the air here was fresh and heavy and smelled of moss and dirt. We walked in silence, listening to the symphony around us. The birds singing. The monkeys howling. Water babbling in the nearby stream. The squish of our shoes in the heavy red mud beneath our feet. In a single file line, leaf cutter ants scurried by carrying pieces of leaves three times the size of their own heads.
The trees changed from moss-covered jungle to pine forest as we climbed to the top of the mountain. Eventually the tree line broke, offering us an absolutely breathtaking view of Mt. Victoria and the untouched jungle around us. Trekking through the mountain top meadow, we found ourselves steeply descending the other side of the mountain, where our surroundings once again became damp and tropical.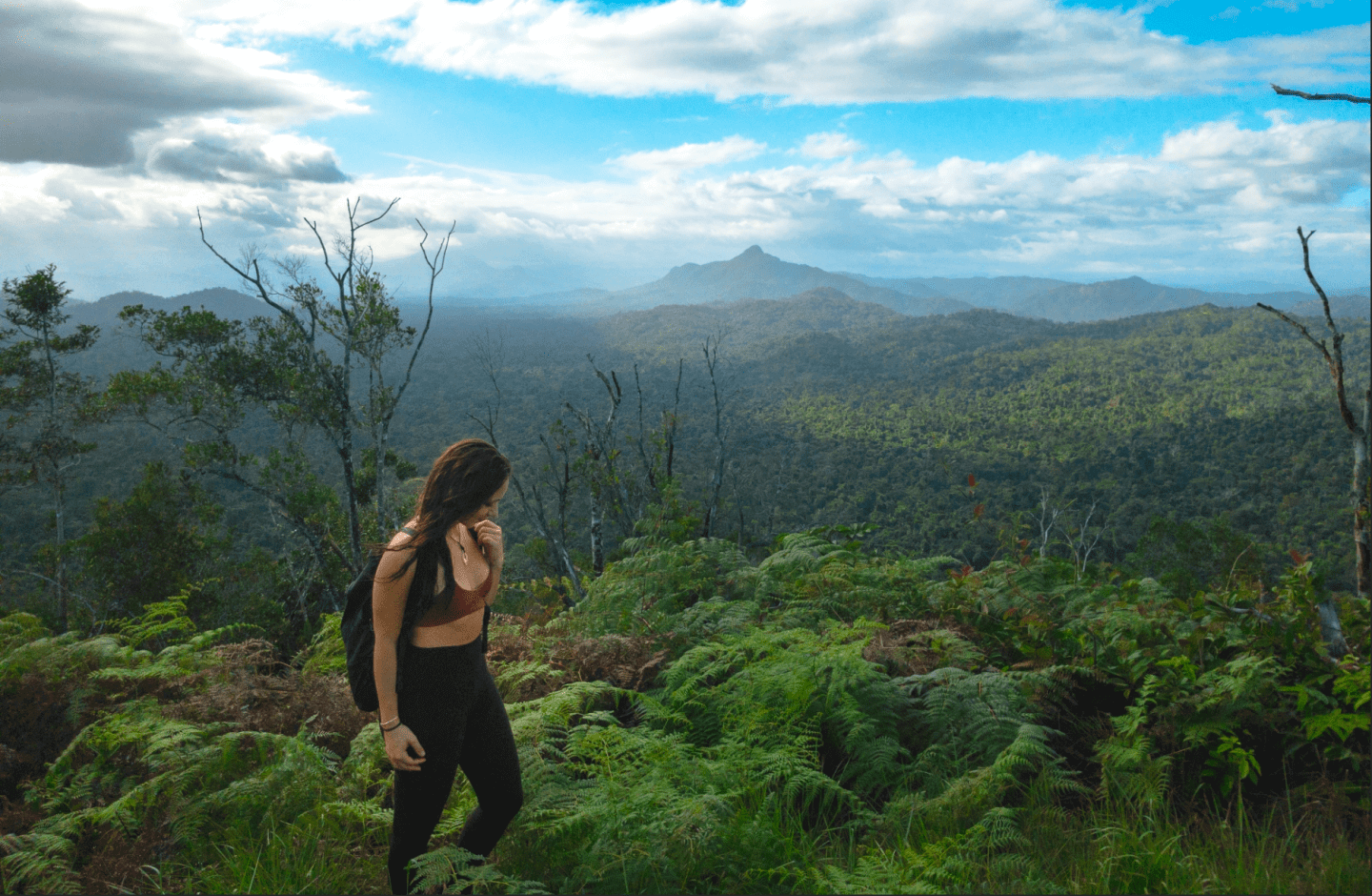 About 40 minutes into our hike, we reached the waterfall and its swimming pool. We spent about an hour alone, folicking barefoot and half naked, fully immersed in the present moment, the falls, the jungle, and the river downstream.

BELIZE TRAVEL TIPS
.
Splurge on a rental car: The rental car will, hands down, be the most expensive part of the trip. But while public transportation is readily available throughout the country, a car is truly the only way to see all that Belize has to offer (and on your own time!). Spend the money, you won't regret it.
Currency: Belize dollars or US dollars. It really doesn't matter. Both currencies are used interchangeably. Just remember 1 USD = 2 BZD.
Don't drink the water! Tap water is okay to bathe in but is not safe to drink. No water? Just drink Belikin, the local beer. Its (literally) everywhere.
DO buy fresh fruit from roadside fruit stands, but only the kind that you can peel to avoid any contamination on fruit skins.
Wear good shoes. The limestone at the Mayan ruins is really slippery when it rains
Don't forget to bring home Marie Sharps Hot Sauce. Just try it and you'll see why.
Utilize hostels and Airbnb. The people in Belize are the friendliest I've met thus far and they offer the best advice
THINGS YOU'LL BE GLAD YOU PACKED

CASH
Passport with copies
Lightweight backpack
rain jacket
hiking sandals
sneakers
leggings
tank tops
sweatshirt
jean shorts
1 pair of jeans
2 bathing suits
sunscreen
bug spray
sunglasses
baseball hat
first aid kit
advil/asprin/Benadryl (you never know what you'll get bit by or be allergic to in the jungle)
car charger
water bottle/camel back (to stock up on fresh water)
camera with charger and extra batteries
tripod
hammock
flashlight
Like this post? Pin it for later


WANT TO SAVE MONEY TRAVELING?
Check out my list of reliable budget-friendly travel resources that are guaranteed to save you the most money, without compromising your experience.