70+ Best Travel Captions for Instagram to Inspire You to Travel
Looking for unique travel captions to pair with your next Instagram post? You've come to the right place!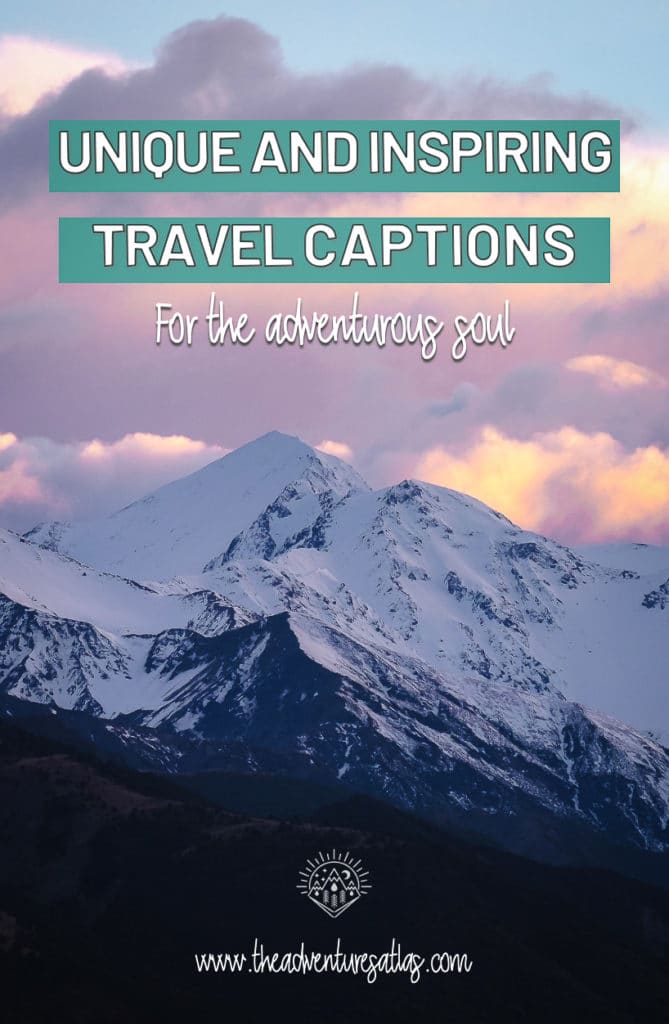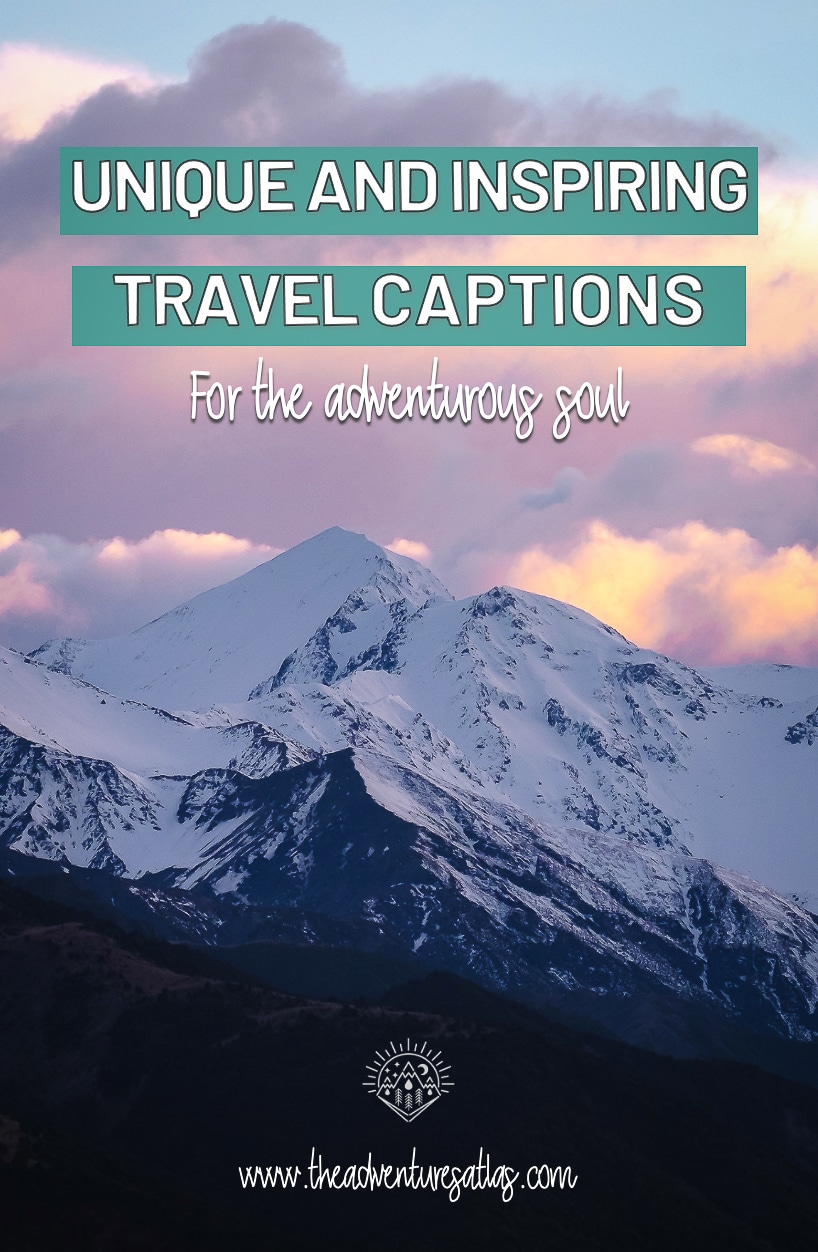 Whether you're traveling New Zealand, road tripping the Southwest, or escaping the winter chill in sunny Belize, your camera roll is mostly likely overflowing with photos of the incredible moments you captured along the way.
You're eager to share your new memories with friends and family back home, so you sit down to post your latest adventure to Instagram – only to find yourself at a total loss for words when it comes to writing your Instagram caption.
As a travel blogger and Instagrammer, I get it. A photo is worth 1000 words, but sometimes it's still so hard to craft a travel caption that pairs perfectly your epic travel photo.
That's why I've carefully chosen over 70 travel captions for Instagram for you. Use them the next time you're short on words; or simply want to spend less time agonizing over your next Instagram travel caption and more time enjoying your adventure.
Pick one to share now, save a few for later, and don't forget to pin your favorites on Pinterest!
Long and Poetic Travel Captions
This collection of travel captions is perfect for when you're feeling a little extra nostalgic and a short witty Instagram caption just doesn't fit the bill. These travel Instagram captions are mainly about the importance of making travel happen and the transformation one goes through when you dive head first into a great adventure.
1. "I urge you to travel. As far and as much as possible. Work ridiculous shifts to save your money. Go without the latest iPhone. Throw yourself out of your comfort zone. Find out how other people live and realize that the world is a much bigger place than the town you live in. And when you come home, home may still be the same. Yes, you may go back to the same old job, but something in your mind will have changed. And trust me, that changes everything." – Victoria Egerer

2. "I can't think of anything that excites a greater sense of childlike wonder than to be in a country where you are ignorant of almost everything. Suddenly you are five years old again. You can't read anything, you have only the most rudimentary sense of how things work, you can't even reliably cross a street without endangering your life. Your whole existence becomes a series of interesting guesses." – Bill Bryson
3. "My confession is I fall in love with so many places I'm always half broken-hearted by goodbyes. And I don't believe in non-attachment. There's no passion inside of that. I believe in burning, and longing. And I believe we leave tiny pieces of ourselves in every place we've loved." – Victoria Erickson
4. "Adventure is a path. Real adventure – self-determined, self-motivated, often risky – forces you to have firsthand encounters with the world. The world the way it is, not the way you imagine it. Your body will collide with the earth and you will bear witness. In this way you will be compelled to grapple with the limitless kindness and bottomless cruelty of humankind – and perhaps realize that you yourself are capable of both. This will change you. Nothing will ever again be black-and-white." – Mark Jenkins
5. "Although I do love oceans, deserts, and other wild landscapes, it is only mountains that beckon me with the sort of painful magnetic pull to walk deeper and deeper into their beauty. They keep me continuously wanting to know more, feel more, see more. To become more." – Victoria Erickson
6. "This is why once you've traveled for the first time all you want to do is leave again. They call it the travel bug, but really it's the effort to return to a place where you are surrounded by people who speak the same language as you. Not English or Spanish or Mandarin or Portuguese. But the language where others know what i's like to leave, change, grow, experience, learn. Then go home again and feel more lost in your hometown than you did in the most foreign place you visited. This is the hardest part about traveling, and it's the very reason why we all run away again." – Unknown
7. "Travel. Make Memories. Have Adventures. Because I guarantee that when you're 85 and on your death bed you won't think about that flashy car you bought, or the twenty pairs of designer shoes you owned. But you will think about that time you got lost in your favorite city. The nights you spent falling in love under the stars and all the beautiful people you met along the way. You'll think of the moments that made you feel truly alive. And at the very end, those memories will be the only valuable possessions you own." – EKP
8. "Travel isn't always pretty. It isn't always comfortable. Sometimes it hurts, it even breaks your heart. But that's okay. The journey changes you; it should change you. It leaves marks on your memory, on your consciousness, on your heart, and on your body. You take something with you. Hopefully, you leave something good behind." ―Anthony Bourdain
9. "Traveling messes you up, but in all the good ways. It leaves you always craving more, an addiction that can never quite be met. Every place, every trip, every person is a new adventure; pulling you deeper into the love of wanderlust. Your heart begins to hurt when you're standing still, and your mind begins to itch over the idea of new places you haven't been. Fill your soul with adventure and traveling and you will live a fulfilled life." – Unknown
10. "The best part about airports lies in what they symbolize. Airports are places of bookends: new beginnings and long-awaited endings, arrivals and departures, hellos and goodbyes. We start in one city to end in another hundreds or thousands of miles away. You enter from a desert and exit into a blizzard. In from winter, out into summer. In from familiarity, out into something completely foreign. Or vice versa. An airport is a place of transit, and not just geographically. I wish there was some sort of time-lapse to show how people change between departures and arrivals. When I arrive back home from being away, I'm never the same person as when I left." – Unknown
Short Travel Captions
Whether you're searching for travel inspiration or a witty Instagram caption, there's something here for everyone. I included a nice mix of short travel captions meant to motivate and inspire, as well as a quotes for the solo traveler, adventurer, and avid road tripper.
Add one of these short travel captions under your latest Instagram post or pin to your Pinterest to save for later!
Motivational Travel Quotes
11. "Twenty years from now, you will be more disappointed by the things that you didn't do than by the ones you did do. So throw off the bowlines. Sail away from the safe harbor. Catch the trade winds in your sails. Explore. Dream. Discover."– Mark Twain
12. "The trouble is, you think you have time." – Buddha
13. "And then there is the most dangerous risk of all — the risk of spending your life not doing what you want on the bet you can buy yourself the freedom to do it later." ―Randy Komisar
14. "To live is the rarest thing in the world. Most people exist, that is all." – Oscar Wilde
15. "Travel. Because money returns. Time does not." – Unknown
16. "There's no passion to be found in settling for a life that is less than the one you are capable of living." ―Nelson Mandela
17. "If you think adventure is dangerous, try routine, it is lethal." ―Paulo Coelho
18. "Be fearless in the pursuit of what sets your soul on fire." ―Jennifer Lee
Inspirational Travel Quotes
19. "In the end, it's not the years in your life that count. It's the life in your years." – Unknown
20. "You often feel tired, not because you've done too much, but because you've done too little of what sparks a light in you." – Alexander den Heijer
21. "Travel is not reward for working, it's education for living." – Anthony Bourdain
22. "Chase your calling with everything you have. It's worth it." – Unknown
23. "If we were meant to stay in one place, we'd have roots instead of feet." ―Rachel Wolchin
24. "Traveling— it leaves you speechless, then makes you a storyteller."– Ibn Battua
25. "May your adventures bring you closer together, even as they take you far away from home." – Trenton Lee Stewart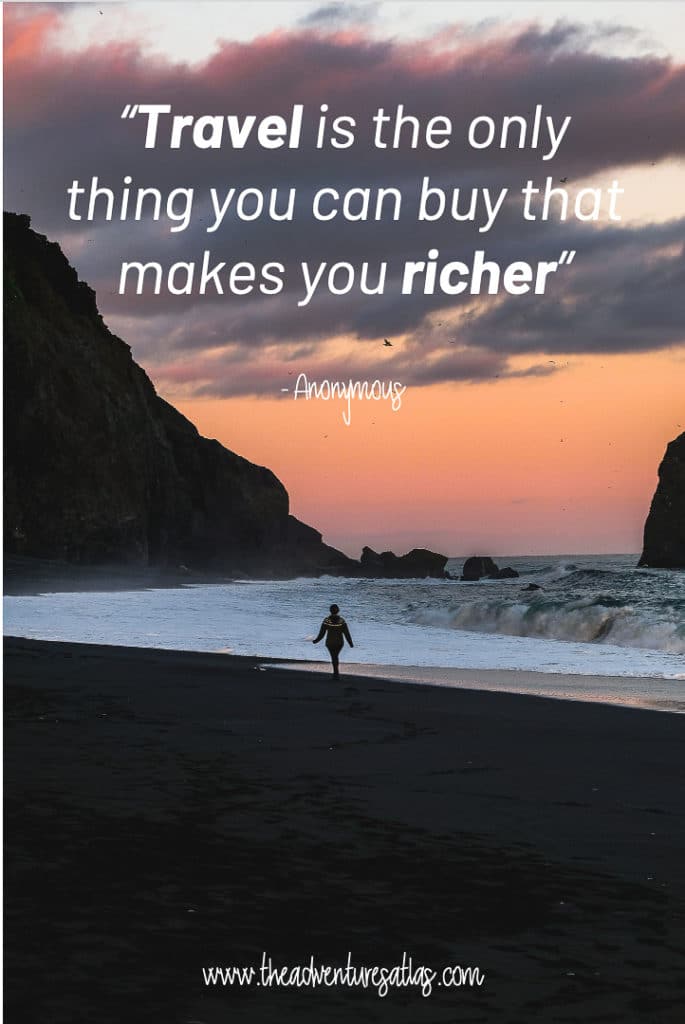 26. "The greatest reward and luxury of travel is to be able to experience everyday things as if for the first time." – Bill Bryson
27. "You can't do anything about the length of your life. But you can do something about it's width and depth." – Evan Esar
28. "Paradise has never been about places. It exists in moments. In connection. In flashes across time." – Victoria Erickson
29. "Explore the world with an open mind, a sturdy carry-on, and clothes that don't wrinkle." – Madeleine Albright
30. "Travel is the only thing you can buy that makes you richer." – Anonymous
31. "'Stuff your eyes with wonder', he said, 'live as if you'd drop dead in ten seconds. See the world. It's more fantastic than any dream made or paid for in factories'" – Ray Bradbury
Adventure Travel Captions
32. "I'm not lost. I'm exploring." – Jana Stanfield
33. "I can't get enough of wandering. Or the earth. Some of us carry an inherent need to explore." – Victoria Erickson
34."The mountains are calling, and I must go." – Unknown
35. "Actually, the best gift you could have given her was a lifetime of adventures…" – Lewis Carroll, Alice in Wonderland
36. "Not all girls are made of sugar and spice and everything nice. Some girls are made of adventure, fine beer, brains, and no fear." – Unknown
37. "Travel doesn't become adventure until you leave yourself behind." ― Marty Rubin
38. Fernweh [feirn-vay]. German (n.) an ache for distant places, missing places you've never been. A craving for travel.
39. "Adventures are forever." – Unknown
40. "We are torn between a nostalgia for the familiar and an urge for the foreign and strange. We are homesick most for the places we have never been." – Carson McCullers
41. "Tourists don't know where they've been, travelers don't know where they're going." – Paul Theroux
42. "What side of the earth calls out to you when you touch a globe?" – Victoria Erickson
43. "Jobs fill your pockets. Adventures fill your soul." – Unknown
Coming Home: Travel Captions for Change and Transformation
44. "You will never be completely at home again, because part of your heart always will be elsewhere. That is the price you pay for the richness of loving and knowing people in more than one place" – Miriam Adeney
45. "We travel because distance and difference are the secret tonic of creativity. When we get home, home is still the same. But something inside our minds has changed, and that changes everything."– Jonah Lehrer
46. "It's a funny thing coming home. Nothing changes, everything looks the same, feels the same, even smells the same. You realize what's changed is you." – Scott Fitzgerald
47. "If you want to know the truth of who you are, walk until not a person knows your name. Travel is the great leveler, the great teacher, bitter as medicine, crueler than mirror-glass. A long stretch of road will teach you more about yourself than a hundred years of quiet." – Patrick Rothfuss
48. "A person susceptible to 'wanderlust' is not so much addicted to movement as committed to transformation." —Pico Iyer
49. "The real voyage of discovery consists not in seeking new landscapes, but in having new eyes." ― Marcel Proust
50. "Travel far enough, you meet yourself." — David Michell, Cloud Atlas
51. "Travel brings power and love back into your life." ― Rumi
52. "I am not the same, having seen the moon shine on the other side of the world."―Mary Anne Radmacher
53. "Travel empties out everything you've put into the box called your life, all the things you accumulate to tell you who you are." ― Claire Fontaine
Solo Travel Quotes: Instagram Captions for the Solo Traveler
54. "Into the wild I go: losing my way, finding my soul." – Unknown
55. "A nomad I will remain for life, in love with distant and uncharted places." – Isabelle Eberhardt
56. "If it scares you, it might be a good thing to try." – Seth Godin
57. "Travel only with thy equals or thy betters; if there are none, travel alone." – Buddha
58. "Feel fear and do it anyway." – Unknown
59. "She wasn't bored, just restless between adventures." – Unknown
60. "Don't tell me how educated you are, tell me how much you have traveled." – Mohammed
61. "Don't be scared to walk alone. Don't be scared to like it." -John Mayer
62. "I urge you; go find buildings and mountains and oceans to swallow you whole. They will save you, in a way nothing else can." – Christopher Poindexter
63. "The world is a book and those who do not travel read only one page." – Saint Augustine
64. "We wander for distraction but we travel for fulfillment." – Hilaire Belloc
65. "This is your planet. You really should come see it sometime." – G. Adventures
66. "Travel sparks your imagination, feeds your curiosity and reminds us how much we all have in common." ―Deborah Lloyd
67. "We travel, some of us forever, to seek other states, other lives, other souls." – Anaïs Nin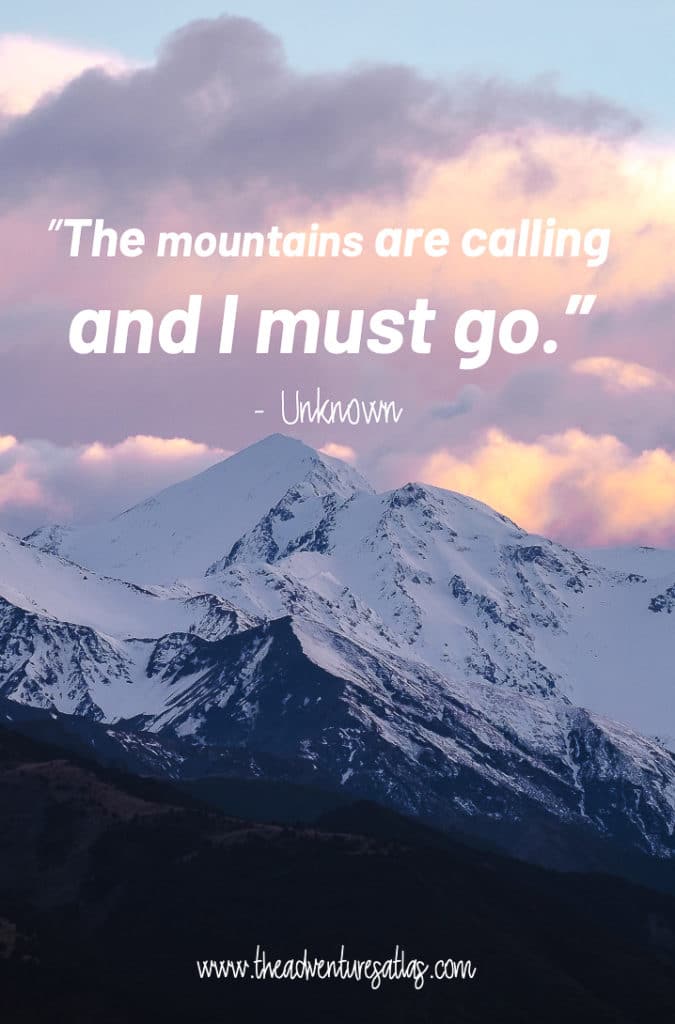 Road trip quotes
68. "Life was meant for spectacular adventures. Let your feet wander, your eyes marvel, and your soul ignite." – Unknown
69. "Sometimes the scenic roads in life are the detours you didn't mean to take." – Angela Blount
70. "Because the greatest part of the road trip isn't arriving at your destination. It is the wild stuff that happens along the way." – Emma Chase
71. "May the road rise up to meet you and may the wind be ever at your back." – Irish Blessing
72. "If you don't know where you're going, any road will take you there." – George Harrison
***
And there you have it! A collection of the best travel captions to pair with your travel photos on Instagram. This list will be ever growing, so be sure to check back for the updated list next time you're short on words.
Happy Adventuring!
Did you find your perfect travel caption in this list? What's your favorite travel quote? Let me know in the comments!
Pins for your Pinterest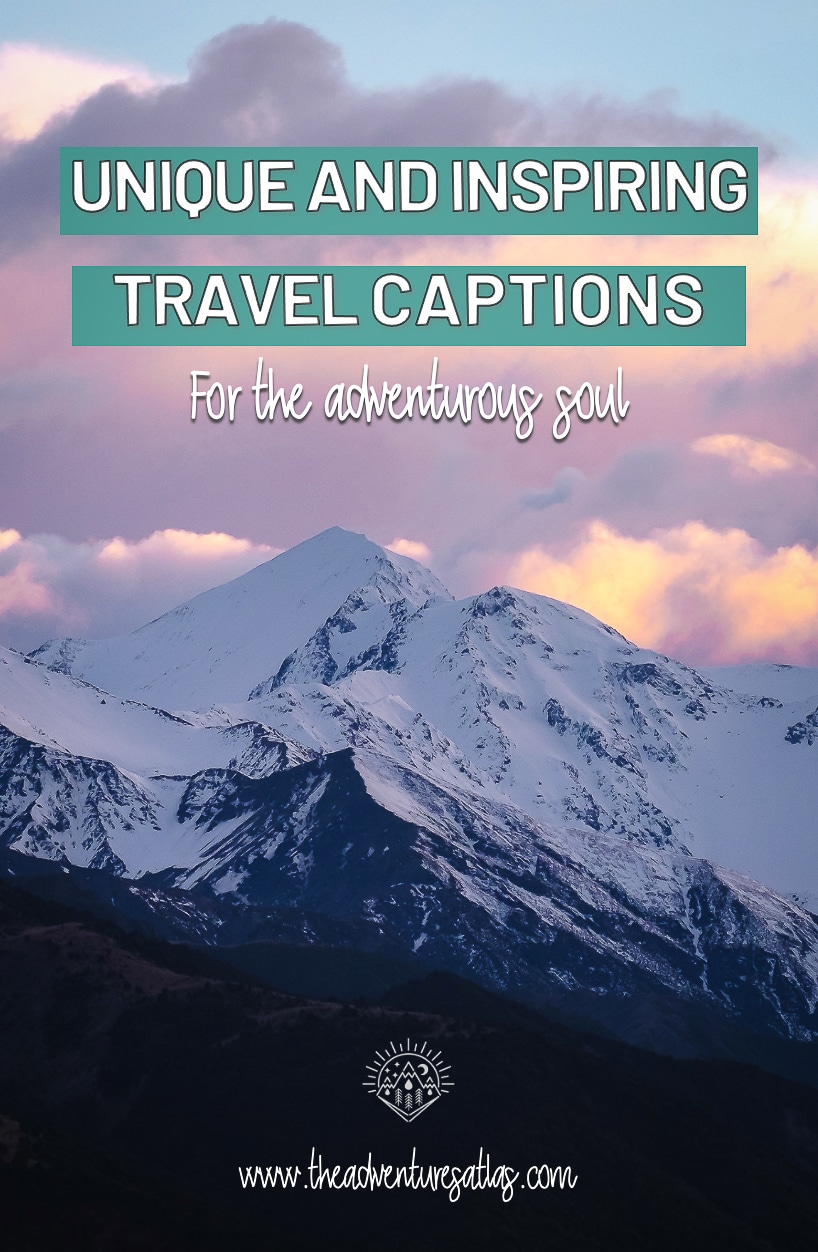 WANT TO SAVE MONEY TRAVELING?
Check out my list of reliable budget-friendly travel resources that are guaranteed to save you the most money, without compromising your experience.