15 Useful Apps to Download Before Your Next Road Trip (for Free!)
If you are looking for the best road trip apps, you're in the right place!
Traveling along the wide open road can be a lot of fun but can also be stressful if you're worrying about getting lost, finding gas, looking for a hotel, or are trying to keep to a tight budget.
Here are a few tools you can access from the palm of your hand that will help with your planning, navigating, budgeting, and finding what you need while on the road. These apps simplify things for you so you can concentrate on enjoying your journey just as much as the destination.
Whether you're going for 2 days or 2 weeks, these are the absolute best apps to have for a road trip:
All of the apps can be download for iOS in the Apple App Store or for Android in the Google Play Store.

Google Maps – best road trip app for navigation
Price: Free
Availability: iOS and Android
Seriously. How did we ever live without Google Maps?
It is arguably the most popular navigation app – and for good reason – as it's incredibly reliable and easy to use. Whether you're walking, biking, driving, or using public transportation, it allows you to see the best route based on distance, road conditions, and traffic patterns. I even used it to navigate the subways in Tokyo, Japan and it worked flawlessly (thank goodness!).
Since we're talking about road trips, Google Maps is an excellent choice when deciding on your driving route and looking at all your options for stops along the way.
Create and save your entire itinerary and update it as you go, or highlight your favorite places and save them for later. It can also help you find nearby restaurants, parking, or public restrooms in a pinch.
You can even download maps for offline use, which is an excellent feature for adventures that take you out of cell service.
For a step-by-step tutorial on customizing your Google Maps, visit my guide on How to Plan Your Road Trip with Google Maps.

Waze Navigation – for navigation with real-time updates
Price: Free
Availability: iOS and Android
Perhaps second in popularity to Google Maps, Waze is gaining favor with a lot of drivers.
Waze is a community driven navigation app that provides the most up-to-date maps, real-time traffic updates, and road closure alerts. It's also useful for showing drivers where traffic cops are hiding and and speed cameras are mounted. I think we can all agree that speeding tickets will put a damper on any road trip.
Drivers can report things along the way, giving real-time, comprehensive updates on road conditions and traffic problems.
Plus, for those of us who prefer to take the longest route possible, there is an 'avoid highways' feature that takes you through the backroads, which is the best way to discover fun and spontaneous stops along your journey.
However, one of the standout features of Waze is the "avoid dirt roads" option, which re-routes you to follow only paved roads on your road trip. This is especially useful for countries like Costa Rica, where it's all too easy to find yourself driving down some extremely rough and muddy roads.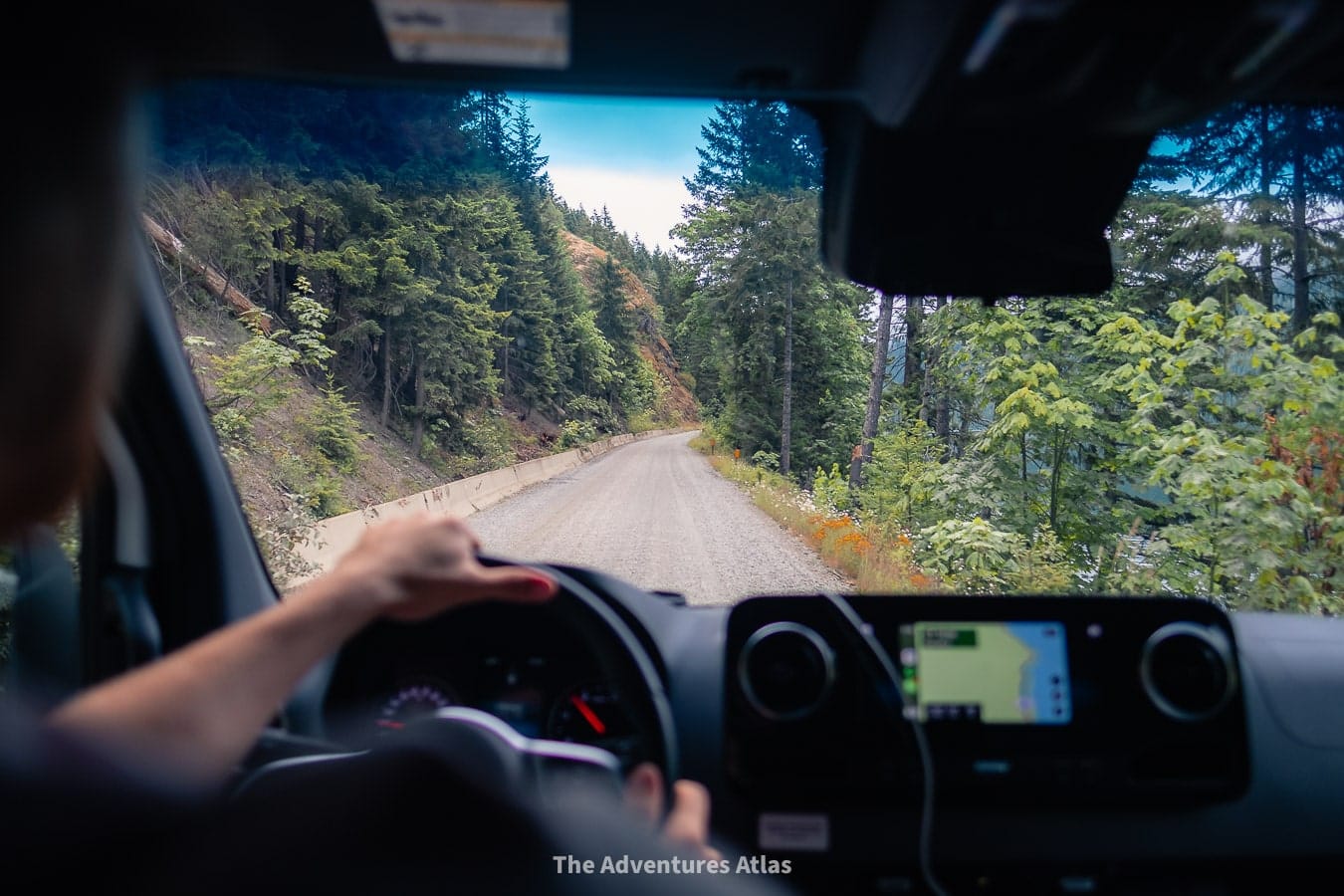 Roadtrippers – best road trip app to build an itinerary
Price: Free for basic version | $25.00/year to upgrade
Availability: iOS and Android
Roadtrippers is one of the best road trip apps because it's designed specifically for road trips. You can use it to build your own road trip route, find places to see along the way, and even calculate gas mileage. It's essentially your all-in-one road trip app.
To use Roadtrippers, start by clicking "Plan Trip" and add your departure and final destination. Roadtrippers will display the best route and then you can search for stops and accommodation along the way.
While you can plan basic road trips in countries throughout the world, Roadtrippers works best in the US, Canada, New Zealand, and Australia.
Use the free version to add up to 7 waypoints along your route. If you need more, you can upgrade to Roadtrippers Plus for $25.99/year, which gives you 150 waypoints per trip, offline maps, and different map styles.
Instagram – for inspiration
Price: Free
Availability: iOS and Android
While not technically a road trip app, Instagram is actually a great resource for finding inspiration, hidden gems, and checking current conditions at locations along your road trip route.
For example, I use Instagram every year to plan my fall foliage road trip! By searching for most recent posts in a certain area, I can check the foliage and time it to get there when the colors peak.
Here are some other ways you can research your trip on Instagram:
Type key phrases into the search bar on the explore page
Visit tourism boards profiles
Browse the posts under location specific hashtags
Similar to Pinterest, you can save your favorite posts and organize them in dedicated boards. I like to create dedicated boards for each trip.
Join me and over 45,000 adventure lovers over on Instagram, where I share more travel tips, unique places, and road trip itineraries!
Pinterest – for exploring blogs and finding itineraries
Price: Free
Availability: iOS and Android
If you're a visual person, you'll love Pinterest because it's a search engine like Google, but with pictures.
Pinterest is typically my first stop when I sit down to research for a road trip or start crafting an itinerary. It's a great road trip app for finding road trip itineraries, travel inspiration, and exploring new travel blogs which you may not have come across in a normal Google search.
You can use Pinterest to research a specific destination or just browse for inspo to save for later. Just use the search bar like Google to search for phrases like:
Best countries to visit in December
Florida travel
To stay organized, you can curate separate boards to store itineraries, places to visit during your travels, your packing list and any other tips that might make the road trip more seamless.
Click here to follow me on Pinterest and check out road trips Pinterest board!
Spotify – music, podcasts, audiobooks
Price: Free for basic version | $9.99/month to upgrade
Availability: iOS and Android
An absolute prerequisite for a good road trip is a good soundtrack. Long gone are the days of fuzzy radio stations or loading CD decks. Spotify allows you to sync up all your favorite tunes into your ultimate road trip playlist, or the app is happy to curate one for you.
Although Spotify is first-and-foremost a music streaming platform, you can also find hundreds of podcasts and audiobooks so you can learn and stay entertained on the road.
The app can be used for free, but you will get some advertisements, while premium subscribers listen ad-free.
Tip: Make a unique playlist for every trip with songs you've never heard before! That way, you'll be reminded of your epic road trip every time you hear those songs.
HotelTonight – to find last minute hotel deals
Price: Free
Availability: iOS and Android
Maintaining a flexble schedule is part of the joy that comes with road trips. Unforseen circumstances such as traffic, roadside attractions, hunger, or sleepiness can sometimes throw plans off course. HotelTonight compiles last-minute, unused hotel rooms at a discount. So, if you have a flexible schedule or you're looking for a last-minute hotel room because you can't handle any more drive time, this is a great app to have handy.
HotelTonight will use your location to pull up real-time availability and prices. They have about 50 thousand properties in their database in 1,700 cities around the world.
Image from HotelTonight
AllTrails – find places to stretch your legs
Price: Free for basic version | $35.99/year to upgrade
Availability: iOS and Android
If you're a fan of hiking and the great outdoors, you've probably used AllTrails once or twice to find a good walking trail. It makes the list of best road trip apps because you'll definitely be itching to stretch your legs after many sedentary hours in the car.
In the AllTrails app, you can enter a general location or use the map view to see your current location and find trails near you. Each route is rated by users and marked with distance, time, and difficulty level, so you won't be left wondering how long your excursion will take.
There are free and paid versions of the app for $35.99/year. The only noteworthy difference in the paid version is that you can download the maps offline.
TheDyrt – the best road trip app for finding campsites
Price: Free for basic version | $35.99/year to upgrade
Availability: iOS and Android
If you're going to be looking for campsites during your road trip, TheDryt helps you find places all over the US where you can pitch a tent, park an RV or even rent a cabin. This is the best road trip app for finding last minute campsites and free places to park overnight, especially when we have a camper van.
It's the number one camping app in the US, with over a million downloads. Users provide reviews, pricing, and all the nitty-gritty info you want to know before arriving at your camping location.
TheDyrt app is free to download, but I do recommend splurging on the PRO version if you'll be off grid. It costs $35.99/year and it allows you to plan trips and search for campsites while offline.
READ NEXT: 5 Compelling Reasons to Take a Campervan Road Trip (+ Essential Tips to Know Before You Go)
Freecampsites.net – find free campsites on public land
Price: Free
Availability: iOS and Android
Free camping can be hard to find, but Freecampsites.net makes it easy to find free, dispersed camping outside of official campgrounds. This makes it one of the best apps to have for your next road trip!
Most campsites are located on public land managed by the State Forest and Bureau of Land Management (BLM).
Freecampsites.net is crowd-sourced, so campsite information, tips, and site reviews are contributed by other users.
To find a campsite near you, use the map to search for free, cheap, or permit campsites. Alternatively, use the Trip Planner to pull up all campsites along your route. The campsites can be used for car camping, tent camping, or RV camping.
You can't book these sites in advance, so I recommend doing some research beforehand and always having a backup plan in case the site is full when you show up.
If you like to plan (way) ahead, use Recreation.gov to book organized campsites cross the country.
iExit Interstate Exit Guide – find the best exit stops
Price: Free for 'lite' version | $0.99 to upgrade
Availability: iOS and Android
Designed for US Interstates, the iExit Interstate Exit Guide is an easy way to find out what's coming up at an exit near you.
Missing signs and zipping past each turn-off usually means you miss an optimal food spot or bathroom stop. But iExit helps you find the best exit for your needs, whether it's cheap fuel, food, or a comfortable hotel. You can even book a hotel directly through the app.
iExit is free, but there are some added in-app purchases available for a small price.
Toll Calculator GPS Navigation – estimate tolls on your route
Price: Free for basic version | $5.99/year to upgrade
Availability: iOS and Android
Don't forget that toll roads are an important part of your road trip budget! Fortunately, Toll Calculator is one of the best road trip apps for estimating the cost of tolls along a given route. Originally created for truckers, this app is quickly growing in popularity among all kinds of road trippers.
With Toll Calculator, you can easily plan ahead and choose the best route for your trip, estimating how much toll money you'll need along the way. It currently works in the US and Canada.
The free version is good enough for estimating tolls along the primary route from point A to B. But you'll have to upgrade if you want to unlock more features like syncing with Google Maps and comparing prices on alternate routes.
GasBuddy – find the best gas prices along the way
Price: Free
Availability: iOS and Android
Let's be honest – filling up the gas tank is probably going to be the most expensive part of your road trip. Luckily, GasBuddy collects user-generated data to help you find gas stations with the least expensive fuel options on your route. It works for road trips in the US and Canada.
Once you add your destination, the GasBuddy app will show you all the filling stations along the way and let you compare prices. App users report prices and gain points for doing so. Earning points enters you into drawings for gas money that can go towards your next road trip.
TripIt: Travel Planner – keep your travel schedule organized
Price: Free for basic version | $49/year to upgrade
Availability: iOS and Android
TripIt is a travel planner that allows you to keep your travel schedule organized and saved in one place. This means that all your reservations, booking numbers, confirmations, addresses, etc., are neartly organized and at your fingertips.
The best part is that you don't have to add everything in manually, which is such a time saver. Once you book something online, you can automatically sync your plans into your TripIt schedule. It's very convenient to have everything in one place.
The free version is super comprehensive so you won't have to pay for TripIt PRO unless you want the added bonuses real-time flight alerts, reminders and city guides.
TravelSpend – best travel app for budgeting
Price: Free
Availability: iOS and Android
If you like sticking to a budget while you travel, TravelSpend is a free app that will track your spending. It's great for domestic road trips, but you can also use it abroad because you can choose your currency.
TravelSpend's functionality is pretty basic, which makes it easy to use, even if you're a finance novice. It categorizes your spending so you can see exactly where your money is going and helps you stick to your budget.
It can cater to solo travelers, couples, families, groups, or digital nomads. The free version comes with ads, or you can upgrade to go ad-free.

Image from TravelSpend
***
This wraps up our list of the best road trip apps! I hope you find some of these apps helpful on your next road trip. If you have a favorite, let me know!
Pins for your Pinterest
WANT TO SAVE MONEY TRAVELING?
Check out my list of reliable budget-friendly travel resources that are guaranteed to save you the most money, without compromising your experience.