11+ Breathtaking Places to Experience Fall in New Hampshire (+ 3 Epic NH Fall Road Trip Itineraries)
So you want to experience fall in New Hampshire? Perfect – you've come to the right place! I'm sharing where to see the best fall foliage in New Hampshire, best things to do in New Hampshire in the fall, and 3 amazing New Hampshire road trip itineraries to see it all!
Growing up in Upstate New York, fall has always been my favorite time of year. In fact, every year, I make it my mission to chase the best fall colors and have seen the best of foliage in New York, Maine, British Columbia, and even Japan. But, until this year, New Hampshire was never on my radar, and let me just say that I have NO idea what took me so long to get there!
Fall in New Hampshire is, quite possibly, on a level all its own. From the dense hardwood forests painted brilliant shades of orange and yellow, to the alpine lakes and dramatic cliff faces, the White Mountains of NH put on such a spectacular fall color display that it's easy to see why it attracts millions of people every year.
In this post, I'm sharing the best spots for leaf peeping in New Hampshire, from the heart of the White Mountains to Lake Winnipesaukee – and all the best places nearby and in between!
I'm also sharing my 3, 5, and 8-Day NH fall road trip itineraries, that are designed for true adventurers who want to pack a ton of outdoor adventure into a super quick time frame.
And don't forget to grab my free 3-Day New Hampshire Fall Road Trip Itinerary download before you go!
Alright, let's get started!
Need help planning your New Hampshire Fall Itinerary? GET IN TOUCH for customized itinerary planning, starting at $25/day!
WHEN IS THE BEST TIME TO SEE FALL FOLIAGE IN NEW HAMPSHIRE?
Fall in New Hampshire lasts between late September and early November. In general, foliage in New Hampshire peaks between Late September and early October, but can vary depending on the weather, and what region of NH you're visiting.
Colors in northern New Hampshire peak around the last week in September, while colors in the southern areas usually last well into October.
Sometimes catching peak foliage in New Hampshire can feel like a bit of a gamble, but the key is to remain as flexible as possible! And don't be afraid to backtrack if you have the time, because it's not uncommon for an area to be entirely green one day and at full peak 3 days later.
Use Visit NH's Foliage Tracker to stay as up to date as possible and increase your chances of catching peak season in each area.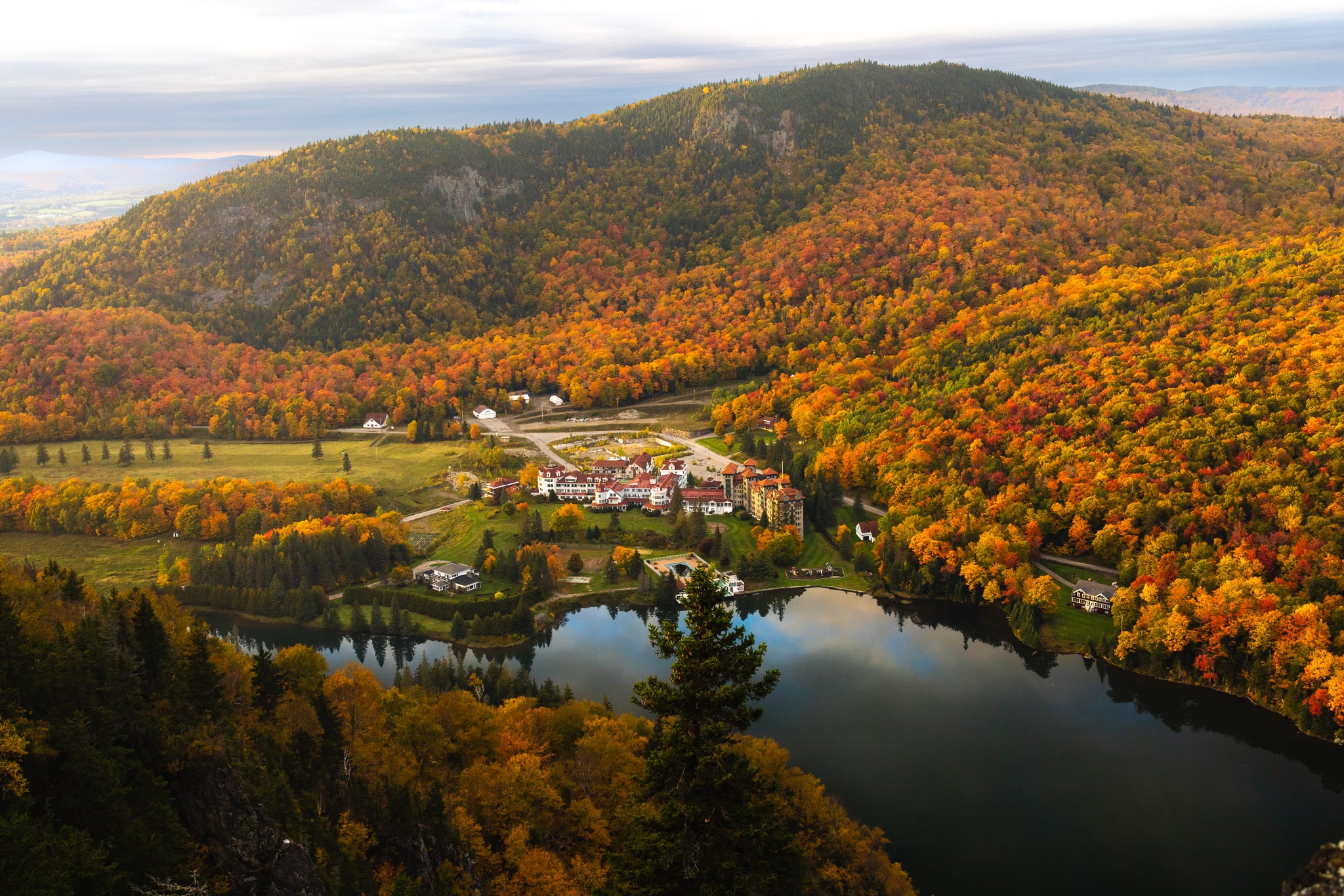 View from Table Rock at sunset, Dixville Notch, NH
GETTING TO NEW HAMPSHIRE
With the exception of Dixville Notch, all of the best fall destinations in New Hampshire are concentrated in/around the White Mountains National Forest.
The two closest airports to White Mountains National Forest are:
Manchester-Boston Regional Airport (MHT) in Manchester, NH; 2.5 hour drive
Burlington International Airport (BTV) in Burlington, Vermont; 2.5 hour drive
MHT is usually the cheaper of the two, however, I suggest planning your itinerary before booking your flight, since the two airports are quite a distance from each other.
Once you get to New Hampshire, you'll need your own car to make the most of your time here. Many places on this list are in rural areas, but you don't need a 4×4, as most of the roads are really well maintained.
You can scroll down to browse 3, 5, and 8-day itineraries below.
Read more: How to Plan Your Road Trip using Google Maps
TIPS FOR VISITING NEW HAMPSHIRE IN THE FALL
Before we dive into the best spots for fall in New Hampshire, here are few important things to know before you head out:
You won't always have cell phone service. We completely lost cell phone service in several areas of the White Mountains, as well as Dixville Notch, so I strongly suggest downloading offline Google Maps before heading into those areas.


.

Entrance fees and park passes: Most land within White Mountain National Forest is free of charge. However, certain areas, such as stops along the Kancamagus Highway, require a recreation fee that goes toward the maintenance of trails and facilities.

Daily fee: $5 per day. Day passes can be purchased via the self-serve pay stations at the site parking lots.
White Mountain Annual Pass: $35 per year, or $40 per year for families. This is definitely the best deal if you're staying for awhile or plan to visit more than once a year. The annual pass can be purchased ahead of time here.


.

Check the weather. We got extremely lucky with the weather during our time in New Hampshire during the fall. However, we spoke to several people who got stuck in torrential downpours and had to postpone their plans because of fog. The narrow valleys around many popular hikes collect fog that easily socks in the summits. So my advice is to save your hiking days for when its clear and pack a quality rain jacket!


.

Book early! I'm talking months in advance. The best campsites, hotels, and Airbnbs book out super fast in the fall.


.

Camping along the way? Download The Dyrt. It's the largest campsite finder app to find camping near you. Use the The Dyrt PRO to get access to offline maps to find RV sites and campsites on the go. It's $36/year, but comes in handy because you'll have spotty service on this road trip.
Flume Gorge Covered Bridge
11+ BREATHTAKING SPOTS TO EXPERIENCE FALL IN NEW HAMPSHIRE
DIXVILLE NOTCH STATE PARK
Table Rock
Table Rock is one of the most unique and popular hikes in New Hampshire, and one of the best places in New England to see fall foliage! Located in Dixville Notch in northern New Hampshire, this hike makes an incredible stop to your New Hampshire fall itinerary.
This was the first hike we did upon arriving in New Hampshire during our fall road trip and let me just say that it did NOT disappoint. At only 1.5 miles round trip, the hike seems pretty easy at first glance. But don't let the distance fool you! The trail to Table Rock can be somewhat challenging.
The trail starts off at a pretty steep climb, and remains that way until you reach the summit. At the top, you're then rewarded with wide open views of the surrounding mountains and winding roads from every direction atop a dramatic rocky outcropping.
Table Rock hike details:
Length: 1.5 miles round trip
Elevation gain: 751 ft (229 m)
Difficulty: Moderate
FRANCONIA NOTCH STATE PARK
View over Echo Lake from Artist Bluff, Franconia Notch State Park, NH
Artist Bluff
If you've spent any time browsing New England fall photo inspo on social media, then you've almost certainly seen Artist Bluff! This little rocky perch hangs just above a sea of deciduous trees and overlooks Echo Lake. It's unique view, coupled with the fact that it's super easy to reach makes it one of the most iconic fall photo spots in New Hampshire.
The Artist Bluff Trail is an easy 1.5 mile loop that can be combined with a moderate side-trip to the summit of Bald Mountain for a higher perspective.
However, if you're in it just for the views from Artist Bluff, then take the loop counterclockwise from the main trailhead. Alternatively, you can take the shortcut, located directly across the street from the Echo Lake parking lot.
We also found it helpful to download offline AllTrails Maps in order to find the correct lookout. The herd path to the Artist Bluff lookout veers off the main trail, but isn't marked. Having the AllTrails map will help you not miss the turn!
Artist Bluff Trail details:
Length: 1.5 mile loop
Elevation gain: 436 ft (133 m)
Difficulty: Easy
Read the full guide to hiking the Artist Bluff Trail
Echo Lake
Echo Lake is the charming little lake below Artist Bluff. It's actually a pretty big day use area that's surrounded by Mt. Lafayette, Cannon Mountain ski area, and the notch where the Franconia Range meets the Kinsman Range. This is a perfect spot to spend an hour or an entire afternoon. There's a spot for swimming and kayaks and canoes for rent.
We found this to be an excellent little add on to our sunrise hike at Artist Bluff, since it's basically across the road. We spent about 30 minutes taking photos on the dock, and enjoying the chilly morning surrounded by fruity pebble mountains before heading off. However, if you opt to make it a destination, there are several hikes that originate in Echo Lake State Park, including a scenic trail around the lake.
Echo Lake State Park details:
Staffed hours: 9AM-6PM from June-October. The park is not staffed during off hours and off-season, but is always open for recreation.
Admission: $4/adult; You can find reservation details here
Looking for more of an aerial view of the area? Take the Cannon Mountain Aerial Tramway to the summit of neighboring Cannon Mountain for panoramic views of the White Mountains.
Flume Gorge Trail
Flume Gorge is one of the best stops in Franconia Notch State Park, and a place you definitely won't want to miss when visiting New Hampshire in the fall!
This natural gorge features the famous Flume Covered Bridge, stunning waterfalls, and a dramatic natural gorge flanked by a wooden walkway. There are a few trails that originate from the Flume Gorge Visitors Center, but I highly recommend checking out the fall foliage via the Flume Gorge Trail. Keep in mind that this is a super popular spot, so arrive as early as you can!
We found this to be the perfect stop between hiking Artist Bluff and driving the Kancamagus Highway. However, if you finish up and have extra time/energy to spare, hike the Falling Waters Trail in the afternoon to see a bunch of gorgeous waterfalls!
Flume Trail details:
Length: 2.0 mile loop
Difficulty: Easy
Admission fee: $18/adult
KANCAMAGUS HIGHWAY
Don't feel like hiking or just want to give your legs a break? Why not enjoy New Hampshire's world-renowned foliage through the windshield on a scenic drive along the famous Kancamagus (pronounced kan-kah-mah-gus) Highway!
The scenic Kancamagus Highway stretches 34.5 miles along NH's scenic Rt. 112, and cuts through the White Mountain National Forest to connect the small towns of Lincoln and Conway.
If you were to drive non-stop, the drive takes about 45 minutes. However, there are many scenic stops and viewpoints just off the road, so I suggest allocating at least half a day to explore.
Here are a few of our favorite stops:
Otter Rocks Picnic Area
Sugar Hill Scenic Vista
Sabbaday Falls
Lower Falls Scenic Area
The Hairpin Turn located by the Hancock Overlook and Hancock Notch Trailhead (you need a drone to photograph it)
Rocky Gorge and Falls Pond
Note that these stops along the Kancamagus Highway require a White Mountain Pass, which can be purchased ahead of time for $35/year or for $5/day at any of the self-serve pay stations.
CONWAY, NH
Cathedral Ledge
Cathedral Ledge is the dramatic cliff you see while visiting the center of the quaint little town of North Conway. If you're up for a challenge, you can hike to the top. But most people opt to drive via the road starting at Echo Lake State Park. The vista at the top is an excellent vantage point for viewing foliage in the valley below. In peak foliage season, it's a spot that's really popular with photographers and artists, and is well worth the short side trip to get there if you're in the area.
Black Cap Trail
The Black Cap Trail is one of the most popular short hikes in the White Mountains. It's bare summit offers beautiful views of the White Mountains and Presidential Range, making it a great spot for experiencing fall in NH. The relatively-easy loop trail is best done clockwise and takes about 2-3 hours to complete.
Albany Covered Bridge
New England is famous for charming covered bridges and the Albany Covered Bridge is certainly one of them! Built in 1858, the Albany Covered Bridge is actually one of the most famous covered bridges in New Hampshire. Cross the bridge by foot for the best photo op of the bridge surrounded by vibrant foliage.
MOUNT WASHINGTON
Mount Washington is the tallest peak east of the Mississippi and the most iconic mountain in New Hampshire. Hiking Mount Washington is a challenge for even some of the most experienced hikers. However, anyone can still get to the top of Mount Washington via the Mt. Washington Auto Road, which is one of the most epic drives in the United States.
Climbing 7.6 miles, the Mount Washington Auto Road climbs 6000 feet up the side of Mount Washington via a steep and narrow mountain road – without guardrails. At the top, you have a birds eye view of New Hampshire's White Mountains, making Mt. Washington a spectacular place to experience fall in New Hampshire.
The road is open from May to October and, on average, takes about 30 minutes to ascend and 30-45 minutes to come down. Visit the Mt. Washington Auto Road website for more information.
CRAWFORD NOTCH STATE PARK
Mt. Willard at sunrise on a clear day, Crawford Notch State Park, NH
Mt. Willard
If you are looking for a breathtaking view of foliage in New Hampshire, Mount Willard is the place to be. In fact, Mount Willard was, hands down, one of my favorite hikes we did during our time in New Hampshire. Photos online are pretty, but nothing is quite the same as seeing this spot in person during peak foliage season.
To access the Mount Willard Trail, park in the lot next to the AMC Highland Center train station and walk across the train tracks. The 1.6 mile trail (one-way) is a consistent, gradual ascent to the summit, which makes this a great hike for even inexperienced hikers. After a short climb, the summit opens up to sprawling views of Crawford Notch and the surrounding mountain range. Make sure the weather is clear before making the trip and visit at sunrise or sunset to avoid the crowds.
Mt. Willard trail details:
Length: 3.1 miles round trip
Elevation gain: 895 ft (273 m)
Difficulty: Moderate
Other popular hikes nearby include Zealand Hut Trail and Middle Sugarloaf Trail.
Willey Brook Trestle
Willey Brook Trestle in Crawford Notch is an excellent spot to photograph fall in New Hampshire when the Conway Scenic Railroad train crosses over the bridge. The yellow train surrounded by vibrant fall colors is like a classic scene pulled straight from a New England postcard.
You can watch the train pass over the Willey Brook Bridge from the side of Rt 302. From here, it's best photographed with a drone or a zoom lens.
Alternatively, you can scramble up to a ledge above the tracks for a close up view of the southbound train. Make sure you're up for a bit of an adventure, because this vantage point is accessed by a 300ft vertical climb from US Route302. It follows the same unmarked path that was used by the family who once occupied the house that stood along the tracks. Approximate coordinates are 44°11′55″N 71°24′40″W.
You can also see the train along the Frankenstein Trestle, which can be accessed via a difficult hike along the Arethusa Falls and Frankenstein Cliff Loop.
The train departure times vary by day, so I suggest checking the Conway Scenic Railroad website ahead of time or calling to confirm.
Ripley Falls
Crawford Notch has several noteworthy waterfalls and Ripley Falls is definitely one! At only 1.0 mile round-trip, the hike to Ripley Falls is short and sweet. In fact, it makes a great quick addition to your leaf peeping itinerary because you can complete the whole hike in under an hour.
Ripley Falls is unique because it rushes down a rock wall that sits at a 60-degree angle. The extreme slope of the rock causes the water to maintain contact with the rock during most of its descent, creating a bit of a curtain/ribbon effect.
To get the best photographs of Ripley Falls, go downstream a bit so that you can capture the entire waterfall framed in brilliant fall colors!
While you're in the area, don't forget to check out these nearby waterfalls:
Arethusa Falls: 2.8 miles out and back (moderate); you can combine Arethusa Falls with the Frankenstein Tressle to extend your hike
Crystal Cascades: 0.7 miles out and back (easy)


.
THE LAKES REGION
Lake Winnipesaukee
Located at the foothills of the White Mountains, Lake Winnipesaukee is the largest lake in all of New Hampshire.
There are several different ways to experience fall in New Hampshire around this lake, like relaxing on one of the many sandy beaches along the shore, browsing the surrounding towns, or climbing the nearby hills and mountains for a birds eye view.
We really loved the quaint feeling of the beach at Ellacoya State Park, but Weirs Beach and Carry Beach are also really popular for swimming. If hiking is your thing, there are several great trails at Ahern State Park, or you can challenge yourself with a hike up Mt. Major, Mt. Morgan, or Red Hill Fire Tower for a birds eye view of the lake and surrounding foliage!
If you have time to spare, you can even book a few nights at the famous A-Frame at Oliver Lodge! This tiny A-frame has shot to IG fame though, so be sure to book well ahead of time if you're trying to snag it for the fall.
Looking for more great fall hiking in New Hampshire? Check out the nearby Castle in the Clouds Conservation Area, or the secluded beaches along the shores of Squam Lake at Chamberlain Reynolds Forest.
MAKE IT A ROAD TRIP: 3, 5, & 8-Day ITINERARIES TO SEE THE BEST FALL SPOTS IN NEW HAMPSHIRE + BEYOND
Can't decide on just one spot? Well, that's because the absolute best way to see fall in New Hampshire is to see it all!
Luckily, you can easily craft all of these incredible leaf peeping spots into one epic itinerary to hit each spot during peak season. These itineraries are packed to the brim, so you can expect a lot of driving on a little bit of sleep but – as every adventurer knows – sunrise to sunset is the only way to see it all!
3-DAY NEW HAMPSHIRE ITINERARY
Click here

for the interactive Google Map


.
This 3-Day New Hampshire road trip starts in Dixville Notch and moves south in order to chase the foliage as it turns. We started our trip from the Adirondack Mountains in Upstate New York, so this ended up being a nice little loop. However, if you fly into any of the main airports, you'll have to do a few hours of backtracking to get up to Dixville Notch to start the trip.
Day 1: Arrive in New Hampshire; Table Rock in Dixville Notch for sunset
Day 2: Artist Bluff in Franconia Notch for sunrise; Flume Gorge; Kancamagus Highway scenic drive; Overnight in Conway, NH
Day 3: Mt Willard in Crawford Notch for sunrise; Ripley Falls or Willey Brook Trestle; Ellacoya State Park or hike Mt. Major at Lake Winnipesaukee for sunset
5-DAY NEW HAMPSHIRE ROAD TRIP ITINERARY
Click here for the interactive Google Map
.
This 5-Day New Hampshire road trip starts in Dixville Notch. If you fly into Burlington (BVT), you can add stops in Stowe, VT and Smugglers Notch, VT to your trip. These stops will likely add an extra day, unless you get a really early start on Day 1.
Day 1: Arrive in New Hampshire; Table Rock in Dixville Notch for sunset
Day 2: Artist Bluff and Bald Mountain summit in Franconia Notch for sunrise; Flume Gorge; Overnight in Lincoln or North Woodstock, NH
Day 3: Kancamagus Highway; Black Cap Trail for sunset; Overnight in North Conway, NH
Day 4: Mt Willard in Crawford Notch for sunrise; Ripley Falls; Mount Washington Auto Road; Overnight in North Conway, NH
Day 5: Hike Mt. Major for sunrise; Ellacoya State Park beach at Lake Winnipesaukee
EXTENDED 8-DAY ITINERARY: New Hampshire, Vermont, and Acadia National Park, ME
Click here for the interactive Google Map
.
This extended 8-Day New Hampshire road trip itinerary is designed for the person who wants to see all the best of New England in a short amount of time. This road trip is jam-packed and includes quite a bit of driving, but if you're willing to put in the effort, this itinerary will help you check off all of the best leaf peeping spots as they change.
This itinerary begins and ends at Manchester-Boston Regional Airport (MHT).
Day 1: Sleepy Hollow Farm in Pomfret, VT; Stowe, VT; Overnight in Stowe, VT
Day 2: Smuggler's Notch, VT; Table Rock hike for sunset in Dixville Notch, NH
Day 3- 5: Acadia National Park, Maine (best things to do: Cadillac Mountain sunrise, Beehive Trail, Precipice Trail, Beech Cliff Ladder Trail, Sand Beach)
Day 6: Artist Bluff in Franconia Notch for sunrise; Flume Gorge; Kancamagus Highway; Overnight in Conway, NH
Day 7: Mt Willard in Crawford Notch for sunrise; Willey Brook Trestle, Ripley Falls; Overnight in North Conway, NH
Day 8: Crystal Cascades; Mount Washington Auto Road; Lake Winnipesaukee
Have even more time? Squeeze in a side trip to Lake Placid in the Adirondack Mountains to witness some of the most stunning foliage in New York State! If you only have time for one hike, check out Indian Head in the High Peaks Region of the Adirondacks. Don't forget your permit!
Read more: 17 Cozy Cabins to Rent in the Adirondacks this season
***
And there you have it! All of the best spots to experience fall in New Hampshire! And, of course, always remember to leave these outdoor places better than you found them by following the Principles of Leave No Trace, so that we can keep them healthy and beautiful for generations to come.
Happy Adventuring!
x
Did you find this guide helpful in planning your trip to New Hampshire in the fall? Let me know in the comments! I love to hear from you!
PINS FOR YOUR PINTEREST
WANT TO SAVE MONEY TRAVELING?
Check out my list of reliable budget-friendly travel resources that are guaranteed to save you the most money, without compromising your experience.