Where to See the Best Fall Foliage in New York
Post summary: A locals guide to where to find the best fall foliage in New York State and when to see the best fall colors
Leaf peeping season is upon us, and there's no better place to partake in it than in New York State! In fact, New York State is one of the best places in the entire country to see fall foliage.
Fall in New York State starts in September and ends in November. During these months, you can expect a mix of warm and cool days, a bit of rain, and world-renowned foliage as the deciduous trees turn shades of vibrant yellow, deep purple, and fiery orange. It's easy to see why Upstate New York turns into a bustling tourist destination every fall.
In this post, I'm diving in to the specifics for each destination, including best things to do, when to go, and tips to catch the leaves at their peak colors.
Want to see it all on a New York fall road trip? Contact me for customized itinerary planning, starting at $25/day!
POSTS YOU MIGHT FIND HELPFUL
Before we get started, here are some posts you might find helpful for planning your fall foliage trip!
How to Plan Your Road Trip Using Google Maps
Best Hiking Backpacks for Women: Find the Perfect Hiking Pack for Your Next Adventure
How To find Hidden Gems and Secret Hiking Trails
20 Bucket List Hikes in Upstate New York for Every Skill Level
.
.
WHERE IS THE BEST PLACE TO SEE FALL FOLIAGE IN NEW YORK
The best places to witness the fall color display are in deciduous forests around lakes and ponds, on scenic drives, and on low mountain summits throughout New York State.
And the good news is that New York State has no shortage of any of those!
In short, the best places to see fall foliage in NY are:
The Adirondacks
The Catskills
The Finger Lakes Region
Western New York (Buffalo, Greater Niagara, Allegheny)
Albany, NY and the Capital Region
Refer to the map below for reference or scroll down for a detailed description of exactly where and when to find the best color in each region!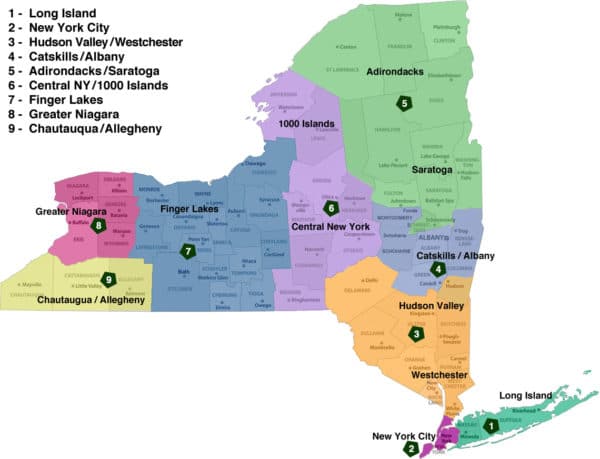 Map of New York State by New York Outdoor Guides Association
WHEN IS THE BEST MONTH TO SEE FALL COLORS IN NEW YORK?
Are you wondering when is the best time to see fall colors in New York?
Fall in New York State starts in late September and lasts until early November. However, the best time to see peak fall foliage heavily depends on the weather and time of year. And it changes depending on what region of New York you're visiting.
In general, colors peak around the last week in September northern New York State, while colors in the southern part of NY usually last well into October.
Here's a very general timeframe for the best fall colors in each region:
Adirondacks: Late September
Catskills: Early October
Albany, Saratoga, Capital Region: Mid-October
Finger Lakes and Ithaca: Mid-October
Western New York (Buffalo & Niagara Falls): Mid-Late October
NYC and Long Island: Late October
To stay as up to date as possible on fall colors, keep checking I Love NYs Fall Foliage Tracker as your travel date approaches. The tracker is updated weekly for all of New York State with the most up-to-date information on how fast the leaves are changing in each region.
WHERE TO FIND THE BEST FALL FOLIAGE IN NEW YORK
The Adirondack Mountains
The Adirondack Mountains are one of the most incredible places to witness fall foliage in Upstate New York. In fact, fall foliage in the Adirondacks is some of the best in the entire country.
Comprised of six million acres, this vast wilderness is filled with deciduous trees that blanket the area in fiery shades of yellows and reds every September.
Witness the display from atop a low summit, such as Indian Head, or rent a kayak and explore the lakes and rivers that pepper the Adirondack landscape.
Not super outdoorsy? No worries! You can always relax and enjoy the views from behind the windshield on a scenic drive down the Central Adirondack Trail.
Thinking of planning a fall weekend getaway? Check out my top picks for the Best Cabins to Rent on Airbnb in the Adirondacks!
Dominant deciduous trees: Sugar maple, red maple, American beech, yellow birch
Foliage colors: Red, orange, yellow, bronze, burgundy
Best time to go: Peak season in the Adirondacks generally falls around the third week in September. However, given the size of the Adirondack Park, some areas will change sooner than others. The Lake Placid area changes first, followed by the area around Lake George and then Old Forge.
Read next: Short Hikes With The Incredible Views in the Adirondacks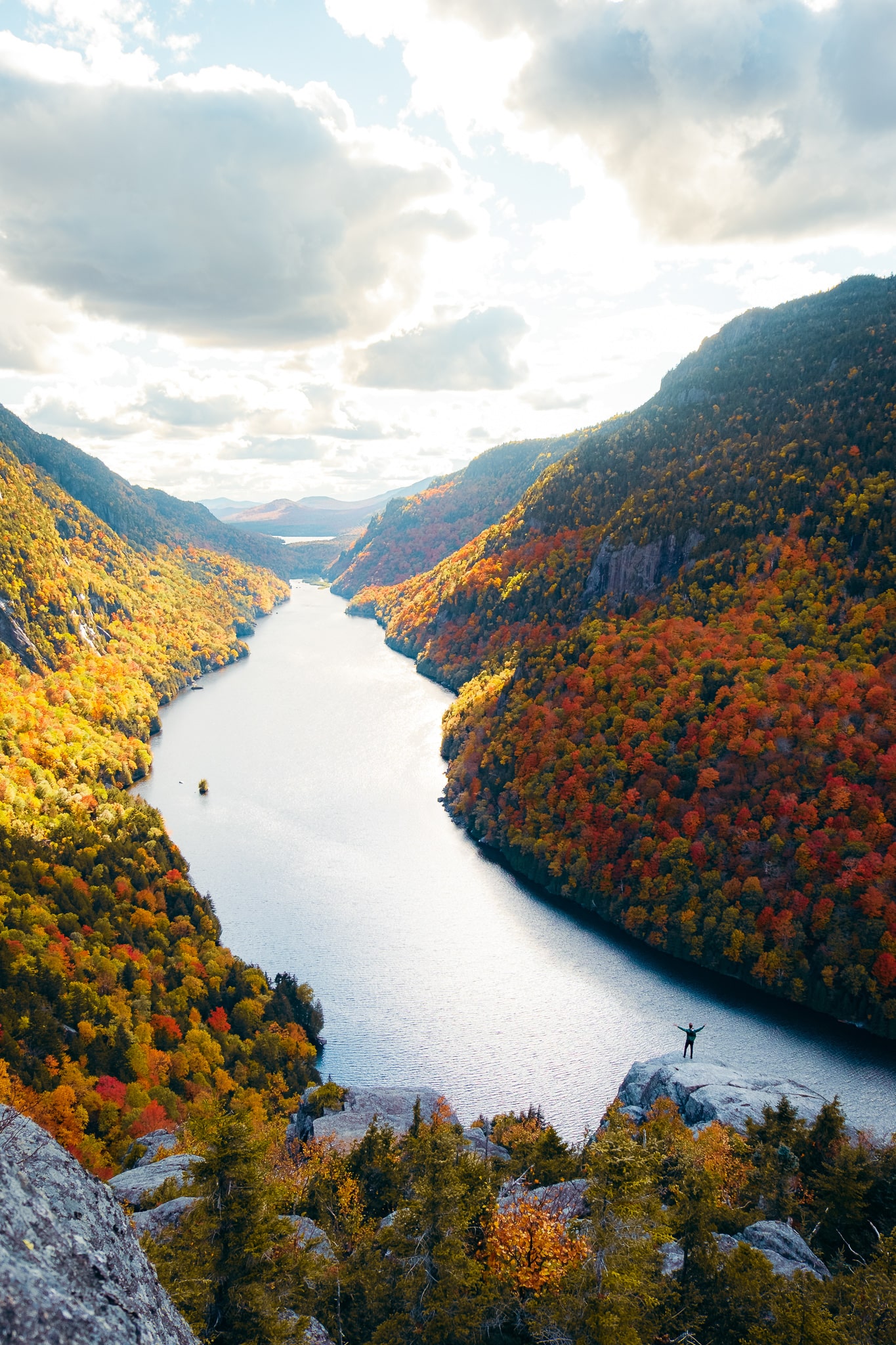 Indian Head in the Adirondacks.
The Catskill Mountains
Looking for brilliant fall foliage, local breweries, and autumn festivals? Head to the Catskills.
Located only 2 hours north of New York City, the Catskill Mountains are one of the best places to catch fall foliage in New York State. Whether you're looking for a quick photo op, a craft cider tour, or a walk in the woods, the Catskills are where it's at.
Stop for photos at Hawks Nest along the Upper Delaware Scenic Byway, or taste small-batch hard cider at Wayside Cider & Taproom or Abandoned Hard Cider – Woodstock Outpost. And while you're there, don't forget to take a quick hike to Kaaterskill Falls!
Looking for even more adventure? Coast above the colorful treetops on a Scenic Skyride or Zipline Adventure Tour at Hunter Mountain.
Dominant deciduous trees: Red oak, chestnut oak, red maple
Foliage colors: Orange, red, bronze, yellow
Best time to go: Colors peak around the first to second week in October
The Finger Lakes
The Finger Lakes region of Upstate New York mixes brilliant fall foliage with dramatic gorges, spectacular waterfalls, and award winning wineries. Does this sound like the perfect leaf peeping paradise to you, too?
This region is mostly known for its long, wispy freshwater lakes. But the numerous streams that stem from the lakes have carved out breathtaking valleys and deep gorges, filled with hundreds of waterfalls and hidden treasures. These valleys are beautiful at any time of year, but are especially picturesque in the fall.
To check out all of the gorges and waterfalls this area has to offer, consider spending a few days near Ithaca. Watkins Glen, Taughannock Falls, Grimes Glen, and Buttermilk Falls State Park are only a short drive from the town's center and are some of the best places to see fall foliage.
Prefer to drive instead? Enjoy the autumn display on a scenic drive down Route 14S! This scenic drive winds through the Seneca Lake Wine Trail, so don't forget to swing by one of the 29 wineries along the way to enjoy some wine tasting with a view.
Dominant deciduous trees: Red oak, white oak, cottonwood, box elder
Foliage colors: Red, yellow, gold
Best time to go: The first two weeks in October
Western New York: Buffalo, Greater Niagara, Allegheny
The fact that the Buffalo area is one of the best places to see fall foliage in New York might surprise you. But, contrary to popular belief, Buffalo has a lot more to offer than just football and chicken wings.
Take a short drive outside of the city and you'll find a whole lot of amazing leaf peeping opportunities, like Akron Falls, Stiglmeier Park, and Niagara Falls!
And definitely don't miss Devils Hole and Whirlpool State Park, overlooking the Niagara River Gorge. Follow the walkway along the gorge, or take the 400 stairs down to the trail by the water and hike to the whirlpool.
Want to venture a bit further? Head 80 miles south of Buffalo to Alleghany State Park. This 65,000 acre park is best known for its forested valleys, wildlife, and vibrant fall foliage. Take a walk through an autumn wonderland on the Three Sisters Trail and then stay awhile by booking a forested campsites or cozy cabin. You can also check out nearby Zoar Valley and the annual Ellicottville Fall Festival.
A 1 hour drive southeast of Buffalo will bring you to Letchworth State Park. Letchworth is known as "The Grand Canyon of the East". For anyone who's been to the Grand Canyon will know that those are some big shoes to fill, but Letworth really does try its best!
While not nearly as large as the Grand Canyon, the canyon at Letchworth is pretty impressive. The area is best known for its waterfalls, nature, and the vibrant colors that paint the sides of the canyon when the leaves change in the fall.
Dominant deciduous trees: White oak, red maple, sugar maple, black cherry, American beech
Foliage colors: Red, bronze, gold, orange
Best time to go: Second to third week in October
Albany and The Capital Region
Who knew that the capital region was one of the best places to see fall foliage in New York State? The leaves in this area of New York start turning around mid-October, which makes it the perfect last stop on a New York fall foliage road trip.
Located only 20 minutes outside of Albany, John Boyd Thacher State Park is known for its limestone cliffs rich in fossils, expansive woodlands, and wide open views of the Hudson-Mohawk Valleys. Take a hike down the Indian Ladder Trail or choose from any of the 25 additional miles of hiking trails this fall for some of the best leaf peeping in New York.
While you're here, take a short drive north to visit the hardwood forests at Moreau State Park.
Dominant trees: Sugar maple, red maple, American beech, yellow birch
Fall colors: Red, orange, yellow, bronze
Best time to go: Generally around the 3rd week in October
TIPS FOR SEEING THE BEST FALL FOLIAGE IN NEW YORK
Have a flexible schedule
Having a flexible schedule is the best way to ensure you don't miss out on peak leaf season in New York.
While there are certainly windows of time for the best colors, these windows are only general time frames.
Peak foliage is dictated by both summer and autumn weather. Rainy summers usually mean it's going to be a great year for fall foliage. But frost, rain, and strong winds in autumn can knock down leaves prematurely, which greatly shortens peak foliage season.
So, the real time for peak colors can (and often does) vary greatly. Therefore, remaining flexible will allow you to change your plans so you can see the fall colors at their best!
I recommend keeping a close eye on I Love NY's Fall Foliage Tracker for weekly foliage updates that can help you time your visit.
Hike at lower elevations
A birds eye view is definitely the best way to enjoy fall colors in New York. But don't forget to keep your vantage point low!
While this seems counterintuitive, it actually makes a lot of sense when you think about it, since deciduous trees grow at lower elevations. The higher you go, the more of a chance you have at only seeing the coniferous forests that grow at high elevation.
Since the goal is to have a great view of the deciduous trees, you'll want to stay much lower. For the best leaf peeping, choose hikes below 3000' (914m) in elevation.
This tip mostly applies to the Adirondacks, where people visit to hike the 46 High Peaks, but is still valid anywhere there are mountains over 3000′.
Make it a road trip
Can't decide on just one spot? Well, that's because the absolute best way to see amazing fall foliage in New York is to see it all!
You can easily craft all of these leaf peeping spots into one incredible itinerary to hit each spot during peak season.
Need help planning your New York fall road trip? Contact me for customized road trip itinerary planning, starting at $25/day!
***
And there you have it. All of the best places to catch fall colors in New York! As always, if you enjoyed this post or have any questions, feel free to drop a comment down below. I love to hear from you!
HAVE YOU EVER BEEN TO NEW YORK IN THE FALL? LET ME KNOW YOUR FAVORITE PLACE TO GO FOR FALL COLORS IN THE COMMENTS!
PINS FOR YOUR PINTEREST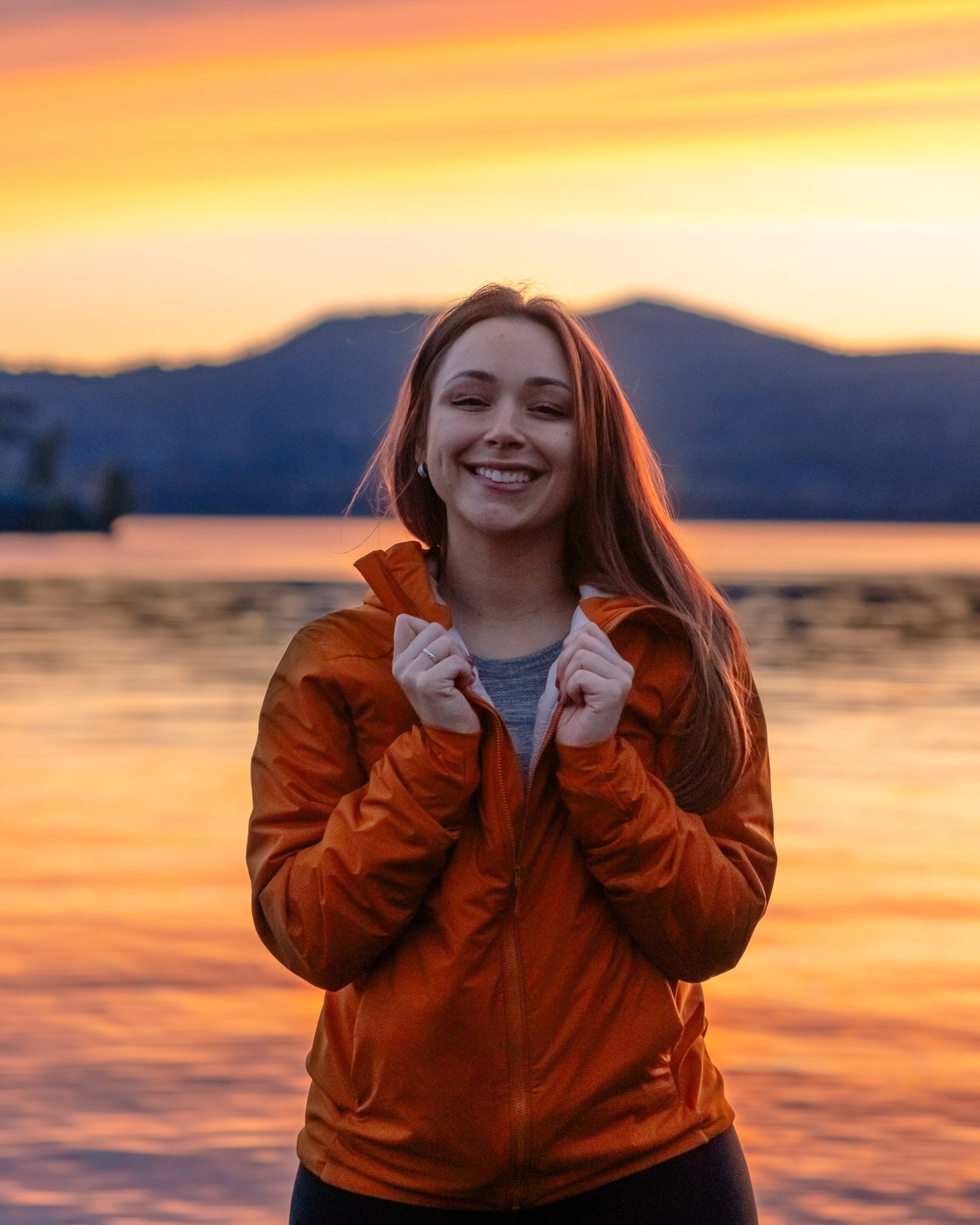 Hi, I'm Jackie! I'm a travel photographer and content creator based near the Adirondack Mountains of Upstate New York. I'm also a millennial who works full-time, yet I still find ways to travel frequently without breaking the bank, because traveling is what makes me feel most alive. Now I help fellow travelers who also work 9-5 and are looking for ways to travel more with limited PTO.
WANT TO SAVE MONEY TRAVELING?
Check out my list of reliable budget-friendly travel resources that are guaranteed to save you the most money, without compromising your experience.