Best Hiking Backpacks for Women in 2022: Find the Perfect Hiking Pack for Your Next Adventure
Post summary: The best hiking backpacks for women, including the best women's hiking daypacks, backpacking packs, and backpacks for travel.
This post contains affiliate links, which means that I will make a small commission of the purchase you make using my links – at absolutely no cost to you!
The hiking backpack is an incredibly important piece of gear for any hiking enthusiast. But, let's be honest, not every woman fits the mold of being a perfect size for most hiking backpacks.
There are so many hiking backpacks for women available, it can be overwhelming to choose one that best suits you.
In this article, we'll review the best backpacks for women, designed specifically for hiking. Whether you're looking for a daypack or pack to accompany you on an expedition through the backcountry – this guide will help you find the best hiking backpack that is perfect for YOU.
These packs offer everything from day-hiking comfort to technical performance with features like durable fabrics or specialized pockets for safety equipment or hydration bottles. So what should you look for when choosing one?
Read on below to learn more about these best hiking backpacks for women!
At A Glance: My Top Picks for Best Hiking Backpacks for Women
.
BEST HIKING BACKPACKS FOR WOMEN IN 2021: FIND YOUR PERFECT HIKING PACK
BEST HIKING BACKPACKS FOR DAY TRIPS (10-30L)
Osprey Tempest 20 Hiking Backpack
The Osprey Tempest 20 Women's Hiking Backpack is the perfect day-hiking or biking pack with a women's specific fit. It's also among the most popular Osprey daypacks – and for good reason!
.
The pack features a continuous wrap harness and hipbelt making it comfortable on even your longest day hikes, while an injection molded Airscape backpanel that moves as you move to help keep you cool.
.
Stretch mesh pockets provide convenient storage for smaller items . Stow-On-The-Go attachments allow easy access to items like trekking poles, an ice axe, a bike helmet. And the side pockets offer ample room for water; I recommend filling up one side with snacks before heading out for the day though to stay energized on the go!
.
Standout features:
Injection molded Airscape backpanel
3L external hydration reservoir sleeve
Ample storage
St0w-on-the-go attachments
Pack weight: 1.84 lbs
Looking for something smaller? This pack is also available in the Tempest 9 and the Tempest Pro 18
Shop on Osprey
Cotopaxi Batac 24L Pack
As part of Cotopaxi's (Re)Purpose™ Collection, the Cotopaxi Batac 24L backpack is crafted from scraps of leftover fabric, making it a one-of-a-kind piece. It's the perfect lightweight bag for eco-conscious adventurers and no fuss travelers, designed by people who love to travel.
.
The pack's water-resistant design and durable ripstop nylon shell fabric makes this the ideal pack for any outdoor adventure. Carry it around your entire trip, whether it's romping through New Zealand or frolicking in Hawaii, without fear for anything inside getting wet in the rain.
.
While unstructured, the Cotopaxi Batac 24L Pack features a roomy interior with space for your gear or extra layers. It also has an off center zipper at just the right height to keep your essentials nearby should you need to reach in hurry.
.
Standout features:
Crafted from repurposed fabric
Water resistant
Roomy interior
Front zippered pocket with quick-access phone/camera sleeve
Pack weight: 11oz
Shop on Amazon
Osprey Tempest 9 Women's Hiking Backpack
Coming in at the smallest daypack on this list, the Osprey Tempest 9 Women's Hiking Backpack is made for technical terrain, people who want the tiniest daypack possible, and adventurers on the go.
.
The main compartment with zipper access offers enough room for your hiking essentials, and the guarantees all day comfort. However, this backpack's 9L capacity may be too small for some adventures. I suggest reserving this specific pack for single day trips that don't require a lot of gear.
.
Standout features:
External hydration reservoir sleeve
Trekking pole attachment
AirScape® back panel with hipbelt to take the weight off your shoulders
Pack weight: 1.83 lbs
Looking for something a bit bigger? This pack is also available in the Tempest 20 and the Tempest Pro 18.
Shop on Osprey
Osprey Daylite Plus Daypack
The Osprey Daylite Plus is the perfect pack for anyone looking for a small, lightweight daypack or travel backpack. Made from 210D Nylon Double Diamond Ripstop fabric, this pack is sure to withstand any adventure you can throw at it.
.
So simple, comfortable, durable, affordable – it's no wonder this bag has been wildly popular among all levels of outdoor enthusiasts. The only downside is the straps are thinner than the other backpacks on this list. Some people find that the smaller straps cause irritation on longer hikes, but it all depends on how it fits your body.
.
Standout features:
Large interior compartment

Dual stretch mesh side pockets

Multi-function interior sleeve fits a hydration reservoir or tablet

Mesh-covered die-cut foam back panel

Attaches to a variety of compatible Osprey packs

Pack weight: 1.19 lbs
Shop on Osprey
Deuter Speed Lite 22 SL Hiking Backpack
The Deuter Speed Lite 22 SL Hiking Backpack was designed by women for women. Its lightweight construction and SL Women's fit carrying system are specifically adapted to female anatomy, making it easy to carry extra gear comfortably on longer hikes.
.
This is a small, yet sturdy, backpack that is best for single day hikes and other outdoor activities where freedom of movement is essential.
.
Standout features:
Minimalistic Lite Air Backsystem with ventilated 3D-Air Mesh

Lightweight, flexible Delrin-U-Frame

SL Women's fit carrying system specially designed for female anatomy

Compression straps

Optimal storage with stretch side pockets and large inner compartment

Hydration compatible with Deuter 3.0 Liter Streamer

Pack weight: 1lb 14oz
Something else to love about Deuter is that their products are backed by the Dueter promise, which guarantees a lifetime of use.
Shop on Amazon
.
---
HIKING BACKPACKS FOR WEEKEND TRIPS AND CARRY-ON TRAVEL (35-50L)
Osprey Kyte 36 Women's Hiking Backpack
This is a women's hiking backpack that's close to my heart because it's been my go-to pack for everything from weekend camping trips and a 3-day trek to Havasupai, to my carry on for international travel.
.
If you are looking for a moderately sized bag with lots of features, this is the one! The Osprey Kyte 36 Women's Hiking Backpack is an excellent weekend pack for all types of adventurers.
One of the best features about this pack is its top loading capabilities, which allows you to place your heaviest items sitting against your back while also taking up less space and keeps the weight centered.
Its 36 liter capacity isn't big enough for an extended thru-hike, but should be more than adequate for most shorter backpacking adventures!
.
Standout features:
Breathable AirScape ridged foam backpanel with adjustable torso length

Fixed top lid with external zippered pocket and under lid zippered mesh pocket

Dual tuckaway gear attachments

External hydration reservoir sleeve

StraightJacket side compression straps

Integrated removable raincover

Pack weight: 3.05 lbs
Need a little more room? This pack is also available in the Kyte 46.
Shop on Osprey
Osprey Packs Renn 50 Women's Backpacking Backpack
If you want a great beginner backpack for short backpacking trips or international travel, the Osprey Renn 50 Women's Hiking Backpack might be a perfect fit!
.
Multiple women-specific features ensure a customized fit for comfort on the trail or breezing through the airport. It's relatively light weight and comfortable carrying system set this women's hiking backpack apart from the crowd.
.
With it's high quality quality construction, highly ventilated adjustable AirSpeed backpanel, and multitude of user-friendly features, the Osprey Renn 50 Women's Hiking Backpack is an idea choice to take along on your next adventure.
Standout features:
Ventilated Airspeed backpanel with adjustable torso
Integrated rain cover
Fully padded laptop sleeve
3L internal hydration reservoir sleeve
Sleeping back compartment with floating divider
Pack weight: 3.31 lbs
This pack is also available in the Renn 65.
Shop on Osprey
Osprey Fairview 40 Women's Travel Backpack
Ever traveled with a bulky, uncomfortable backpack? You'll never have to worry about that again with the Fairview 40. This pack has every feature you need for fast-paced adventures around the world.
.
The Osprey Fairview 40 Women's Travel Backpack is designed for the most demanding women in adventure travel. Whether you're on your way to Waiheke or Auckland (it fits all that wine!), it's sure to be a favorite among adventure seekers everywhere.
.
It is a lightweight, streamlined pack with plenty of compartments and organization space. While the Fairview 40's compact size makes it carry-on compliant on most flights, it's also made of durable fabric that will prevent harsh wear and tear when you inevitably have to check it on those tiny puddle jumpers.
Standout features:
Large panel zip access to main compartment
Padded laptop and tablet sleeve
Lockable sliders on the main compartment

Stowaway backpanel, harness and hipbelt

Made from durable 210D Nylon Mini Hex Diamond Ripstop material.

TSA carry-on compliant
Pack weight: 3.0 lbs
Packing for an extended trip? Check out the Fairview 55 and the Fairview 70.
Shop on Osprey
Deuter Women's Aircontact Lite 45+10 SL Trekking Backpack
The Deuter Aircontact Lite pack is an excellent option for women hikers looking for a lightweight and versatile hiking backpack at a great price. The Deuter's Aircontact Lite Backsystem and padded straps create a comfortable, well ventilated fit, that distributes weight to minimize back strain.
.
A nifty feature that sets this pack apart is the pack's collar in the top loader that extends to provide an additional 10L of space when necessary (hence the 45+10).
.
In a world of overcrowded hiking backpacks for women, the Deuter Aircontact Lite is a standout, and I honestly wouldn't hesitate to recommend this pack as a more budget friendly alternative to Osprey packs of the same caliber.
Standout features:
SL women's carrying system, specially adapted to female anatomy
Extendable 10L pack collar for volume expansion
Ventilated Aircontact Lite back system
Ergonomic load transfer with internal X-frame and comfort lock hip fins
Adjustable torso length and shoulder straps
3.0L hydration reservoir compatible
Pack weight: 3.75 lbs
This pack is also available in the Aircontact Lite 50+10 and Aircontact Lite 60+10.
Shop on Backcountry
.
---
BACKPACKING BACKPACKS FOR WOMEN: PACKS FOR 5-7 DAY BACKPACKING TRIPS (50-70L)
Osprey Women's Ariel 65
With a large 65-liter main compartment, this pack is perfect for the avid backpacker who wants to have a variety of storage options and a customized fit.
.
The pack is incredibly comfortable and almost fully adjustable, allowing for maximum stability while carrying heavier loads. The Custom Fit-on-the-Fly™ Hipbelt, Shoulder Straps and adjustable torso length allow you to make the most important adjustments to customize the fit of the pack. These adjustments also ensure it will fit most body shapes and sizes comfortably without sacrificing any weight distribution.
.
This pack has all the bells and whistles you'll need on your adventures. The Osprey Ariel 65 also has a great set of pockets to store things you want easy access to, including small pockets on the hip belt, side water bottle pockets, and a large front pocket for shoving things in quickly on the trail without having to open up the main compartments.
.
Stand out features:
Injection-mode back panel

Custom Fit-on-the-Fly hipbelt, shoulder straps, and adjustable torso length for a fine-tuned fit

Top-loader cinch and front panel zip access to main compartment

Integrated rain cover

Interal zippered sleeping bag compartment with removable divider

Dual zippered hipbelt pockets and stretch mesh side water bottle pockets

Pack weight: 4.84 lbs
Need something a bit smaller? This pack is also available in the Ariel 55 and the Ariel Plus 60, which has a removable top lid that converts into an ultralight daypack for day trips!
Shop on Osprey
Osprey Lumina 45 Women's Ultralight Backpacking Backpack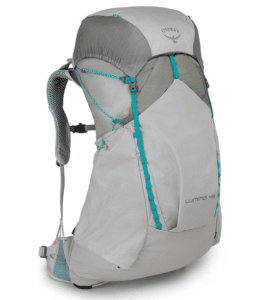 .
If you're someone who cuts the end off your toothbrush because every oz. counts, then this is the hiking backpack for you! While probably too delicate and unstructured for the everyday hiker, this pack is perfect for women looking to save on every single ounce on the trail.
.
The NanoFly fabric integrates ultra-high-molecular-weight polyethylene (UHMWPE) ripstop and Cordura Nylon, which creates an abrasion resistant, ultralight fabric. At only 1.78 lbs, the Osprey Lumina 45 has a minimalist design and lack of superfluous features, making it the best women's hiking backpack for lightweight backpacking.
.
Standout features:
3D-tensioned mesh backpanel
Stowaway rain cover

3.5mm Lightwire internal frame

Abrasion resistant ultralight fabric
Pack weight: 1.78 lbs
Shop on Osprey
Osprey Pack Aura 65 Backpack
There's a reason why Osprey Pack's Aura 65 Backpack is hailed as one of the best overall hiking backpacks for women! At just over 4lbs, the Aura 65 is definitely not the lightest pack available. However, the new Anti-Gravity suspension makes the Aura AG 65 feel like you're carrying less weight, while innovative design and construction make it the most comfortable women's specific pack.
.
This 65L pack is perfect for adventures lasting up to a week. The harness and hip belt are adjustable so every woman can get her perfect fit.
.
There is an external zippered pocket which makes storing handy items quick, easy, and secure while the floating top lid has dual zippered pockets for added storage capabilities.
.
Standout features:
Anti-Gravity suspension system

Adjustable harness and Fit-on-the-Fly hipbelt

Front stretch mesh pocket

Removable floating top lid

Trekking pole/gear attachments

3L internal hydration reservoir sleeve

Pack weight: 4.34 lbs
Shop on Osprey
N NEVO RHINO 65 Internal Frame Hiking Backpack
.
The N NEVO RHINO is an affordable, multipurpose hiking backpack that is perfect for beginner backpackers and adventurers on a budget.
.
While not women-specific, the unisex N NEvo Rhino 65 fits well on petite frames and is ergonomically designed to provide ultimate comfort on the trail, even when the pack is completely full.
.
With it's thickly padded hip strap, ample pockets and removable internal frame, this 65 L pack compares well to higher end brands without breaking the bank.
.
Designed with nylon fabric that is water-resistant and the spacious internal compartment allows the N Nevo Rhino 65 to carry enough gear for an extended outdoor adventure.
.
Standout features:
Budget friendly

Removable internal frame

Large capacity with ample and spacious pockets

Rain cover included
High load, adjustable hip strap system
Pack weight: 3.0 lbs
While this backpack is a standout choice for the budget-conscious backpacker, as with most gear, you generally get what you pay for. This pack lacks many features of higher-end backpacks, and fabric might not hold up well over time. For these reasons, I recommend splurging a bit on one of the other packs on this list if you plan to use it very frequently.
This pack is also available in 40L, 45L, and 50L.
---
BACKPACKS FOR EXTENDED 7+ DAY BACKPACKING (70+ L)
Gregory Mountain Products Women's Deva 80 Backpacking Pack
.
The Gregory Deva 80 Women's Hiking Backpack is perfect for everything from summiting Denali to an extended trip around the world. Packs this large tend to get heavy and cumbersome, but the Gregory Deva 80 is specifically designed to adapt to your body, helping you conserve energy as you move over varying terrain.
.
The interior hydration sleeve doubles as an ultralight daypack, and its large roomy pockets are ideal for carrying all your gear–including snacks. Plus, Gregory's PreCurve technology and multi-density foam construction relieves pressure points and eliminates hotspots.
With all of these awesome features, your next thru-hike just got a whole lot easier!
Standout features:
Responsive A3 Suspension system that adapts to your body for a custom fit

Ventilated back panel

3D AIR hipbelt and shoulder harness eliminates hotspots and pressure points

High strength aluminum frame keeps the pack close to your center of gravity
Full body U-Zip main opening
Sleeping bag compartment
Solar panel attachments
Removable hydration sleeve converts into an ultralight daypack
Pack weight: 5.18 lbs
---
THE DIFFERENCE BETWEEN HIKING BACKPACKS FOR WOMEN VS. MEN
Historically, women-specific hiking gear didn't exist, but outdoor brands have started to wise up in recent years when women began demanding gear that truly worked for them.
For most women, a women-specific pack will be a better choice, but it is good to note the differences between these and men's packs so that you can decide what's best for your body:
1. Women's hiking backpacks have narrower shoulders
In general, women have narrower shoulders than men, so a women's-specific hiking pack will be designed with this mind. Hiking packs with an improper shoulder width for your body can result in chafing and discomfort from a a poorly fitting pack.
2. Pack length is shorter on a hiking backpack for women
A hiking backpack for women is typically designed with a shorter torso length (distance from shoulder to hip).
Most packs designed for longer hikes come with adjustable back frames, which allow you to shorten or lengthen the torso to find your perfect fit. However, hiking backpacks for women are typically shorter in length by default.
3. Women-specific hiking backpacks have different hip belts
Women tend to have larger hips than men, so that means hiking packs aren't going to sit the same on our bodies as they do on men's. Women's hiking backpacks have hip belts with a bit of extra padding that curve around the hips for a more secure fit.
The hip belts are also designed to accommodate a women's lower center of gravity and take the weight of the backpack off your shoulders.
---
THINGS TO CONSIDER BEFORE BUYING A HIKING BACKPACK FOR WOMEN
Hike length
Before you begin shopping for your hiking backpack, consider your trip length. Do you need a backpack for short day hikes or are you planning to escape into the backcountry for days (or even weeks!) at a time?
The small hiking day packs on this list are perfect for short trips. In comparison, the larger backpacks are designed to take on multi-day expeditions and international travel.
When considering which backpack to buy, it's important to consider its volume, which is the capacity it liters. A 10-30L pack is ideal for day hikes, while a pack that's 30-50 liters is usually fine for two to three day trip. If you are planning on taking longer trips, make sure your hiking backpack has at least 50+ liters of volume.
Fit and comfort
A hiking backpack that's not designed to fit you properly can leave you sore and uncomfortable after some time on the trails. Because of this, it's extremely important to make sure your hiking backpack fits you properly before purchasing!
After all, a comfortable pack will allow you to do more of the things you love – like hiking through sprawling cross country terrain, conquering mountaintops, and scaling techy trails adjacent to waterfalls – without being distracted by your gear.
Some backpacks are available in different sizes depending on the length of your torso. However, some larger packs come with adjustable torsos, shoulder straps, and hipbelts to create a more custom fit. Check out REI's Fit & Torso Size Guide for more information on how your pack should fit.
The best way to test a hiking pack's comfort and fit is to try it on in store with the help of a gear guru. However, if you're buying online, I suggest buying from places like Amazon and Rei, who offer free returns and exchanges.
Features and design
The next step is to consider what you intend to use your backpack for as well as the additional features that best suit your needs. Consider which features you'll use the most, as these little additions to your backpack can really optimize your comfort on your adventures.
Don't go overboard though! Too many features can weigh you down. For example, if you do short day hikes occasionally, you don't need to invest in an overly technical pack with all the bells and whistles. However, if you're an experienced backpacker and put in a lot of miles with your pack, then the extra features might be worth the investment.
At the very least, a women's hiking backpack should have an ergonomic design, good ventilation, padded shoulder straps, and other features that ensure maximum comfort on the trail.
Some additional features you may want to consider include:
Internal and external pockets
Rain covers
Top-loading openings and detachable brains
Compression straps
Attachment points and gear loops
Adjustable back frames
Hydration bladder compatibility
Weight
Weight is yet another factor to consider when shopping for your hiking backpack. Depending on the length of your hiking trip, you may need to find a backpack that is light and easy to carry. However, the lightest packs often lack features that you might find important, so the lightest pack might not be the best option for you. On the other hand, a pack that's loaded with features can be very heavy and bulky.
I recommend identifying a few features that you absolutely need to have and think about how you'll use them. Try to stick to packs that only have the features you're sure that you will use. For example, if you never plan on going ice climbing, there's no need for your pack to have ice axe straps.
That way, you'll be able to choose a pack with only the necessities and avoid the extra bulk and weight of superfluous features.
Price
It's no secret that good quality hiking backpacks are expensive, and you may not want to invest your entire budget into a single backpack. However, it is worth noting that you typically do get what you pay for – at least when it comes to outdoor gear.
While the most expensive backpack might not be the best choice for you, a quality hiking backpack for women still averages anywhere from $100-$400. Daypacks are typically the least expensive, while backpacks designed for multi-day treks can run upwards of $350.
However, it's not only the size of the pack that determines the price. The quality of materials, features, and weight will also determine how much you pay. Therefore, it's important to do your research and evaluate all of your options prior to making your final decision.
Also keep in mind that if you invest in a quality backpack ahead of time, it is more likely to hold up over time than more budget friendly options that are crafted from cheaper materials. Additionally, companies like Osprey and Deuter cover their products under the lifetime warranties, which ensures the quality of the product and provides free repairs for life.


---
What is the best size backpack for a day hike?
The best size backpack for a day hike is between 10-30L.
For a shorter hike, you can get away with a smaller hiking backpack, but for longer day hikes or hikes in the winter time, you'll need a backpack with more space to accommodate more gear.
In general, women will need a slightly smaller hiking backpack than men, due to their smaller frame. But ultimately, the best size hiking backpack for your day hike is the one that fits all your gear and is comfortable to carry.
Fortunately, there are several great backpacks for day hikes designed specifically for women, such as the Osprey Tempest 20, Osprey Daylite Plus, and the Deuter SpeedLite 22.
Read next: Essential Gear to Pack for Every Day Hike
---
The difference between a regular backpack and a hiking backpack
There are several notable differences between a regular backpack and a hiking backpack.
Hiking backpacks are specifically designed to provide maximum comfort and support during day hikes or extended hiking and backpacking trips.
They typically have a more ergonomic design than regular backpacks, with padded shoulder straps and a sturdier frame. This helps to distribute the weight more evenly, making it easier to carry a heavy load and more gear over long distances.
Hiking backpacks also tend to have more compartments and pockets, which provide easy access to your hiking essentials.
In contrast, regular backpacks are not specifically designed for hiking and may not provide the same level of comfort or support. However, they can still be used for hiking if necessary. Just be sure to choose one with a comfortable fit and plenty of storage space!
When choosing a hiking backpack, women should consider women-specific hiking backpacks that take into account the shape of a women's body.
***
You now have all the information to choose the perfect hiking backpack for women! Now all that's left is to decide on the color :) Personally, I suggest bright colors – they stand out better in those epic photos you'll take on the trail.
As always, please feel free to leave a comment and let me know what you thought of this guide to women's hiking backpacks. I love to hear from you!
Happy Adventuring!
Epic hiking guides to inspire your next hiking trip:
Hiking in Lake Placid: 10+ Amazing Hikes in Lake Placid in the Adirondacks
Short Hikes with Epic Views in the Adirondacks
Hike the Artist Bluff Trail in Franconia Notch NH
Hiking the Tiger Fern Falls Trail in Cockscomb Basin Wildlife Sanctuary, Belize
The Ultimate Guide to Hiking Indian Head and Fish Hawk Cliffs in the Adirondacks
Did you find this guide to the women's hiking backpacks helpful? Let me know in the comments!
Pins for your Pinterest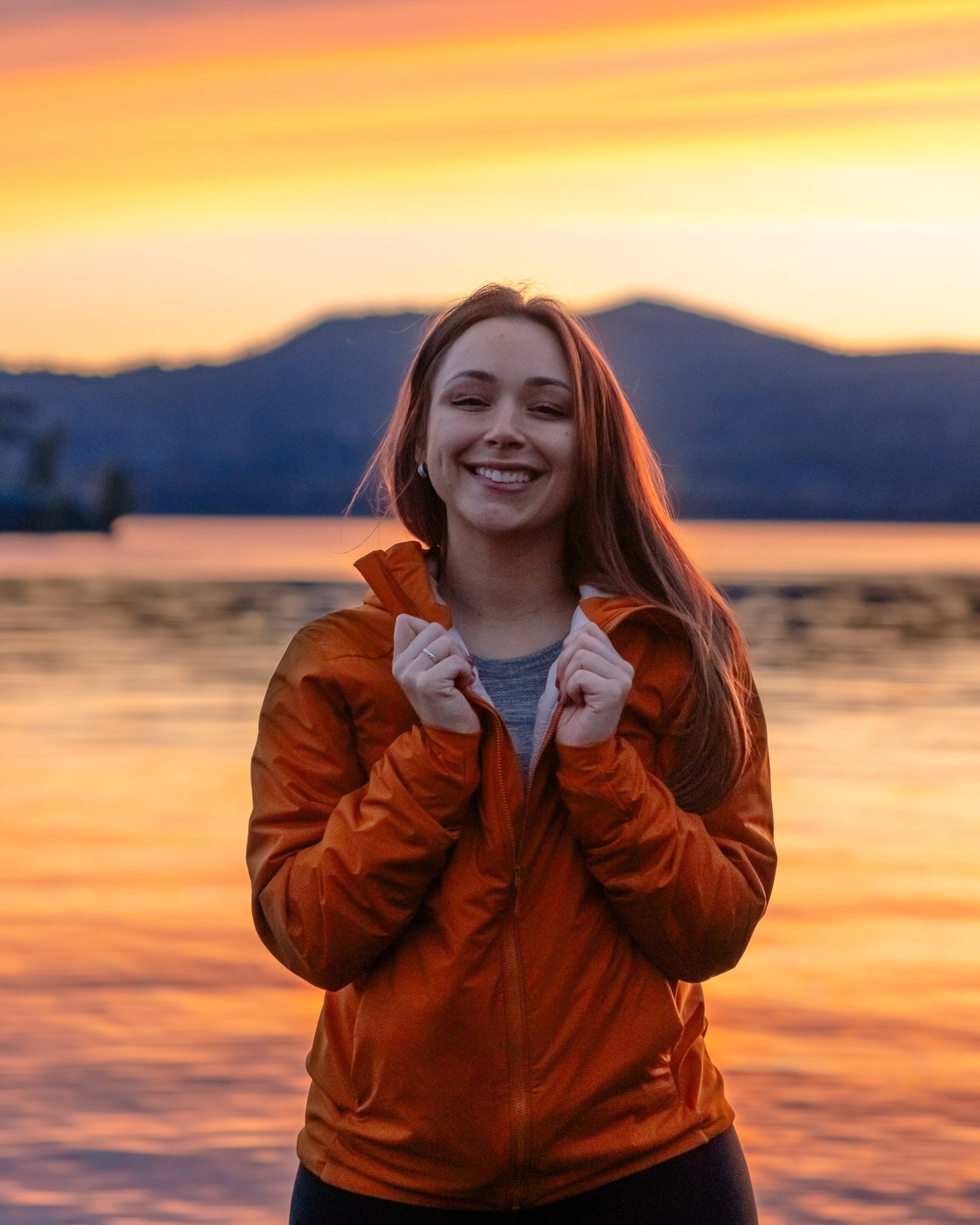 Hi, I'm Jackie! I'm a travel photographer and content creator based near the Adirondack Mountains of Upstate New York. I'm also a millennial who works full-time, yet I still find ways to travel frequently without breaking the bank, because traveling is what makes me feel most alive. Now I help fellow travelers who also work 9-5 and are looking for ways to travel more with limited PTO.
WANT TO SAVE MONEY TRAVELING?
Check out my list of reliable budget-friendly travel resources that are guaranteed to save you the most money, without compromising your experience.