A Comprehensive Guide to Visiting Havasupai [UPDATED 2020]
Interested in visiting Havasupai? Can't say I blame you.
It's no (longer a) secret that this piece of desert canyon is home to some of the world's most beautiful and unique waterfalls. With waterfalls and rivers the color of gemstones, cascading and snaking their way through the red, dusty rocks of the Grand Canyon, it's easy to imagine why this place has shot to international fame.
In fact, you've probably seen Havasupai's iconic Havasu and Mooney Falls featured in everything from travel brochures to postcards. And for good reason. I mean Havasupai is nothing short of an adventurer's dream.
But, how exactly do you access to this slice of desert paradise?
Well, it's harder than you might think…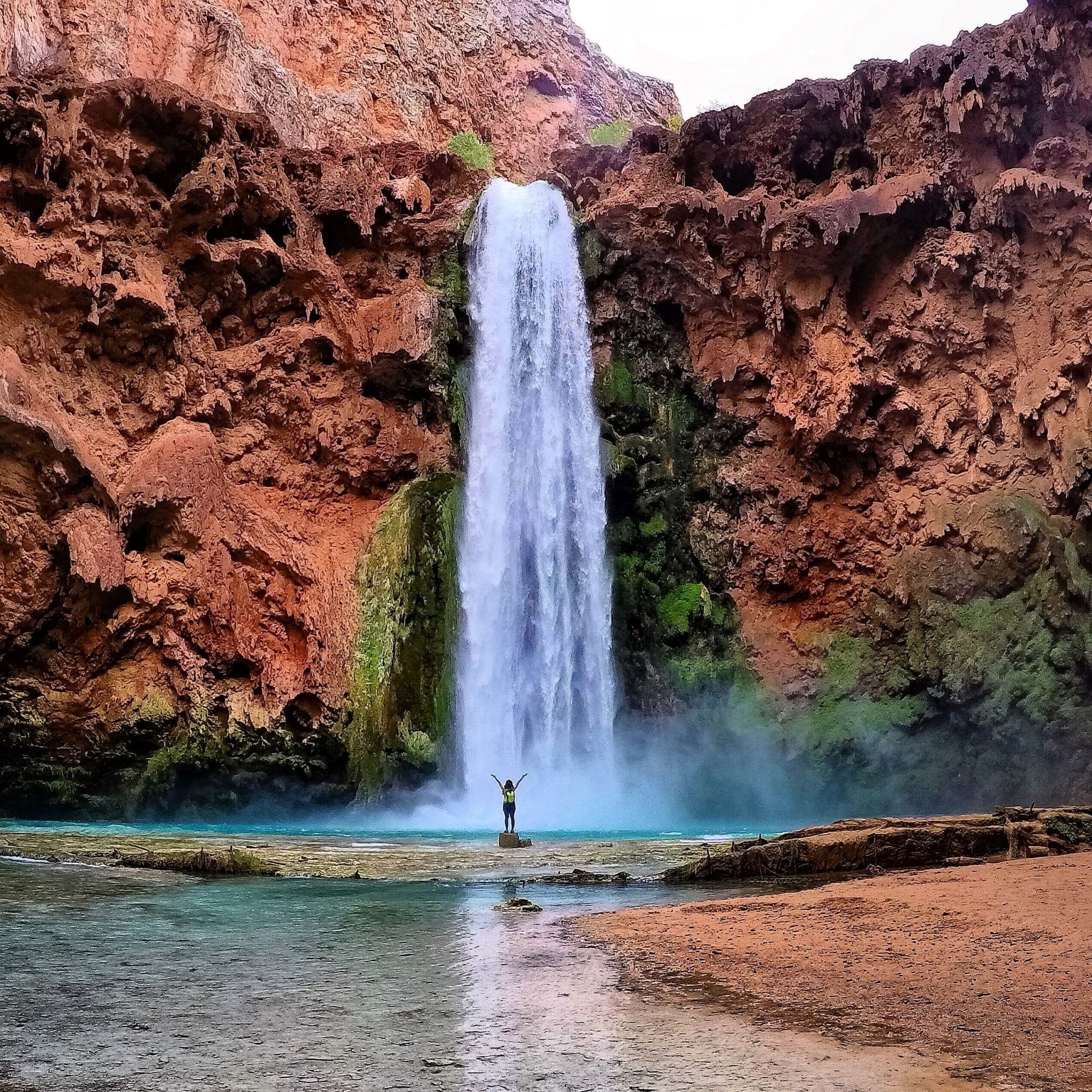 "Havasupai" = the name of the tribe/reservation
"Supai" = the name of the Havasupai village
"Havasu Falls" = the most recognized waterfall
"Havasupai Falls" = all of the waterfalls together
"Havasu Canyon" = the canyon where the village of Supai is
The village of Supai is the most remote indigenous territory in the United States. Located 10 miles deep in the Grand Canyon, Supai and its waterfalls are only accessible by helicopter or on your own two feet.
Between the preparation, the planning, and the trek into the canyon, visiting Havasupai is no easy feat. And that's assuming you can even get your hands on a permit.
A lot has changed about the process of visiting Havasupai over the years. And you're likely to stumble across a lot of outdated information in your Google searches. So my goal is to provide you with all of the updated information you need to visit Havasupai in 2020.
In this comprehensive guide, you'll find information on:
How to get a permit for Havasupai
The best time to visit Havasupai
Hiking to Havasu Falls
How to get to the Hualapai Hilltop trailhead
Other waterfalls in Havasupai
Tips for your visit (and mistakes to avoid)
Alternative travel and accommodation
What to pack for 4 days in Havasupai


.

.


How to get a permit to visit Havasupai Waterfalls
.
Before I delve into the details of planning and hiking to Supai, let's talk about permits.
Every single person visiting Havasupai needs a permit. No exceptions.
Unfortunately, getting a permit is getting harder and more frustrating every year.
When I first visited Havasupai in 2017, the tribe only took phone reservations. You had to call their only phone number over and over again until you finally got through to someone. And then hope they had your preferred days still available. Sometimes it took a few tries, other times it took days or weeks.
I remember having their number on redial for hours. Listening to the same ringing patterns and busy tones over and over again. Then, when someone finally answered, I went down the list of my preferred dates, until one of them finally matched up. And I was only able to secure a campsite reservation for 2 nights. This was a few days after permit openings.
That's not how things work now.
You can no longer make reservations over the phone. In 2020, all campsite reservations must be made online.
UPDATED HAVASUPAI PERMIT INFORMATION
The permit system opens at 8:00 AM Arizona Time on February 1, 2020.
Reservations can only be made online at www.havasupaireservations.com
Minimum reservation is 4 days/3 nights
Full payment must be made upon reservation
Only one credit card per group is allowed on file (and that person MUST be present at check-in at the village)
Payments are non-refundable and non-transferable, unless processed through the Official Transfer System on www.havasupaireservations.com
HAVASUPAI PERMIT PRICES IN 2020
The price of single reservation in 2020 is $375.00
Pricing includes 4 day/3 night camping reservation, all necessary permits, reservation fees, and taxes.
Prices are set each year by the tribal council and are subject to change without notice

HOW TO INCREASE YOUR CHANCES OF GETTING A HAVASUPAI PERMIT IN 2020
Havasupai's waterfalls attract the eye of hundreds of thousands of people every year. And that number is increasing, thanks to Instagram, other social media platforms, and Beyonce's music video (people weren't so happy about).
But, regardless of how many people want to visit, the number of permits available pretty much stays the same, so only a small percentage are among the lucky ones to actually get to go.
That also means that reservations are selling out faster and faster as more and more people battle it out for a permit. In fact, in the last two years, permits for the entire year have sold out almost instantly.
Fortunately, there are a few ways you can increase your chances of getting a Havasupai permit in 2020:
Create (and complete) your account on www.havasupaireservations.com ahead of time.


.

Have several dates in mind and write them down for easy reference.


.

Book less desirable dates, like weekdays (Monday – Thursday). Weekends and holidays are always the first ones to sell out.


.

Be prepared to book dates months in advance.
Be willing to whatever dates are available.


.

Have all of your details worked out ahead of time. Dates, people, payments, etc. so you can be ready to book the first time you get through. Because once you get through, it will be hard to get through again.


.

Be ready to sign in at EXACTLY 8:00AM Arizona time on February 1, 2020. Set an alarm and be ready with your finger on the sign in button to press it the very second the clock changes to 8AM.


.

Don't refresh the page! Once you sign in, the page will take several seconds to load. If it takes longer than that, don't hit the refresh button. If you hit the refresh button, you'll get kicked out.


.

And if all else fails and you can't get a permit the first time, check the the cancellation list on the Official Transfer System Page.


.

.


The Best Time of Year to Visit Havasupai

.
Havasupai is open to visitors year round, but tourist season is generally February – late September. Although the temperature of the water consistently remains in the low 70's all year, the air temperature and crowds vary with the seasons.
February – June: the best for a less crowded Havasupai experience, when days are a bit cooler and better for hiking and campsites are a bit less crowded.
June – August: these summer months are typically unbearably hot, but are considered peak season, and due to high air temperatures are best for swimming.
July – September: Monsoon season. These are popular travel months for many people, but during this time, the chance of monsoons creates a higher chance of flash floods in the canyon. Flash floods occur with little warning and may flood the campgrounds, turning the waters from brilliant blue-green to muddy brown.
.
.
.
What the trek is like to Havasu Falls
Length: 20 miles round-trip (out and back)
Difficulty: Difficult; must be in good physical condition
Terrain: Exposed desert and wet canyon
Trail Condition: Well maintained over dry riverbed composed of dust and loose rock
Day hikes: NOT ALLOWED
Honestly, the trek to Havasu Falls isn't for the faint of heart.
The hike begins at the the Hualapai Hilltop, located on the Havasupai Indian Reservation. At the top of the hilltop, you'll find a sweeping view of the canyon below you.
The trail begins with a 2000ft descent into the canyon via a 1-mile long series of switchbacks.The steep descent will deliver you to a dry riverbed of loose rock at the bottom of the canyon. From here, it is 9 miles to the village of Supai.
The trek along the Havasupai Trail is very long, very hot, and very exposed to the boiling Arizona sun, so its necessary to begin your hike before the sun rises.
Over the course of several hours, you'll follow a gently sloping trail over the loose rock and red dust of the canyon floor.
You'll walk 6 miles before you find a river, which will lead you downstream through a (seemingly sudden appearance of) lush forest of cottonwood and willow trees. The trees offer very welcomed shade while their bright green leaves stand in striking contrast to the surrounding red sandstone canyon. It really is a sight to see. From here, the Havasupai village of Supai is 1.5 miles away.
When you arrive at the village, you have to check in at the tourist office. This is where you obtain your camping tags and show proof of your permit reservation. If you arrive at the office without a permit and subsequent camping reservation, you will be turned away and forced to trek back out.
After checking in, you'll follow the sandy trail for another 2 miles, passing the smaller Navajo Falls, and then finally arriving at the top of Havasu Falls.
You'll quickly realize that all the photos in the world will never do Havasu Falls justice. This iconic gem plunges 100 feet into a crystal clear blue-green lagoon. Every muscle in your body will ache, your feet will have blisters, your shoes will be filled with sand. But the sight of this waterfall alone will make the long, hot trek worth every step.
The campground is a short hike from there.
.
HOW TO GET TO THE HUALAPAI HILLTOP TRAILHEAD

.
The Hualapai Hilltop trailhead is located approximately 4 hours from both Las Vegas, NV and Phoenix, AZ by car.
Access step-by-step driving directions from McCarren International Airport (Las Vegas, NV) and Phoenix Sky Harbor International Airport (Phoenix, AZ) by clicking on the google maps below.
.
.
Waterfalls of Havasupai

Rock Falls & New Navajo Falls
Rock Falls and New Navajo Falls are the first waterfalls you'll encounter. They're located 1 mile between the village of Supai and the campground.
These falls are a great stop to rest on your way to Havasu Falls or a great way to spend the day for families or for people who don't want to hike down to Beaver Falls.
The pools at the base of the waterfalls make for a great swimming hole and for relaxing away from the crowds sometimes found at Havasu.
.


Havasu Falls


One of the most photographed waterfalls in the world. This is the waterfall you'll surely recognize.


Plunging 100 feet into a crystal clear blue-green pool and located just a few minutes away from the Havasupai Campground, Havasu Falls is the most iconic waterfall at Havasupai.

Surrounding the pool at the base of the falls, you'll find picnic benches and relief from the baking Arizona sun in the shade underneath cottonwood trees. This waterfall makes for a great spot to hang out all day, swim, or string a hammock.

.
Mooney Falls
Cascading over 200 feet, Mooney Falls is the tallest of Havasupai's waterfalls. Its found at the end of the Havasupai Campground, approximately 1 mile from Havasu Falls.
The base of the waterfall is only accessible by scaling the cliff face outfitted in rebar and chains. And much like the trek to Havasupai, the descent to Mooney Falls is not for the faint of heart – suitable for only the most agile of adventurers.
The introduction of thick chains and rebar serve as an assist in climbing down the slippery rock. You'll find signs warning you to descend at your own risk.
Mooney Falls is not safe to swim around as it has a dangerous under-current.
.


Beaver Falls

Beaver Falls is best known for its enchanting 5 cascading waterfalls and gorgeous pools, perfect for wading and swimming. Accessible only by a 3 mile hike through the canyon from the base of Mooney Falls, the trip to Beaver Falls makes for an excellent day-trip.

The trail will take you through lush-green grapevine fields, across bridges over the crystal blue waters of Havasu Creek, and up and down ladders installed in sandstone cliff faces.

During the spring and fall, be sure to arrive early in the day. The sun will still be shining on the water (and you might avoid the crowds and have the place all to yourself!)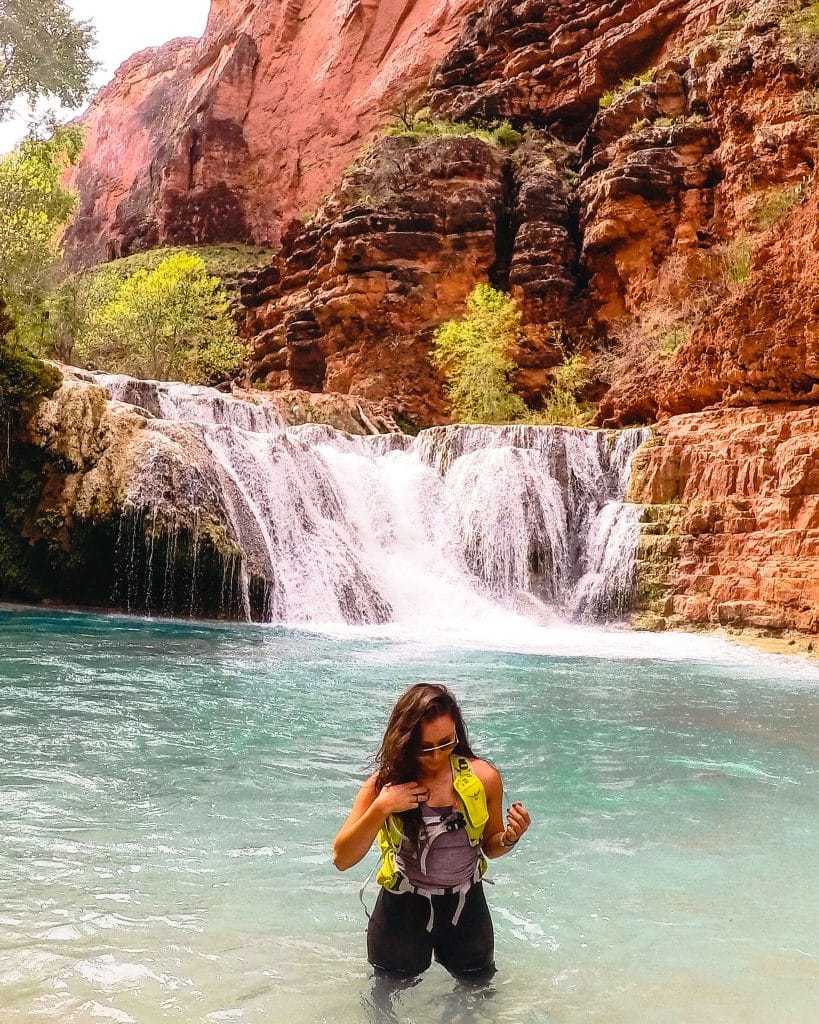 The trail past Beaver Falls will continue for another 4 miles to the Colorado River.
Distance overview

:
Supai to New Navajo Falls: 1 mile
Supai to Havasu Falls: 2 miles
Campground to Mooney Falls: 1 mile
Mooney Falls to Beaver Falls: 3 miles
Beaver Falls to Colorado River: 4 miles
IMPORTANT TIPS FOR YOUR VISIT (and mistakes to avoid):

.


GET AN EARLY START

Start at or before sunrise. The weather will be cooler while the sun is down, you'll avoid hiking in the midday sun, and you'll even get to witness the spectacular sunrise in the Grand Canyon.
To get an early start, consider renting accommodation near the reservation or camping at your car in the parking lot at the hilltop.
FILL UP ON GAS IN PEACH SPRINGS, ARIZONA
The last gas station before the trailhead is located in Peach Springs, Arizona. Its open from 7AM – 6PM.
Stop here to top off your gas, since it is the only gas station within 100 miles of the trailhead. If you run out of gas on the reservation, you most likely will not be able to get it at all. The locals don't have gas to give to you.
.
FILL UP ON WATER
There is no water between the Hilltop and Supai.
Carry a lot of water – more than you think. In the dry heat, you'll be unaware of your perspiration because it will be evaporating off your skin so quickly. It is recommended to bring 3L of water PER PERSON, gatorade or other electrolyte-rich drink, and salty snacks.
Fresh drinking water is available outside of the tourism office once you reach Supai, as well as at the campground.
.
CARRY ONLY WHAT YOU NEED
10 miles over loose rock in the baking sun is a long way to carry an overweighted pack. Alternatively, there are horses and pack mules available to carry your gear in for you at the trailhead, but be mindful of the numerous reports of animal abuse and neglect against these animal in Supai. If you are able, please carry your own gear. You are stronger than you think.
.
INVEST IN QUALITY GEAR
Invest in trekking poles and good/sturdy hiking boots or hiking shoes. This gear will make a world of difference as you are trekking the varied terrain within the canyon.
.
WATCH FOR HORSE AND MULE TRAFFIC
You'll be sharing the trail with locals, as this is their only access road between the Hilltop and the village.
.
CHOOSE A CAMPSITE WISELY
The campground is 1 mile long. While you can camp wherever you want within the campground boundaries, it is wise to choose a site close to the drinking water fountain (at the beginning of the campground) for easy water access and close to an outhouse.
.
BRING A HAMMOCK
The entire campground is filled with amazing hammock trees. If hammock camping is your thing, you don't even need to bring a tent.
.
NO CAMPFIRES ALLOWED
Bring a camping stove and fuel if you plan to cook your meals.
.
DONT CARRY YOUR WATER UPHILL
When trekking out, dump your water at the base of the hill between the campground and Supai village. You'll save yourself the weight of carrying the water 2 miles uphill. Refill your water at the tourism office in the village.
.
TREK (all the way) OUT
If this is your first time visiting Supai, make the trek out!
The trek out was one of the hardest things I've ever done. We were tired, bruised, achey, and sweaty. The path is slightly uphill and the switchbacks seem to drain any energy out of whatever reserves you have left at the end.
But applause by fellows hikers and onlookers awaits you at the top. And the sense of accomplishment when you take the last steps out of the canyon is unparalleled. To know you completed the entire path makes every step worth it.


ALTERNATIVE TRAVEL AND ACCOMMODATION

Helicopter
If you are unable to hike in or out, a helicopter runs between the Hualapai Hilltop and Supai.
It will drop you off and pick you up in the village, 2 miles from the campground. The helicopter service only runs at certain times of the year and on certain days of the week.
Helicopters run from 10am until everyone has been accommodated or until it gets dark. Passengers are served on a first-come-first-served-basis, but locals generally get priority regardless of when they arrive. So it is important to arrive early to allow yourself enough time in your schedule.
The website says that the Havasupai Helicopter accepts major credit cards, but the credit card machines are notoriously unreliable. So, you should carry enough cash on you just in case.
Fee: $85 per person per direction.
Click here for the helicopter schedule.

The Havasupai Lodge
Lodging in the village is an alternative to camping, but honestly good luck getting a spot at the lodge.
Getting a lodge reservation is at least 25793857 million times harder than getting a camping permit. I'm not saying its impossible, I'm just saying that the stars have to align for you to maybe get lucky.
2020 reservations for the Havasupai Lodge opened on June 1, 2019. Reservations for the lodge can only be made over the phone.
Be prepared to book whatever dates are available, though, and then just make it work.
Click here for Havasupai Lodge information

Tours
It is not necessary to book a tour to visit Havasupai. However, there are tours available that will take care of the planning and permitting for you (for a price…)
Click here for tour information
.
WHAT TO PACK FOR 4 DAYS IN HAVASUPAI

.


Clothing
Breathable, lightweight pants and shorts
Swim suit
Sturdy hiking boots or hiking shoes
Lightweight wool hiking socks
Water shoes or sandals
Breathable, lightweight t-shirts and tank tops
Wool base layer (pants and shirt for cool weather at night)
Rain jacket
Sun hat or baseball hat
Sunglasses
Warm hat (for cool weather at night)


.
Gear
Sturdy and well-fitting pack
Hydration bladder
Reusable water bottle
Lightweight tent with rain fly
Stuff sacs for clothes
Trekking poles (you'll be glad you have them!)
Towel
Sleeping bag
Sleeping pad
Camping utensils and plates or bowls
Flashlight or headlamp with extra batteries
Bug repellant
Sunscreen
able charger
Camera with extra batteries!
Camp soap (biodegradable, eco-friendly)


.
Food
Energy bars – meal bars, protein bars
Instant oatmeal, granola, bagels
Mixed nuts
Peanut butter sandwiches
Soft-packaged tuna
Dehydrated meat
Pepperoni
Cheese
Water treatment


.
Optional
Backpacking stove, fuel, pots and pans to cook pasta or backpacking meals
Lightweight day pack
Hammock


.


WANT TO SAVE MONEY TRAVELING?
Check out my list of reliable budget-friendly travel resources that are guaranteed to save you the most money, without compromising your experience.