Hike the Artists Bluff Trail in Franconia Notch State Park NH
Artists Bluff Trail in Franconia Notch State Park NH is an essential part of any New Hampshire Road Trip. Keep reading for a full guide to this incredible New Hampshire hike, including how to get there, the best time to hike Artists Bluff, and what to do nearby.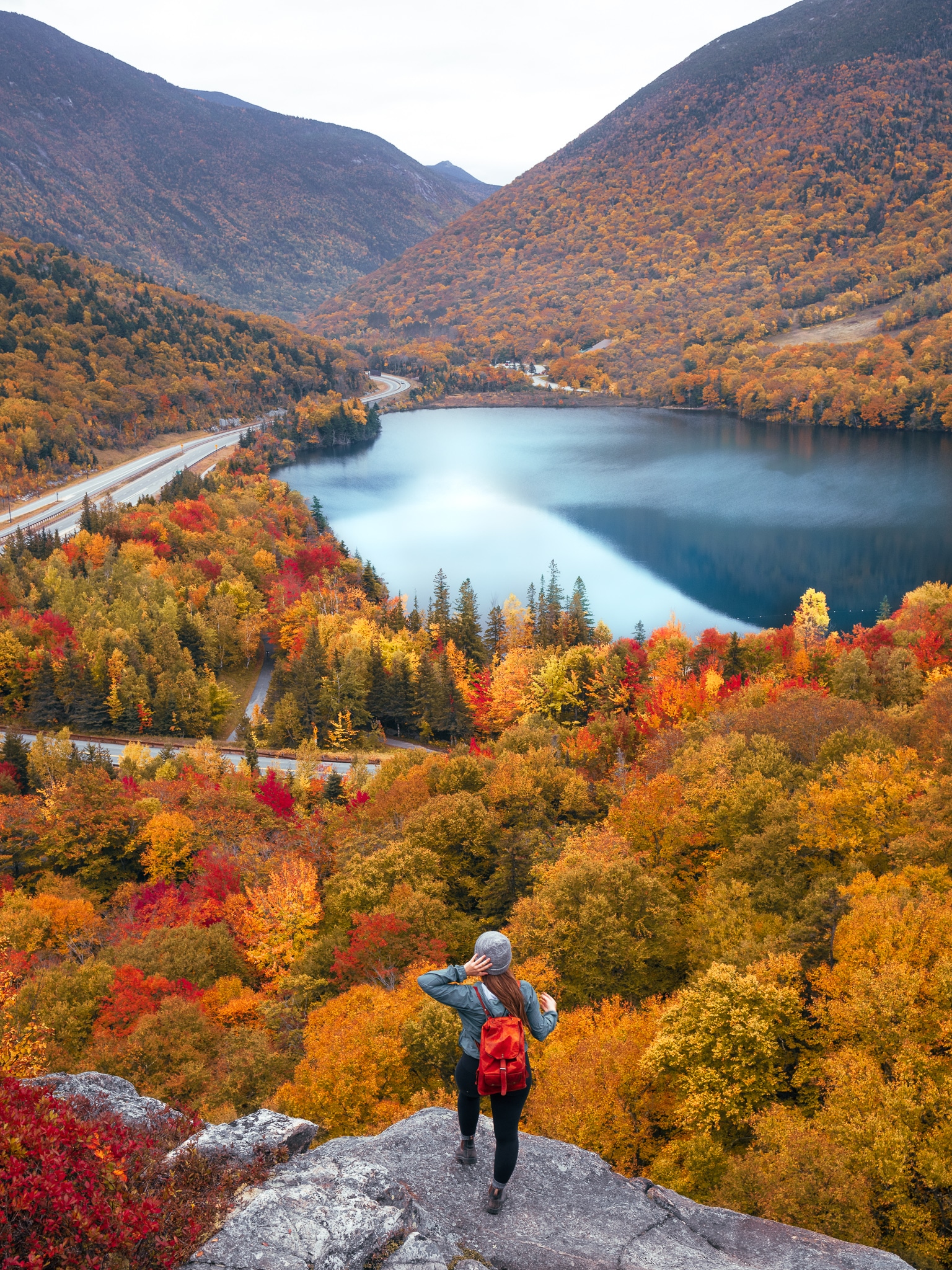 ** This post contains affiliate links, which means that I will make a small commission if you decide to make a purchase – at no cost to you! **
If you've ever browsed New England photo inspo on social media, then you've most certainly seen Artists Bluff! Perhaps only second to Indian Head in the Adirondacks, Artists Bluff is certainly up there with the most photographed fall hikes in the United States.
This little rocky perch hangs just above a sea of deciduous trees and overlooks Echo Lake in Franconia Notch State Park NH. It's unique view, coupled with the fact that it's super easy to reach makes it one of the most iconic photo spots in New Hampshire.
Loved by both locals and travelers alike, the Artists Bluff Trail is a must-see, especially in the fall!
In this post, I'm sharing everything you need to know about hiking the Artists Bluff Trail in Franconia Notch State Park, New Hampshire.
So, keep reading for directions, trail information, maps, and some gorgeous photos that will have you adding this popular New England Hike to your travel wishlist.
Planning a road trip through NH? Check out these helpful posts:
How to plan a road trip using Google Maps
Best Hiking Backpacks for Women in 2022: Find the Perfect Hiking Pack for Your Next Adventure
11+ Incredible Spots to Experience Fall in NH (+ 3 Road Trip Itineraries!)
Don't forget to grab your FREE Travel Expense Planner below. Use it to easily and automatically calculate how much money you'll spend on gas, accommodation, flights + more
Artists Bluff Trail Overview
Artists Bluff Trail Distance: 1.5 mile loop (0.5 miles out and back via the shortcut along the main road)
Parking Lot Coordinates for the Artists Bluff Trail: 44.178537, -71.696247
Elevation Gain: 436 ft (133 m)
Total Hike Time: 2 hours
Trail Rating: Easy to moderate
Dog friendly: Yes
What's So Special About the Artists Bluff Trail in New Hampshire?
Artists Bluff is a rocky ledge that overlooks Echo Lake, Cannon Mountain in Franconia Notch State Park, NH. Over the last few years, Artists Bluff has skyrocketed to IG fame, and you're bound to see it popping up all over Instagram as soon as the leaves start to change.
Of course, like almost all popular photography spots, the Artist Bluff overlook tends to attract quite a crowd. But the good news is that the rocky outcropping is spacious enough to allow everyone to spread out and take in the views.
The Artists Bluff Trail is a relatively easy 1.5 mile loop that can be combined with a short detour to the summit of Bald Mountain for a higher perspective of Franconia Notch. However, if you're in it just for the views from Artists Bluff, then the entire hike can be completed in about 1 hour by way of a shortcut near the Echo Lake Parking lot.
Artists Bluff is one of those touristy and perhaps over-photographed locations – but it's certainly worth the hype in the fall and definitely a must-see during your time in NH. I suggest coupling your stop here with a hike through the neighboring Flume Gorge as part of your NH road trip itinerary.
How to get to Artists Bluff: Parking and Trailhead Information
Directions to Artists Bluff Trail: Follow I-93 (Franconia Notch Parkway) and get off exit 34C toward Cannon Mountain Ski Resort and head west on NH-18 (Profile Road)
Artists Bluff Parking
You will see a large parking area on the right, approximately half a mile up the road. It's marked with signs for both Bald Mountain Trail and Artist Bluff Trail. This is the main parking lot for the Artists Bluff Trail Loop. This is also where AllTrails and Google Maps will take you by default. From this trailhead, follow the loop counterclockwise for the shortest route to Artists Bluff.
However, if you're in it just for the views from Artists Bluff, park at the Cannon Mountain RV Park and use the trail across the street. This is a shortcut that will save you loads of time by cutting off a long stretch of trail on the way to the lookout!
To find the shortcut to Artists Bluff:
Set "Cannon Mountain RV Park" as your destination in Google Maps
Park in the parking lot
Walk back across the main road and turn right
Follow the road until you reach the trail entrance
The shortcut is also marked on AllTrails, so you can use that for reference.
Hiking the Artists Bluff Trail in New Hampshire
The Artists Bluff Trail is a 1.5 mile loop, but can be done in as little as 0.5 miles out-and-back by way of the shortcut across from Cannon Mountain RV Park. I suggest budgeting around 2 hours for this hike if you want to enjoy the views for awhile, but it only takes around 30 minutes to reach the summit if you're hiking at a moderate pace.
The hike is rated as moderate, with a mix of flat stretches and steep sections along the loop trail. It is suitable for all skill levels and does not require special gear or technical skills.
And don't worry about leaving your dog at home! The Artists Bluff Trail is dog friendly.
Trail Description
After about 20 minutes, you'll come to a fork in the trail. Stay right at the fork to get to the Artists Bluff Lookout.
Before hiking this trail, I read reviews from people who actually never found the correct lookout. Admittedly, the viewpoint is easy to miss because it's down an unmarked herd path. I'm not sure why it's unmarked, given its popularity, but we found it helpful to use AllTrails to make sure we didn't miss the turn.
Artists Bluff Lookout
Following the herd path from the main trail leads you onto the rocky ledge overlooking Echo Lake, Cannon Mountain, and the surrounding area of Franconia Notch State Park.
We actually visited for sunrise on what was supposed to be a clear day. As you can see in the photos, the weather clearly had other plans and a bunch of thick clouds rolled in just before the sun came up.
Anyway, I've seen tons and tons of photos of this viewpoint, but nothing quite hits the same as seeing it in person in the middle of peak foliage season – regardless of the cloudy weather. The view is just stunning.
Artists Bluff Lookout overlooking Echo Lake, Cannon Mountain and the foliage in Franconia Notch State Park, NH
At sunrise or sunset, you will find the overlook lined with photographers, especially in the fall. Midday, it tends to fill with families and larger groups of hikers. However, regardless of when you visit, the ledge is big enough to find your own little space to soak in some of the best views of Franconia Notch.
Most people hang out in the center or to the left of the ledge, but I recommend going to the right. On a crowded morning, the right side was relatively empty and we had tons of space to take photos without other people in them. There's also a smaller ledge down below where you can take photos from a different perspective!
Bald Mountain Summit
From the main trailhead, follow the Artists Bluff Loop until you reach the sign for Bald Mountain. If you take the shortcut toward Artists Bluff, stay left at the fork to reach the Bald Mountain Trail.
The hike up Bald Mountain isn't overly difficult and only adds about 0.7 miles total. It doesn't take much longer than hiking the entire Artists Bluff Loop, so I highly recommend adding it to your itinerary if you have the time and energy! It's a great detour to escape any crowds at the Artists Bluff overlook, as well as get an incredible view of the amazing foliage in the fall.
Top Tips for Hiking the Artists Bluff Trail
Hike the loop trail counterclockwise. At only 1.5 miles, the loop is short and sweet. But if you're in it just for the views, hike it counterclockwise from the main trailhead. Or park at the Cannon Mountain RV Park and take the shortcut directly across the street.


.

Use the shortcut route if you hike for sunrise or sunset! It saves you tons of time, but also only takes about 10 minutes to get back down, so you won't be stuck hiking in the dark after sunset.


.

The best time of year to hike the Artists Bluff Trail is during peak foliage season in the fall, which is typically around the 2nd week in October.


.

Use AllTrails to help you find the viewpoint. The viewpoint can be easy to miss, since it's down an unmarked path off the main trail. Use AllTrails to make sure you don't miss the turn


.

Artists Bluff gets REALLY crowded. We visited at sunrise on a weekday and were fortunate not to run into too many crowds. However, the viewpoint was still pretty crowded, and can get really bad on weekends in peak foliage season. Plan to get there as early as possible!


.

Wear sturdy hiking boots, as the trail is steep, rocky, and full of large roots.

These boots by Danner

are usually my go-to.
Tips for Photographing Artists Bluff
The best time to photograph is at sunrise or sunset on a clear day when the wind is low
Use a circular polarizer to make the colors pop and cut the glare on Echo Lake. I like

these ones

.
A wide angle lens will help capture the scene when shooting portrait
Drones are NOT permitted to take off or land within NH State Park boundaries
Things to do nearby
Summit Bald Mountain for an alternate view of Franconia Notch State Park


.

Visit the beach at Echo Lake. We found this to be an excellent little add on to our sunrise hike at Artist Bluff, since it's directly across the road. We spent about 30 minutes taking photos on the dock, but you can also hang out on the beach, rent a kayak, and hike the nearby trails


.

Take the Cannon Mountain Aerial Tramway to the summit of neighboring Cannon Mountain for panoramic views of the White Mountains


.

Hike the Flume Trail at Flume Gorge to see waterfalls, covered bridges, and more breathtaking scenery. This is a really popular spot in the fall, so arrive as early as possible!


.

Take a scenic drive down the Kancamagus Highway! The world-famous 34.5 mile highway cuts through the White Mountain National Forest and there are many scenic stops and viewpoints just off the road.


.

Make it a road trip! There are so many incredible spots to see in New Hampshire, especially when the trees burst into a sea of vibrant colors in the fall. Use my 3, 5, and 8-day New Hampshire Road Trip Itineraries to help plan your visit and make your time in New Hampshire unforgettable!
Echo Lake in Franconia Notch State Park, NH
***
Of course, always remember to leave these outdoor places better than you found them by following the Principles of Leave No Trace, so that we can keep them healthy and beautiful for generations to come.
Happy Adventuring!
Did you find this Artist Bluff Trail guide helpful in planning your trip? Let me know in the comments! I love to hear from you!
PINS FOR YOUR PINTEREST
WANT TO SAVE MONEY TRAVELING?
Check out my list of reliable budget-friendly travel resources that are guaranteed to save you the most money, without compromising your experience.