5 Compelling Reasons to Take a Campervan Road Trip (+ Essential Tips to Know Before You Go)
Post summary: If you're looking for comfort, convenience, and easy access to outdoor spaces, consider planning a campervan road trip! Read on for 5 reasons why you should road trip in a campervan, things to consider when choosing a van, and essential tips to know before you go!
This post is sponsored by Travellers Autobarn. All thoughts and opinions are my own.
Are you planning your next vacation and looking for a unique way to see the world? Why not take a campervan road trip?
There's something about packing up a campervan and hitting the open road that just feels right. Maybe it's the sense of adventure, or the freedom to go wherever you want, when you want. Or maybe it's the budget-friendly nature of camping trips that piques or your interest.
Whatever the reason, renting a campervan for your next road trip is a great idea! In this post, I'm sharing five reasons why you should book that campervan road trip, as well as some of my best tips for planning your trip.
Let's dive in!
But first…check out these guides for some road trip inspo
Las Vegas to Sedona Road Trip (3 Jam-Packed Itineraries to See it All in Less Time)
9 Epic Experiences You Need to Have in New Zealand
11+ Breathtaking Spots to Experience Fall in New Hampshire (+ 3 Epic NH Fall Road Trip Itineraries)
.
5 REASONS TO RENT A CAMPERVAN FOR YOUR NEXT ROAD TRIP
RENTING A CAMPERVAN GIVES YOU TOTAL FLEXIBILITY
When you're on a campervan road trip, the world is your oyster! You can go wherever you want, whenever you want. Gone are the days of having to adhere to strict hotel check in times or departure schedules.
Want to drive through the night to get to your next destination? Great – keep on driving! Want to linger a bit to catch that epic sunset? Don't worry about the time – you have nowhere to be. Love the place you're staying and want to stay an extra day (or two)? Not a problem. Your schedule is entirely up to you.
Read next: How To Plan Your Road Trip With Google Maps (Tutorial With Examples)
YOU CAN SEE A LOT IN A SHORT AMOUNT OF TIME
Where are my fellow 9-5ers? In a nutshell, if you work a 9-5, then you know that PTO is precious and every little bit counts.
The main way I maximize my time off is by packing my itineraries to the brim, in order to see as much as possible in a short amount of time. This is the reason why we opt for campervan travel whenever possible.
Renting a campervan is the best way to truly adventure from sunrise to sunset without worrying about driving back and forth from restaurants or hotels. Take our jam packed Las Vegas to Sedona campervan road trip, for example. We hit up 2 state parks, the Grand Canyon, and all the highlights of Sedona…all within 5 days! This never would have been possible if we were stopping to eat at restaurants, checking into hotels, etc.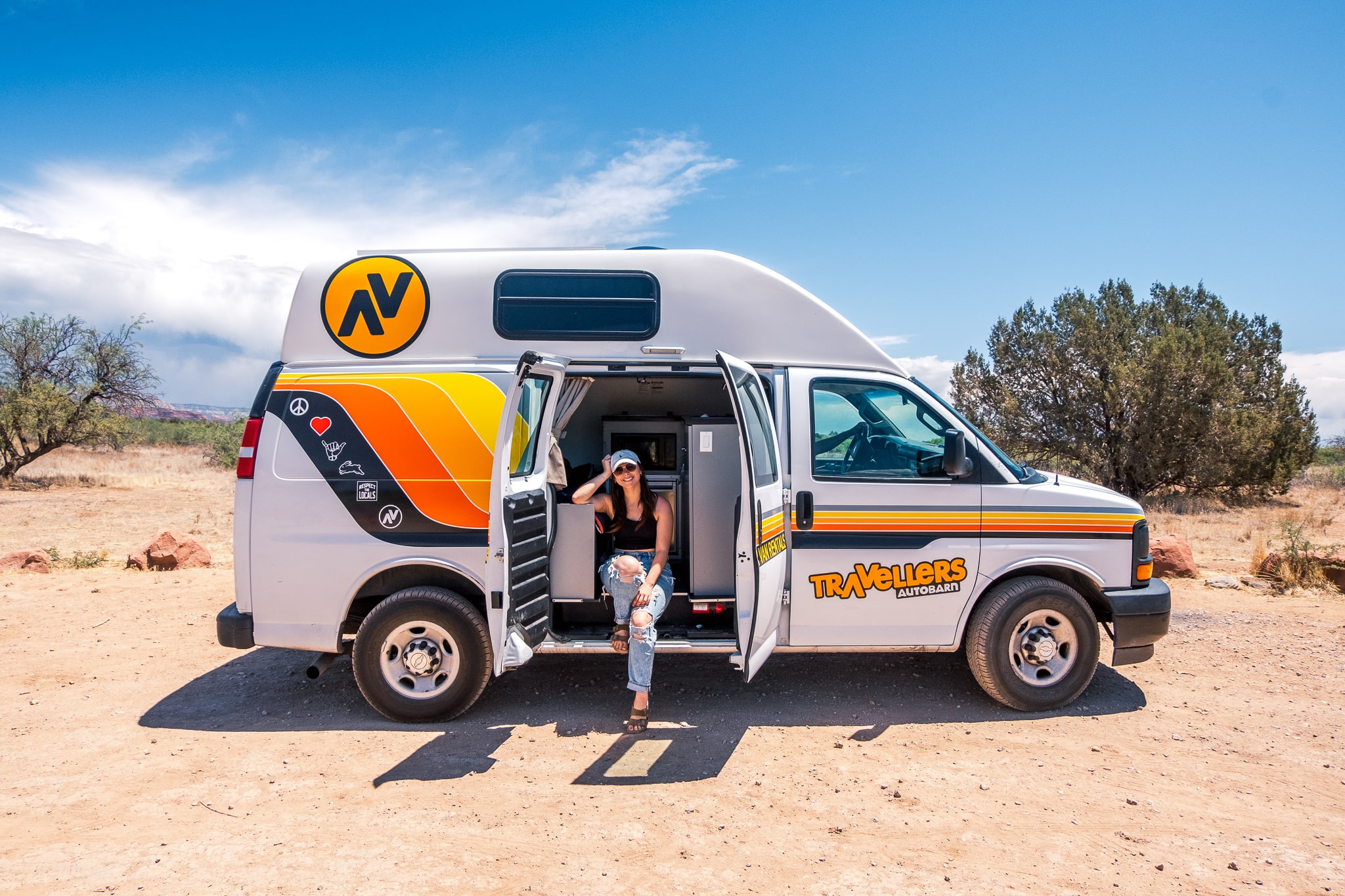 IT'S POTENTIALLY MORE COST EFFICIENT
We're all about budget travel here, and campervan travel can actually be a super budget-friendly way to see the world. Mainly because once you factor in the price of accommodation and rental cars, a campervan is usually cheaper.
For example, the average rate of renting Traveller's Autobarn Hitop Campervan in Los Angeles, CA is $135 per day. That means that a 1 week road trip is about $1080 USD. Definitely cheaper than the combined price of a rental car and hotel for 1 week in California!
And let's not forget that, unless your hotel room comes with a kitchen, you'll be spending extra money on restaurant meals during your trip. Travellers Autobarn vans include a stove and gasoline so you can cook your own meals – further increasing your savings and making your trip more affordable.
Of course, the cost does go up when you consider things like campground fees and electrical hookups. However, you can skirt around campground fees by paying for hookups every two or three nights and choosing free campsites the rest of the time. Travellers Autobarn also throws in discounts for extended rentals and discounts on campsites all around the country.
YOU CAN PLAN YOUR ADVENTURE AS YOU GO
What could be more adventurous than hitting the open road and seeing where it takes you? If you're someone who likes to plan as you go (or go without a plan!), then renting a campervan is perfect for you!
Traveling by campervan not only allows you to travel at your own pace, but it also gives you the ultimate flexibility plan your adventure as you go. You can play it all by ear, stop and smell all of those beautiful roses along the way, and take whatever detour your heart desires.
LIVE THE #VANLIFE
The #VanLife is no longer just a hashtag on Instagram. Over the last few years, #VanLife has become an entire way of life, defined by freedom, travel and adventure. A nomadic lifestyle that goes directly against the status quo in favor of minimalism, simplicity, and the freedom of the open road.
And the good news is that you don't have to quit your job and throw everything to the wind in order to experience what #vanlife is all about! You can get a taste of #vanlife (including all of the Insta-worthy photo ops) by renting a campervan for your next road trip, even if its just for a few days.
PS: Here's a list of adventurous travel captions to pair with your epic #vanlife photos!
WAKE UP TO A DIFFERENT VIEW EVERY DAY
Why book a hotel when you can rent a van and keep things interesting? Whether its the beach, a sprawling desert view, or a Walmart parking lot, renting a van allows you to wake up to a different view every day. Just add your favorite coffee!
Best of all, waking up for sunrise hikes is about to get a whole lot easier because you won't have to be far from the trailhead. Win-win.
BENEFITS OF RENTING WITH TRAVELLERS AUTOBARN
There are a ton of campervan companies out there to choose from. We've traveled several parts of the United States, Canada, and all of New Zealand in campervans (so we've tested quite a few!), and Travellers Autobarn is always our top pick for adventuring on a budget.
If you want luxury, then Travellers Autobarn isn't for you. But what they lack in bells and whistles, they make up for in unbeatable prices.
Travellers Autobarn offers fully equipped, reliable campervans at at a budget friendly price, which makes a campervan road trip affordable and accessible to nearly all travelers. Their vans are also pretty easy to drive with plenty of room and a functional living space.
Check out Travellers Autobarn USA offices in Los Angeles and San Francisco CA, Las Vegas NV, Denver CO (coming soon!), and Seattle WA (coming soon!). You can also book them for your next road trip Down Under at Travellers Autobarn Australia and Travellers Autobarn New Zealand.
Here are some additional benefits you can expect from your campervan rental with Traveller's Autobarn:
A safe and secure booking/payment platform
An average cost of less than $150 per day
Free unlimited mileage on all Travellers Autobarn campervan rentals
Travellers Autobarn will beat any competitors quote with their

Price Match Guarantee

Regular deals and specials for campervan hire in the US, NZ, and AUS
No cancellation fees up until 14 days before pick-up
All additional drivers are free!
Automatic discounts on weekly rentals and no one-way fee for rentals over 28 days
Exclusive campground discounts
24/7 emergency roadside assistance
CHOOSING YOUR CAMPERVAN – THINGS TO CONSIDER
If this is your first time renting a campervan, then you'll quickly discover that there are a lot of things to think about. Here are a few of the most important things to consider before committing to your house on wheels:
BERTH
The number of berths in a campervan is equal to the number of sleeping spaces. Campervans typically range from small 2 berth vans, which are perfect for couples and solo travelers, to huge 6 berth RVs that are built for larger groups and families.
SELF-CONTAINED OR NOT?
This one's important because its going to dictate whether or not you have to leave your van to pee in the middle of the night. But more importantly – its going to be the deciding factor in if you're going to have pay for campsites every night and empty waste and gray water.
DO YOU NEED A 4X4?
Before you book your van, consider your rough itinerary. Do you plan on heading off-grid, down any forest roads, or parking on remote BLM land? If so, a van with 4×4 capabilities might be essential.
That being said, most budget-friendly vans don't have 4WD and, therefore, often aren't permitted on unpaved gravel roads. Always double check the terms of your rental before heading out, because insurance won't cover any damage that you incur while in violation of your rental agreement.
UNLIMITED MILEAGE?
While you don't need a detailed plan for your campervan road trip, it's important to have a ballpark estimate of how far you're going. Some campervan companies include a set amount of miles/kilometers in their pricing, and any mile over that will cost you extra. And trust me – it adds up FAST.
Luckily, if you rent with Travellers Autobarn, you'll never have to worry about mileage fees because every rental comes with free unlimited miles.
FEATURES AND AMENITIES
Before you book, consider what type of features/amenities are essential for your trip.
Budget friendly companies might use older vans that might have older features and manual controls in order to keep costs down. Conversely, luxury campervans will have things like Volta systems, inverters, and other high-tech vehicle features – but they're going to cost you!
Here are a few special considerations that come to mind:
Do you plan to cook most of your own meals? If so, then you will probably want a refrigerator and kitchen area. Traveller's Autobarn vans are fully built-out with kitchenettes.


.

Do you plan to hook up at campsites every night or do you plan on having a more off-grid adventure? If your answer is off-grid, then you'll need solar panels or some type of Volta system to keep the vans charged on the nights you can't hook up at a campsite. Traveller's Autobarn's Kuga Campervans come equipped with solar panels for easy off-grid living.


.

Are you traveling during the winter or rainy season? If so, consider renting a van with a little more space in case you end up spending more time inside than you anticipated.
TOP TIPS FOR RENTING A CAMPERVAN
Pay attention to the orientation, don't be afraid to ask questions! You will have to know how to do things like operate the propane, empty the gray water, refill fresh water, and familiarize yourself with the vehicle features.


.

Take note of the exact height and length of your campervan, and know if it is considered a van or an RV. Knowing this information beforehand will come in handy for things like parking, entrance fees, and the price of ferry tickets.


.

Familiarize yourself with roadside assistance numbers – for obvious reasons.


.
Pack efficiently so you can keep things neatly organized. It's amazing how fast your campervan will get messy!


.

Know where you can park your van. Familiarize yourself with local laws about where you're allowed to park overnight and where you can park in cities for the day. As a quick example, campervans are not allowed to park anywhere in downtown Queenstown, New Zealand. And there is no overnight parking anywhere in Sedona, AZ city limits.


.

Take it slow until you're comfortable driving the van. Arriving places early to beat the crowds will ensure you have plenty of room to pick a parking spot! After all, parking an 18 foot van is much different than parking a car.


.

Pull over if you're tired. The great thing about having a campervan is that you can pull over and rest whenever you get tired, ensuring that you stay alert and awake on the road.
FREQUENTLY ASKED QUESTIONS
Do you need a special drivers license to drive a campervan? Nope! No special license is required to rent. You also don't need any prior experience driving a van!
What kind of gas mileage does a campervan get? Gas mileage will vary by campervan, but you can expect to get about 15 mpg on average.
You can use my free travel expense calculator to estimate the cost of your trip – including gas! Grab it here:
How expensive is a campervan rental? The short answer is – it depends! The price of your campervan rental depends on the campervan size, model of the van, and what company you rent from. The great thing about renting from Traveller's Autobarn is that they offer fully equipped campverans at a budget friendly price that usually ends up costing less than the combined price of car and hotel.
How do you find campsites and places to park overnight? Our favorite way to find campsites is with apps such as The Dyrt and iOverlander. You can filter by campgrounds, RV parks, dispersed camping, and free overnight parking. Travellers Autobarn also hooks you up with a 10% discount to premium caravan parks and a free campsite guide.
Where would you take a campervan road trip? Let me know in the comments!
PINS FOR YOUR PINTEREST
WANT TO SAVE MONEY TRAVELING?
Check out my list of reliable budget-friendly travel resources that are guaranteed to save you the most money, without compromising your experience.