Yoho National Park: A 1-Day Road Trip Itinerary
Yoho National Park is a magical place. A protected alpine paradise guaranteeing visitors a Canadian Rockies wilderness experience in its purest form. A mountain escape that urges you to foster a deep connection with the mountain wilderness. And a park so breathtaking you'll wonder how the HECK more people don't know about it!
Yoho National Park is a stones throw away from Banff National Park, just over the border in British Columbia. How this place has managed to evade the world-wide fame of neighboring Banff is beyond me.
In fact, most people who visit Banff have never even heard of Yoho National Park. But I'm definitely not complaining. And you probably won't either when you get some of the Park's natural gems all to yourself!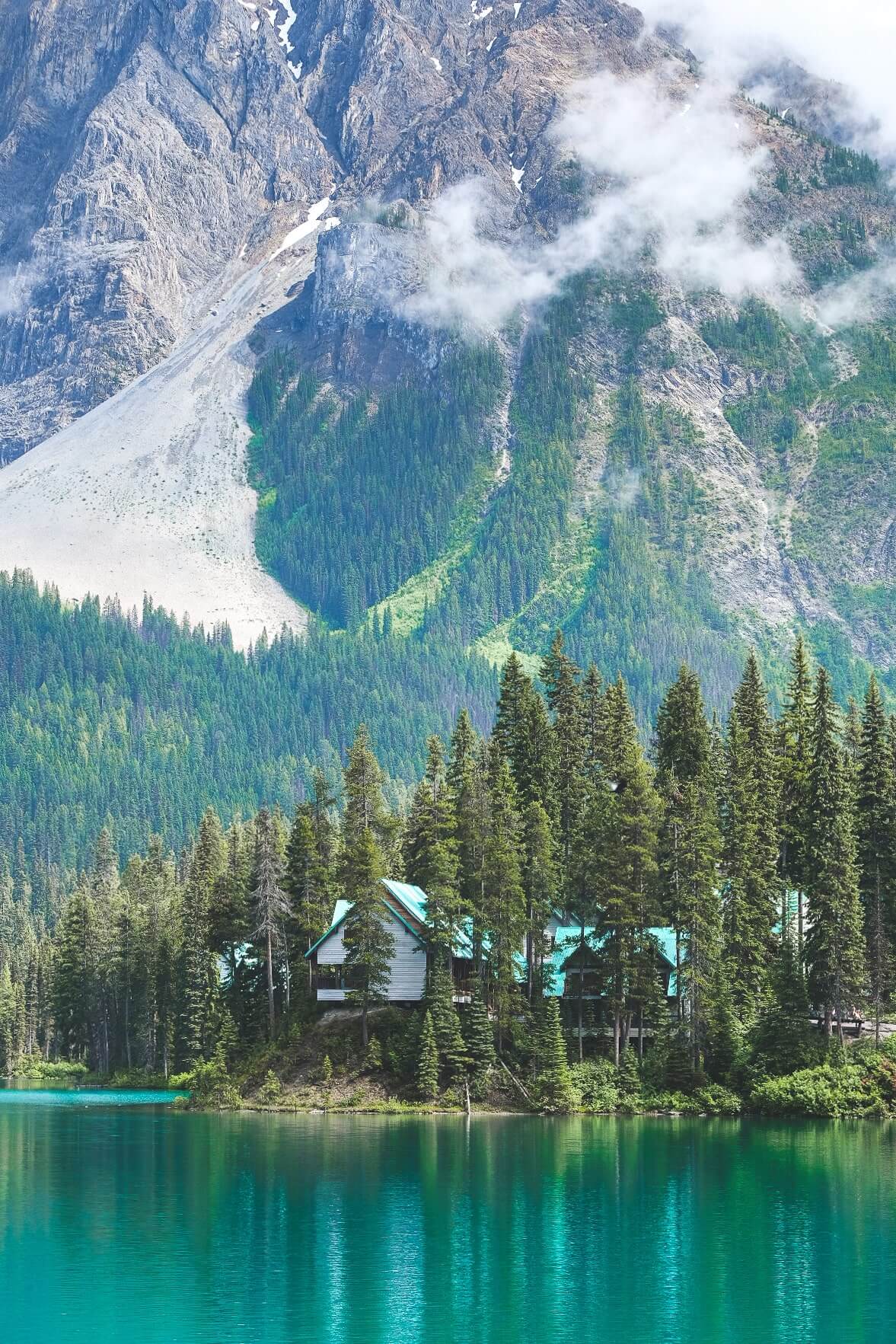 With adventures accessible to both the casual tourist and the seasoned adventurer, Yoho National Park is the ideal place for outdoor adventure, wildlife viewing, and outdoor photography.
If Yoho National Park has never been on your bucket list, now is the time to add it to the very top. If you're staying in Banff, you definitely can't miss taking a road trip through Yoho. And if you're in a time crunch, no worries. I've put together this perfect road trip itinerary so you can see the best of Yoho National Park in ONE day:
.
THE LOGISTICS
.
This 1 Day Road Trip Itinerary through Yoho National Park is crafted to compliment your road trip through the Canadian Rockies. You can, of course, spend much more than 1 day in Yoho National Park – and I can guarantee you'll wish you had – but if you've only got one day to dedicate, this one day road trip itinerary hits all the highlights.
Be sure to start your day early and be prepared to stay out late.
TIP: If you're coming from Banff National Park, grab breakfast and lunch-to-go at the Trailhead Cafe. It opens at 7am, which is the earliest you'll find in the area. It's a place we just so happened to stumble in on, and we ended up loving it so much that we stopped two days in a row!
THE ROUTE
Takakkaw Falls
Takakkaw Falls is one of the highest waterfalls in North America. The falls are fed by the Daly Glacier, creating a powerful cascade that tumbles 830 feet into the river below.
Easily accessible off the Trans-Canada Highway (and closest to Banff), Takakkaw Falls makes an impressive introduction to Yoho National Park.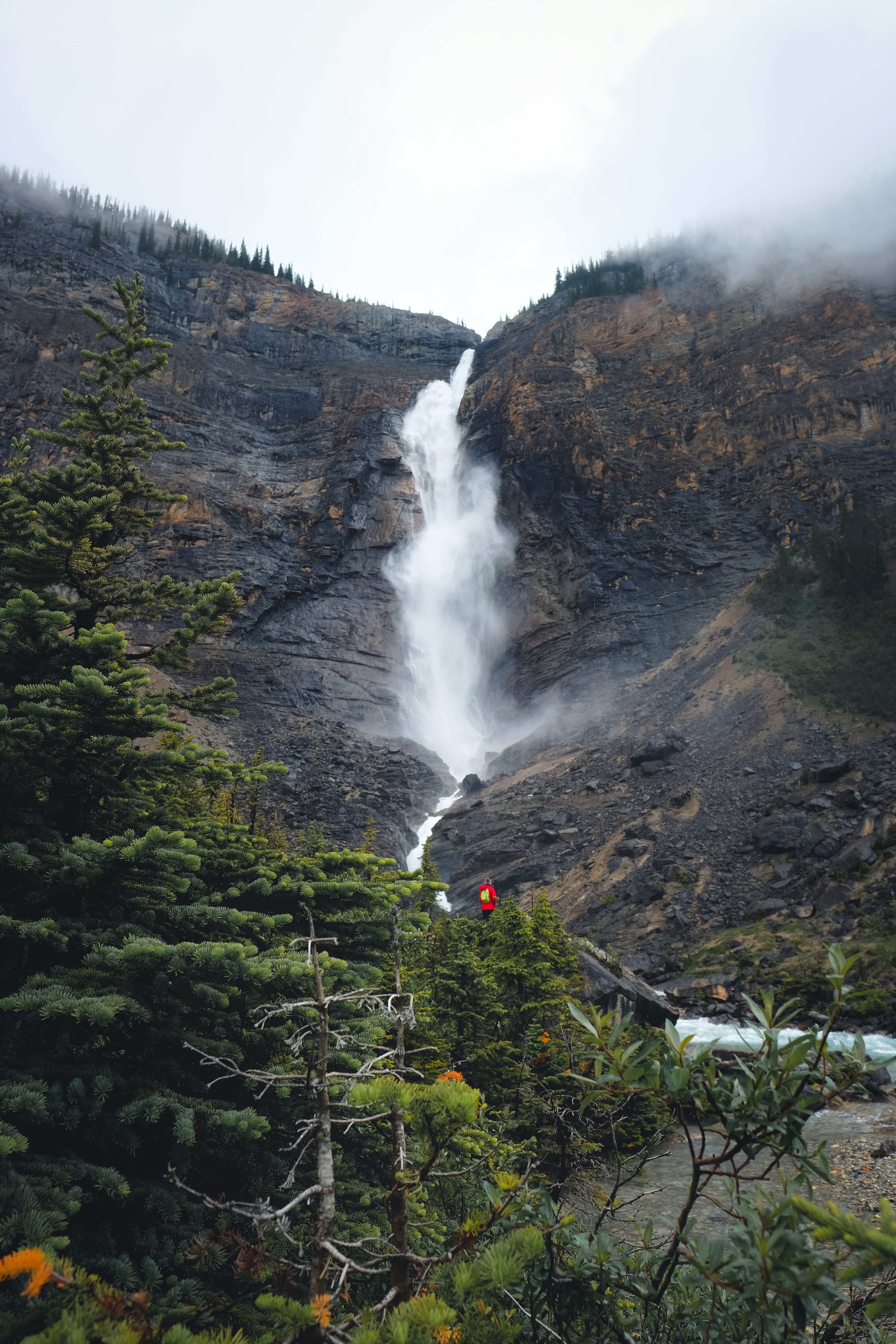 Off the Trans-Canada Highway, you'll turn onto Yoho Valley Road and begin your drive to the falls. The incredibly scenic drive takes about 30 minutes. Keep your eyes peeled for wildlife as you twist and turn through coniferous forest and traverse steep switchbacks, ill-suited for the faint of heart.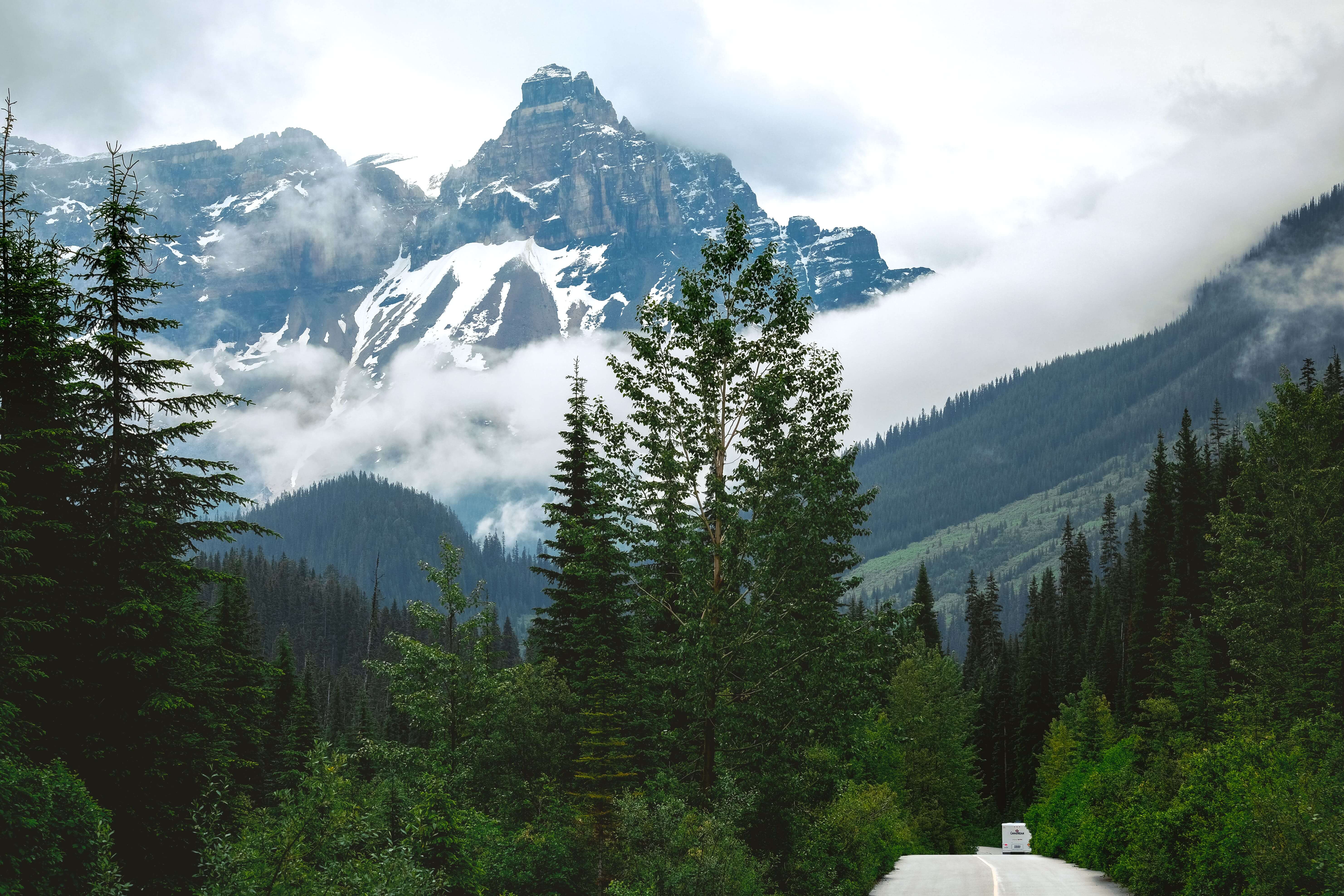 Takakkaw Falls is magnificent, dramatic, and humbling – but I'll admit it's a place I overlooked several times. It's no secret that waterfalls tend to attract attention, so I assumed it was a touristy and overrated destination, mainly due to its ease of access.
So you can imagine my surprise when we arrived at the parking area to find there were only a handful of other people there! The weather wasn't ideal, so maybe that had something to do with it. But I'm assuming its also because its difficult, if not impossible, for tour buses and RVs to maneuver the switchbacks on the road in.
As for the trail – its no more than an easy walk down a paved path. Almost immediately you'll come to a wooden bridge. Up until this point, you'll have had only glimpses of the falls through gaps in the trees. But this is where you'll get your first full view of Takakkaw Falls; with its incomprehensible amounts of water plummeting over the edge of the barren cliff face, standing in striking contrast to the surrounding sea of coniferous forest.
It took about 10 minutes to reach the end of the trail, where we found ourselves dwarfed by the sheer size and power of Takakkaw Falls as it crashed into the river in front of us. From here, you can choose to explore the shore of the Yoho River, scramble the trail up the left side of the falls for a closer view, or just admire the magnitude of Takakkaw Falls from the base – which is enough to leave even the most seasoned traveler awe-struck.
RELATED: Chasing glacier fed waterfalls in Iceland: A 4 day road trip itinerary
TAKAKKAW FALLS TRAIL INFORMATION
Hike time: 10 – 15 minutes (one-way)
Distance: 0.5 km (one-way)
Difficulty: Easy
Access: The road is open from mid-June to mid-October and is only recommended
for small vehicles and bikes due to steep switchbacks
Other popular hikes in the area: Takakkaw Falls is a gateway for other scenic hikes in the area.
The hike to Takakkaw Falls can be combined with the Yoho Lake Loop or the Iceline Trail for a full-day hike.
Wapta Falls
Wapta Falls is the largest waterfall on the Kicking Horse River. And probably my favorite place in Yoho National Park. Hidden at the far end of Yoho National Park, Wapta Falls has – somehow – managed to remain somewhat of a hidden gem.
This one easy hike embodies the best of what Yoho National Park has to offer: a thundering waterfall, dense forest, milky blue rivers, soaring mountain tops, a bit of a scramble (if you're brave), and the feeling of being completely immersed in the Rocky Mountain wilderness.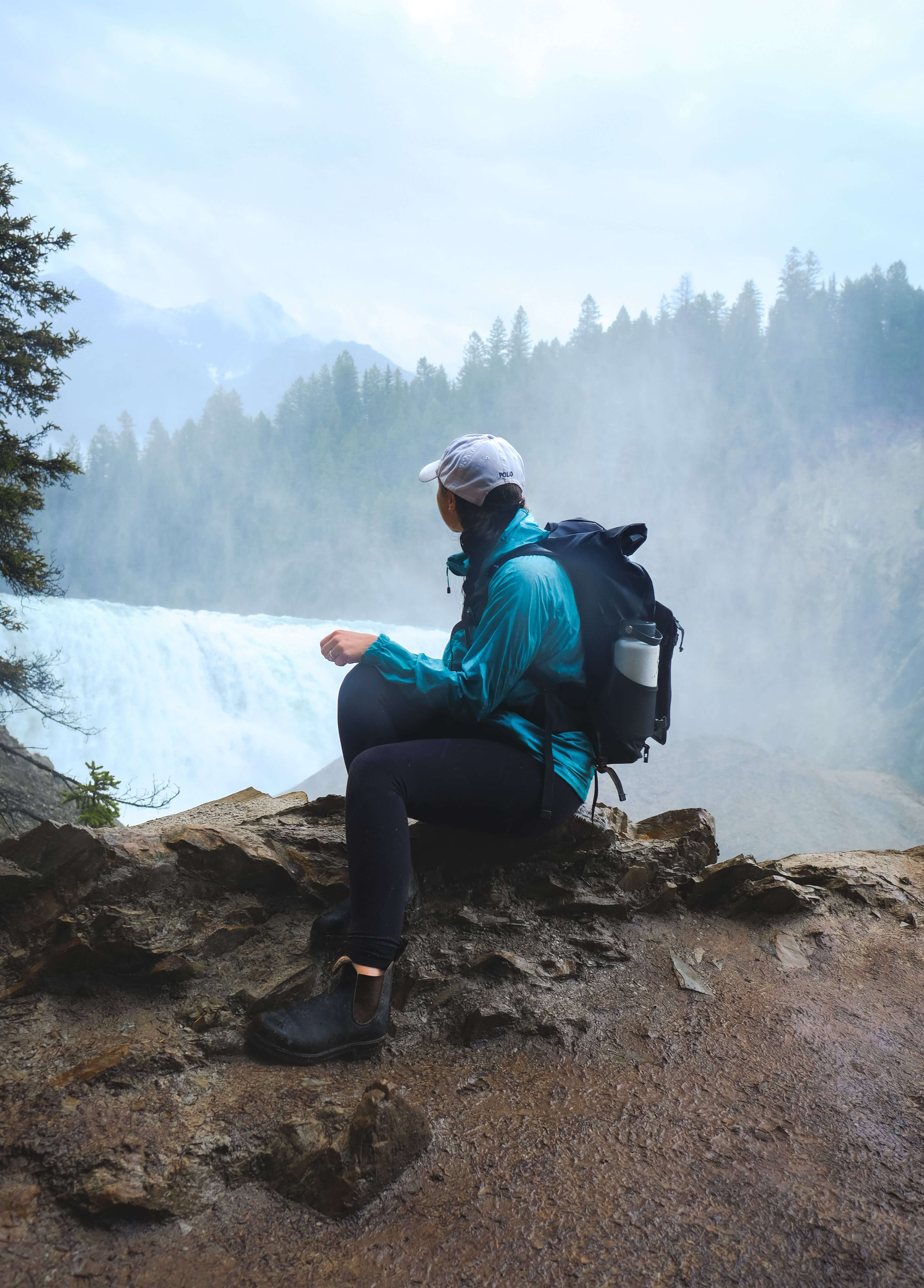 The trailhead is located off the Trans-Canada Highway near Golden, British Columbia. The turn-off isn't marked when you're traveling west, so its helpful to have access to Google Maps to find your way there. (Note that Google Maps has two options for Wapta Falls. "Wapta Falls" and "Wapta Falls Trailhead". You want the directions to the trailhead.)
The hike to the upper viewpoint is short and leisurely, following first a boardwalk and then a dirt trail through the dense forest. You'll begin to hear the rush of the falls as you approach the upper viewpoint. Stop here for some photos, but only briefly, as the real adventure is waiting for you at the bottom.
These photos were taken in July 2019. The river was flooded due to rain, so we were unable to access the very bottom of the falls.
Continue down to the base of the falls, following the labyrinth of trails snaking through the forest past the fence. Be careful, as the trail gets much steeper here! And don't forget to explore the dramatic overlooks of the falls on the way down!
Reaching the bottom of the trail transports you to a different world. A bit of a fairytale, really. You'll approach the misty, thundering wall of water before you as you follow the rocky shoreline of the Kicking Horse River.
Notice Mount Hunter looming in the distance, and the stands of conifers perched precariously along the ridge above Wapta Falls. Then be sure to sit and take it all in, because the experience at the base of Wapta Falls is one that's hard to beat.
These photos were taken in October 2017. The very bottom of the falls is accessible when the river is lower in autumn and winter.
WAPTA FALLS TRAIL INFORMATION
Hike time: Allow about 1.5 hours, including the hike to the base of the falls. But you can easily spend
much more time there, especially if you bring a lunch and explore for a bit.
Distance: 4.7km round-trip
Difficulty: Easy
Access: The hike to Wapta Falls is open year round. But note that the road to the trailhead is closed during the winter. The road closure adds about 2km one-way to the hike. Don't forget your micro spikes!
Field
The next stop on your Yoho National Park itinerary.
Field, British Columbia is quite possibly one of the smallest – and cutest – towns you'll ever see. It got its start as a tourist town in the 1800s, catering to wealthy visitors seeking outdoor adventure, as a way to fund construction of the Canadian Pacific Railway.
Today, Field has a tight-knit local population of less than 200 people from all over Canada – from artisans and railroad workers to tour guides and mountaineers – who have settled into the colorful houses lining the village streets.
You can see the entire town in just a few minutes. It's also pretty quiet, as the few shops and restaurants don't typically open until later in the day. But beneath its sleepy façade, Field is a popular stop for those passing through Yoho National Park. Or for anyone looking for a cheaper alternative to lodging in Banff.
The town is as picturesque as it gets. Surrounded by mountains that seem close enough to touch and visited every so often by the colorful trains snaking their way through the Spiral Tunnels of Kicking Horse Pass.
Field, British Columbia is also home to the only food (and coffee) options you'll find on this side of Yoho National Park (except for the restaurant at Emerald Lake, but my advice would be to skip that). So, if you're hungry, now would be the time to stop for lunch or a caffeine refill.
We arrived in Field around noon, in a desperate search for the coffee we forfeited that morning on our way from Banff. That's when we stumbled into The Siding Cafe. Open every day 12pm – 7pm.
The Siding Cafe has been locally owned and operated since the early 1900s, serving as a charming little shop, cafe, corner store, and beer/wine store. Its a super casual eatery. A bit of a "hole in the wall", if you will. But the food options are amazing! And, if you're like us, you'll love their selection of tea, lattes, and coffee – because, priorities.
.
.
Natural Bridge
The Natural Bridge is just that – a natural bridge. More specifically, its a huge rock that's been eroded over time by the Kicking Horse River. It now resembles a bridge surrounded by small waterfalls swirling their way through its cracks and crevices.
Although fascinating, its not worth going out of your way to see. Think of it less as a destination, and more of a stop along the way. But seeing that it is on the way to other destinations on your itinerary, its definitely worth stopping for.
The parking lot is easily accessible off the main road and, as a result, has a tendency to get crowded. But even so, the bridge doesn't feel overly congested because there's room to spread out and explore the shores of the river.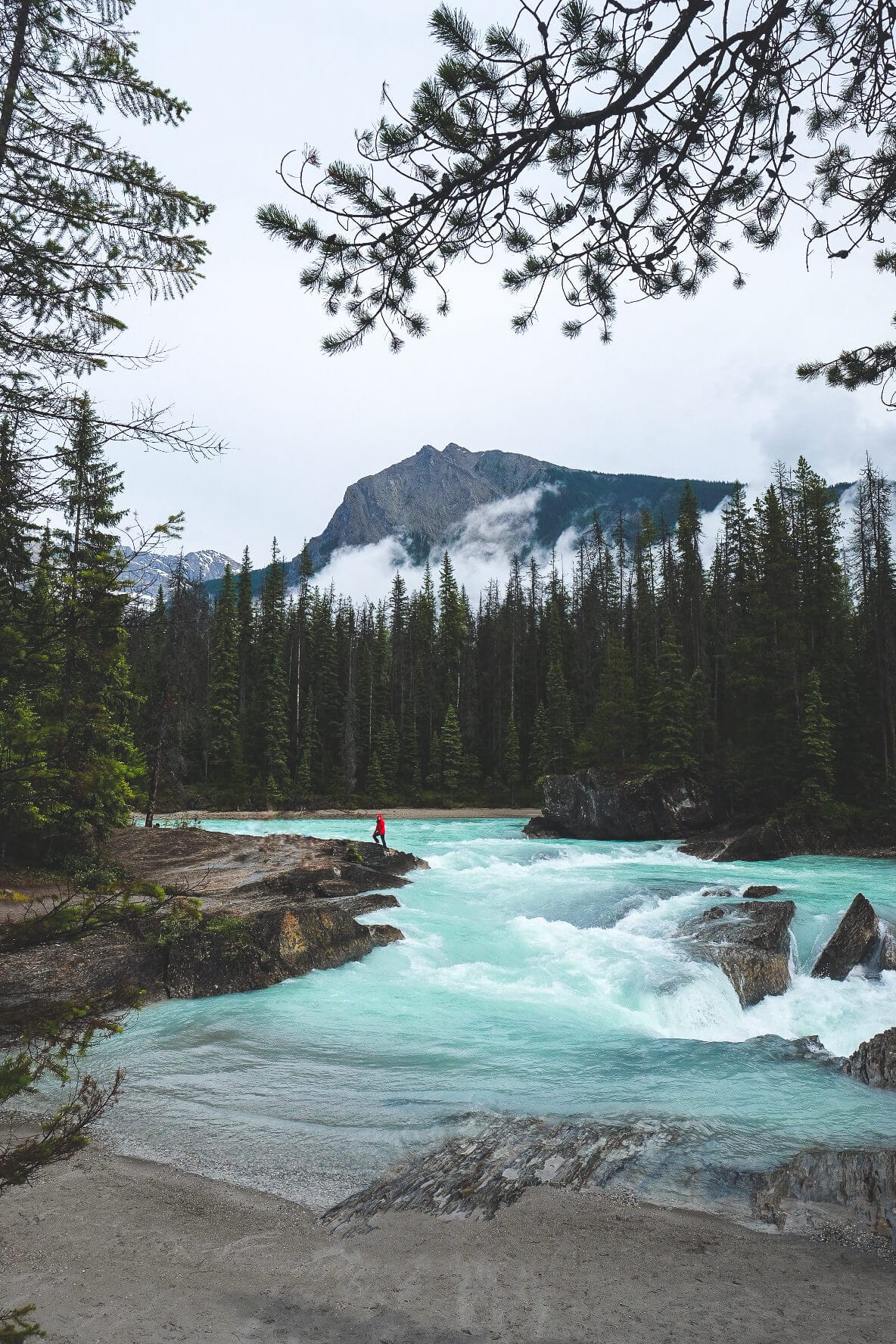 .
Emerald Lake
Every day, thousands of visitors flock to Lake Louise in Banff. But what they don't know is that the real gem is only 30 minutes west, tucked away in the alpine paradise of Yoho National Park.
Emerald lake is one of the main attractions of Yoho National Park and the jewel of the Canadian Rockies. Charming, picture perfect, and – you guessed it – emerald green, Emerald Lake is a place that makes you feel as if you've been transported into a holiday postcard.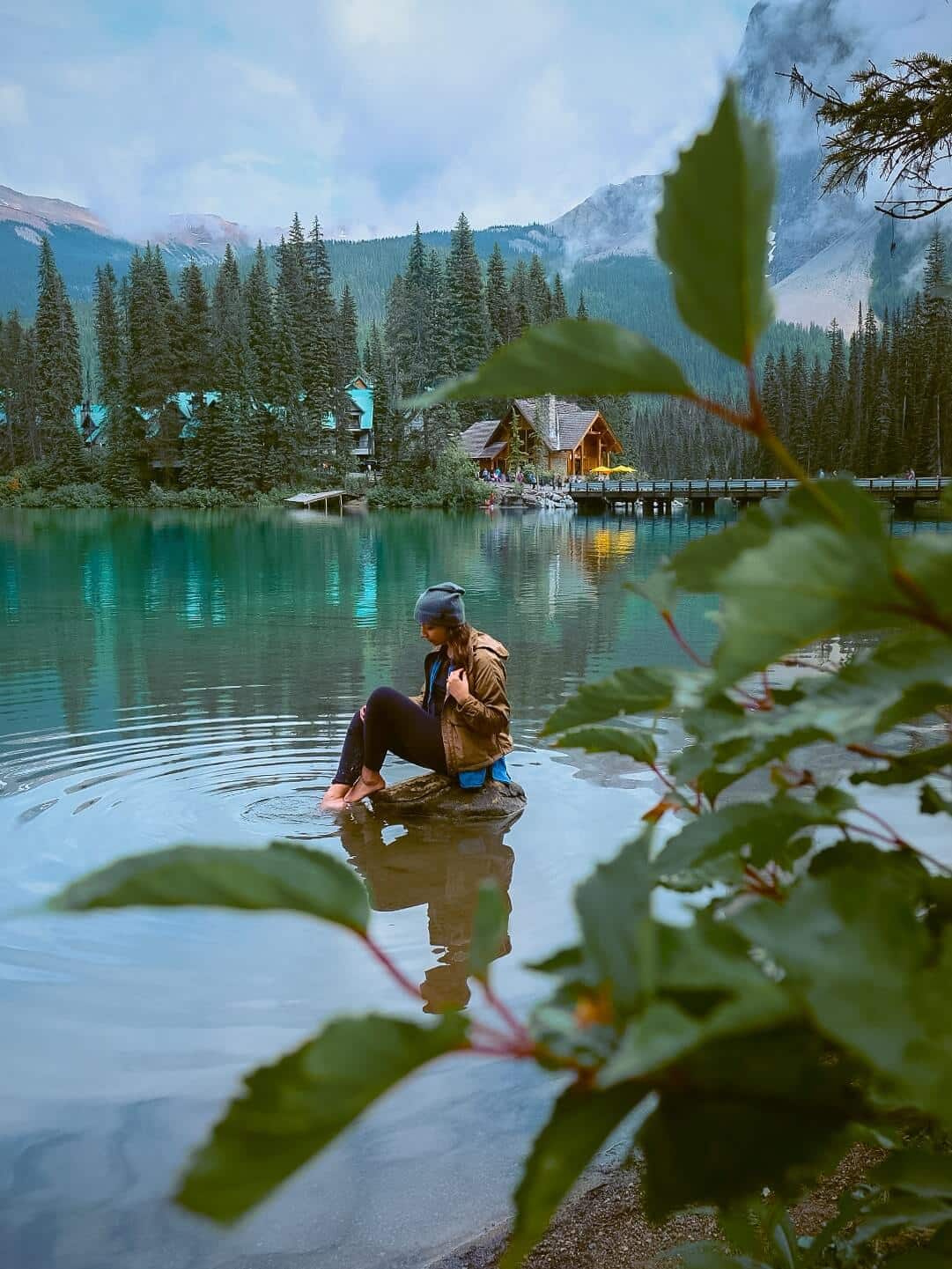 A wooden bridge connects the mainland to a tiny pine covered island, where Emerald Lake Lodge sits perched along the shore. The jewel-toned waters shimmer in the sun as holiday goers pepper its surface in red canoes. And giant snow-capped mountains tower in the distance, walling in this glistening piece of alpine paradise.
Although Emerald Lake is largely overshadowed by nearby Lake Louise, it still receives its fair share of visitors during the summer months. But the good news is that you can easily escape any crowds by taking a walk around the lake.
Follow the path along the shore to see avalanche passes, picturesque views of the lake, or to access the trailheads to backcountry hiking. Or rent a canoe from the canoe shack for a more peaceful way to enjoy the lake (they're way cheaper here than in Banff, and the views are just as great!).
Emerald Lake Information
Hikes around Emerald Lake: Follow the Emerald Lake Loop for a pleasant, easy stroll around Emerald Lake. The total distance is 5.2km on a path that encircles the entire lake. Total hike time is about 1.5 hours.
For more strenuous half-day and full-day hikes, try the and the Emerald Lake Trail and Hamilton Basin Hike. Bring Bear spray!
Canoe pricing: $70 per canoe per hour. Canoes are first come first served.
When to visit Emerald Lake: The best time to visit Emerald Lake is in the summer when the water color is most intense. Early fall (September – October) is also a great time to visit when the larches change colors and there are fewer crowds. Due to its high elevation, Emerald Lake is frozen from November to early June.

Grab dinner and a drink – you earned it
At this point, you're probably starving (I know I was!). Now is a good time to leave Emerald Lake and head back to Field to grab dinner at Truffle Pigs Bistro + Lounge.
This restaurant came highly recommended to me by a local, and I can say that it definitely did not disappoint! Its a bit of a hidden local gem, but that doesn't mean its not crowded. We showed up around 7pm and were lucky enough to be seated. But people who showed up after us were either turned away or given a really long wait time. You don't want to miss out on this restaurant in Yoho National Park, so I highly recommend making a reservation in advance!
Where to watch the sunset near Yoho National Park
If its still light out by the time you're done with dinner, catch the sunset at one of these incredible spots:
Lake Louise, Banff National Park
Vermillion Lakes, Banff National Park
Columbia River, Golden, British Columbia*
Mount 7, Golden, British Columbia* – Drive to the top. In the summer and fall, the summit is accessible by a 14km drive down a logging road.
*Golden, BC is about a 45 minute drive from Field. If you choose to see the sunset here, I'd recommend skipping dinner in Field and heading straight toward Golden. Wapta Falls is also near Golden, so you can save Wapta Falls for last so you're already positioned near Golden. If you need help arranging your Yoho National Park itinerary, contact me and we'll work on it together!
Like this itinerary for spending 1 day in Yoho National Park?
Share with your travel buddies or Pin in it for later!


For more road trip inspiration, visit:
5-Day British Columbia Road Trip Itinerary
4-Day South Iceland Road Trip Itinerary
WANT TO SAVE MONEY TRAVELING?
Check out my list of reliable budget-friendly travel resources that are guaranteed to save you the most money, without compromising your experience.