The Best Microspikes for Hiking on Ice and Snow: Top Picks for 2022
Post summary: The best microspikes for hiking on snow and ice, including the best microspikes for winter hiking, walking, and trail running
As the temperatures start to drop and the days get shorter, many people begin to think about their winter hiking gear. One essential item for many winter hikers is a pair of microspikes.
If you didn't already know, microspikes are small, lightweight traction devices that you can attach to your hiking boots to improve traction on snowy and icy trails. In short, they're a must-have for any hike where you will encounter snow and ice. They're also one of the essential items you should always have with you when you're hiking in the winter.
But with so many different brands and models on the market, it can be tough to decide which microspikes are right for you. That's why I've put together a list of our top picks for the best microspikes for winter hiking, trail running, and walking on snow and ice.
This post contains affiliate links, which means that I will make a small commission of the purchase you make using my links – at absolutely no cost to you!
At a glance:
More popular gear guides:
What to Pack for a Day Hike: Essential Gear and Complete Packing List
Best Hiking Backpacks for Women
Best Microspikes For Hiking and Walking on Snow and Ice
Kahtoola MICROspikes Traction System: Best Microspikes for Hiking
Best for: Hiking
Type of traction: Twelve 3/8″ stainless-steel spikes per foot
Weight: 11 oz
Stand out features: Heel tabs for easy on/off, updated elastomer harness that is 38% lighter than previous model
Downside: Spike bed tends to accumulate snow
These are my top pick for overall best microspikes for hiking. They're super easy to use because you just slide them over your boots and they work with almost any shoe.
These microspikes have 12 stainless steel spikes for unbeatable traction on even the iciest of trails. And at 11oz, they're also surprisingly lightweight considering their sturdy construction. Their weight and durability makes them a great option for both long and short hikes, and you likely won't have to reinvest in another pair for a long time.
The only downside to these microspikes is that the spikes sometimes get jammed up with snow. While this model has stainless-steel flex chains to help prevent that excess snow buildup, it's still something to be aware of.
Personally, I've used Kahtoola MICROspikes for years on all kinds of hikes in the Adirondack Mountains and around Upstate New York and they've never let me down! There's a reason why they're my (and everyone else's) top pick for the best microspikes for hiking in the winter.
Kahtoola EXOspikes Traction System: Best Microspikes for Running
Best for: Trail running
Type of traction: Twelve 0.29″ aluminum/tungsten carbide studs per foot
Weight: 6.6 – 8.1 oz
Stand out features: Easily withstands travel over bare rock and asphalt
Kahtoola's EXOspikes are a great solution for trail runners and hikers looking to navigate icy roads, urban paths and snow-packed hiking trails over flat to low-incline terrain. These microspikes have 12 aluminum/tungsten carbide studs on each foot, which provides excellent grip on frozen terrain. They're also really durable thanks to the TPU Traction Matrix, which is more lightweight and abrasion resistant than steel.
In my opinion, these are a great middle-ground option if you need something for both hiking and running. While not as aggressive as the MICROspikes, the EXOspike provides excellent grip on flatter icy surfaces, but can withstand travel over bare rock and asphalt as well. So if you're running along and hit a dry patch, no need to remove them. So if you're someone who enjoys jogging in slippery winter conditions or running on flat to low-incline trails, these are the microspikes you're looking for.
Black Diamond Access Spike: Best Lightweight Microspikes
Best for: Hiking and trail running
Type of traction: 14 stainless steel spikes per side with 8mm spike length
Weight: 7.4 oz
Stand out features: Lightweight, easy on/off, stainless steel spikes are heat treated for superior strength and wear resistance
Looking for a versatile winter traction device that can handle anything? Look no further than the Black Diamond Access Spike. These microspikes are inspired by crampons, offering aggressive traction on all types of terrain. With 14 stainless steel spikes per side and a 8mm spike length, they provide excellent traction on snow and ice, as well as improved stability on rocky surfaces.
If you're counting oz, these microspikes are a great lightweight alternative to the Kahtoola MICROspikes.
Hillsound Trail Crampon: Best Microspikes for Hiking in the Backcountry
Best for: Hiking over mixed terrain, backcountry hikes, glacier walking
Type of traction: Heat-treated carbon steel spikes
Weight: 15.7 oz
Stand out features: Velco strap keeps them in place and the spikes are part of a fixed plate, making them more stable than Kahtoola's chain link system.
Hillsound's Trail Crampons are the perfect addition to your hiking gear when you need added traction to safely navigate local trails and rugged backcountry terrain. With tough terrain and winter conditions in mind, these crampons are designed to handle any condition you might encounter. The carbon steel spikes are heat-treated for strength and durability, while the ergonomic plate system helps reduce muscle fatigue. The hook-and-loop straps make it easy to get them on and off, so you can focus on your adventure.
The velcro strap and spike plate on these mocbospikes provide more stability than the chain link system of Kahtoola, which is a pro to consider when purchasing. The only downside is the weight of 15.7oz, which makes these microspikes heavier than most of the others on this list.
Yaktrax ICEtrekkers Diamond Grip Traction System: Best Everyday Microspikes
Best for: Casual hiking and walking or jogging on pavement
Type of traction: steel alloy "beads" strung on steel aircraft cable
Weight: 9.6 – 12.8 oz
Stand out features: Rotating, spiked beads create good traction on frozen flat surfaces, very durable
These microspikes are unique in that they have rotating, spiked steel alloy beads that create traction by digging into ice and packed snow over pavement and other flat surfaces. They cost more than the Yaktrax Pros, but they're also more durable, so you don't have to worry about them wearing down quickly.
I wouldn't recommend these for hiking past casual walks in the woods because the Diamond Grips work best on flat to low-incline terrain. So choose these microspikes if you need something for extra grip on walking trails, everyday use, or around town.
Kahtoola K10 Hiking Crampons: Most Aggressive Traction
Best for: Hiking in loose snow, glacier hiking, ice climbing
Type of traction: Ten 3/4″ spikes per foot
Weight: 1lb 5.5. oz
Stand out features: Provides optimal traction over ice and loose snow, doesn't require a specialized boot
Downside: Heavy and prone to rusting if not immediately dried off after use
While not technically "microspikes", the Kahtoola K10 Hiking crampons are a great option for hikers who want a light, versatile pair of crampons that work in conditions where microspikes just won't cut it. The K10's are a huge step up in traction from the Kahtoola MICROspikes. This makes them an excellent option if you want the added control of a crampon when you're hiking over thicker ice and loose snow.
They're a solid mid-range crampon that doesn't require a specialized mountaineering boot and can be easily adjusted to fit different boots or trail runners. The adjustable leaf spring is flexible enough to bend as you walk. And the ten 3/4 inch spikes per foot provide plenty of grip and traction in situations where the 3/8 inch spikes of the MICROspikes might reach their limit.
However, the K10's are almost twice as heavy, harder to put on and take off, and less comfortable to wear than microspikes, so they'd be overkill for a lot of non-technical hikes. They also don't work well on surfaces without ice or snow, so you'll have to be careful to navigate around those sections of trail or remove the spikes from your shoes.
Kahtoola NANOspikes
Best for: Running on pavement, general use around town
Type of traction: Ten 0.21″ tungsten carbide studs
Weight: 7.2 – 9 oz
Stand out features: Specifically designed for running shoes
Downsides: Short studs work well on pure ice, but struggle on snow
These aren't your traditional microspikes; instead, they're specifically designed to fit over running shoes. The 10 tungsten carbide studs on each food provide great traction on icy roads and trails. And the elastomer harness fits securely over your shoes, so it won't slip or slide around while you run or run errands around town.
The NANOspikes are best used in developed areas rather than running across mixed terrain. They're the kind of microspikes that you can slip on to walk the dog or jog down the road if it's icy outside. If you need more robust traction for trail running or hiking, these microspikes might not be the best choice for you. Instead, consider the EXOspikes, which are more lightweight and have 2 more studs per foot for better traction.
The Kahtoola NANOspikes were designed for running shoes and might not fit properly over winter hiking boots.
Yaktrax Pro Traction
Best for: Walking and hiking on pavement and flat surfaces
Type of traction: Abrasion-resistant, hand-wound stainless-steel coils
Weight: 6.4 – 7.2 oz
Stand out features: Budget friendly
Downside: Doesn't provide optimal traction on ice, not as durable as other systems/models
If you live in an area that gets a lot of snow and ice in the winter, you know how important it is to have a good traction system. The Yaktrax Pro Traction System is designed to help reduce the risk of falls on icy surfaces by providing traction with hand-wound coils.The coils are made of stainless steel for durability and are spaced apart to prevent binding. The updated heel tabs, outer bands, toe bridges, and impact nubs offer a comfortable, secure fit. Plus, the Yaktrax Pro is easy to use, even in extreme cold weather.
However, it should be noted that this is a budget-friendly option that may not hold up as well over time as pricier, more durable traction systems.
.
Do you really need microspikes?
As you're stocking up on your winter hiking essentials, you might be wondering if you really need a pair of microspikes.
The answer is – it depends!
Microspikes are specifically designed to provide traction on icy or packed snow, and they can be a valuable tool for preventing slips and falls. But while they can be an invaluable asset when hiking on slippery trails, you don't necessarily need them all the time.
In general, microspikes should only be used when there is ice or hard packed snow on the ground. If the trails are free of ice and snow, then you do not need microspikes. In fact, they can actually be more of a hindrance than a help. So, while microspikes can be a great addition to your winter hiking gear, they are not always necessary.
If you hike on trails that are icy or packed with snow, then microspikes can help to improve safety and prevent injuries. However, if you mostly hike on dry trails or in mild weather, you may not need them.
It's best to use your judgement and do your research on current trail conditions before you head out. And be aware that snow and ice sticks around on the trail well into spring and summer in some places, especially at higher altitudes!
Read next: What to Pack For a Day Hike
How to use microspikes
Microspikes are basically a net of small metal that attach to the bottom of your shoes to provide traction on packed snow and ice.
Here's a basic guide on how to use them:
1. First, attach the microspikes to the bottom of your boots or shoes. Make sure that they are firmly secured and that the spikes are pointing downwards. (Wait until you hit conditions that require the microspikes before you put them on. It's not practical or recommended to wear them for an entire hike if you don't need them).
2. Walk normally. The spikes will grip the ground and prevent you from slipping! If this is your first time using microspikes, start off slowly, and be cautious of your footing. It may take some time to get used to walking with the microspikes, so take it easy at first.
3. When you reach a section of trail that is clear of snow and ice, simply remove the microspikes and stow them away until they are needed again.
Choosing the best traction system for you
Whether you're scrambling up a snow-covered mountain or simply trying to avoid falling on an icy trail, the right footwear is essential. But with so many different types of winter traction devices on the market, it can be hard to know which one is right for you.
Below I've outlined the different types of microspikes you can choose from, the difference between microspikes and crampons, and how to choose the correct size of microspikes.
Types of microspikes: Spikes vs. studs vs. coils
It's important to consider the conditions you'll be hiking in and how much traction you'll need when choosing a pair of microspikes.
There are three main types of microspikes: those with spikes, those with studs, and those with coils.
Spikes are typically made of steel and are the sharpest option with the most traction. They're the best choice for navigating most types of hiking terrain, including icy trails and steeper slopes. If you are using microspikes for hiking and need traction on mixed terrain, opt for these ones.
Coils are generally used for things such as working around the yard, walking around town, or taking short hikes on flat trails. This is because the coils can grip packed snow and ice, but don't provide enough traction for hiking over steeper or mixed terrain.
Studs are much shorter than spikes and are mostly used for running because they provide traction on flat ground, but won't dig in deep enough to provide traction on snow and ice the same way spikes do.
Microspikes vs. Crampons
Microspikes and crampons are two popular traction systems. While they are both designed for hiking in ice and snow, they are used for different things.
Microspikes are chains with small spikes that slip around your boots and are typically lighter, smaller, and less expensive than crampons. In general, microspikes are the best choice for running, hiking, or backpacking trips over flat and low-angled terrain.
However, microspikes don't provide as much traction as crampons, so they may not be ideal for more challenging terrain or technical hikes.
Crampons, on the other hand, offer much more aggressive traction on ice and snow on steep slopes. Similar to microspikes, crampons are also attached to your footwear. However, crampons are much heavier than microspikes and come in a foot frame with large spikes on the bottom that you have to fasten to your boot.
Some types of crampons require a specific boot, while others can be attached to the boots you already have. Crampons are the best choice for ice climbing and for hikes over technical terrain, steep climbs, and general mountaineering.
So which is the right choice for you? It depends on what you're doing. If you consider your hikes to be "winter hiking", you need microspikes. For anything considered "mountaineering", ice climbing, glacier walking, or technical climbing, choose crampons.
Can you use crampons in place of microspikes?
No, you cannot use crampons in place of microspikes. This is because crampons and microspikes are used for different things.
Microspikes are used for winter hiking, trekking, and navigating hard packed snow and ice over mixed terrain. You can even walk over rocks with microspikes for very short distances.
Crampons were traditionally used for ice climbing, but are also used for technical hikes and mountaineering. They are mostly used for climbing, so you cannot trek or walk long distances with most crampons. Some crampons also require training in order to use them safely, so they can even be dangerous if you don't know how to use them.
If you are doing both winter hiking and ice climbing or technical mountaineering, then you should buy both microspikes and crampons. You shouldn't try to substitute one for the other.
What size microspikes do you need?
Microspikes are a great way to add traction to your shoes, but it's important to choose the right size.
Most microspikes are fitted to a rubber harness that stretches to fit over your footwear. However, the harness only stretches so much so microspikes come general sizes, usually ranging from XS to XL.
Before choosing a size, the most important factor to consider is the type of footwear you'll be using them with.
If you're not sure what size to get, start by measuring the circumference of your boot. Then, consult the size chart of the microspikes you're considering to find the best match. If you're between sizes, try them on with different types of boots. Microspikes will fit differently depending on how bulky your shoes are, so make sure to select a size that will fit comfortably over the footwear you plan on using the most.
The best size will fit snugly over your boots and stay in place as you walk.
***
No matter what kind of winter adventurer you are—hiker, runner, backpacker, etc.—there's a pair of microspikes out there that's perfect for you.
Having a good pair of microspikes can make all the difference when you're out on an icy trail. So if you don't have a pair yet, be sure to pick up one of the pairs from this list before your next winter hike!
Did you find this guide to the best microspikes for winter hiking helpful? Let me know in the comments!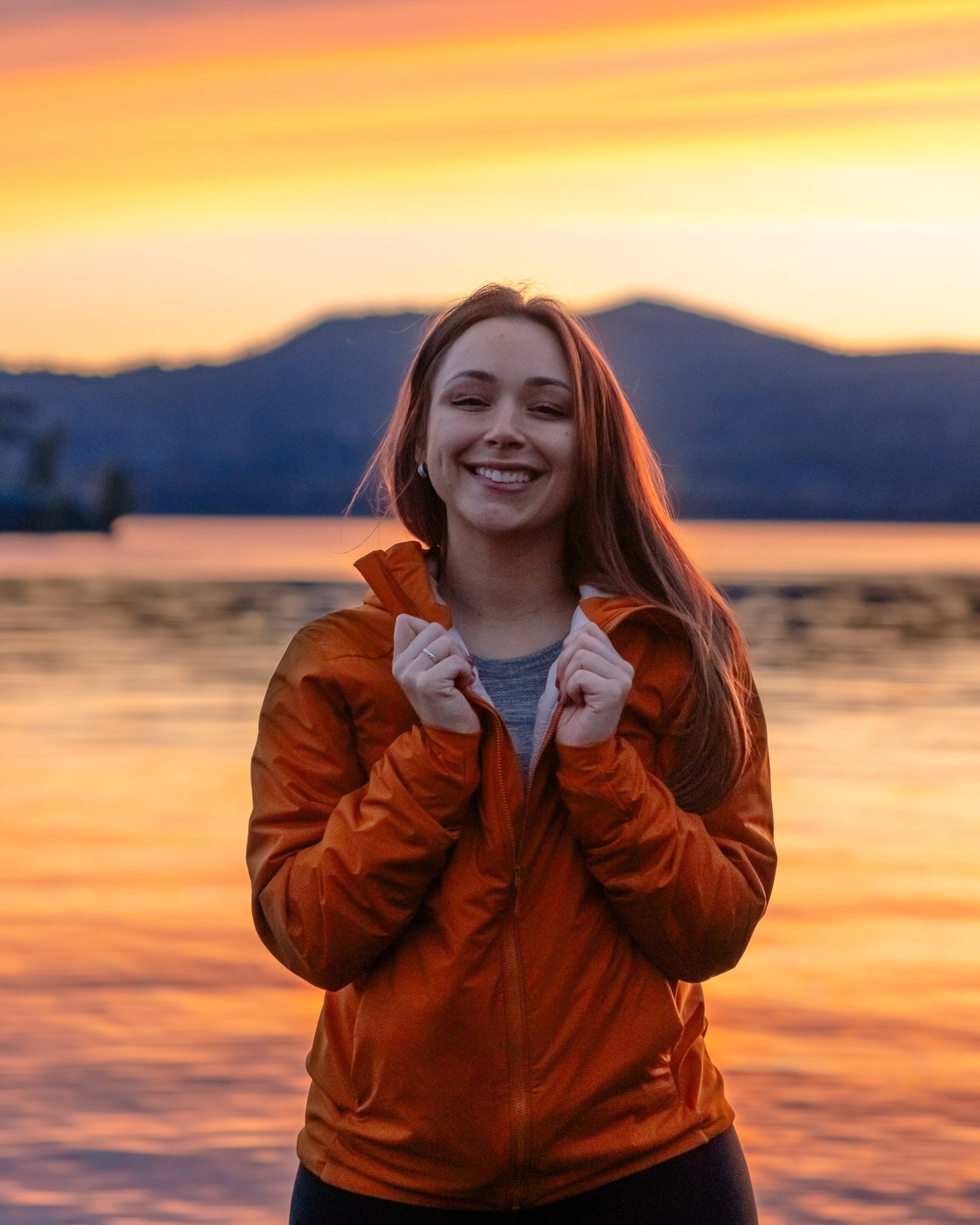 Hi, I'm Jackie! I'm a travel photographer and content creator based near the Adirondack Mountains of Upstate New York. I'm also a millennial who works full-time, yet I still find ways to travel frequently without breaking the bank, because traveling is what makes me feel most alive. Now I help fellow travelers who also work 9-5 and are looking for ways to travel more with limited PTO.
WANT TO SAVE MONEY TRAVELING?
Check out my list of reliable budget-friendly travel resources that are guaranteed to save you the most money, without compromising your experience.