The Ultimate Guide to Hiking Rio Celeste Costa Rica
Post summary: Tips, directions, and trail details for hiking Rio Celeste Costa Rica and visiting Rio Celeste Waterfall
Do you know those places that you see online that immediately make you think, "there's no way that's not photoshopped!"?
Well, Rio Celeste is one of those.
With milky blue water set among emerald green jungle, Rio Celeste is a place that you have to see in order to believe it hasn't been digitally altered. In fact, the water is so blue that it gives places like Banff and Havasupai a run for their money.
Rio Celeste was certainly one of the most beautiful and ethereal places we visited in Costa Rica, and we want you to experience it for yourself!
Keep scrolling for driving directions, trail details, and everything you need to know to plan your own magical trip to Rio Celeste Costa Rica.
ABOUT RIO CELESTE COSTA RICA
Rio Celeste is a vibrant blue river, located in Tenorio Volcano National Park in the Alajuela Province of Costa Rica. It's famous for the Rio Celeste Waterfall that drops 98 feet into a pool of gatorade-blue water, surrounded by dense jungle.
And yes – the water really is that blue!
WHAT MAKES THE WATER SO BLUE?
Rio Celeste literally translates to 'light blue river'.
According to local legend, Rio Celeste got its color when God dipped his brush in the river as he painted the sky.
According to scientists though, the color comes from the mixing of two rivers. The rivers are the Rio Bueno Vista and Quebrada Agria, which both appear clear on their own. However, when they meet, minerals from both rivers mix together and create the milky blue water of Rio Celeste.
The minerals responsible for the color are silicon, oxygen, and aluminum that remain suspended in the water. The suspension of the minerals and reflection of the sunlight on the water gives the river its striking blue color.
HOW TO REACH RIO CELESTE FROM LA FORTUNA
Rio Celeste is an easy and scenic 1.5 hour drive (68.4 km) from downtown La Fortuna.
The best way to get there is by renting a car, but you can also book a day tour or shuttle to take you there. The main road to the park entrance is newly paved, so you no longer need a 4×4 to get to Rio Celeste.
Driving Directions:
Type in"Rio Celeste y Los Teñideros" or"Catarata Rio Celeste" on Google Maps or Waze. Then head east on Route 142 out of La Fortuna, and continue on Route 4 for 37.4 km. Turn left onto C. La Paz in the town of San Rafael de Guatuso and then stay on that road until you reach the entrance of Tenorio Volcano National Park.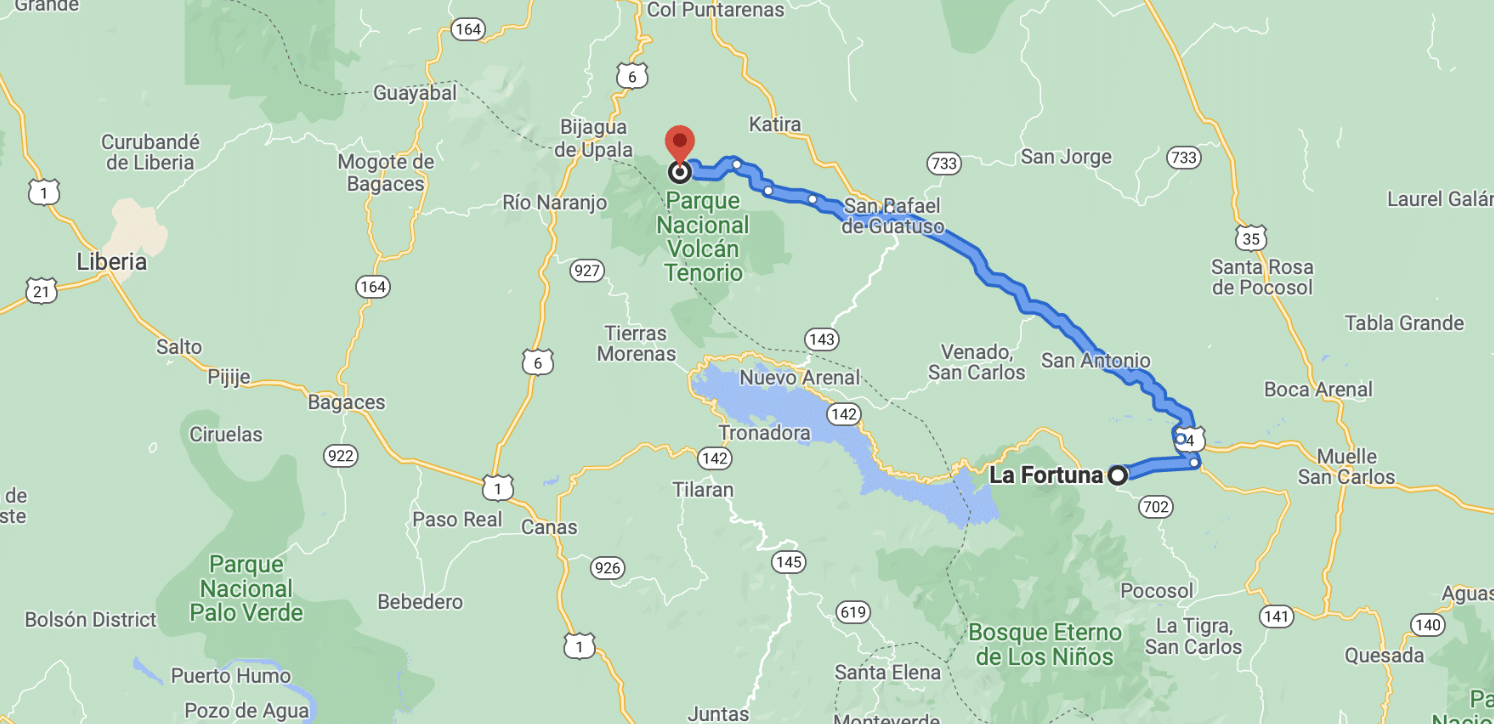 You can also get to Rio Celeste from Liberia, which takes about 2 hours.
Planning a Costa Rica road trip? Read: How To Plan Your Road Trip With Google Maps (Tutorial With Examples)
TENORIO VOLCANO NATIONAL PARK HOURS AND ENTRANCE FEES TO RIO CELESTE
Tenorio Volcano National Park is open every day from 8:00am to 4:00pm, but you're not allowed to enter the park after 2:00pm.
My recommendation is to arrive as close to 8:00am as possible – especially in peak season. In fact, it might not even be worth going if you arrive later than 9AM. Not only because it gets crowded, but because you could end up waiting in line to get in.
Due to its growing popularity, the park service was forced to implement a quota on the number of people allowed in Tenorio Volcano National Park each day. The quota only allows a total of 1,200 visitors per day and 400 people at any given time.
There is no advance ticketing or reservation system available, so the hike to Rio Celeste is first-come-first-serve. This means that if there are already 400 people in the park when you get there, then you'll have to wait for people to come out before you're allowed in.
Rio Celeste hike entrance fees (updated 2022):
Adults: $12 USD (7700 CRC) per person
Locals and children: $5 (3300 CRC)
Parking: $4.50 (3000 CRC)
Entrance fees are paid at the ranger station upon arrival. They only accept Mastercard or Visa. No cash.
There are bathrooms outside of the ranger station, which you can use before you enter the park. There are also a few restaurants nearby and a convenience store across the street. Once you get into the park, there are no facilities.
BEST TIME TO VISIT TO SEE THE BRIGHT BLUE WATER
Obviously the goal of visiting Rio Celeste is to see the bright blue water for yourself (partly because you probably want to confirm that it's not photoshopped, amirite?).
Similar to the rest of Costa Rica, the best time to visit is in the dry season, which is between mid-December – April. However, keep in mind that it can still rain in the dry season, so pick a day with a clear forecast.
The water is bluest at midday when the sun is overhead.
If you visit in the low season, chances of rain are higher, which can turn the river to a muddy brown.
Check for any site closures and current conditions of Rio Celeste on the official Tenorio Volcano National Park Facebook page.
CAN YOU SWIM IN RIO CELESTE?
Unfortunately, you cannot swim in the Rio Celeste waterfall or anywhere in the river. However, there are other nearby waterfalls that you can swim in, such as Bijagua Waterfall and La Fortuna Waterfall.
We also loved swimming in Nauyaca Waterfalls near Uvita and Catarata Oropendola in El Rincon de la Vieja National Park!
Going to Uvita? Read: Nauyaca Waterfalls in Costa Rica: What To Know Before You Go
HIKING TO RIO CELESTE COSTA RICA IN TENORIO VOLCANO NATIONAL PARK (TRAIL MAP, HIKING ROUTES, AND WHAT TO EXPECT)
The Rio Celeste hike is fairly easy and fine for all skill levels. Overall, I recommend planning about 3-4 hours to complete the entire trail, which includes time for stops and photos. You don't need a guide to hike Rio Celeste. The trail is very well marked and easy to follow.
TRAIL MAP AND OVERVIEW
Trail length: 3.7 miles (6km) round trip
Difficulty rating: Easy – moderate
Hike time: Approximately 3 – 4 hours
Trail type: Out-and-back
Elevation gain: 715ft (218m)
There are five marked stops along the Rio Celeste trail: The Catarata (Rio Celeste Waterfall), Mirador (viewpoint of the surrounding mountains), Laguna Azul (a bright blue lagoon), Borbollones (a boiling spring), and Teñideros (where the two rivers meet to create the blue water).
Hiking to Rio Celeste Waterfall (Catarata)
The Rio Celeste Waterfall (Catarata) is the first stop along the trail. It is 1.65 km (1 mile) to the base of the waterfall from the trail entrance.
To visit the waterfall, follow the Rio Celeste trail for 1.5 kilometers (0.9 miles) along a wide, well-maintained path. The path is partially paved before turning to dirt and rock as it gently undulates through the dense forest.
On the way, you will pass the Tenorio Volcano National Park sign, cross over a bridge, and navigate two small streams. After about 30 minutes of hiking, you will come to an intersection with large signs. Follow the arrow pointing to the Catarata. From here, it's about 150 meters down to the waterfall.
The entrance to the waterfall is a series of well maintained stairs, flanked by a gorgeous handrail. At first, I thought it might take away from the wild ambiance of the waterfall, but it actually adds something very unique. Ethereal, almost.
The hand rail is very picturesque and you get a glimpse of the bright blue water through the trees as you descend the 200 steps toward the falls, which makes for a great photo op.
Mirador (Viewpoint)
After you're done at the waterfall, head back up the stairs and continue on for another 500 meters (0.3 miles) to the viewpoint (Mirador).
There used to be a platform at the viewpoint that you could use for a better look of the area. It was closed when we were there, but you can still get a good view through the trees. And there's a placard with some information on it about the peaks in the distance and the surrounding rainforest.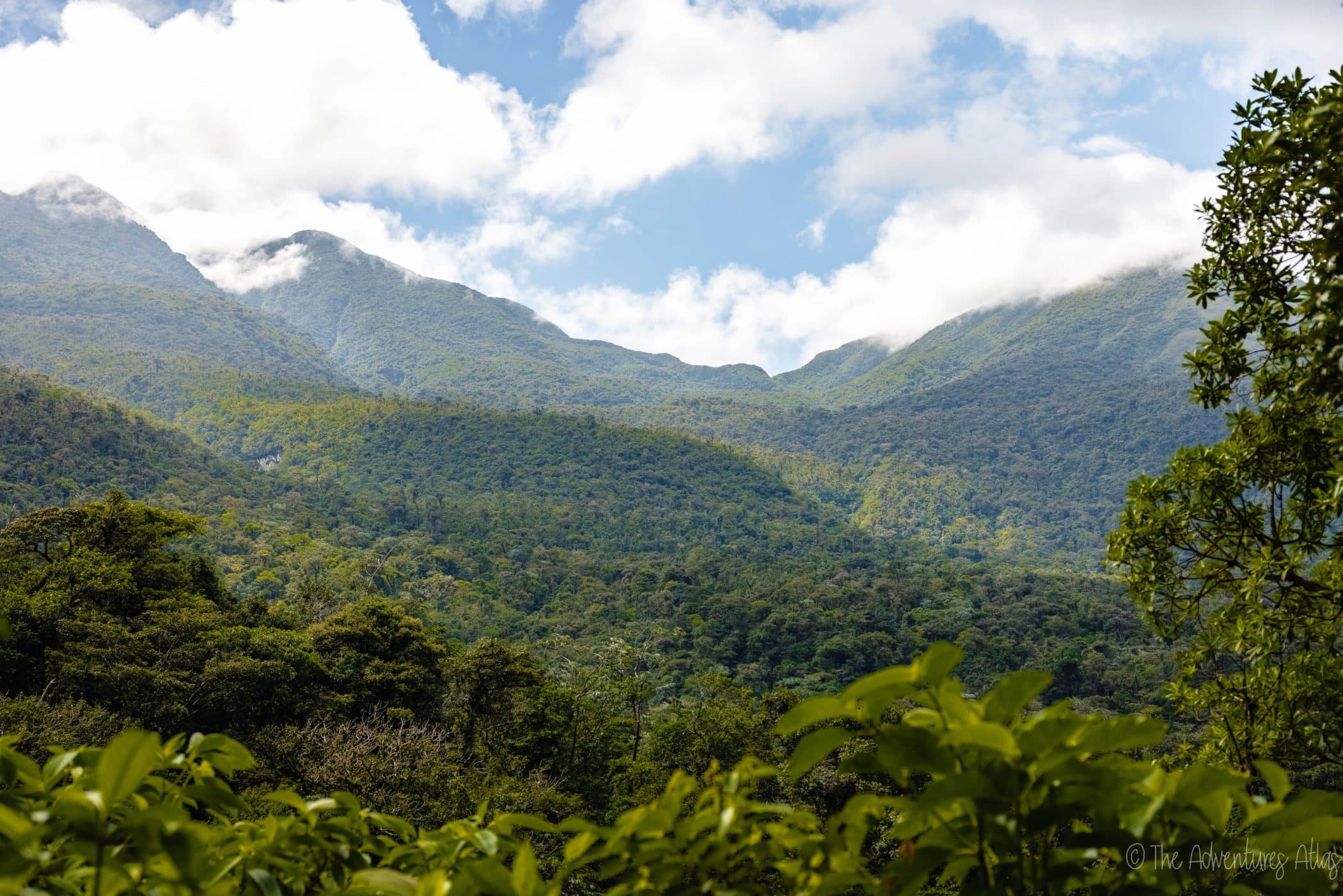 Unlike the first part of the trail, the rest of the trail is dirt and slightly less maintained. It's fine in the dry season, except for a few spots that remain a bit slippery. But we've heard that in the rainy season, the trail turns very muddy.
Laguna Azul (Blue Lagoon)
Continue past Mirador for another 200 meters (0.1 miles) to Laguna Azul to see the vibrant blue water up close.
This part of the trail gets steeper and rocky as you approach the lagoon. Use caution navigating the trail, especially in the rainy season. We visited in the dry season and saw a few people slip in the mud on the way down.
The view for Laguna Azul is a little fenced in area on your left on the way down. It's a good spot to rest and have a snack.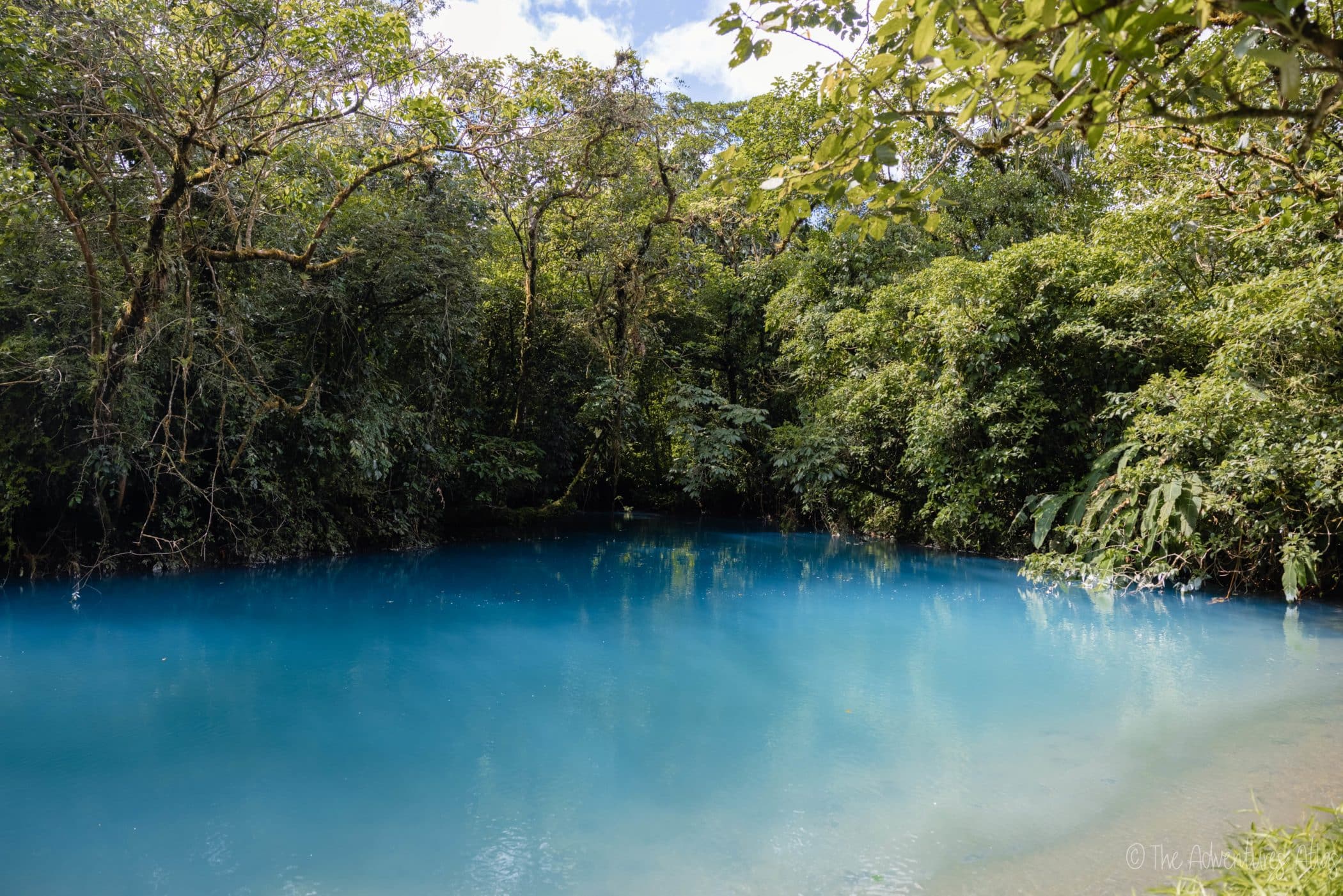 Borbollones (Boiling Spring)
Borbollones is 50 meters past Laguna Azul. It's an interesting little spot where a section of the river boils. The water is boiling hot, so don't touch it!
Teñideros (Meeting of the two rivers)
The last 300 meters (0.2 miles) of the trail leads to Tenideros, which is where the two rivers meet to create the vibrant blue color of Rio Celeste. It's pretty awesome to see where the color originates!
You will cross two suspension bridges as you approach Tenideros. The first hanging bridge isn't much to write home about, but the second one crosses over the blue river and makes for a great photo op! The best place to photograph it is from the flat spot along the river bank once you cross over the bridge.
Tenideros is just a short walk past the second bridge. And that's where the Rio Celeste Trail ends! Follow the same trail back out.
The round trip hike clocks in at approximately 6km and took us a little under 4 hours, which included a ton of stops for photos.
WHAT TO WEAR TO RIO CELESTE
Lightweight, breathable clothing
Hiking boots or sturdy closed toe shoes
A small daypack to carry your essentials.

Here are my favorites!

Water and snacks in non-plastic containers. Single use plastic is not allowed inside the park.
Trekking poles if you have sensitive knees
Bug spray and sunscreen
Read next: What to Pack for a Day Hike: Essential Gear and Complete Packing List
ESSENTIAL TIPS FOR VISITING RIO CELESTE, COSTA RICA
Ditch single use plastics. Single use plastics are not allowed in Volcano Tenorio National Park. The guards at the entrance will check your bag to make sure you don't have any, so I recommend packing snacks in Tupperware containers and carrying a reusable water bottle.
Get there before 9AM to beat the crowds and tour buses.
Visit the waterfall first. If you get there early enough, I recommend stopping at the waterfall first! You might be able to beat the crowds and get it all to yourself.
RIO CELESTE FAQs
Is Rio Celeste worth visiting? Yes, 100%! But only if you get there early. Aim to arrive right when the park opens at 8AM to beat the crowds and tour buses.
How long is the hike to Rio Celeste? The entire Rio Celeste hike is 6km round trip and takes 3-4 hours to complete. If you're short on time, you can just hike to the waterfall, which is 3.2km round trip and takes about 2 hours.
Do you need a guide? Nope! You can hike Rio Celeste on your own. The trail is very well marked and easy to follow.
Can you swim in Rio Celeste, Costa Rica? No, you cannot swim in Rio Celeste or at the Rio Celeste waterfall.
How far is Rio Celeste from La Fortuna? Rio Celeste is an easy 1.5 hour drive from La Fortuna.
Is Rio Celeste always blue? No. If there is heavy rain, the river will no longer be blue due to mud and runoff. To increase your chances of seeing the blue water, visit Rio Celeste on a clear day in the dry season (mid December – April).
BEST PLACES TO STAY NEAR RIO CELESTE
Wondering where to stay? Here are some places to stay near Rio Celeste:
Rio Celeste Hideaway Hotel: ($$$) The Rio Celeste Hideaway Hotel is the closest luxury hotel and all-inclusive resort to Rio Celeste. It is a 5 minute drive to the entrance of Tenorio Volcano National Park, but you can also explore the blue water without even leaving the property via the network of private trails leading to the river.
Celeste Mountain Lodge: ($$) Celeste Mountain Lodge offers a modest, eco-friendly stay, just a short distance from Tenorio Volcano National Park. This is the perfect place for adventure lovers who are seeking unique day trips and a room with exceptional views of two volcanos!
Posada Río Celeste La Amistad: ($) Traveling on a budget? Posada Rio Celeste La Amistad offers simple, rustic rooms within walking distance of Tenorio Volcano National Park that won't break the bank. Perfect for travelers on a shoe string budget who don't mind a bit of adventure! 4×4 is required.
HAVE YOU BEEN TO RIO CELESTE IN COSTA RICA? HOW WAS YOUR HIKE? LET ME KNOW IN THE COMMENTS!
MORE COSTA RICA ADVENTURES
Nauyaca Waterfalls in Costa Rica: What To Know Before You Go
11 of the Best Things to Do in La Fortuna, Costa Rica
The Ultimate Guide to Drake Bay, Costa Rica (Things to Do, How to Get There, and Where to Stay!)
WANT TO SAVE MONEY TRAVELING?
Check out my list of reliable budget-friendly travel resources that are guaranteed to save you the most money, without compromising your experience.