The Ultimate Guide to Drake Bay, Costa Rica (Things to Do, How to Get There, and Where to Stay!)
Post summary: Everything you need to know about visiting Drake Bay on Costa Rica's Osa Peninsula, including how to get there, how to visit Corcovado National Park, and essential tips to know before you go.
As one of the least visited parts of Costa Rica, Drake Bay truly feels less like you're in the the most popular country in Central America, and more like you've stepped into a real life Jungle Book.
Unlike many beach towns in Costa Rica, Drake Bay doesn't have much of a town center, or strips of shops and restaurants to attract mainstream tourism. In fact, this tiny remote village will not be everyone's cup of tea. But if you love disconnecting from the world, exploring untouched beaches, and watching tiny geckos slither across your walls, then this wild slice of paradise is for you.
In this post, I'm sharing the best things to do in Drake Bay, including where to eat, where to stay, and how the heck to get there!
Skip ahead:
Guides to help you plan your Costa Rica adventure!
How To Plan Your Road Trip With Google Maps (Tutorial With Examples)
What to Pack for a Day Hike: Essential Gear and Complete Packing List
How to Find Secret Spots and Hidden Gems (9 Resources to Help You Find Adventure Off The Beaten Path)
Need help planning your trip to Drake Bay, Costa Rica? Contact me for personalized itinerary planning, starting at $25/day!
.
ESSENTIAL TRAVEL INFORMATION FOR DRAKE BAY, COSTA RICA
WHERE IS DRAKE BAY?
Drake Bay on a map of Costa Rica
Located on the remote northern coast of Costa Rica's Osa Peninsula, Drake Bay (or Bahia Drake, in Spanish) is a nature lover's paradise, where the wild jungle meets the Pacific Ocean.
Set in a thriving, biologically diverse lowland rainforest, Drake Bay offers a huge variety of pristine beaches, lush jungle, and exotic wildlife.
With a local population of about 1200 people, Drake Bay is very small. Just off the town's main beach, Playa Colorada, there are just a handful of restaurants, lodges, and tourism businesses. A jungle trail connects a few local towns and other lodges peppered along the coast.
Considered to be 'Costa Rica's last frontier', Drake Bay is literally the last vestige of civilization on the western coast of the Osa Peninsula before the landscape turns to the wild, untouched jungle.
Natural attractions near Drake Bay are Corcovado National Park and Isla de Caño. Corcovado National Park is just south of Drake Bay and covers the rest of the Osa Peninsula (except for Puerto Jimenez on the eastern coast). Corcovado was named one of the most biologically diverse locations on earth by National Geographic, so it draws tons of attention from nature lovers and scientists from all over the world.
HOW TO GET TO DRAKE BAY: 3 DIFFERENT WAYS
In a nutshell, there are 3 ways to get to Drake Bay: by boat, plane, or 4×4.
TIP: Due to its remote location, getting to Drake Bay can be an adventure in itself! For this reason, I recommend dedicating 1 full day to arriving and 1 full day to leaving, regardless of how you get there. Travel time to/from Drake Bay can take longer than expected, so its good to have a buffer.
You'll love: How To Plan Your Road Trip With Google Maps (Tutorial With Examples)
Here are the three ways you can get to Costa Rica's Drake Bay:
Option 1 – Take a boat from Sierpe
The best (and most fun!) way to get to Drake Bay is via a 40 minute water taxi ride from Sierpe (pronounced sea-air-pay). The boat ride really is an experience in itself. The views along the way are spectacular and, depending on the tides, the ride can be quite a thrill.
Taking the boat was one of the highlights of our trip because it makes your time in Drake Bay that much more adventurous. I highly recommend adding it into your Costa Rica road trip itinerary!
The boats that take you from Sierpe to Drake Bay
Getting from Sierpe to Drake Bay
The boat to Drake Bay leaves from Sierpe, a small riverside town about 1 hour south of Uvita. The launch point for the boat is just next to La Perla del Sur restaurant. Look for the giant sign that says "Donde Jorge".
To get there by public transport, you can take the bus from Palmar Norte to Sierpe. If you're driving, just plug in "Sierpe River Ferry" into Waze or Google Maps and it will take you to the right spot.
La Perla del Sur restaurant next to the boat dock in Sierpe
.
There are two departure times for the taxi boat from Sierpe to Drake Bay:
11:30 AM – $15 USD (9,000 colones) per person
3:30 PM – $20 USD. (13,000 colones) per person
The cost of the boat is for a one-way ticket, which you will need to pay in cash (either dollars or colones) before you get off the boat.
Parking
You can leave your car in Sierpe while you're in Drake Bay. To park your car, drive to La Perla del Sur restaurant. There will be people outside asking you where you're going. Tell them you're going to Drake Bay and that you need a parking pass. They'll direct you to the guy handing out parking passes and he'll tell you where to park.
The price for parking is 3,000 colones per day. Don't lose your parking pass! You will use it to pay for parking when you come back to pick up the car.
While the parking lot in Sierpe is relatively secure, it is best not to leave any valuables in your car. Take everything with you and make sure the car is locked.
The boat ride
The boat ride to Drake Bay is very fun and super beautiful. The boats leave from Sierpe, travel down the winding Sierpe River, jet out into the swell of the Pacific Ocean, and then cruise along the coastline to Drake Bay.
The ride takes about 1 – 1.5 hours, depending on how many stops the boats take to drop people off at various lodges along the way.
I recommend wearing shorts and sandals for the ride because you'll be dropped off in the water once you reach Drake Bay! Don't worry – the water only came up to my shins, so it's very shallow. But you will still get wet and sandy!
Getting back to Sierpe
There are two public boats that leave Drake Bay to go back to Sierpe:
7:15 AM – $15 USD per person
2:30 PM – $20 USD per person
Similar to the ride there, you will pay in cash on the boat once you get back to Sierpe.
Option 2 – Fly from San Jose (SJO)
The easiest and fastest way to reach Drake Bay is by a short domestic flight. Domestic airlines SANSA and Nature Air offer several flights per day to Drake Bay from Juan Santamaria International Airport (SJO) in San Jose. You'll need to book directly with the airline.
Flights to Drake Bay usually leave in the morning and take about 45 minutes. They land at the Drake Bay Domestic Airport, which is about two kilometers from town. From the airport, you'll need to arrange public transportation to your lodge.
An important thing to note about travel in Drake Bay is that it's mostly done by boat. If you plan to fly, touch base with your lodge to confirm they offer pick up from the airport prior to booking your flight.
Option 3 – Drive yourself
It's possible to drive to Drake Bay, but you can only do it in the dry season with a proper 4×4. Driving to Drake Bay requires high clearance and all wheel drive because you will cross a total of 4 rivers, with the largest being the Drake River.
I don't recommend driving there yourself. We considered it for a moment, but after reading about the sketchy bridges, rough roads, and dangerous river crossings, we decided it was way easier (and more fun) to take the boat.
Plus, rental car insurance will not cover water damage to the car from river crossings. So if you do attempt to make the drive, make sure you have enough cash on hand to replace or fix the rental if it gets damaged!
For a detailed account of the drive, check out this post on The Tico Times.
HOW TO GET AROUND DRAKE BAY
Getting around Drake Bay is very easy! You don't need a car once you get there since most local travel is done via boat. Your lodge or Airbnb host can help you arrange boat transportation for transfers and tours.
Aside from that, most of the fancy and more remote lodges have everything you need on site, so you probably won't have to leave much. If you're staying in town, then restaurants, tours, and markets are all within walking distance.
Plan to venture further? You can take a stroll down the Drake Bay Public Trail to access pristine beaches, popular jungle lodges, and the small local towns along the coast. More info on that below.
Boats leaving from Playa Colorada in Drake Bay
BEST TIME TO VISIT COSTA RICA AND DRAKE BAY
Like all of Costa Rica, Drake Bay is most enjoyable in the dry season.
The dry season in Costa Rica is from mid-December to April. At this time, the weather is the warmest and driest. However, the dry season is more expensive and more touristy. Luckily Drake Bay is pretty remote, so it has very few tourists compared to most other parts of Costa Rica, so things don't get overly crowded. But it definitely is busier and prices for lodging are a lot higher.
During the green season (May – August), rain showers are common, but it is the best time to visit if you're on a shoestring budget, as lodging is much cheaper.
Avoid visiting Drake Bay in September and October, as these are the rainiest months of the year and most lodges are closed.
BEST THINGS TO DO IN DRAKE BAY, COSTA RICA
Visit Corcovado National Park
Drake Bay is considered the gateway to Corcovado National Park. For this reason, most people visit Drake Bay with the primary intention of touring Corcovado.
Corcovado National Park is considered one of the most intense and biologically diverse places on earth. It is entirely wild and unspoiled, filled with virgin beaches, thick jungle, and exotic wildlife around every corner.
The park is heavily protected and you can only access it with a guide and a permit. Almost all of the lodges in Drake Bay can help you arrange a guided day trip or overnight tour. The guided tours take care of the permitting process for you.
Day tours visit San Pedrillo Station or Sirena Station. These are the best single day hikes in Corcovado, where you will see wildlife such as monkeys, tapirs, crocodiles, anteaters, agouti, loads of exotic birds + more.
Visiting Corcovado was the best experience we had during our time in Costa Rica. It is like walking into a real life Jungle Book. There truly is no place like it and we are already planning to go back for a multi-day trek!
Read more: The Complete Guide to Visiting Corcovado National Park [Coming Soon]
Snorkel Caño Island
Snorkeling at Caño Island is another one of the best things to do in Drake Bay! The Caño Island Biological Reserve is the best place for snorkeling in Costa Rica. With some of the bluest virgin waters in the country, Caño Island is home to a spectacular array of marine life.
On any given day, you have the chance to see fauna such as turtles, dolphins, manta rays, eels, grouper, sharks, and whales.
Go Scuba Diving
Scuba certified? Then you're going to want to dive Caño Island instead! Excellent underwater visibility and thriving marine life ranks Caño Island one of the best dive sites in the world.
Check out Costa Rica Adventure Divers or Cano Divers to book your dives from Drake Bay.
Hike the Drake Bay (Bahia Drake) Public Trail
Hiking the Drake Bay (Bahia Drake) trial is a must-do for those who want to immerse themselves in nature.
The Drake Bay (Bahia Drake) Public Trail is a 12 mile trail that runs along the coast of the Osa Peninsula, starting from the town of Drake Bay. The trail connects small local towns, beaches, and isolated jungle lodges that are peppered along the coast.
You don't need a guide for this hike, but we did find it helpful to have the offline AllTrails map to make sure we kept going in the right direction.
Along the way, you'll pass secluded beaches nestled among outcroppings of volcanic rock. Portions of the trail cut through the Punta Rio Claro National Wildlife Refuge, which protects many of the same flora and fauna as Corcovado National Park, so you're likely to run into monkeys, coati's, agouti's, scarlet macaws, toucans, and more.
It's an easy trail thats suitable for all skill levels, but I'd rate it more moderate due to the length, especially in the heat of midday. The entire hike takes about 2.5 – 3 hours one way, but you can follow the trail for as long or short as you'd like!
There are plenty of pristine beaches to choose from, so just pick your favorite and hang out for the day!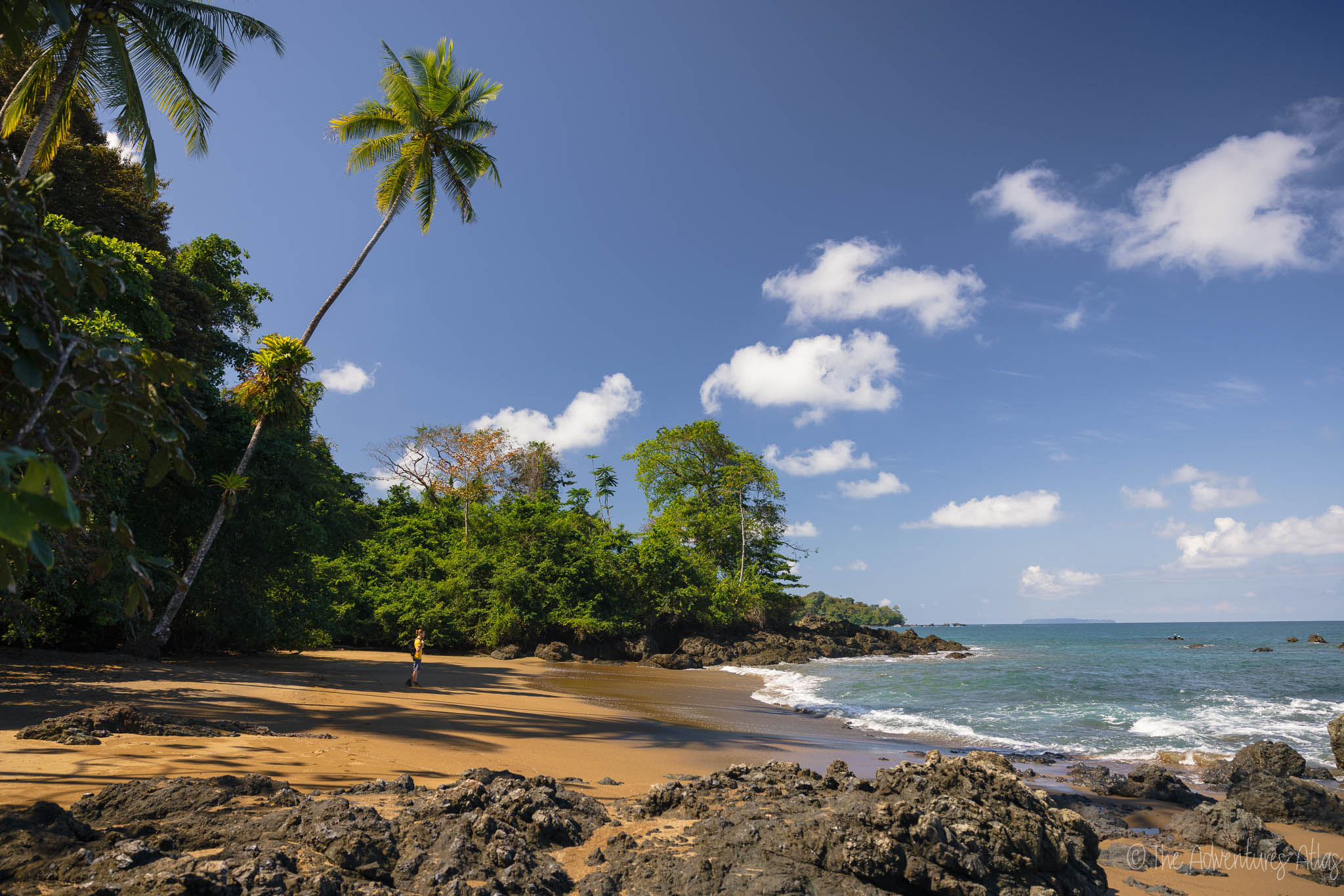 Whale and Dolphin Watching
Drake Bay is one of the best places in the world to see humpback whales and several dolphin species. While dolphins are present year-round, humpback whales visit Costa Rica seasonally. The best chance to see Southern humpbacks is June – September, while Northern humpbacks visit from December – April.
Check out tours offered by Osa Great Adventure, The Divine Dolphin, or Pelagic Boat Tours.
Sierpe Mangrove Tour
The Sierpe Mangroves National Wetland is the largest, most biodiverse mangrove reserve in all of Central America. A boat or kayak tour is a wonderful opportunity to see all of the wildlife that call Sierpe River's delicate ecosystem home.
Tours are typically half a day and leave both early in the morning and later in the afternoon.
Take a Float Trip down the Rio Claro
Looking for a laid back adventure in Drake Bay? Add floating down the Rio Claro to your itinerary. Book a guide to take you deep into the jungle, where you get the chance to hike, cliff jump, and swim below a waterfall. Then, you can relax in your float as it takes you down the Rio Claro to Rio Claro Beach.
Book a Night Tour
Experience the nocturnal world of Drake Bay on a night tour. Hike through the jungle once the sun goes down in search of the wildlife that thrive in the dark. This is something we really wanted to do during our time in Drake Bay, but sadly didn't get a chance!
While we didn't experience this for ourselves, we've heard rave reviews about tours with Tracie the Bug Lady. She's a local biologist with a passion for all things creepy and crawly.
If nighttime jungle hikes aren't your thing, you can check out the bioluminescence tours with Pacheco Tours to see the blue lights of bioluminescent plankton in the bay. You can only see it on a new moon.
Go Deep Sea Fishing
Drake Bay's thriving marine ecosystems makes it one of the best fishing spots in Costa Rica. A huge variety of eating and game fish can be caught in the waters just offshore; including wahoo, rooster fish, red snapper, marlin, and yellow-fin tuna.
Support Local Environmental Initiatives
Looking to volunteer your time or immerse yourself in local conservation efforts? Here are several programs you can contact to get involved:
BEST HOTELS AND ECO-LODGES IN DRAKE BAY
Whether you're looking for an all-inclusive eco-luxury stay or a modest, adventurous escape in nature, there's a lodge in Drake Bay to fit your preferred experience and budget.
Most of the cheaper lodges in Drake Bay are close to town and are in the form of small boutique hotels and rustic cabins. They typically offer a modest meal service or breakfast packages, but have the advantage of being closer to town for people who want to explore. The more luxurious hotels and eco-lodges offer all-inclusive packages and are found further outside of town, nestled in the hills among secluded slices of jungle.
DRAKE BAY LUXURY ECO-LODGES
La Paloma is one of the top eco-lodges in Costa Rica that you'll see popping up again and again. The lodge sits atop a cliff overlooking the Pacific Ocean and set among lush tropical jungle. It's located on 14 private acres and just a short walk from the Agujitas River and secluded black sand beaches. Check rates here
Casa Corcovado Jungle Lodge is the closest lodge to Corcovado National Park, which makes it a prime location for anyone who wants to mix luxury, relaxation, and adventure.
This all inclusive eco-luxury beachfront resort is located on 70 acres of private jungle. It features attractive cabins constructed from recycled teak, cypress, and Melina wood; as well as an onsite restaurant that serves local seafood and cocktails.
Tranquilo Lodge is an all-inclusive adult-only eco-lodge with panoramic views of Drake Bay and Caño Island. The lodge features newly remodeled villas, two infinity pools, and a full medical/cosmetic spa on site. At around $395 per night, this lodge is on the more affordable end, compared to the others on this list.
MODERATELY PRICED HOTELS IN DRAKE BAY
Las Cotingas sits on a hill with unobstructed views of Drake Bay. We stayed here for 3 nights and loved the convenient location, the friendly staff, and relaxing in the hammock on the private balcony. The rooms are very basic, but they have AC and hot water, which are luxuries in many parts of Costa Rica. Overall, I recommend this place!
The balcony and view of scarlet macaws at sunset from Las Cotingas Lodge
Set back into the surrounding jungle, Hotel Finca Maresia features comfortable cabins, open air showers, and patios complete with hammocks. Note that this hotel doesn't have an ocean view and the nearest restaurant is a 30 minute walk away, so the secluded location can be a pro or con, depending on what you're looking for.
Accessible only by boat, Las Caletas Lodge is a small scale hotel, set between the jungle and a private beach. They offer bungalow style rooms, a honeymoon suite atop a hill, and modest tent cabins. This moderately priced Drake Bay lodge stands out because there is a full service restaurant on site, with meals included in the price of your stay.
This rustic family owned and operated lodge was one of the first hotels in Drake Bay. Drake Bay Wilderness Resort features a restaurant that serves American/Costa Rica style dishes, a saltwater pool, and kayaks to explore the nearby rivers. Unlike most hotels in Drake Bay, the grounds here are relatively flat, making it easily accessible for everyone.
Casa Horizontes Corcovado is another small, family-run guest house located in Drake Bay, Costa Rica. Rooms offered range from small bungalows in the jungle to private cabins with ocean views. All rooms have AC, mosquito nets, and hot water.
BUDGET FRIENDLY HOTELS IN DRAKE BAY
Casa Pequeña is a rural hotel, about 20 minutes from the nearest town. It's a great hotel for adventure seekers looking for a more authentic and remote experience, without breaking the bank. It offers on-site chocolate making, and a common-use kitchen. All rooms have a balcony and patio overlooking the mountains.
Sunset Lodge offers modest, rustic cabins set on a high point overlooking Drake Bay. Cabins have wifi, AC, and private balconies with ocean views.
Accessible only by boat, El Mirador Lodge is another excellent option for budget-conscious travelers looking to explore the Osa Peninsula. The lodge offers very basic, rustic cabins that overlook Drake Bay and are a short walk to the beach. Some rooms also do not have electricity at night, so if you book this lodge, then don't forget your headlamp!
Cabinas Pura Vida are located only a short distance from Agujitas Beach. They offer breakfast service (included), AC, a community kitchen, and Wifi.
DRAKE BAY HOSTELS
Support local conservation efforts with a stay at Life for Life Hostel. This rustic jungle-beach hostel is located close to the beautiful San Josecito Beach, making this the perfect place to disconnect from the world – on a budget!
Life for Life Hostel also supports the Costa Rica Sea Turtle Conservation Project and gives visitors a chance to volunteer for the cause. Read more about their conservation efforts here!
With rooms starting at $15 per night, this non-profit hostel is perfect for eco-conscious travelers on a shoe string budget and offers an excellent chance to support local environmental initiatives.
Corcovado Foundation BioHostel (formerly Drake Bay Backpackers) is run by The Corcovado Foundation, and all income is invested back into environmental programs. Shared and private rooms are available. Click here to read about local volunteer opportunities.
BEST RESTAURANTS: WHERE TO EAT
More secluded lodges will likely have meals included in your stay. But if you book a lodge in town or just want to venture out for something different, there are a few local restaurants to choose from.
These are the ones I'd recommend:
Kalaluna Bistro
The highest rated restaurant in Drake Bay! And for good reason. Kalaluna Bistro serves the best Italian food you'll find in all of Costa Rica, as well as local seafood and vegan options. The restaurant faces the ocean, making it a prime spot for dinner at sunset.
We were lucky to get a last minute table here just before the dinner rush one night, but we had friends who waited 2 days for their spot. If you plan to visit for dinner, definitely show up early or try to make a reservation in advance because the restaurant books out solid!
Walking along the beach to Kalaluna Bistro (right); Ceviche and margaritas at Kalaluna (left)
El Tipico
The best place in Drake Bay for local food! The restaurant is family owned and operated, offering large portions of fresh and locally priced dishes. Try the fish Casado, mango chicken, or seafood rice!
Delicias Bahia Drake
Conveniently located family run restaurant with a roof top terrace. They specialize in reasonably priced local dishes, catch of the day, and quite possibly the best Casado you'll have during your time in Costa Rica!
IMPORTANT TIPS FOR VISITING DRAKE BAY
BOOK EARLY. Especially during peak season for lodging and tours to Corcovado National Park.


.

Bring cash! There are no ATMs, banks, or places to exchange/withdraw money in Drake Bay. You will need to pay cash in Drake Bay for things like tours, boat rides, and even some lodging. Credit cards are accepted some places in Drake Bay, but they charge you a 13% fee. To be prepared, withdraw more cash than you think you will need (in USD or colones) before you go. The last ATM is in the town of Palmar Norte, about 15 minutes north of Sierpe.


.

Plan to stay a minimum of 3 nights. And don't forget to leave a buffer day before your flight home, if Drake Bay is your last stop.


.

Pack light. Unless you're staying at a full service lodge, you might have to carry your luggage along the beach or up a lot of stairs.


.

Bring light, comfortable clothing. It is hot and so incredibly humid in Drake Bay. Leave denim jeans at home and opt for airy, breathable clothing instead

.
Don't forget your reef safe sunscreen! Click here for a list of my favorites.


.

Bring a dry bag to protect your camera and other valuables.


.

Water shoes are best for boat travel. Flip flops will float away when you land in the water.
.
COSTA RICA & DRAKE BAY FAQs
How many days do you need in Drake Bay?
I recommend staying in Drake Bay for a minimum of 3 nights/4 days. You can get a pretty good taste for the area in that time. Anything less than that and its not really worth the effort to get there. Many lodges require a minimum of a 3 night stay for that reason.
Can you drink the water in Drake Bay?
No. The water is not safe to drink in Drake Bay. While it is safe to drink the water in many parts of Costa Rica, the tap water in Drake Bay is not regulated or safe to drink.
Is Drake Bay touristy?
Not really. Drake Bay is considered an off the beaten path destination in Costa Rica. While Drake Bay depends on eco-tourism, you will not get the feeling of it being crowded – even in the high season.
Can you swim in Drake Bay?
The main beach in the town of Drake Bay, Playa Colorada, is not a good area for swimming. The water is pretty dark and murky, and full of silt. However, there are many gorgeous beaches along that the Drake Bay Public Trail, such as Playa Cocolito, Playa Caletas, and Playa San Josecito that are perfect for swimming and snorkeling! However, always be careful of rip tides and rough waters.
What is Drake Bay known for?
Drake Bay is known as the gateway to Corcovado National Park.
Drake bay vs. Puerto Jimenez?
This was a dilemma we had ourselves! In the end, we chose Drake Bay for its close proximity/easy access to Corcovado National Park and Caño Island.
On the flip side, Puerto Jimenez is a little bit easier to access since you can drive yourself there. If being able to drive yourself is important to you, Puerto Jimenez might be the better choice for you. However, it is not easy to access Corcovado, so most people who visit Puerto Jimenez just stay at a lodge and enjoy the wildlife there.
***
And there you have it! Everything you need to know for your visit to Drake Bay, Costa Rica! And, of course, always remember to leave these wild places better than you found them by following the Principles of Leave No Trace, so that we can keep them healthy and beautiful for generations to come.
Happy Adventuring!
Did you find this guide helpful in planning your trip to Costa Rica's Drake Bay? Let me know in the comments! I love to hear from you!
More Costa Rica Travel Inspiration
Nauyaca Waterfalls in Costa Rica: What To Know Before You Go
How to Reach the Magical Rio Celeste Waterfall in Costa Rica
11 of the Best Things to Do in La Fortuna, Costa Rica
PIN FOR LATER
WANT TO SAVE MONEY TRAVELING?
Check out my list of reliable budget-friendly travel resources that are guaranteed to save you the most money, without compromising your experience.