11 Awesome Things to do in La Fortuna, Costa Rica: The Ultimate Travel Guide
Post summary: Everything you need to know about visiting La Fortuna, Costa Rica (including an adventure-packed itinerary for spending 3 days in La Fortuna)
.
If you've landed here, you might already be in La Fortuna, Costa Rica or you're in the process of planning your trip. Either way, you're in the right place to learn about all the amazing things to do in La Fortuna!
Spend a few days relaxing in volcanically heated hot springs, walking above the jungle canopy, hiking through lava fields, and exploring the underground world of a 15 million year old cave system. If any of that sounds amazing, then you'll be stoked to learn that it's all on the agenda and only a few kilometers from the town center.
In this guide, I'm sharing details about the town, the best things to do, and everything you need for planning your trip. Scroll to the bottom for a detailed itinerary for spending 3 full days in La Fortuna.
Let's dive in!
WHERE IS LA FORTUNA, COSTA RICA?
La Fortuna is a small town 18km east of Arenal Volcano National Park in North Central Costa Rica. It is about 2.5 hours from both Juan Santamaría International Airport (SJO) in San Jose and Liberia Guanacaste Airport (LIR) in Liberia.
Serving as the gateway to Arenal Volcano National Park, La Fortuna is best known for its exotic wildlife, spectacular nature, and ample opportunity for adventure! And from just about every angle, you have a clear view of the famous Arenal Volcano looming in the distance.
The bustling streets of downtown La Fortuna are lined with strips of restaurants, shops, tour businesses, and local housing.
Despite being one of the most popular tourist destinations in Costa Rica, we found that La Fortuna strikes a great balance between catering to tourists and maintaining a very local vibe. Among the souvenir shops and busy restaurants filled with tourists, you'll find locals relaxing on their porch, walking the streets, and running their errands.
---
11 BEST THINGS TO DO IN LA FORTUNA, COSTA RICA
This post contains affiliate links, which means that I will make a small commission of the purchase you make using my links – at absolutely no cost to you!
No time to read now? No worries – pin this for later!
RELAX IN THE HOT SPRINGS
The natural hot springs are usually what draw people to La Fortuna in the first place. While there are several natural hot springs throughout Costa Rica, La Fortuna is famous for the sheer abundance of springs that are naturally heated by the nearby Arenal Volcano.
Admittedly, we were surprised to learn that all of the hot springs (except one!) are located within hot springs resorts just outside of town. So, you have to pay or stay overnight at the attached hotels if you want to access them. Don't worry though! You don't have to book an overnight stay at a resort to enjoy the hot springs in La Fortuna. Almost every resort offers day pass options.
La Fortuna hot spring resorts with day pass prices (updated 2022):
These are the starting prices for a single adult day pass. Prices will vary depending on the package you select. Visit the specific resort website for more information and reservations.
Tabacon Thermal Resort & Spa: $75
Springs Resort Hot Springs (Los Perdidos Hot Springs): $68
EcoTermales Hot Springs: $44
Baldi Hot Springs: $39
Paradise Hot Springs Resort: $28
Kalambu Hot Springs $23
Titoku Hot Springs: $32
The Royal Corin: $49
Hotel Los Lagos Spa & Resort: $17
MY RECOMMENDATIONS
You might look at that list of hot springs and ask which ones are the best and – maybe more importantly – are they worth the money?
Best overall: If money is no object and you feel like splurging, then Tabacon and Springs Resort are the best for the ambiance, hot spring quality, and overall experience.


.


The downside is that because the day passes are so pricey, ideally you want to make a day out of your visit. This isn't ideal if you only have a short time in La Fortuna and want to do other things. They also require reservations well ahead of time, especially in the high season.


.

Best for photos: Tabacon is the hot spring resort that everyone visits for photos in the Insta-famous hot waterfall. So, if you want Instagram worthy photos , then I suggest going there. It's also the only hot springs resort with truly natural hot springs that run through the property.


.


Just make your reservation well in advance and know that it gets very crowded. To avoid crowds at Tabacon, you can book an overnight stay for exclusive guest access to the hot springs outside of public hours.

.
Least Crowded: To escape the crowds, try Titoku or Hotel Los Lagos Spa & Resort. Personally, we chose Hotel Los Lagos because it was the cheapest and has a wonderful view of Arenal Volcano. Hotel Los Lagos is a real hidden gem because they don't advertise their day passes online. They also don't take reservations, so its first come first served.
You'll love: 70+ Unique and Inspiring Travel Captions for the Adventurous Soul
FREE HOT SPRINGS IN LA FORTUNA
Traveling on a budget? Well then skip the resorts and head to the free hot springs!
There's a free hot spring river directly across from the entrance to Tabacon called El Choyn. Type in "Free Hot Spring River" into Google Maps and it will take you there.
There is no designated parking, so just park along the side of the road (do NOT leave anything valuable in your car!). Then, walk down the tiny path in the woods to find the hot spring river. You will see other people there. Because it's free, it can get very crowded, particularly between Friday – Monday.
Unlike the hot spring resorts, there are no facilities at the hot spring river, but it is the most natural hot spring experience you'll find in La Fortuna.
SWIM IN LA FORTUNA WATERFALL
Take a refreshing dip in La Fortuna Waterfall! Located only 10 minutes from downtown, a trip to La Fortuna Waterfall can be done in as little as 2 hours if you're crunched for time. In my opinion, the waterfall is absolutely stunning, but note that the $18 entrance fee might be a stretch if you're on a tight budget.
Before you start the hike, check out the stunning view of the jungle and La Fortuna Waterfall from the platform at the top of the stairs. It's just past the entrance. We took some of our favorite photos here!
To start the hike, follow about 500 concrete stairs to the base of the falls, where La Fortuna Waterfall drops 75 meters into a pool of bright blue water. Here, you can swim in the plunge pool or head over to the side to wade in the river.
This is one of the most famous waterfalls in Costa Rica, so I recommend arriving as early as possible to avoid the crowds – especially in peak season.
La Fortuna Waterfall trail information
Distance: 0.75 miles down concrete stairs with handrails
Difficulty: Moderate
Hike time: 15 minutes down, 30-45 minutes up
Entrance fee: $18 per person
.
GET AN UP CLOSE VIEW OF ARENAL VOLCANO
Arenal Volcano (Volcan Arenal) is Costa Rica's most popular and well-recognized volcano. Towering 1,633 meters (5,358 feet) above the surrounding lowlands of La Fortuna, Arenal is a prominent feature that you certainly can't miss. It's a large symmetrical stratovolcano, that's built from layers of rock, ash, and lava. Up until recently, it was Costa Rica's most active volcano.
While you can't hike up the actual volcano, you can get an up close look by hiking the trails in Arenal Volcano National Park, Mirador El Silencio, or the Arenal 1968 trails. Along the trails, you'll find extensive lava flows from prior eruptions and experience the unique micro-climates and ecosystems in the region.
For the absolute best, close up view of the volcano (and slightly less crowds), I recommend exploring the trails around Mirador El Silencio.
Don't feel like hiking at all? Check out the observation deck at the Arenal Observatory.
WALK ABOVE THE JUNGLE CANOPY AT MISTICO PARK
Walking along hanging bridges is one of the best things to do in La Fortuna, and for good reason! I mean, the jungle views around Arenal are simply unmatched.
Visit Mistico Park (formerly Arenal Hanging Bridges) for the best hanging bridges near La Fortuna. The hike through Mistico Park is about 2 miles (3.2km) and crosses 16 hanging bridges. Between the bridges, the concrete path passes through sections of dense jungle.
Like the other hanging bridge parks in Costa Rica, Mistico Park is pretty touristy. However, we found the experience to be well worth it. Just be sure to get there before the tour buses start to arrive around 9:00AM.
Note that closed toe shoes are mandatory and the entrance fee is $26 per person. Personally, I was glad to have a light pair of hiking boots, but sneakers work as well.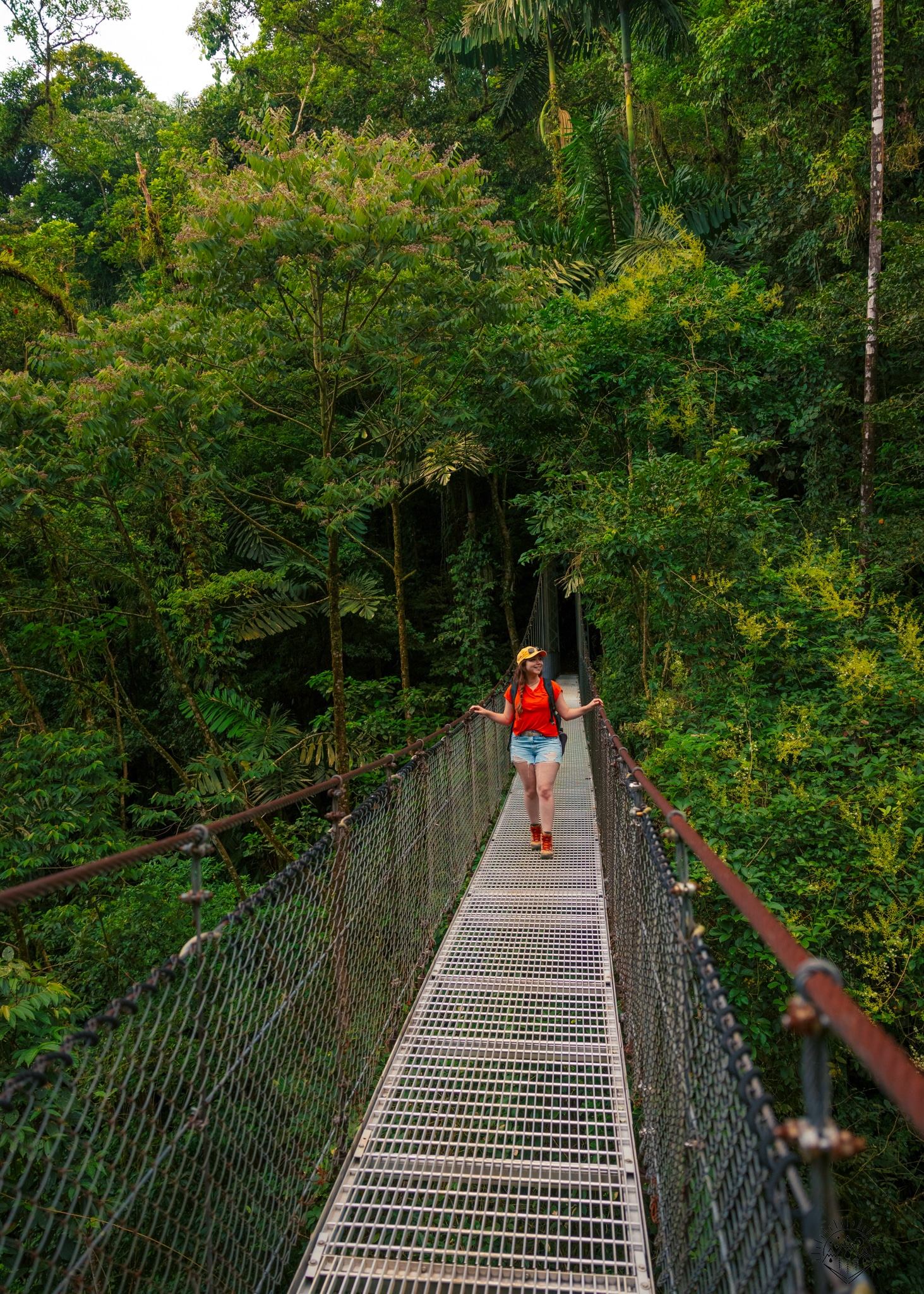 SPOT SLOTHS ON THE BOGARIN TRAIL
If you're anything like us, seeing wild sloths in Costa Rica is high on your list! Luckily, the Bogarin Trail is one of the best places in all of Costa Rica to see sloths in their natural habitat.
The Bogarin Trail started as a cattle farm that was completely paved low and deforested. A local Costa Rican man purchased the property, restored it to its natural state and let nature do its thing. Today, the densely forested reserve is a safe haven for dozens of species of birds, frogs, and lizards – as well as a family of over 25 sloths!
The hike is very flat and easy, and took us about 1 hour to complete the 2 mile trail. On the hike, we saw 3 sloths, a dart frog, nesting owls, and a bunch of tropical birds.
For $10 per person, you can take a self guided walk through the property or book a 2-hour guided tour instead. We didn't have time for the tour, but I highly recommend it to get the most out of your experience. If it weren't for nearby guides pointing things out to their groups, we would have missed a ton of wildlife that was hiding in plain sight!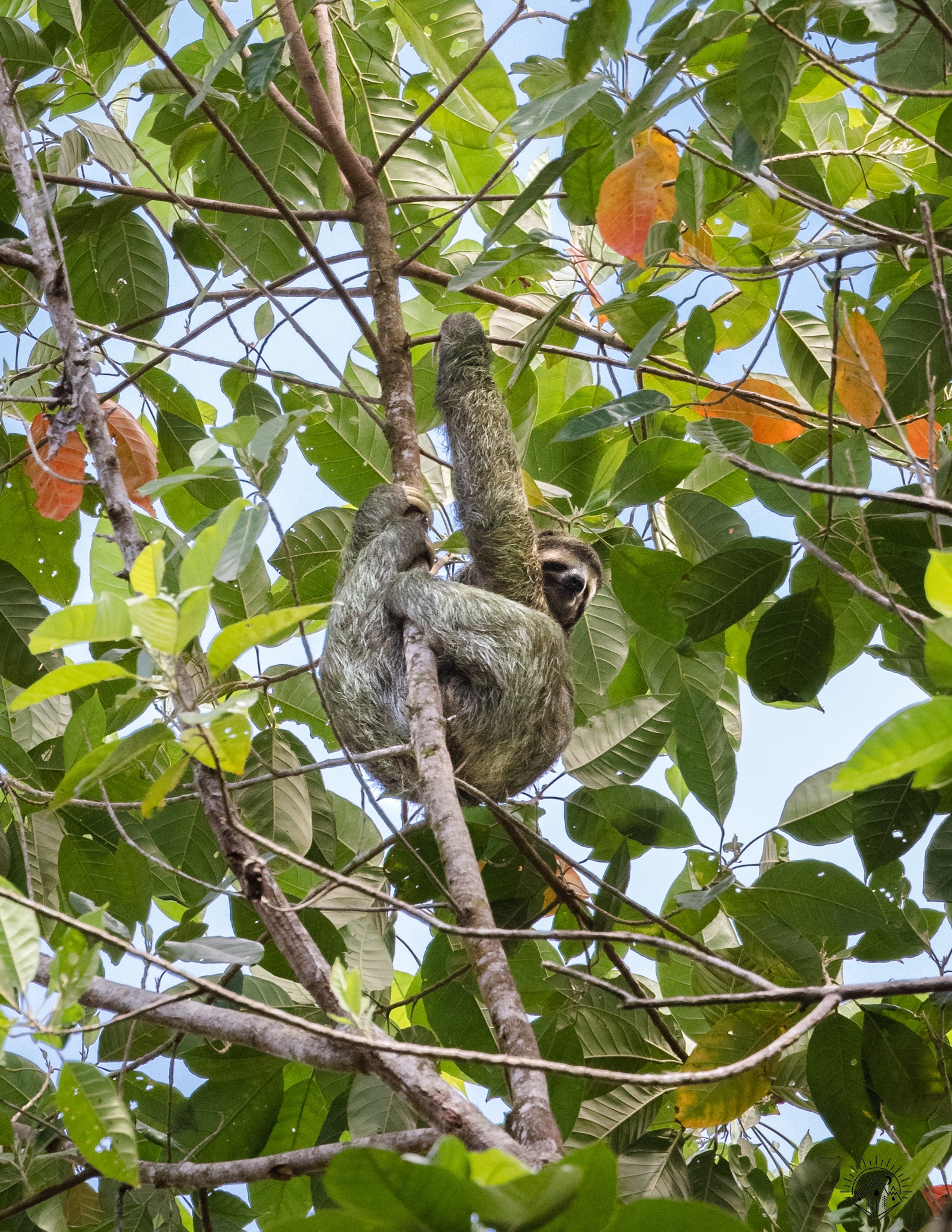 ENJOY THE ROPE SWING AT EL SALTO SWIMMING HOLE
El Salto swimming hole is one of La Fortuna's gems that's hidden in plain sight! It's a popular swimming hole among both locals and tourists located just outside of town beneath the bridge on route 702.
You can easily walk here from downtown La Fortuna if you don't have a car. If you drive, park your car very carefully off to the side of the road on either side of the bridge. There's no official parking lot.
The main attraction at El Salto is a rope swing that you can essentially fling yourself off of into the swimming hole. There's also a a small waterfall and several rock ledges that are perfect for sun bathing.
The best part? Visiting El Salto is FREE – which is a rarity among the tourist shops and entrance fees to everything in Costa Rica.
HIKE RIO CELESTE IN TENORIO VOLCANO NATIONAL PARK
Do you know those places that you see online that immediately make you think, "there's no way that's not photoshopped!"? Well, Rio Celeste is one of those.
Rio Celeste is vibrant blue river, located in Tenorio Volcano National Park, which is famous for the Rio Celeste Waterfall that drops 98 feet into a pool of gatorade-blue water, surrounded by dense jungle. While you can't swim here, it's absolutely worth a stop and a day of hiking through the jungle of Tenorio Volcano National Park.
Rio Celeste is about a 1.5 hour drive north of La Fortuna, Costa Rica and the hike takes about 3-4 hours once you get there. I recommend planning a little more than 1/2 a day to complete the trip to Rio Celeste from La Fortuna.
Find more details: Visiting the Magical Rio Celeste Waterfall
CANONYING
Go Canyoning with Pure Trek Canonying for a dose of genuine adrenaline-pumping adventure near La Fortuna. It will have you rappelling down 200-foot waterfalls, scaling canyon walls, and hiking through untouched jungle. Prepare to get soaked in plunging waterfalls and have the time of your life.
BOOK A NIGHT TOUR AT ARENAL OASIS ECO-LODGE & WILDLIFE REFUGE
The jungle becomes extra active at night, so booking a night tour is one of the best things to do in La Fortuna for a chance to spot wildlife that you wouldn't see during the day.
Book a guided night tour at a small reserve just outside of town called Arenal Oasis Eco Lodge & Wildlife Refuge. It's Arenal's only wild frog sanctuary and focuses on sustainability and resource conservation. Their guided night tour offers a chance to see a plethora of exotic frogs, as well as other nocturnal critters such as snakes, insects, and lizards.
Another options is the Ecocentro Danaus Reserve night tour on the other side of town.
Red-eyed tree frog image courtesy of @naturephotospyt
WHITE WATER RAFTING
Get your heart racing on a white water rafting tour through the rapids of the Balsa River and Sarapiqui River near La Fortuna. The rivers snake through picturesque forested landscapes full of exotic wildlife, including howler monkeys, sloths, iguanas, and tropical birds.
There are rapids and tour options for all skill levels, so need to worry about having prior experience.
GO ZIPLINING IN ARENAL
Did you even go to Costa Rica if you didn't go ziplining? The answer can be yes, but you might regret it if you don't! Costa Rica is one of the best places in the world for zip lining because it offers the unique thrill of soaring through the jungle canopy.
The Arenal area is one of the most popular destinations for ziplining in Costa Rica, thanks to spectacular views of the jungle canopy, Arenal Volcano, and the Talamanca Mountain Range.
Want even more adventure? You can combine ziplining with other epic adventures, like waterfall rapelling, canyoning, or whitewater rafting.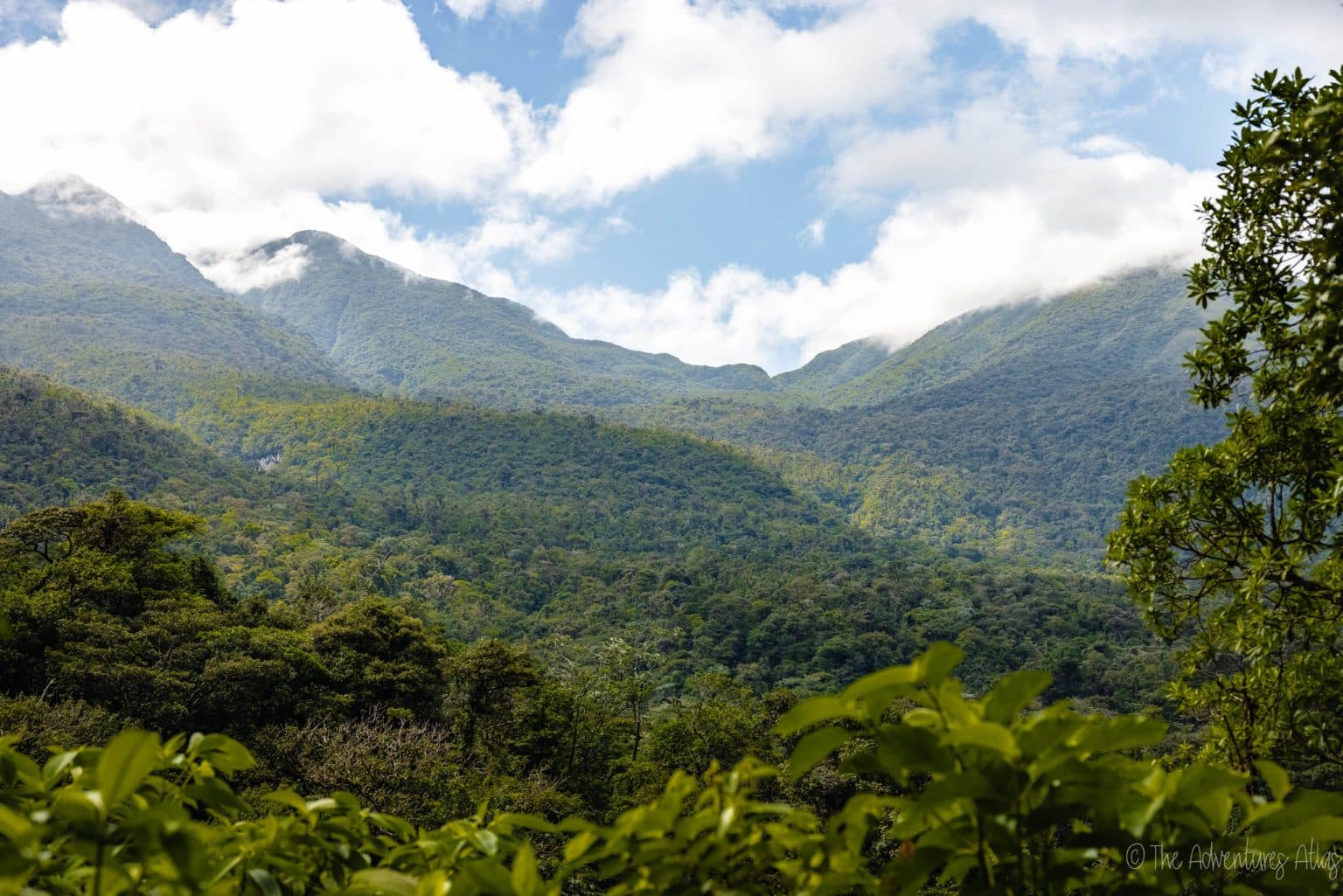 SPELUNKING AT VENADO CAVES
Some of our favorite adventures have been touring the ATM caves in Belize and exploring the glowworm caves in New Zealand, so we were stoked when we heard about Venado Caves in La Fortuna.
At over 15 million years old, The Venado Caves contain underground waterfalls, giant stalactites, stalagmites, and cave-dwelling wildlife, such as eyeless fish, insects, giant spiders, and 4 species of bats. An experienced guide will help you navigate through small tunnels, subterranean rivers, and lofty caverns.
Unfortunately, we ran out of time for this tour, but it's at the top of our list for the next time we're in La Fortuna. Regardless, I'd definitely recommend looking into it if you want a unique and less-touristy adventure in La Fortuna. It makes a great 1/2 day trip if you're short on time.
You'll love: How to Find Secret Spots and Hidden Gems (9 Resources to Help You Find Adventure Off The Beaten Path)
---
Planning your trip to La Fortuna Costa Rica
GETTING TO LA FORTUNA
The two closest airports to La Fortuna are:
Juan Santamaría International Airport

(SJO) in San Jose, Costa Rica;

2.5 hour drive
Liberia Guanacaste Airport (LIR) in Liberia, Costa Rica; 2.5 hour drive
SJO is the more popular of the two airports and usually the cheapest.
The most convenient way to get around Costa Rica is to have your own car. We booked through Adobe Car Rental in San Jose and were super happy with the rental process. You won't need a 4×4 in La Fortuna, as most of the roads are well maintained.
If you don't have a car, you can easily catch the public bus or shuttle service from the airport to La Fortuna. Once you're in La Fortuna, there are plenty of tours and red taxis that offer return transport from your lodge.
Scroll down for a 3 day sample itinerary.
BEST TIME TO VISIT
Like all of Costa Rica, the best time to visit La Fortuna is in the dry season (mid-December – April). During this time, temperatures hang around 80F. However, while it's the driest and hottest time of year, you are still in the jungle. So, expect ample humidity and unexpected rain showers.
The rainy season in Costa Rica is May – November and brings ample rain and only slightly cooler temperatures. While the weather can be a bit of a downer, the plus side is that there are far fewer crowds and much cheaper lodging.
If you visit in the off season, I suggest opting for May – June or November. The rainiest months are September and October.
WHERE TO STAY: BEST HOTELS AND ECO-LODGES IN LA FORTUNA
There's no shortage of hotels, VRBOs, AirBnbs, and eco-lodges in La Fortuna! And the best part is that many of them have a great view of Arenal Volcano.
Accommodation ranges from budget friendly casitas to luxury stays at the hot springs resorts. Here's a list of hotel options in La Fortuna.
SLOTH CABINS, LA FORTUNA
We stayed at the Sloth Cabins (Cabañas Sueños del Arenal), which was the perfect home base for us. The property is very secure and consists of 4 small cabins, which are located only a few minutes from downtown La Fortuna. At less than $100 per night, we felt that the price was a great deal. And outside the window, you get an epic, unobstructed view of Volcan Arenal!
Click here to book a stay at the Sloth Cabins
(R) Sloth cabin interior; (L) view of Arenal Volcano from the cabin
BEST RESTAURANTS: WHERE TO EAT
La Fortuna seemed like a bit of a foodie town, with tons of restaurant options and a good mix of international and local cuisine. The local restaurants are called sodas and they serve plates of typical Costa Rican food for very cheap, usually around $5 per plate. International restaurants and cafe's will cost about $10 and up.
Here's are the restaurants we recommend:
Snappers Marisqueria (seafood)
El Chante Verde (cafe-bar with vegan dishes)
Cafe Metropoli (amazing coffee!)
Arábigos Coffee House (great coffee, breakfast, ambiance)
Soda Mima (local food)
Soda la Hormiga (local food)
La Street Bistro
---
HOW TO SPEND 3 FULL DAYS IN LA FORTUNA COSTA RICA
I recommend 3 full days in La Fortuna, at a bare minimum. This will be enough time to get a pretty good taste of the area, but only if you have your own car.
If you rely on shuttles and tour transport, 3 days might not be enough because you won't have total control of your time schedule.
Below, I put together an itinerary for spending 3 full days in La Fortuna. I included several activity options to help you customize it to fit your needs.
Want to take the itinerary with you? Download the itinerary to reference later:
LA FORTUNA ITINERARY: 3 FULL DAYS
DAY 1:
Wake up early and visit Mistico Hanging Bridges. Get there right when they open at 6AM or opt for the very first tour time. Allocate about 2-2.5 hours to complete the hike.


.

Soak in a hot spring of your choosing! I personally recommend the free hot spring river or Los Lagos hot springs for $17 per person. See "what to know about adding hot springs to your itinerary" below.


.

Hike the Arenal 1968 Trails or the trails at Mirador El Silencio. The trails at Arenal 1968 close at 5PM and Mirador El Silencio closes at 6PM, so plan accordingly!
DAY 2:
Choose a 1/2 day adventure in the morning (ziplining, canyoning, Venado Caves, whitewater rafting)


.

Visit La Fortuna Waterfall or the Bogarin Sloth Trail
OR
Book an all day adventure tour combo. You'll probably be exhausted by the end of the day if you choose this option. So, grab dinner in town afterward and relax for the rest of the night. Alternatively, you can spend the entire day relaxing at a hot springs resort!
DAY 3:
Take a trip to Rio Celeste in Tenorio Volcano National Park. Get there right when they open at 8AM and plan around 3 hours for the hike. There are restaurants around the park entrance that sell delicious (and reasonably priced!) local food when you're done.


.

Check out El Salto Swimming Hole


.

Book a night tour if you have time. Most tours start around 5PM.
What to know about adding hot springs to your itinerary
I recommend planning your hot springs visit ahead of time because some resorts, like Tabacon, only sell relatively pricey day passes that include full meals.
If you have your heart set on visiting a resort like that, then I recommend spending a more time there in order to make the most of your pass.
Unless you have an extra day to dedicate to the hot springs, this means you likely have to forfeit some other things. Obviously this isn't ideal if you want to fill your schedule with other activities.
The alternative is to book an overnight stay at the resort, as it includes any time access to the hot springs. I know that at first glance the resorts seem super pricey. But sometimes you can get a room for a price that's comparable to the prices of 2 day passes + accommodation elsewhere.
Did you find this guide helpful in planning your trip to La Fortuna? Let me know in the comments! I love to hear from you!
More Costa Rica Travel Guides:
How to Reach the Magical Rio Celeste Waterfall in Costa Rica
Nauyaca Waterfalls in Costa Rica: What To Know Before You Go
The Ultimate Guide to Drake Bay, Costa Rica (Things to Do, How to Get There, and Where to Stay!)
PINS FOR YOUR PINTEREST
WANT TO SAVE MONEY TRAVELING?
Check out my list of reliable budget-friendly travel resources that are guaranteed to save you the most money, without compromising your experience.