Village, Mountains, Lakes: Experience the Diversity of the Adirondacks Through 3 Women-Run Airbnb's
Post summary: 3 women-run Airbnbs that capture the diversity of the Adirondack Mountains in Upstate New York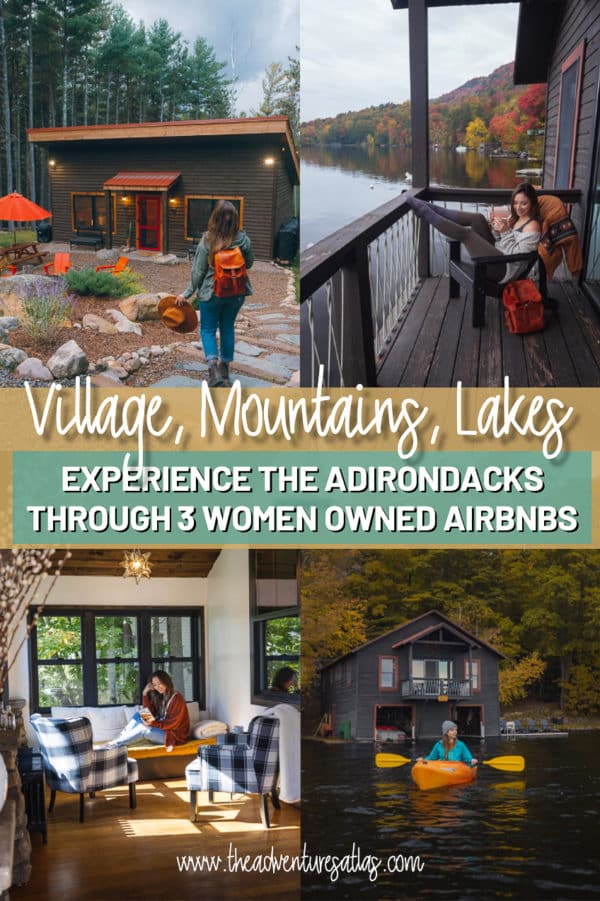 Many people know that the Adirondack Mountains in Upstate New York offer gorgeous scenery and a plethora of outdoor activities for every type of adventure.
But did you know that the Adirondack Park spans over 6 million acres? As the largest park in the contiguous United States, the Adirondacks are filled with pristine lakes and ponds, dense forests, charming towns, and majestic mountains.
To explore all that the Adirondacks have to offer, I teamed up with these three unique women-owned guesthouses in vastly different areas The Adirondack Park:
From quaint mountain villages to sprawling lakeside views, each of these unique properties are nestled in their own slice of Adirondack Mountain paradise, and come with their own unique story.
If you're not quite sure what type of Adirondack getaway you're craving, keep reading to discover what kind of adventure is calling your name – or go ahead and book a stay in all three to truly experience the incredible diversity of the Adirondack Park.
Planning a trip to the Adirondacks? Check out these helpful guides!
How to Survive Black Fly Season in the Adirondacks
Short Hikes With Incredible Views in the Adirondacks
How To Plan Your Road Trip With Google Maps (Tutorial With Examples)
Best Hiking Backpacks for Women in 2021: Find the Perfect Hiking Pack for Your Next Adventure
ADIRONDACK MAP AND CABIN LOCATIONS
Here's a map showing where each property is located within the 6 million acre Adirondack Park!

Here's the exact location of each cabin to help you plan your trip:
The Speculator Guesthouse in the village of Speculator, New York
Juniper Hill Cabin in the mountains in Wilmington, NY (15 minutes to Lake Placid)
The Boathouse on Fourth Lake on Fourth Lake in Old Forge NY
VILLAGE GETAWAY: SPECULATOR GUESTHOUSE
Location: Speculator, NY
Capacity: 6 guests
Beds: 4 (1 queen, 1 full, bunk beds)
Baths: 1
Amenities: High speed wifi, washer & dryer, 4-season front porch, fire-pit
ABOUT THE SPECULATOR GUESTHOUSE
Located in the Central Adirondacks, the Speculator Guesthouse is a charming getaway nestled in the small village of Speculator, NY. This historical craftsman style bungalow was originally built in 1912 and was purchased in 2017 by ADK locals, Amy and Ryan.
With front stone pillars covered in weeds, chipping paint, and bedrooms only large enough to fit twin bunk beds, Amy and Ryan knew that the property was in need of a major redesign. With a vision in mind, they took on the monumental task of re-designing the entire property, all while working full time jobs, managing life with 3 children (ages 12, 10, and 4), and commuting from over an hour away.
Having acted as their own designers and contractors, Amy, Ryan, and their three young children completely renovated the 900 sq. ft. space over the course of two years. They took a leap of faith that their design vision for the Guesthouse would align with what visitors would want while visiting the Adirondacks.
Today, Amy and her family now proudly welcome guests to enjoy this newly renovated and aesthetically curated space.
ABOUT THE SPACE
The Speculator Guesthouse features a minimalistic-meets-modern-rustic design, vaulted ceilings, and thoughtful touches to make you feel right at home.
Most of the furniture in the house was custom designed by Amy and Ryan to perfectly fit the space, including the log furniture, the open kitchen shelving, kitchen island, and the window seat on the newly insulated front porch.
Each room has been intentionally designed, including the 2 full mattress bunks with built in cubbies and USB ports where the shower unit used to be!
The upstairs was entirely reconfigured from 3 small bedrooms and a small bathroom to 2 bedrooms and one larger bathroom. The master bedroom now boasts a queen size bed and the two bunk beds, while the second bedroom has a full sized bed, making this property perfect for families, girls weekends, or couples just wanting to getaway.
The master bedroom with full size bunk beds, built where the shower unit used to be. Bunk beds are complete with built in cubbies and USB ports (left and center); Aesthetically curated full bathroom upstairs (right)
Wake up early and enjoy coffee on the four season front porch, and then grab one of the vintage bikes and peddle down to Lake Pleasant and Speculator Public Beach! When you get back, don't forget to cozy up in the Adirondack chairs around the backyard fire pit underneath the string lights.
WHAT TO DO NEAR THE SPECULATOR GUESTHOUSE IN SPECULATOR, NY
The Speculator Guesthouse is conveniently located near "The Four Corners" in Speculator, and within walking distance to the village center.
There's so much to explore right near the house, including Speculator Public Beach along the shores of Lake Pleasant. It's the perfect place to walk or ride bikes to watch the sunrise or sunset and take a dip in the warm water. And while you're in town, don't forget to grab breakfast at The Timberline Cafe. They have some of the best iced coffee I've ever had!
To explore the area a bit more, just take a short drive to reach some incredibly scenic hikes, including Fawn Lake, Pillsbury Mountain, and Echo Cliff. Or rent a kayak from Campstore! and paddle the Kunjamuk River.
In the winter, snowmobiling and skiing are top activities around Speculator. Luckily, the Speculator Guesthouse is only 1.2 miles from Oak Mountain Ski Center, and less than an hour from Gore Mountain and Royal Mountain!
Looking for even more recommendations on how to spend your time at the Speculator Guesthouse? Amy and Ryan love to give local recommendations for dining, shopping, hiking, area activities, secret swimming spots, and specific day trip information to make your stay at the Guesthouse exactly what you dreamed of.
.
---
MOUNTAIN ESCAPE: JUNIPER HILL CABIN
Location: Wilmington, NY
Capacity: 4 guests
Beds: 3 (1 queen, bunk beds)
Baths: 1
Amenities: A cedar barrel sauna, high speed wifi, washer & dryer, 2 fire-pits
ABOUT JUNIPER HILL CABIN
Juniper Hill Cabin is a newly constructed two bedroom/one bathroom home situated in Wilmington, NY. The cabin was purchased by Laura and Carmen, who have always felt that the Adirondacks were their home away from home.
As a child, Laura grew up watching 'Smoky Mountain Christmas' and 'Emmet Otter's Jug-Band Christmas', and has always been drawn to a simple, cabin lifestyle. So it felt like it was meant to be when the cabin on Juniper Hill was listed for sale.
.
Laura and Carmen listed Juniper Hill Cabin on Airbnb after receiving an abundance of interest in the short term rental, shortly after purchasing the property. Over time, Juniper Hill Cabin has allowed them to connect with a wide range of guests, photographers, bloggers, travelers, locals, artists, and athletes; and, in-turn, they've built an authentic community around their cabin in the woods.
Juniper Hill Cabin, and the new
Juniper Hill A-Frame
, are both located in an area that's ideal for outdoor enthusiasts. The location, coupled with the aesthetic and peaceful atmosphere of the properties, offers a serene mountain escape for guests, far from the hustle and noise of everyday life.
When she's not hosting at their Adirondack properties, Laura is a high school Principal, co-owner of a construction business, and owner of a blog called "The Unique Nest". It's her dream to someday work full-time for herself managing their properties and doing interior design work. And if you ask me – she's well on her way!
ABOUT THE SPACE
If you're looking for the perfect mountain retreat, Juniper Hill Cabin is the place you're looking for. The interior features a modern-rustic design that looks like it's been plucked straight from a magazine. From the gold plated silverware and well stocked kitchen, to the modern wool rugs and hotel-quality linens, not a single detail has been overlooked.
The master bedroom sleeps 2 in a queen sized memory foam bed, while the second bedroom has two bunkbeds, making this property perfect for families, friends, or couples looking for a cozy mountain escape.
Whether you're an outdoor adventurer or someone just looking to get away and relax in nature, Juniper Hill has everything you need in any season – and then some! Juniper Hill is just a stone's throw away from some of the Adirondacks' best natural attractions. But you won't even need to leave the cabin to find ultimate peace and relaxation – simply head outside to relax in the brand new cedar barrel sauna and then cozy up by one of the TWO custom fire pits surrounded by dense pine forest.
WHAT TO DO NEAR JUNIPER HILL CABIN IN WILMINGTON, NY
Juniper Hill Cabin is conveniently situated smack dab in the heart of the Adirondack Mountains, just a short drive to tons of outdoor adventures!
The cabin is only a 15 minute drive to downtown Lake Placid, where you can canoe or kayak on Mirror Lake, browse the local shops, or tour the Olympic Sports Complex.
Outdoor adventure lovers will find themselves only 5 minutes from Whiteface Mountain and close to some of the best hiking trails the Adirondacks have to offer, including Mt. Marcy, Cascade Mountain, and Indian Head. There are also more family-friendly hikes nearby, such as High Falls Gorge, and the Brewster Peninsula Trails.
Don't feel like driving anywhere at all? Check out the Ausable River and Lake Everest, which are both within walking distance to the cabin.
Regardless of how you choose to spend your time at Juniper Hill, don't forget to stop by
The Hungry Trout
or the
Adirondack Mountain Coffee Cafe
to pick up some local eats to fuel your ADK adventures!
.
PS: Book early because Juniper Hill is filling up fast!
Lakeside Sanctuary: The Boathouse on Fourth Lake
Location: Old Forge, NY
Capacity: guests
Beds: 4
Baths: 1
Amenities: 100 feet of private waterfront, 2 kayaks and a canoe, high speed wifi, lakeside fire pit
ABOUT THE BOATHOUSE ON FOURTH LAKE
Looking for a super unique stay for your next Adirondack Mountains getaway? Have you considered staying in a home directly above the water? If your answer is no (or even if it's a yes!), now is your chance to book a stay at The Boathouse on Fourth Lake for your next vacation.
Built in 1916, this historic boathouse is among the last of its kind in Old Forge in the Central Adirondack Mountains. It's situated directly over the water of the popular Fourth Lake, nestled in a quiet cove on the north shore.
The surrounding wooded area offers privacy and seclusion, while – in reality – you're only a few miles away from the quaint shops and restaurants of downtown Old Forge!
The house itself is built above a 2-slip boathouse with direct, private lake access for guests to enjoy. Between the convenient location and incredible amenities, the Boathouse on Fourth Lake is a super unique stay that you won't want to miss out on it for your next Adirondack getaway.
THE SPACE
The interior of the Boathouse on Fourth Lake features an expertly curated modern-rustic design. The home has been freshly renovated and modernized, while preserving the comfort and coziness of an authentic Adirondack camp.
With its open floor plan, fully equipped kitchen, and 3 cozy bedrooms, the Boathouse on Fourth Lake is the perfect retreat for families, couples, and small groups of friends.
And while the interior alone is worth booking a stay at this cozy property, the exterior amenities are sure to seal the deal.
If you like the sound of waking up to enjoy a foggy, quiet morning on the lake (cup of coffee in hand, of course!), then you're going to love the Adirondack chairs lined up along the spacious private dock. And let's not forget the sandy-bottomed waterfront, perfect for swimming and waterside relaxation.
Prefer something a bit more active? Check out the boathouse located directly underneath the home! It's stocked with kayaks, a canoe, paddles, and everything you could need to enjoy a day out on the water.
WHAT TO DO NEAR THE BOATHOUSE ON FOURTH LAKE IN OLD FORGE, NY
The Boathouse sits on Fourth Lake – one of the most popular lakes in The Adirondack Park. Fourth Lake sits in the center of the Fulton Chain Lakes, making it the perfect vacation spot for swimming, boating, and breathtaking views.
Of course you won't need to even leave The Boathouse to enjoy a day out on Fourth Lake! Simply grab a kayak from the boathouse and hit the water via the property's private lake access. Swim in the private sandy bottom waterfront, or spend a sunny day on the dock, which is perfect for waterside relaxation. And then head out to the Adirondack chairs on the dock to gaze up at the Milky Way once the sun goes down.
If you prefer to explore, there are also tons of popular activities in close proximity to The Boathouse. Stroll the charming streets of Old Forge or downtown Inlet; explore scenic hiking trails, such as Black Bear Mountain, Bald (Rondaxe) Mountain, and McCauley Mountain; or enjoy family fun at the Enchanted Forest Water Safari, ADK Scenic Railroad, or ADK saddle tours.
When you get hungry, you can cook your own meals in the fully stocked kitchen, grill out on the spacious dock, or head into town to check out some of the best nearby restaurants like Daiker's Bar & Restaurant (1 mile drive or a short kayak ride!) and Mountainside Smokehouse and Grill.
***
Whether it's outdoor adventure, leisurely strolls, or ultimate relaxation you're craving, you're sure to find it among these unique Adirondack stays.
So, which one of these women-owned Airbnb's is calling your name?
Want more cozy cabins in the Adirondacks? Check out this guide!
17 Cozy Cabins to Rent in the Adirondacks this Season
When will you be booking your stay at these Adirondack getaways? Let me know in the comments!
Pins for your Pinterest
WANT TO SAVE MONEY TRAVELING?
Check out my list of reliable budget-friendly travel resources that are guaranteed to save you the most money, without compromising your experience.