Staying at Rancho Santana in Nicaragua (Where Luxury Meets Outdoor Adventure)
This post is in collaboration with Rancho Santana, Nicaragua. All statements and opinions are entirely my own.
Fondly referred to as "The Ranch", Rancho Santana is a world-class resort and residential community located on the southwest coast of Nicaragua. Nestled on the shore of the Pacific Ocean and surrounded by pristine dry forest landscape of the Emerald Coast, Rancho Santana is among Travel & Leisure's top hotels of the world.
As conscious travelers, something that stood out immediately was Rancho Santana's dedication to sustainability and betterment of their community – all while maintaining authentic Nicaraguan hospitality. So we were elated when Rancho Santana invited us to spend a week experiencing The Ranch, where rugged luxury meets outdoor adventure.
When we arrived, we were immediately welcomed with lavender towels, passion fruit drinks, local rum, coffee, and luxury travel kits before being given a tour of the property. They made us feel right at home.
My first impression was that, while Rancho Santana has SO much to offer, the resort itself maintains a very intimate, boutique-style vibe. This is something we instantly loved and we couldn't wait to unpack and start exploring.
Keep reading for an overview of our time at Rancho Santana to help you book your own adventure to Nicaragua!
VIP OFFER: Book 4 nights, get 1 extra night free!

Use code JACKIE4 at Booking. Valid for reservations at The Inn & Residences. Book by February 25, 2023, travel by November 21, 2023. Exclusions apply.
Where is Rancho Santana?
Rancho Santana is nestled on Nicaragua's rugged and pristine Emerald Coast. It's located on the Southwest Pacific coast of Nicaragua, between the Pacific Ocean and Lake Nicaragua.
Located on one of the only isthmuses in the Pacific, the weather at Rancho Santana hovers between the mid 80s – low 90s F all year, with nearly constant offshore breezes, which keep the humidity relatively low.
The Ranch is approximately 3 hours southwest of Nicaragua's capital city, Managua, and 2 hours northwest of the border to Costa Rica.
The property is set on 2700 acres with 5 unique beaches, 4 restaurants, 17 miles of trails, and a variety of adventurous activities and wellness offerings.
Getting to Rancho Santana
Rancho Santana is located within driving distance to two major airports and one small regional airport:
Managua (MGA), Nicaragua: Drive time to Rancho Santana – 2-2.5 hours
Liberia (LIR), Costa Rica: Drive time to Rancho Santana – approximately 4 hours
Costa Esmeralda Airport (ECI): This is regional airport about 15 minutes away from Rancho Santana. You can easily access it by flying Sansa Airlines from Costa Rica or by private charter
Rancho Santana can arrange ground transportation for you from/to any of the above airports.
For us, it was a lot cheaper to fly into Costa Rica from NY than it was to fly into Managua, so we chose to fly to Liberia and cross the border to Nicaragua. The staff at Rancho Santana picked us up at the Liberia airport and escorted us across the border to Nicaragua.
The trip took about 3.5 hours with the border crossing, and Rancho Santana had everything taken care of for us. They even hired someone to carry our bags through immigration and help to translate. We're not used to being so pampered when we travel so it felt like such a luxury!
Property highlights
The amenities
Five beaches
4 dining options
3 swimming pools
17 miles of trails
On-site school
On-site chapel
Adventure sports
Yoga studio
On-site spa
Complimentary high speed Wifi
Laundry service
Air conditioning
Shampoo, conditioner, body wash – locally made in Nicaragua
The rooms at Rancho Santana
There are numerous accommodation options at Rancho Santana, each uniquely inspired by the rugged, natural beauty of Nicaragua's Pacific Coast.
Accommodations at Rancho Santana range from intimate guestrooms and suites with ocean-view terraces to condo type-ocean front villas.
We stayed in a Guest Room at The Inn, which is most centrally located to the resort's amenities. Our room had a single king bed, a full bathroom, and a balcony overlooking the courtyard. Most rooms at the Inn are perfect for couples or small families.

Guest Room at The Inn & Residences at Rancho Santana
Larger rooms are available at The Residences, which feature luxury condo style units with kitchens and living areas.
Have even more people or want something a little more private? Check out the selection of ocean front villas spread around the 2700 acre property. You can even rent a luxurious home for up to 14 people with a private pool and sweeping ocean views in one of the Ranch's six private neighborhoods.
As for pricing, rooms start around $500 at the Inn and go up from there, depending on what type of accommodation you want.
At first glance, some rooms and villas might look expensive, but they're meant to accommodate quite a few people. So when you split it up, it makes everything really affordable, which makes Rancho Santana a great place for everyone, including larger groups.
VIP OFFER: Book 4 nights, get 1 night free!

Use code JACKIE4 at Booking. Valid for reservations at The Inn & Residences. Book by February 25, 2023, travel by November 21, 2023. Exclusions apply.
Dining at Rancho Santana
Something that really stands out about Rancho Santana is their commitment to sustainability, living in harmony with the land, and bettering the community. Each of the restaurants on-site offers a unique farm-to-table experience.
The food is sourced seasonally, using fresh fruits and vegetables grown in their on-site gardens. Livestock is raised ethically on their farm. And fish and seafood are sourced from local fishermen.
The chefs at the restaurants curate incredible menu options including international cuisine, traditional Nicaraguan dishes, and their own creative recipes.
Our hardest decision of every day was deciding where to eat because every restaurant was equally amazing. Here's a quick breakdown of dining options at The Ranch:
La Finca y el Mar
Located on Playa Santana, La Finca y el Mar offers farm-to-table fine dining (and it's right downstairs from your room if you're staying at The Inn!).
El Cafe
Located inside The Inn on Playa Santana, El Cafe is your go-to breakfast spot at The Ranch. They serve fresh fruit juices, smoothies, homemade pastries, and breakfast bowls/sandwiches.
My go to order was a dragon fruit smoothie bowl and fresh pineapple juice. Greg chose the Power Bowl, which was made with scrambled eggs, avocado, bacon, and rice – perfect for fueling up before a day of adventure. And, as coffee connoisseurs, we would go as far to say that their espresso was some of the best we've ever had.
La Boquita
In the mood for small plates, sourdough pizza, and craft cocktails? Visit La Boquita, located on Playa Rosada. Enjoy happy hour every day from 4-6PM and watch the sand turn red at sunset.
La Taqueria
Honestly, does it get much better than tacos and margs on the beach? Hint: the answer is heck no!
Hop over to La Taqueria for Baja-inspired beachfront tacos after a full-day of surfing – or relaxing – at Playa Los Perros.
La Tienda
La Tienda is Rancho Santana's grocery store. They sell dry goods, groceries, sunscreen, toiletries, etc. so don't sweat it if you forget something.
If you stay somewhere with a kitchen, you can even arrange to have your groceries waiting for you when you get there. Talk about convenient!
Las Cinco Playas (The Five Beaches)
There are 5 unique beaches around the property and you can take a free shuttle to any of them from The Inn if you don't have your own car.
Playa Rosada
Playa Rosada is the beach in front of La Boquita restaurant. It gets it's name because the sand turns a red/pink color at sunset. While this beach is super picturesque, it's not a great beach for swimming because of the waves.
However, you can definitely walk in just a little bit to get your feet wet. There's also a spot back in the trees where you can arrange for the staff to make a bonfire for you while you watch the sun go down.
We loved going to La Boquita for happy hour and taking a stroll down this beach while we waited for our food to arrive since the tables near the restaurant overlook the beach.

Playa Escondida
Honestly, I think Playa Escondida was my favorite beach of them all. Translating to "Hidden Beach", Playa Escondida is just that. A hidden gem. This was our favorite place to enjoy the sunset because the beach is totally pristine and we were the only people there!
Like most of the other beaches around here, you can't swim at Playa Escondida, but in my opinion, it's the most serene place to watch the sunset.
Just be mindful as you're walking around. Playa Escondida is a turtle nesting sanctuary for thousands of sea turtles! You'll notice some nests that are being monitored along the beach. Continue down the path to find the Rancho Santana turtle center and a small yoga platform.
Playa Santana
This is where the Inn & Residences are located.
While this beach isn't good for swimming, surfers also come from all over to ride the waves at Playa Santana. You can even look out from Rancho Santana and watch the surfing competitions that take place along the coast near the resort.
The beach break creates huge barrels that go left and ride at mid to high tide. So if you're an advanced surfer, this is where you'll want to be!
Playa Los Perros
If the waves at Playa Santana are a bit intimidating, there are plenty of beginner-friendly waves at Playa Los Perros – and you'll probably even have the waves all to yourself. This beach is also perfect for swimming or laying out a towel and soaking in the sun.
The atmosphere at Playa Los Perros is super laid back and relaxed. There's a surf shop on-site, where you can rent a board, take a private or group lesson with a professional instructor, and spend the day surfing the waves in Nicaragua.
When you're done, head over to La Taqueria for some chips, guac, and pineapple margaritas.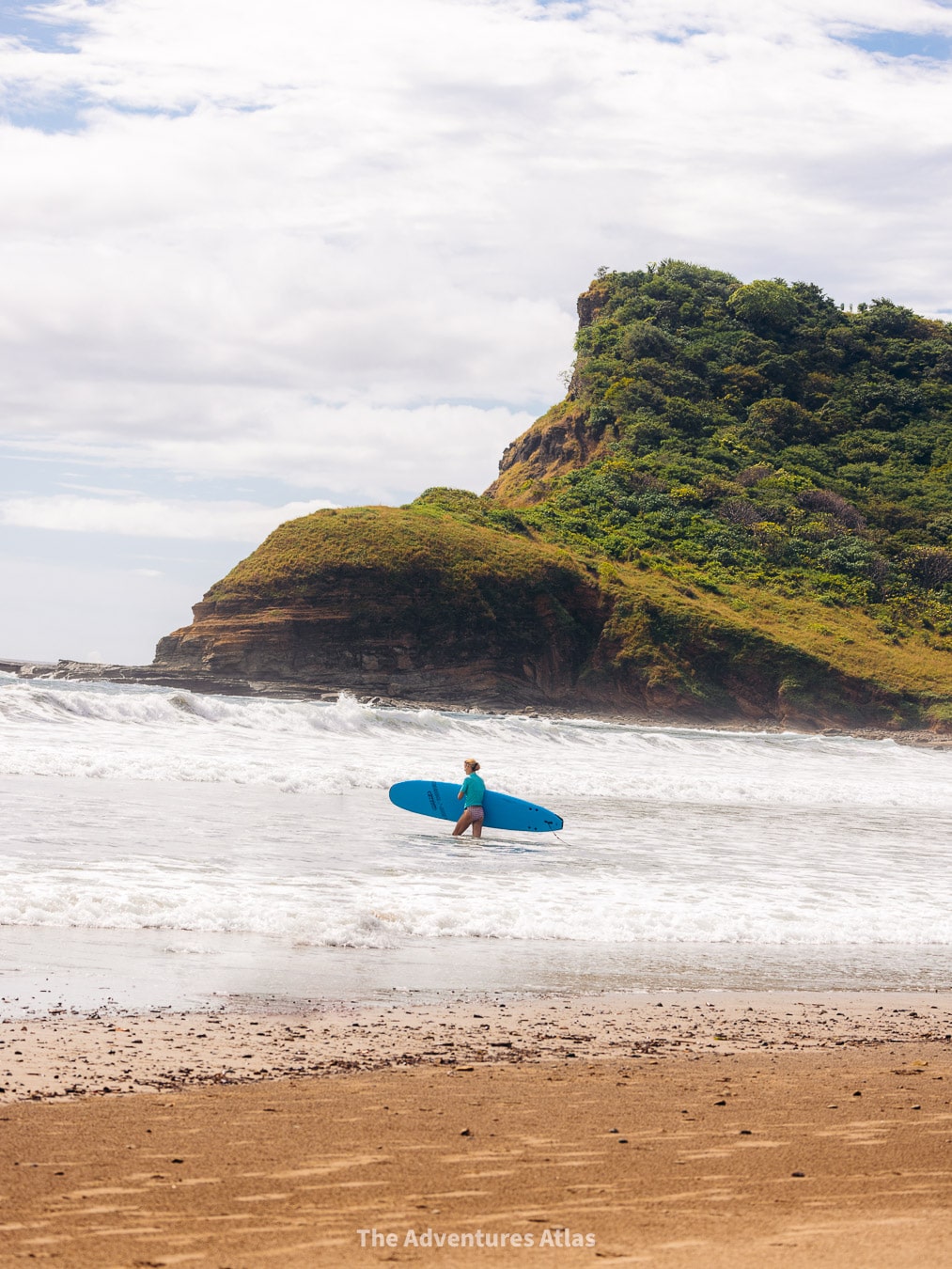 Playa Duna
Playa Duna is where you'll find the sand dunes for sand boarding. It's not a beach that you'd typically hang out on because there's a steep hike and a lot of stairs to get to the bottom. But you can easily view it from above at the Playa Duna lookout.
We got really lucky during our visit here and saw a flock of Roseate Spoonbills flying overhead. Apparently they're pretty rare to see and we ended up getting super lucky, but you never know – maybe you'll get lucky too!
Adventure tours
From racing down sand dunes to relaxing at the on-site spa, Rancho Santana has a ton of excursions and activities to choose from. You can even book day trips to explore other parts of Nicaragua, like the famous volcanos, Lake Nicaragua and San Juan del Sur.
Here's a list of some of the activities and adventure sports offered at the Ranch!
Horseback riding
If you asked me to describe paradise, this would be it. Horseback riding on the beach has been on my travel wish list for so long, so I was so glad we got to go.
Our guide had the horses ready for us when we arrived and then we rode from the stables to Playa Popoyo. We went all the way down the beach and caught the prettiest sunset on the way back, just as the tide was starting to roll in.
La Mohosa Tour
Mt Mohosa/La Mohosa is the third highest mountain in the Revis Department of Nicaragua.
I would personally rate this hike as moderate-strenuous. Mostly because the trail is very steep. But it's totally worth the effort. We saw so much wildlife along the trail.
We were lucky to spot some curious white faced capuchins and a few howler monkeys with their babies. This part of the country stays cooler and humid all year round so it's a great place to spot wildlife.
The views from the top are stunning. And on a clear day, you can see 3 volcanos in the distance. Our guides had fresh fruit and energy balls for us once we reached the summit. The tour starts early in the morning, so we missed breakfast and it was much appreciated.
View from the summit of La Mohosa
Our total hike time was about 3.5 hours with breaks.
I definitely recommend hiking Mt Mohosa if you want an adventurous experience, a great workout, and a chance to spot monkeys, sloths, and insects. Just don't forget to pack your rain jacket! Find my rain jacket/gear recommendations here.
READ NEXT: What to Pack for a Day Hike
These were our guides: Fernando and Luis. They were awesome, kept the vibes so high, and were incredibly knowledgeable about the local flora and fauna. We learned a ton!
Sandboarding on Playa Duna
Have you ever wanted to zoom down a 22-meter mountain of sand on a bodyboard? Me too! And the good news is that you can do it right at Playa Duna.
This activity will definitely get your heart pumping – both from the adrenaline and from the effort it takes to hike up the sand dune. But it was one of the most fun things we did during our time at The Ranch. And it's complimentary with most stay packages, so you might as well give it a go!
Surfing
Constant offshore breezes, a perfectly angled coastline, and warm weather almost year round create the perfect recipe for world-class surfing conditions.
Whether you're a pro surfer or a total newbie, there's a wave at Rancho Santana that's calling your name. You can grab your board and surf the advanced waves at Playa Santana or head over to Playa Los Perros for a much more relaxed atmosphere, which is perfect for any surfing level.
You can rent a board or book a private or a group lesson at Playa Los Perros. They take about 90 minutes.
Turtle Hatching at Playa Escondida
Every year, approximately 25,000 turtles lay their eggs on the beaches of Nicaragua. Four species of turtles migrate to Playa Escondida where they lay their eggs, resulting in thousands of healthy hatchlings every year!
Rancho Santana has an ecologist on site to monitor the turtle nests, protect the eggs, and educate visitors. They try to predict the time of the next turtle hatching, but ultimately the timing is up to the turtles (obviously).
But don't worry! The staff sends out a text to all of the guests when when they start hatching so that you can come down and watch. Just cross your fingers and hope that it happens during your stay :)
Photos taken from Rancho Santana's website
Other tours and activities
Mountain Biking
Tennis
Hiking for every skill level
Cultural and Wildlife Tours
SUP
Fishing
Sailing
Garden and farm tour
Golf
Spa + Wellness
While Rancho Santana is known for world class surfing, The Ranch has much more to offer than adventure sports.
Rancho Santana is also about wellness and wellbeing, from their farm-to-table cuisine to over 17 miles of hiking trails that you can walk when you need to clear your mind.
One of my favorite things during our stay was taking a morning walk to yoga. The yoga studio is overly gorgeous! It's perched on the edge of the mountain in a treetop palapa, which overlooks the Pacific Ocean and Emerald Coast. You can schedule private or daily group classes, which range from sweaty vinyasa to relaxing candlelight yin.
You can also indulge in ultimate relaxation at the Spa, which offers a variety of therapeutic and holistic treatments. While I didn't get a chance to enjoy the Spa, it looked like a total sanctuary up in the clouds.
Getting around
Rancho Santana was a lot bigger than we were expecting! For reference, it takes about 10-15 minutes to drive between The Inn and some of the beaches.
If you are staying at The Inn, getting around is super easy. Rancho Santana offers a complimentary shuttle that leaves from The Inn and stops at beaches and restaurants across the property every hour.
If you require (or just desire) more freedom and flexibility to get around the property or explore more of Nicaragua, Dollar Car Rental offers rental cars right on-site at Rancho Santana.
All guests are required to have a 4×4 to navigate the steep hills and dirt roads around The Ranch.
Sustainability and Community Involvement
As conscious travelers, true sustainability efforts and community contributions are things we look for in companies that we support, both through collaborations and with our own money. And what I love about Rancho Santana is their commitment to sustainability and community involvement.
Rancho Santana is one of the largest employers in the area. Among employing over 1000 locals, they also run a non-profit organization called FunLimon, which assists in economic development in Nicaragua and provides social services to the community – including commercial education and English Language training.
They also provide resources and support to nearby communities that are affected by flooding during the rainy season, by building housing and providing water solutions to improve lives of the families long term.
Additionally, some of Rancho Santana's sustainability practices include:
Operating on clean solar energy
Creating a turtle nesting sanctuary for thousands of sea turtles
Locally sourcing veggies, fruits, meat, and seafood from their own gardens and local fishermen and co-ops
Travel with a Purpose: 50% donation to FunLimon
You can feel even better about staying at Rancho Santana by booking your stay through their Travel with a Purpose offer.
When you book your stay, 50% of your room rate will be donated to their community outreach center, Fun Limon. The donation will go toward providing job training, as well as a safe space for children to gather.
Here are the details from their website. For more information, visit Rancho Santana's Special Offers page.
Minimum of 3 nights stay at The Inn or The Residences
Booking window: November 28, 2022 – January 31, 2023

Travel Dates: November 30, 2022 – November 30, 2023

Blackout Dates apply.

Cannot

be combined with other special offers or promotions. Not applicable to group bookings.
Is it safe to travel to Nicaragua?
My short answer is yes. In fact, Nicaragua is statistically one of the safest countries in Central America.
To be honest, we weren't sure what to expect from our trip to Nicaragua. But once we got there, all we were met with was kindness, so much hospitality, and endless patience for our bad Spanish. While we didn't get to travel the rest of Nicaragua, I can tell you that what did see was NOT what you see on the news. Everyone is very kind and the nature is UNREAL.
Rancho Santana is very safe for everyone. Solo travelers, groups, families with children, etc. Even if you are coming across the border from Costa Rica, they organize everything for you and escort you the entire way.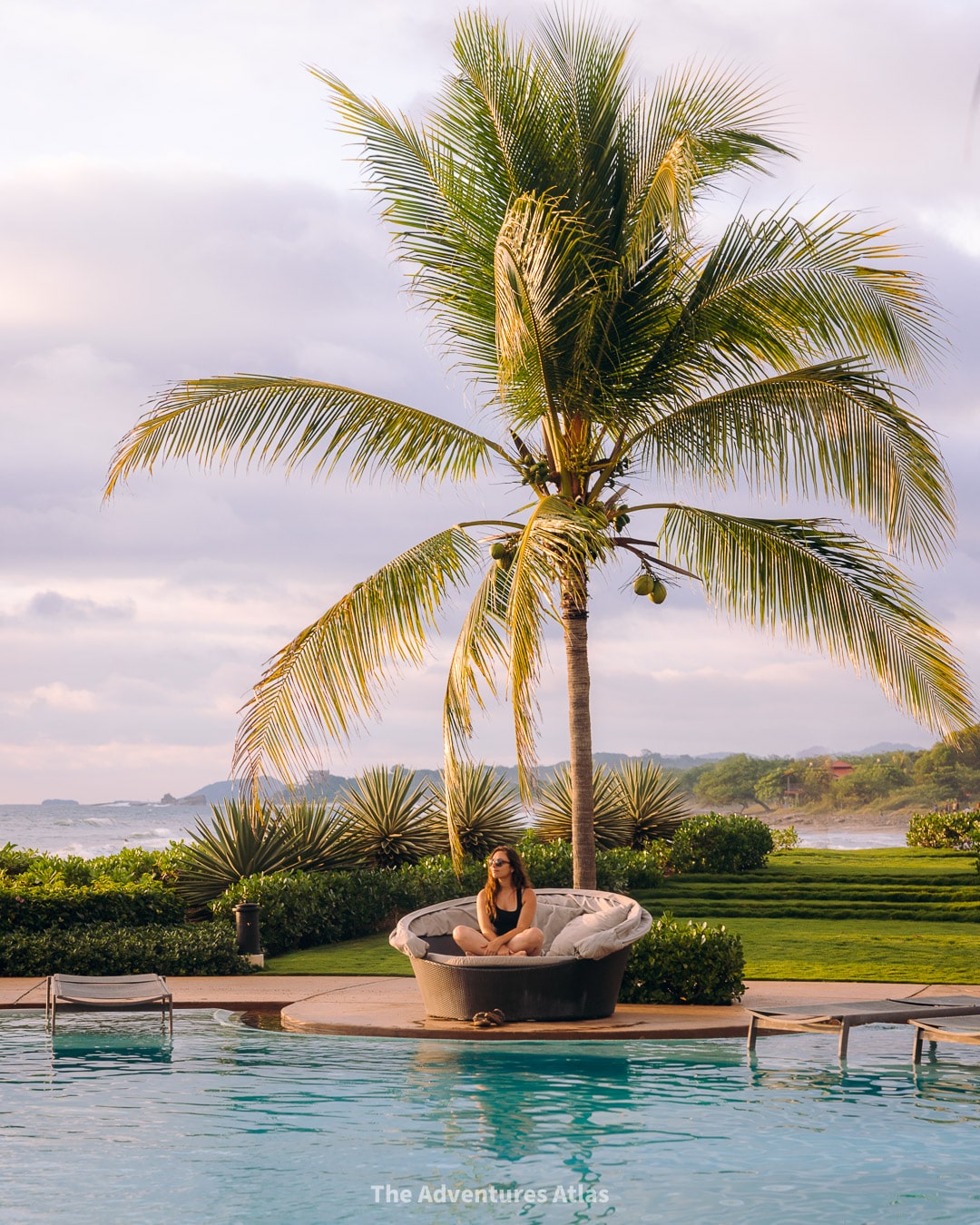 Have I convinced you to visit Rancho Santana in Nicaragua yet?! Let me know in the comments!
More posts from Central America
The Perfect 2-Week Costa Rica Itinerary
11 Awesome Things to do in La Fortuna, Costa Rica: The Ultimate Travel Guide
The Ultimate Guide to Drake Bay, Costa Rica (Things to Do, How to Get There, and Where to Stay!)
An Adventurous 12-Day Belize Road Trip Itinerary
All You Need to Know About Renting a Car in Belize | Cost, Tips, FAQs – Updated Guide 2022
WANT TO SAVE MONEY TRAVELING?
Check out my list of reliable budget-friendly travel resources that are guaranteed to save you the most money, without compromising your experience.