Your Guide to Traveling in the Cayman Islands
Home to stretches of white sand, crystal clear water, and endless scuba diving, the Cayman Islands are a true slice of Caribbean paradise. And with their diverse mix of beaches, hiking trails, and natural attractions, the Cayman Islands make for the perfect island hopping adventure.
From the hustle and bustle of Grand Cayman, to the pristine beaches of Little Cayman, and the intricate caves of Cayman Brac, each island offers a unique experience that you won't want to miss. This island trio has something for everyone – above or below the waves. So here's the ultimate quick guide to eating, sleeping, and adventuring on each island, so you can turn your Cayman Islands getaway into a real island hopping adventure.
Island Hopping in the Cayman Islands

.
Many Caribbean islands offer a ferry service that efficiently shuttles passengers between islands, making island hopping a quick and easy endeavor. But due to a combination of distance between islands and the absence of infrastructure, there is no inter-island ferry service in the Cayman Islands.
Without an inter-island ferry service, island hopping in the Cayman Islands can be a bit tricky. You'll have to travel between islands by domestic flight or private boat. But don't let that deter you. Luckily, navigating your way around is made a bit easier by frequent flight schedules and inexpensive charters. You'll just have to do a bit of planning and allow for enough time to get around.
Getting to Grand Cayman:
Fly straight into Owen Roberts International Airport (GCM). You can also arrive via cruise ship
Need help finding a cheap flight? Read my Top Tips for Finding Cheap Flights in 2019
.d.
Grand Cayman to Little Cayman and Cayman Brac:
The only efficient way to get from Grand Cayman to Little Cayman or Cayman Brac is by domestic flight on Cayman Airways. Domestic flights run out of Owen Roberts International Airport (GCM) on Grand Cayman. The planes seat about 15 people (they're really small!). The flights take about 35 minutes and will cost about $150 round-trip.
Because air travel is the only means of island hopping between Grand Cayman and the two sister islands, its not efficient as a day trip. Plan to spend several days on Little Cayman or Cayman Brac if you are traveling from Grand Cayman.
.
Island hopping between Little Cayman and Cayman Brac:
The best way to island hop between Little Cayman and Cayman Brac is by boat. Boat charters between the islands take about 1 hour and cost $20-25 each way. You can arrange for longer stays on each island or book day charters through your hotel or resort.
.
.
---
.
Grand Cayman
.
Grand Cayman is the largest and most popular of the three islands. In fact, to most people, Grand Cayman is the entire Cayman Islands.
Known for its vibrant, lively – yet also laid-back – island lifestyle, this tropical retreat attracts everyone from cruise ship travelers to honeymooners and spring breakers.
This is the island with a little bit of everything. On the west end, you'll find upscale shopping, cruise ports, and world-class all inclusive resorts lining the famous Seven Mile Beach. Consider it the Caribbean equivalent to the Vegas strip.
On the other side, life is a bit quieter. If you head east, you can escape the cruise-ship crowds, experience local culture, immerse yourself in nature, and discover the underwater world.
What Grand Cayman is best for: cruise ships, shopping, sightseeing, tourist attractions, family vacations, spring break, history/culture
Grand Cayman quick guide:

.
How to get around Grand Cayman:
For ultimate freedom, rent a car. Otherwise you can rent bicycles or arrange for transportation via taxi from your resort or hotel.
Where to stay on Grand Cayman:
For the most convenient location, choose accommodation near Seven Mile Beach or South Sound.
Airbnb: Best for

budget travelers

, groups seeking private housing, or travelers who will have their own method of transportation. CLICK HERE to save $40
Hotels and Resorts: there's no shortage of hotels and all inclusive resorts on Grand Cayman. You're guaranteed to find one to fit all of your needs. For the best deals search booking.com.
[booking_product_helper shortname="in-blog-caymans2″]
.


Things to do on Grand Cayman:
Explore the island by bike or on an island safari tour
Go snorkeling or learn to scuba dive at the Kittiwake Shipwreck
Take an adventure through Crystal Caves or Bioluminescent Bay
Hike the Mastic trail
Visit the Blow Holes
Relax at Rum Point or Seven Mile Beach (note: the south side is much busier and touristy than the north side)
Interact (RESPONSIBLY AND RESPECTFULLY) with wildlife at stingray city, starfish point, and the turtle farm
Go shopping in Georgetown
Relax at the spa on the beach at the Westin Hotel
Partake in water sports like parasailing and kite surfing
.


Best Restaurants on Grand Cayman:
Blue By Eric Ripert: Seafood and fine dining ($$$$)
Bacar: Italian dishes and great cocktails ($$$)
Calypso Grill: Local catch-of-the-day and great outdoor seating ($$$)
VIVO Restaurant: Best for organic, vegan, gluten-free menu ($$)
Tukka: Australian-inspired dishes, seafood, happy hour specials ($$)
Coccoloba Bar & Grill: Mexican food, drinks, hang-out with a chill vibe, live music, ocean views ($$)


.
Looking for more Grand Cayman recommendations? Visit my Skyscanner guide here!
---
.
Little Cayman
.
Little Cayman is the smallest, quietest, and least populated of the three Cayman Islands. If relaxing in a serene postcard paradise is your thing, then this is the island for you. Little Cayman is sure to bring the beach bum out in even the most active traveler. With virgin white sand, coral pink beaches, and crystal clear water, Little Cayman is the epitome of the Toes song by Zac Brown Band (got my toes in the water, ass in the sand…come on, I know you know it). The best part? Besides no worries and cold drinks, you'll probably end up with some of those beaches all to yourself.
But Little Cayman isn't just palm trees and beaches. It's also a bucket list scuba diving destination. The Cayman Islands are well known for their underwater world, but Little Cayman, in particular, is recognized year after year as one of the Caribbean's top diving destinations.
The excellent visibility and healthy coral reef of the Bloody Bay Marine Park attracts scuba divers from all over the world. The two most spectacular wall systems in the park are: Bloody Bay Wall and Jackson's Wall. Sheer walls and drop-offs, neon colored sponges, swim throughs, and huge coral heads create a visual feast and a tantalizing underwater adventure.
I've done a lot of diving around the Caribbean, and can honestly say that Bloody Bay Wall is one of the most spectacular sites I've seen so far.
What Little Cayman is best for: scuba diving, snorkeling, sandy beaches, nature, peace and quiet, bird watching
RELATED: Bucket list diving in Cayos Cochinos, Honduras
Little Cayman quick guide

.
Getting around Little Cayman:
Little Cayman is about 10 miles long and 1 mile wide. And most of the island is undeveloped. It's a small island, so if you're looking for a road trip, this might not be the island for you. You can rent a car, but you definitely don't need to.
The best – and definitely most fun – way to get around Little Cayman is by bicycle or scooter. The best place to rent a scooter is from Scooten Scooter. A rental will run you about $35-$50 per day, with weekly and monthly pricing specials available. Your rental comes with helmets, a free tank of gas, and free pickup and delivery.
.
Where to stay on Little Cayman:
There are great options for Airbnb, but due to the size of the island, Airbnb's are limited. And you'll need your own transportation.
Resorts are best if you're looking for something all-inclusive with optional scuba diving packages. The best resorts on Little Cayman are:
Things to do on Little Cayman:
Scuba dive in Bloody Bay Marine Park!! (Dive packages are available at most resorts)
Take a dip in the crystal clear waters at Point of Sand
Kayak to Owen Island
Hang out with the iguanas
Rent a scooter and explore the island to find things like the quaint island-style drink stand on the east end of the island
.


Best restaurants on Little Cayman:

Restaurants are few and far between on Little Cayman. Most of the restaurants are located in resorts, but there are a few privately owned-eateries if you're looking for a more local experience. Here are the best places to eat on Little Cayman:
Hungry Iguana: part of Paradise Villas. The only full service a la carte restaurant on the Island. They serve Caribbean style dishes crafted from fresh ingredients delivered on the barge each week ($$$)

The Bird of Paradise Restaurant

: Part of Little Cayman Beach Resort. Caribbean and international cuisine. All meals served buffet style. The restaurant hours revolve around dive schedules and even stay open late to accommodate night dives. Check the website for operating hours! ($$)

"Cook Food" Little Cayman

: Locally owned and operated. Serves homemade traditional Cayman-style food, unique dishes made of curry/beef/fish, quick service. This restaurant is take-out or delivery only. "Cook Food" will prepare homemade meals for one person or groups of people, and then deliver it to you no matter where you are on Little Cayman! A small delivery fee may apply depending on your location. You can make arrangements by phone at (345) 322-0208 or email [email protected]


.
---
.


Cayman Brac

.
Cayman Brac is the easternmost of the three Cayman Islands. The island gets its name from the giant limestone bluff that runs the length of the island. Popular with rock climbers and scuba divers, Cayman Brac is, arguably, the most off-the-beaten-track island in the Caymans. It's also the most rugged island. You won't find sandy beaches here, since most of the island is comprised of limestone and rocky shoreline. The Brac is most known for its numerous limestone caves, sinkholes, and offshore dive sites, such as the shipwreck of the MV Captain Keith Tibbetts.

The accommodations are super casual, so don't bother packing your dress! But be sure to pack a pair of sneakers because you'll definitely want to explore the Bluff. Its what makes this island famous, after all!

What Cayman Brac is best for: rock climbing, caving, scuba diving, hiking, an off the beaten path adventure
.


Cayman Brac quick guide


.
Getting around Cayman Brac:
For ultimate freedom, rent a car. Otherwise, the hotels and resorts usually have bikes for you to borrow – but don't forget your sunscreen!
.
Where to stay on Cayman Brac:
Airbnb:
Airbnb's will run you about $150 per night.
Save $40 here
.
Resorts: there are quite a few options for resorts, but the best are
.


Things to do on Cayman Brac:
Rock climb on the Bluff
Explore some of the many caves of Cayman Brac!
Scuba diving or kayaking at

Cayman Brac Beach Resort

or the

Brac Scuba Shack

Hike the National Trust Parrot Reserve to see the endangered parrots
Borrow a bike and explore the island
Visit the Cayman Brac Museum
Pick up authentic Cayman souvenirs from NIM Things, a small local craft shop in Spot Bay


.
Best restaurants on Cayman Brac:
Captain's Table: The freshest fish, catch of the day, and amazing drinks ($$)
Star Island Restaurant: Local food. Cayman-style fish, Caribbean dining, huge portions, traditional ambiance ($$)
Cafe Amazon LTD: Cafe. Breakfast, lunch, healthy options ($)
Barry's Golden Jerk: Local food. Best pork bbq and jerk chicken on The Brac ($)
Caribbean Food Restaurant: A little roadside shack with the most local food you can find on The Brac. The chalkboard menu features turtle meat, oxtail, and meatballs ($)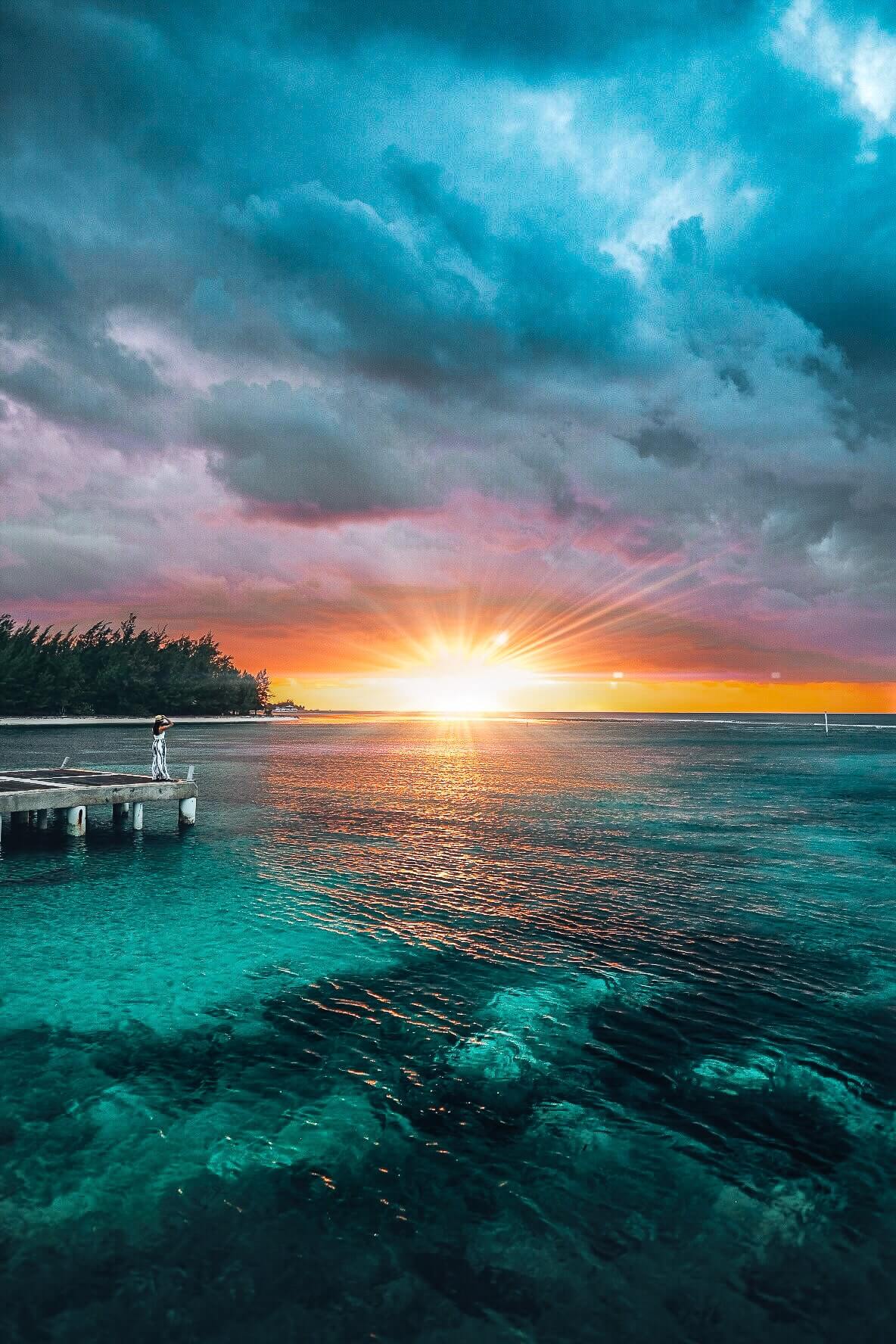 ---
Like this post? Why not pin it for later?
WANT TO SAVE MONEY TRAVELING?
Check out my list of reliable budget-friendly travel resources that are guaranteed to save you the most money, without compromising your experience.