Diving the Great Blue Hole: What It's Really Like
For the Blue Hole. That was my first response when Greg asked me, "Why Belize?"
You've seen it featured in NatGeo, Discovery, Travel and just about every scuba media outlet in the world. 1000ft wide, 400 feet deep, this geological wonder lies 2 hours by boat off the coast of Belize. Its been named one of the best dive spots by Jacques Cousteau, one of the natural world wonders, and holds a place on the list of top 10 of the most amazing places on earth. And naturally, it was an adventure that I wasn't willing to compromise on, so and it was at the top of our list.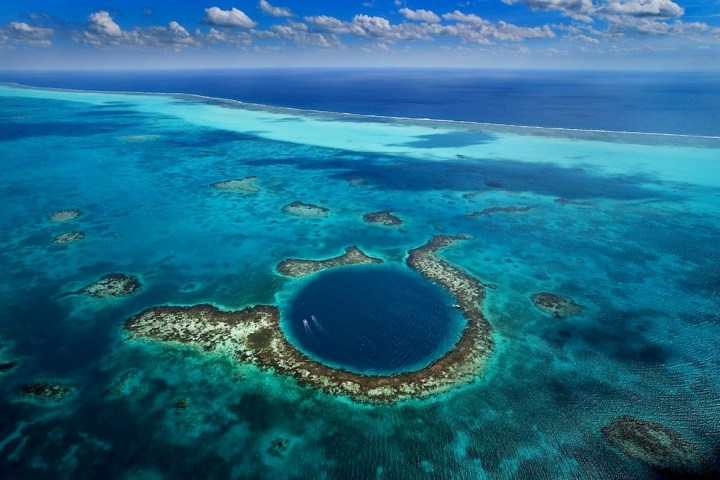 Our first stop in Belize was Caye Caulker, a small island off the mainland, famous for its laid back vibe and ease of organization/participation in everything water-adventure related. But having missed the first day and a half of our trip due to flight delays, we arrived without a plan, sufficient time, or prior reservations for a dive charter. So with our fingers crossed, we began wandering the island in search of a dive company that would take us out to the barrier reef the next day.
After a few failed attempts to secure last minute spots, a quick google search directed us down a side street to our last hope. Luckily they had two spots open. We spent the next twenty minutes verifying our SCUBA certification cards; confirming our appropriate certification levels; and filling out paperwork releasing the company of any liability in the event of an accident. The usual. Then we forked over a pretty penny and walked out with two reservations for 5am the next morning.
Morning came quickly as my alarm buzzed around 4:30am. We scrambled around in the dark of our hostel dorm, mindful not to disturb our roommates, as we gathered our gear for the day. We made our way out onto the desolate dirt road, illuminated only by sparsely spaced lamp posts and the neon welcome signs of the surrounding storefronts. The morning air was salty, humid, and a bit chilly as we walked to the dive shop, dodging puddles from last night's rain and dogs sleeping in the middle of the road.
The wind and rain picked up again as we arrived at the shop and joined the others in our group. Word had it that the other dive shops had cancelled that morning due to the weather, and I couldn't tell yet if we were lucky or unlucky to still be heading out. But we loaded up our gear and departed for the open water at sunrise.
As we left the safety of the inshore reef, the waves grew until they began rolling and crashing into the boat. I had never seen such a crazy swell. The whitecaps were angry and the skies ahead were dark and menacing. Everyone sat in silence, either out of nerves or seasickness (or both), as the boat climbed and crashed back down with the waves. Thankful for remembering my seasick medication, I looked out over the bow to size up the small piece of blue sky we were aiming for way in the distance.
But just as the captain promised, the skies became clear and the sea was calm as we approached the barrier reef. We passed through narrow turquoise channels peppered with white sandy cayes and pods of dolphins gathering to play at the bow of the boat.
THE GREAT BLUE HOLE
It took about 2 hours to get to the Blue Hole from Caye Caulker. If you've seen pictures of the Blue Hole, you have almost certainly seen a picture from the air – the prominent dark blue circle in a sea of turquoise. But approaching from a boat, we actually had no idea when we even arrived. From sea level the ocean surface just looked homogenous.
By the time we moored at edge of the hole, the clouds were catching up to us and it was starting to rain. The dive leaders gave us a quick briefing on our dive profiles while they herded us into two groups: those qualified to dive to the recreational limit and those who would hover around 60ft.
Greg and I joined the deep group. We were told to expect a steady descent to 130′, where we would explore the wall and caverns, before ascending to join with the other group. It sounded relatively straightforward, so we quickly geared up and hopped in the water.
Bouncing with the waves while we waited for the rest of our group, I looked down. From the surface, it was hard to tell where the Blue Hole began, but from the subsurface, sunny and shallow sandy substrate suddenly dropped off into a dark abyss. When everyone was in the water, we began to descend.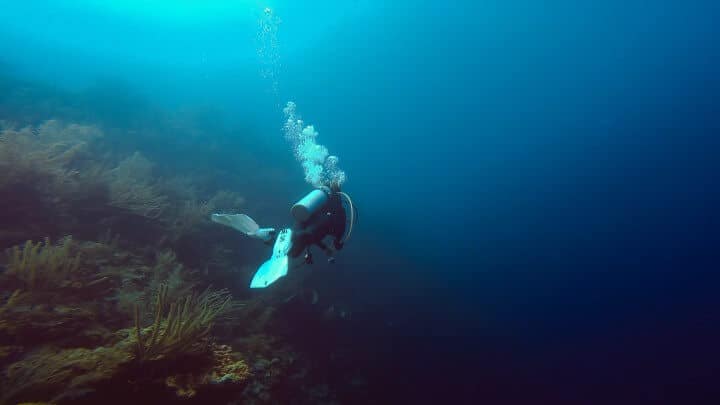 I watched as my depth gauge plunged from 0 to 40 feet to 130 feet in a matter of minutes. It was dark. The pressure of our depth compressed our bodies and the nitrogen saturation played tricks on our minds. I looked around, at ghostly stalactites the size of houses hanging from the top of the cavern, created before the site was covered by the ocean; at the flashlights of our group ahead of us; and then straight down into nothing. I remember slight feelings of euphoria as the nitrogen narcosis took hold, thinking how easy it would be to just keep going down…and down…and down.
We'd heard stories about frequent Caribbean shark sightings, maybe a lone hammerhead if you were lucky. But they must have avoided us that day because we saw no signs of life down there. We spent a few minutes exploring the geology at depth before ascending to regroup and depart for the next dive site.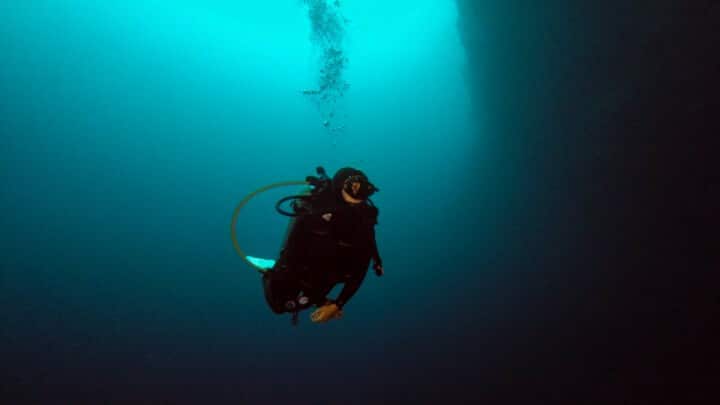 HALFMOON CAYE WALL AND THE AQUARIUM
Our next two dives were drift dives along wall at Halfmoon Caye and at a gorgonian-dominated site called The Aquarium. When we arrived, the sky had cleared and the sun was out, a welcomed change from the dreary morning.
These dives were, by far, the highlight of this day. The coral cover was outstanding. The crackling and popping of the small invertebrates nibbling on the reef was deafening. Although the fish life wasn't as abundant as I had expected, multicolored groupers, schools of snappers, and curious Caribbean reef sharks circled around us as we maneuvered our way through jagged swim-throughs, exploring the life in the cracks and crevices of the coral walls.
Here's a collection of my favorite pictures and videos from this day.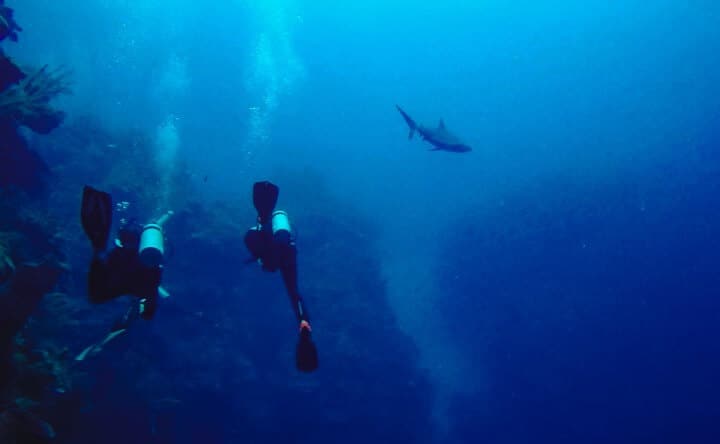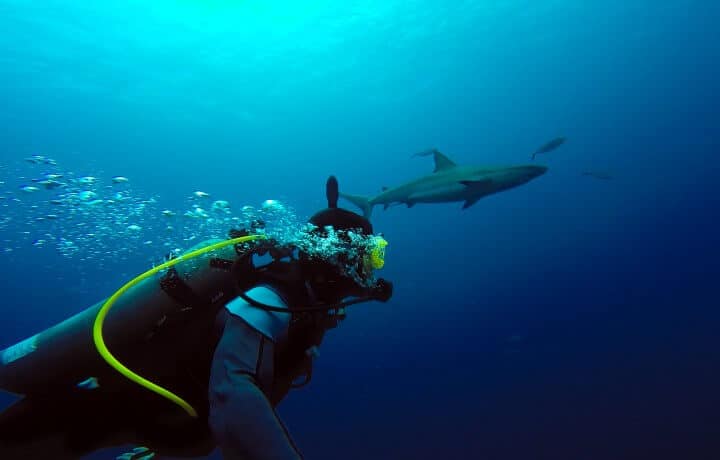 THE PLANNING
Finding a shop:There are a handful of dive shops on Caye Caulker. Several smaller shops offer local charters for small groups, but you'll have to choose a shop with larger charters that are able to take the trek out to the Blue Hole and the surrounding reef.
The two most popular shops that offer tours to the Blue Hole are
Belize Diving Services Frenchies Diving
Pricing:Blue Hole and reef tours are available for about $300/person for divers, $150/person for snorkeling for both companies. Its a full day trip and includes a light breakfast and lunch
Do I need my own gear:Nope! Scuba and snorkel packages or single gear piece rentals are available.
Do I need to book in advance:Not necessarily, but booking online in advance is the only way to guarantee your spot for the day you want. We waited to book until we got there and found that Frenchie's was full for our preferred day, and BDS had only two spots left. So, you can take your chances at waiting if you have several days to choose from, or secure your spot and book online. All charters are also subject to weather, so its best to have some flexibility in your schedule.
Choosing between companies:Honestly, both companies have great reviews and go to the same sites. Frenchies Diving seems to fill up faster than BDS, I'm assuming because its located on the main strip of the island, so its easier to find than BDS, which is located out of the way down a side street.
But what made the decision for us was our time constraint and BDS had spots available for us, and we were very pleased with them, their prices, and their service. Their gear and their boats were clean and in great working order, their staff was fun and knowledgeable. Snacks were given out during surface intervals and we enjoyed a homemade Belizean lunch on Halfmoon Caye.
Final thoughts:
Was the Blue Hole dive worth it? I think so. It was kind of "meh", possibly because we expected to see some kind of sea life. But not only is the site a geological wonder, it's also cool to say we were there and (quite literally) following in the footsteps of Jacques Cousteau. The dive in total lasted about 30 minutes due to its depth profile. Would we do it again? Probably not. I felt as though it was enough to do it once.
The other two dives at lighthouse reef were, however, definitely worth the trip and I'd gladly go back again. Each of the last two dives lasted about 70 minutes each.
And considering that the vast majority of my dives have been work related, it was such a treat to be able to just relax and watch the sea around me.
WANT TO SAVE MONEY TRAVELING?
Check out my list of reliable budget-friendly travel resources that are guaranteed to save you the most money, without compromising your experience.