Traveling Banff on a Budget: Effective Ways to Save Money on Lodging, Food, and Transportation



.
Can you travel Banff on a budget?
Banff National Park is Canada's most expensive vacation destination – and its easy to see why. Its jewel toned lakes, majestic mountains, and world-wide fame are enough to convince any traveler to part with [a lot of] their cash. But that doesn't mean your Banff adventure has to break the bank.
You can still travel Banff on a budget. I traveled Banff for 8 days on $500 once, so I know it's possible. If you're strapped for cash (like I was), here are all the ways you can save money in Banff:
.
Visit in the off season
.
Off-season travel is my favorite way to save money, no matter where I go! Not only is it the time to score the cheapest flights, but you'll also save a bunch of money on car rentals, tours, and accommodation.
And Banff is no exception. Sure, summer time travel gives you the bluest water and warmest weather. And winter travel is, undoubtedly, the best time to ski. But those are the high seasons, so they're also the most expensive.
Instead, consider saving money in Banff by traveling in the off-seasons: spring and fall. In fact, fall is my favorite time to visit Canada (well, its my favorite time to visit anywhere with deciduous trees). But Banff is particularly stunning in the fall because its the only time you'll see the larches turn gold!
Besides, not only is everything more affordable, but its also a hell of a lot less crowded – and that's always a win, amiright?
Read more: How we had some of the most popular spots in British Columbia all to ourselves by traveling in the off season!

.
RENT ACCOMMODATION OUTSIDE OF BANFF
.If traveling Banff on a budget is your goal, then you'll want to avoid lodging in the town of Banff. Staying in the town of Banff is expensive…like really expensive. The entire town is peppered with hotels and lodges cloaked in the rugged-wilderness-meets-luxury aesthetic. And they cost a pretty penny.
In the high season, expect to pay upwards of $300 per night just for a basic room (not including taxes and fees…).
To save money in Banff, opt for lodging in nearby towns. Some good places to look are:
Canmore
Canmore is a little mountain town on the outskirts of Banff. Surrounded by craggy mountain peaks, the town is incredibly charming and somewhere worth exploring on its own. There's no shortage of nearby hikes, nature walks, and opportunities to explore the surrounding wilderness. Lodging here is still a bit pricey, but less so than if you stayed in the town of Banff.
Average price per night: $100
Distance from Banff: About 20 minute drive.
If you don't have a car, the Banff Airporter runs every hour between Canmore and Banff. Book here.
.


Field, British Columbia
Field is located just over the border in Yoho National Park, British Columbia. It's a tiny, colorful, and incredibly scenic alpine town with a local population of less than 200 people. You won't find shopping centers, hotels, or large-scale restaurants here.
But what the town lacks in tourist infrastructure, it greatly makes up for in solitude, serenity, and peace and quiet perfectly appropriate for the alpine paradise of Yoho National Park. If you want to connect with nature and appreciate a simple mountain lifestyle, then Field is your place to be.
Average price per night: Under $100/night for a guest house, depending on the season. Guest houses book up fast, so be sure to book early! There are no hotels here. The best way to book is on Airbnb.
Distance from Banff: 35 minute drive. Must have a car.



.


Cochrane
Cochrane is a town about 20 miles outside of Calgary. It's a residential town and is best for renting Airbnbs for cheap, or if accommodation is filled in towns closer to Banff. Staying here isn't entirely convenient, but it's a decent option if you're traveling Banff on a budget.
Distance to Banff: About 1 hour. Because of the distance, you'll have to decide if the amount of money you'll be saving on accommodation is worth the money you'll pay in gas and the time it will take to commute.
During my first visit to Banff, we rented an adorable Airbnb in Cochrane for $35 per night and our car was pretty fuel efficient, so for us it was worth the money. You'll have to decide what works for you.
Note that the Banff shuttle doesn't run in Cochrane, so you'll need a car to commute.
Calgary
You technically could stay in Calgary if you had to. Accommodation would definitely be cheap, but given the commute time (about 2 hours one-way), it would be a huge pain to stay there if you planned to commute to Banff every day.
Staying in Calgary would only make sense if you wanted to visit Banff for the day.
If you didn't have a car, the Banff Airporter runs from Calgary to Banff every hour.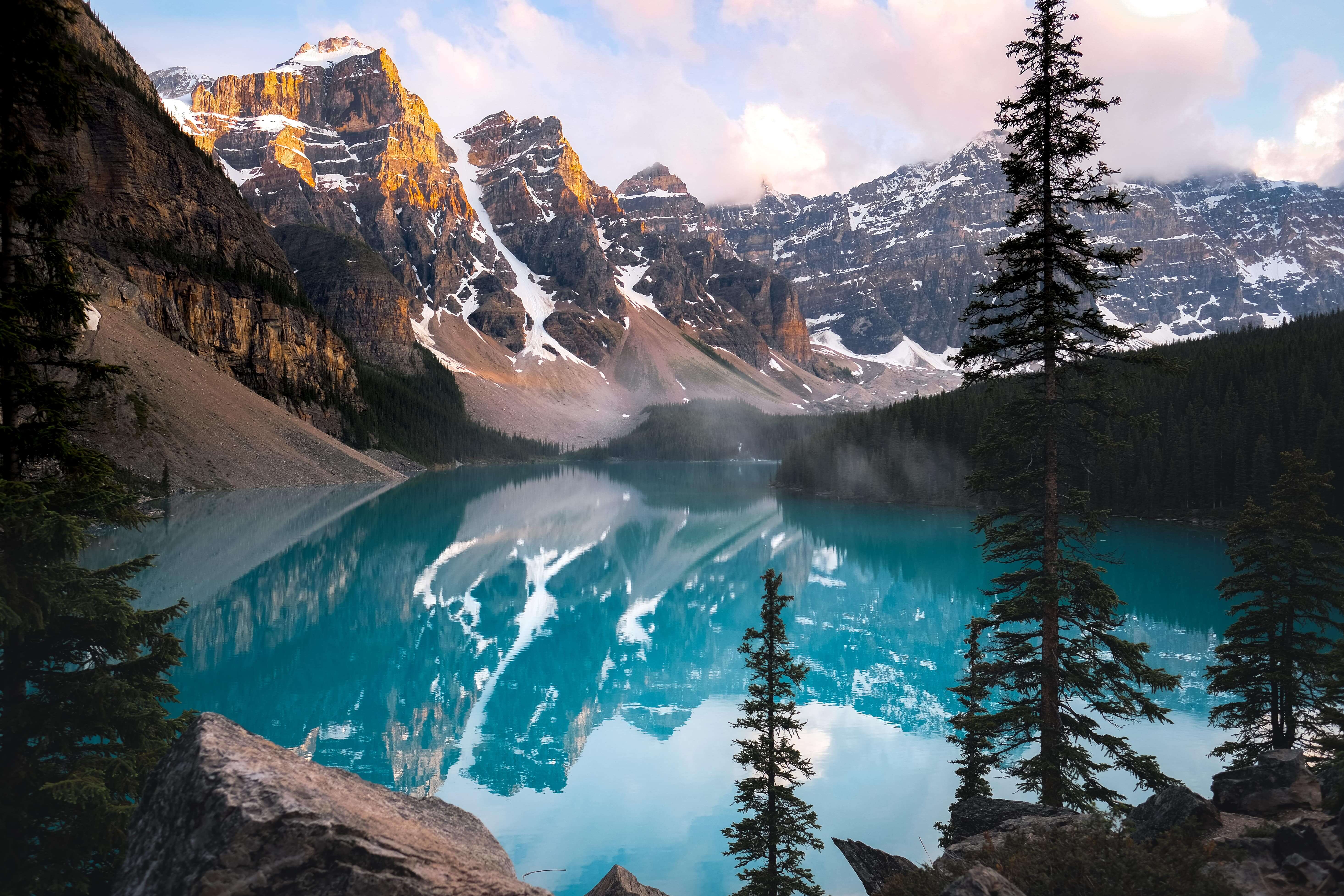 STAY IN A HOSTEL
Consider staying in a hostel if you want the convenience of staying in the park without paying the price of a lodge. There are some really great hostels right in the middle of Banff and Jasper that won't break the bank.
And I knowwww…hostels aren't everyone's first choice. But hear me out.
Although its definitely true that not all hostels are created equal, there are some real gems in Banff and Jasper. And besides saving a bunch of money, there are other pros to living a hostel life, such as:
Meeting like minded travelers
Joining group trips
Access to a full kitchen to cook your own meals
Options for private rooms [for a fraction of the cost of a hotel]
Super convenient location right in the heart of town


.
The best hostels around Banff and Jasper:
Samesun Banff: great party atmosphere, perfect for meeting people
Jasper Downtown Hostel: brand new, includes full privacy curtains, quiet, absolutely stunning
Canmore Downtown Hostel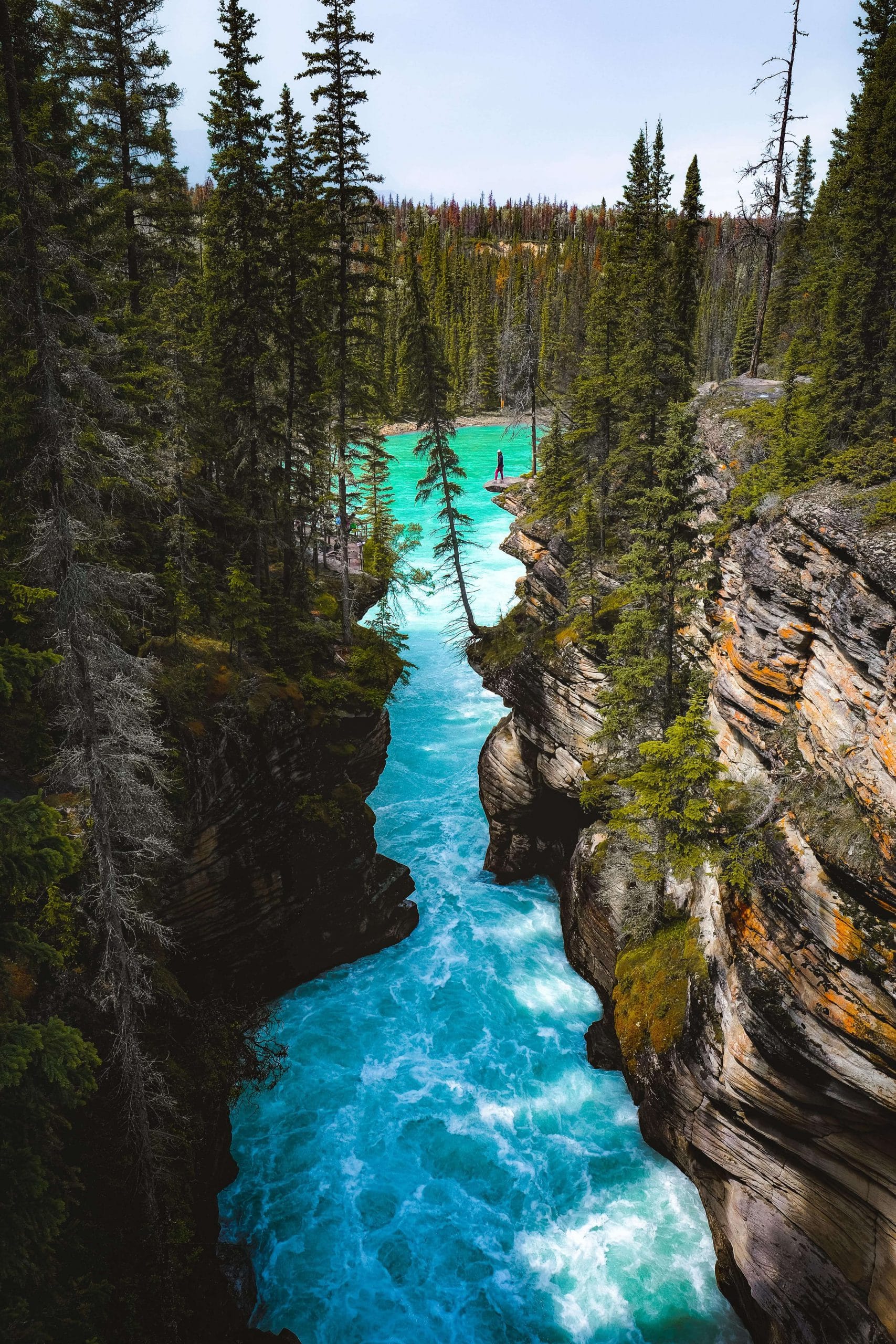 BOOK A CAMPSITE
.If roughing it is your thing, then camping will save you the most money in Banff. And, of course, give you the best views.
There are dozens of campgrounds scattered around Banff, Jasper, and along the Icefields parkway. But campsites close to Banff tend to book up FAST in the summer, so you'll need to book those way ahead of time.
If you're unable to find vacancy around Banff, you'll have a better chance at finding open sites as you move up the Icefields Parkway toward Jasper.
Camping resources:
Car camping: You're technically not allowed to car camp along the Icefields Parkway. But you are allowed one free night of car camping in the motel parking lot of the Saskatchewan River Crossing. This includes access to their services (restaurant, bathrooms, laundry). But be sure to check in with the motel first.
.
GO GROCERY SHOPPING TO SAVE MONEY IN BANFF
You'll save a lot of money on food if you're not eating out for all three meals.
A typical meal in Banff will cost you about $20 (or more if you add drinks). Stop at the grocery store and stock up on food for breakfast and lunch.
Save even more money by preparing all of your own meals. Renting an Airbnb or a hostel will give you access to a kitchen.
TIP: Buy groceries at Save-On-Foods in Cochrane, if you'll be passing by. You can sign up for their membership at checkout to save a bunch of money.
.
FILL UP ON GAS BEFORE YOU DRIVE THE ICEFIELDS PARKWAY
Gas is expensive in Alberta – especially around Banff.
Gas is cheaper in Canmore and cheapest around Calgary. So fill up in those areas when you can. Gasbuddy will help you find the cheapest prices near you.
But no matter where you fill up, remember to top off your tank in Banff before you drive the Icefields Parkway toward Jasper! Same goes for filling up in Jasper if you're heading south.
There's only one gas station in the 230km between Banff and Jasper. It's located halfway between the two parks, at the Saskatchewan River Crossing. Stop here if you need to fill up and grab coffee or a snack, but be warned that the gas station is full-service only and everything here (including gas) is extremely expensive.

Read more: How To Plan Your Road Trip Using Google Maps
.
BOOK TOURS AHEAD OF TIME
In my post on my top 11 ways to save money on travel, I told you not to book tours ahead of time – mainly because you can usually find pretty good deals when you book last minute spots (because a lot of companies compete for business if they run the same tours).
Unless you're visiting Banff National Park.
If you're booking tours in Banff or Jasper, it pays to book ahead of time.
Due to national park regulations, there are only a select few companies that run tours within the parks, so there's not much competition for business. Take Maligne Lake Boat Tours for example. Maligne Lake Boat Tours was grandfathered in when Jasper National Park became established in 1907. Its now the only company that runs tours to Spirit Island.
Pretty much every tour can be booked through Banff Jasper Collection. Many tours offer 10% discounts for booking in advance. You can also bundle and save up to 15% on some of the most spectacular attractions, including the Columbia Icefield, Glacier Skywalk, and Lake Minnewanka Cruise.
.
BETTER YET…SKIP PAID ATTRACTIONS ALTOGETHER
Of course, there are some activities in Banff that are worth paying for (i.e. canoeing). And a few that you can only pay to do (i.e. boat tours).
But if you want to travel Banff on a budget, there are a TON of free activities to enjoy. And, in my opinion, they're ALL better than paid tourist attractions.
HIKING
Hiking is free! And honestly it should be at the very top of your to-do list. You're in the Rocky Mountains, after all. Plus, you don't have to pay to park. So unless you pay for someone to guide you on a hike, you don't have to pay a thing.
There's an endless number of incredibly beautiful places to explore. Check out Parks Canada's guides to day hikes around Banff:
Resources:
SIGHTSEEING/SCENIC DRIVES
Take the drive of a lifetime up the Icefields Parkway from Banff to Jasper National Park. And don't forget to stop and see the sights along the way!
Other popular scenic drives in Banff National Park include the Bow Valley Parkway and the Minnewanka Loop.
Alternatives to tours
Honestly, I'd choose alternatives to paid attractions any day. Not only to save money, but also because they're more authentic and hardly ever crowded. Some great alternatives to paid attractions are:
Hike Wilcox Pass or the Toe of the Glacier for epic views of the Athabasca Glacier, instead of paying for a glacier bus tour (besides, they're crowded and give off fossil fuels…yuck).
Take an easy hike up Tunnel Mountain for a bird's eye view of Canmore, instead of paying for the Banff Gondola (its also a great spot for sunset)
Hike at Lake Louise and Moraine Lake, instead of renting a canoe
Drive up Mount Norquay, instead of taking the Banff Sulphur Mountain Gondola
Community Events
Check the Banff Calendar of Events for information on festivals, parades, local events, and entertainment.
GO KAYAKING ON LAKE MINNEWANKA INSTEAD OF LAKE LOUISE OR MORINE LAKE
Canoeing is a very popular activity in Banff National Park. And its easy to see why. Who wouldn't want to glide along turquoise lakes with stunning mountain views? But an hour in a canoe on Lake Louise or Moraine Lake will set you back $120/hour.
Travel Banff on a budget by renting a canoe on Emerald Lake in neighboring Yoho National Park instead. Or, better yet, head to Lake Minnewanka. You'll get the same iconic water and mountain views for only $60/hour.

BOOK A CAR OFF-SITE
Rent a car outside of the airport. If you're willing to sacrifice convenience, this is a very effective way to save money in Banff.
Airports charge a host of fees for on-site car rentals. You can avoid all of those fees by renting with an off-site car rental branch. We saved about $150 with Hertz doing it this way.
You'll have to pay for an uber to take you from the airport to the off-site car rental. But once you get there, you can arrange to drop your car off at the airport before you head home.
BUY THE RIGHT PARK PASS
If it's your first time buying a park pass, understanding Parks Canada's pricing can be confusing. In short, if you plan to spend more than one week in any of the parks, it's cheaper to buy the annual pass. One pass is good for every national park (Banff, Jasper, Yoho, etc).
.
.
Like this post?
Share with your adventure buddies or save it for later!



WANT TO SAVE MONEY TRAVELING?
Check out my list of reliable budget-friendly travel resources that are guaranteed to save you the most money, without compromising your experience.