Newfoundlove for Newfoundland: 4 Days in Gros Morne National Park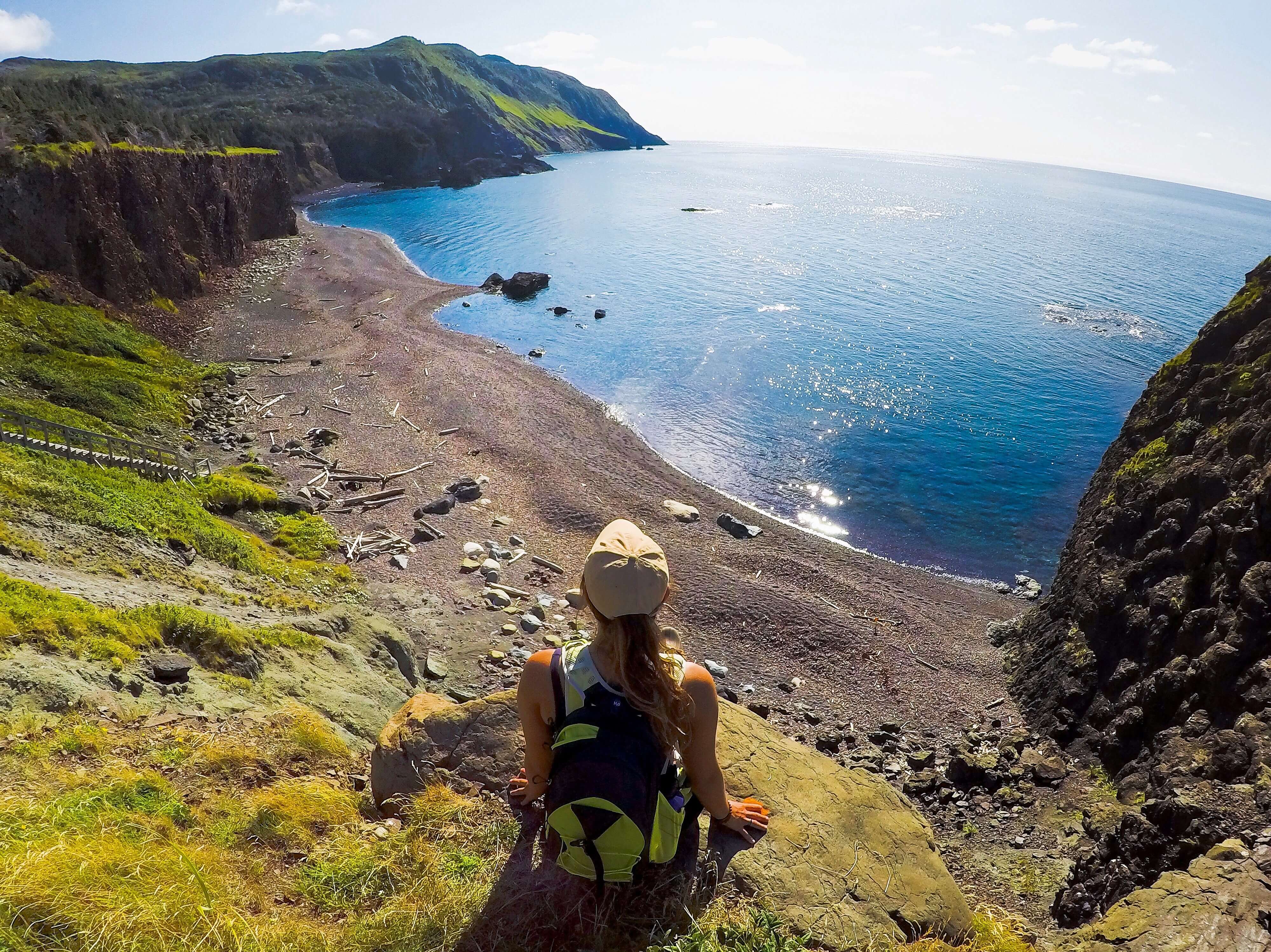 So, like, where exactly is Newfoundland, anyway? Maybe I'll blame it on all those geography classes I slept through in high school, but I'll admit that I had to look at a map the first time I heard of Newfoundland. Turns out, it's Canada's most easterly province and the Island counterpart of the province of Newfoundland and mainland Labrador. It's home to dramatic fjords, rugged coastlines, sweeping barrens, thick boreal forests, and cliff-top meadows teeming
So, like, where exactly is Newfoundland, anyway? Maybe I'll blame it on all those geography classes I slept through in high school, but I'll admit that I had to look at a map the first time I heard of Newfoundland. Turns out, it's Canada's most easterly province and the Island counterpart of the province of Newfoundland and mainland Labrador. It's home to dramatic fjords, rugged coastlines, sweeping barrens, thick boreal forests, and cliff-top meadows teeming with wildflowers. With a total area smaller than Texas, Newfoundland packs a big punch of pristine, wild beauty.
Years ago, I stumbled across a picture of the iconic fjords of the Long Range Mountains, located on the Island's west coast (a quick google search will show you exactly what I'm talking about). Plane tickets were far from cheap at the time, but I knew I would visit someday. Luckily, flight prices dropped this year and I was able to snag a pair of cheap last-minute tickets for a 4-day getaway as I was indulging my (bad?) habit of incessantly stalking Kayak's new explore feature.
Originally, I hoped to see a bit of the whole Island, but after discovering the 7-hour drive time from coast to coast, we opted to make the most of our short stay and limit our trip to the area in and around Gros Morne National Park. Gros Morne National Park is situated on the western side of Newfoundland and stretches inland from the coast of the Gulf of St. Lawrence, where its unique geologic history earned it the status of UNESCO World Heritage Site in the 1980s. There are two main roads that run through the park, connecting the surrounding wilderness to nearby seaside communities. The park offers a wide variety of walking and hiking trails, eco-friendly boat tours, and kayaking adventures. In a nutshell, this place checked all the boxes for me: a quick, relatively inexpensive adventure to a badass "under the radar" destination.
What you'll find in this post

A downloadable PDF of our itinerary and corresponding google maps
Travel tips
My packing list
GROS MORNE NATIONAL PARK
Our flight to Deer Lake was a quick one out of Toronto – totaling all of 2 hours and 30 minutes. We arrived at 1:45am and de-boarded on the tarmac, where we were greeted by overwhelmingly crisp air. It was dark, except for the small light of the airport, though the surrounding wilderness made itself known by the profound scent of boreal forest that hung in the air. I took a few deep breaths as we hurried inside with our fingers crossed, hoping that the rental car staff would be there waiting for us. Given its tiny size, the rental car services at the Deer Lake Airport close between 2am and 7am. Our arrival time was cutting it close due to a small departure delay in Toronto, so we were mentally preparing ourselves to camp out in the baggage claim for the next 5 hours. But, thankfully, the staff stuck around and mission attain wheels was complete by 2:30am.
We reached the park entrance around 3:00am. Normally, you'd stop here during business hours to pay the park entrance fees, but in celebration of Canada's 150th anniversary, Parks Canada is offering free National Park admission for the year 2017. So, we continued on and headed north. The roads in the park were desolate and winding as we made our way up the coast to the parking lot trailhead of our first destination: backcountry camping in the fjords of Western Brook Pond.
We were solid members of team no sleep, with the exception of a low-quality nap on the plane, so we grabbed our sleeping bags and passed out in the car until sunrise.
We awoke to the previously almost-empty parking lot now overflowing with cars and people preparing to take the short hike down to the Western Brook Pond boat tour. We quickly assembled our overnight packs and joined them on the trail for a short distance before splitting off from the crowd to take a small trail that would take us to our campsite.
Western Brook Pond
After fording Western Brook, we followed a 10km herd path through muddy bogs, tuckamore and fields of wildflowers, which would lead us to Gros Morne's hidden gem and best kept secret: an orange pebble beach, tucked away in a secluded harbor of Western Brook Pond. The water, crystal clear and smooth as glass, creating a perfect reflection of the surrounding fjords of the Long Range Mountains.
It was early afternoon when we arrived. We filled our water bottles and set up camp – opting to pitch our tents on the beach, because #tentviews, amirite? The rest of the day was spent taking body-numbing dips in the lake and drying off with naps in the sun. As the sun set, the top of the fjords turned red, casting a pink glow over the bay. Loons glided around the lake and coyotes howled in the distance. It was one of those moments that a picture could never capture. But that didn't stop me from trying (and failing) anyway.
That night, an unexpected change in weather taught us a tough lesson about the power of mother nature. Turns out, the fjords act as a wind tunnel, funneling gale force winds that collapsed our tents on top of us around midnight. How we didn't actually blow away is still a mystery, though it suddenly made sense why the real campsites were located several yards into the forest and not on the beach (lesson learned). It was so dark that our headlamps hardly pierced the darkness, but we eventually managed to carry our gear and our tents off the beach, away from the howling winds and rising tides, and into the campsites behind the tree line. The winds continued through the night, making me question the stability of my ultralight backpacking tent. But Big Agnes pulled through and I ended up staying dry and warm for the rest of the night.
We woke in the morning to gray skies that threatened rain, so we quickly gathered our gear and made our way back through the fjords to catch the boat tour of Western Brook Pond. I think there's so much beauty in avoiding overcrowded (and even more overpriced) "tourist traps", but in this case, the beauty and the tourist trap weren't mutually exclusive. Western Brook Pond was carved by glaciers during the last ice age, leaving it surrounded by sheer cliffs that stand over 2000ft tall. As the glaciers retreated, the land rebounded, and the fjord was cut off from the sea. It is now a pristine, ultraoligotrophic, and absolutely freezing freshwater lake, reaching max depths of around 500ft. The lake provides migration routes for herds of caribou and habitat for a variety of fishes and nesting gulls. It's also home to one of the tallest waterfalls in North America, and who doesn't love waterfalls? The boat tour offered a two-hour ride along the length of the pond, so we gave in and forked over our money for tickets and hot coffee. In a nutshell: no regrets.
Tablelands
Our next day started at the Tablelands. Half a billion years in the making, the Tablelands are the product of a collision of continental plates that forced the Earth's mantle to rise. The resulting mountains are barren and rust-orange colored, owed to the high concentration of iron in the rock. The desert-like landscape of the mountains stands in stark contrast to the lush green forest around them. The Tablelands are one of the only places in the world where you can walk on the Earth's mantle. That's right – naked Earth. Totally exposed. And if casually being a geologic wonder isn't cool enough, it's also the site were scientists proved the theory of plate tectonics. Tours begin at 10am, so we avoided the crowds by getting an earlier start. We were a few of the only people on the trail around 9am and got to spend some time scrambling off the main trail and exploring a waterfall.
Green Gardens
After hot bowls of seafood chowder in the town of Trout River, we ended our day with an 5km descent through a boreal forest to the volcanic sea coast of the Green Gardens. Along the coast we explored tide pools, coves, rock stacks and pebble beaches, which run for miles below bright green meadows on the cliff-tops. We even made friends with some local sheep.
As we wandered further along the beach, we wished we had more time. We allotted about 2 hours for exploring, but it proved to be not nearly enough. One can easily spend hours exploring the shoreline or relaxing in the strategically placed red chairs on the cliff-top looking out to sea. Its one of those places that makes you want to frolic barefoot in the grass and do cart-wheels. Not joking. The place is magical. Not to mention in the perfect orientation to watch the sunset (hint, hint to all the photographers out there). I basically had to be pried away, but reluctantly gave in to heading back before sunset.
At this point in our trip, I was getting antsy that we hadn't seen a moose. We were in one of the most moose-dense regions in the world, and still the moose eluded us. I firmly declared to myself, and anyone else who was listening, that I refused to leave until we saw one. And just as I was starting to think the Universe really hated me, a moose appeared in the middle of the road. In my state of excitement, I quickly reached for my phone in an attempt to share and document the experience. Sadly, I realized later that I really only saw the moose through the camera lens before it crossed into the bushes. Lesson learned: sometimes you just have to put the camera down.
Bottle Cove
We began our last day on the hung for espresso (because I'm starting to learn that I'm hardly productive unless I'm caffeinated). After finding our caffeine fix at The Old Store Cafe, we left the park to explore nearby Bottle Cove.
We were immediately blown away by Bottle Cove. Green meadows and an abundance of wildflowers stand atop rugged sea cliffs that lead to the crystal clear water of the gulf. The park is considered a day park and there's something to do for everyone – a beach for relaxing, and several hiking trails ranging from easy to strenuous.
We knew nothing about the layout of the park other than what was on the simple map at the trail head. We took a picture of the map and started walking. Being the impulsive person that I am, we decided to follow signs for a "lighthouse". How hard could it be? Wrong. We spent about an hour passing through lush sea-side forests, ascending steep hills with safety ropes, and eventually climbing almost vertically to the top of a mountain. Only to find that there was no lighthouse. We were sweaty, tired, and a little annoyed that we overlooked the fact that the lighthouse was torn down (which we would have known, had we read the sign). But we weren't mad for long because the view was breathtaking. We were rewarded with sweeping views of the surrounding mountains, lakes, and a wide open view of the sea.
Bottle cove is situated right on the Gulf of St Lawrence, and, just like Green Gardens, is an excellent option for sunset peeping. Since it was our last night in Newfoundland, we quickly descended and set out on the hunt for a bottle of wine to enjoy at sunset. We raced back to the car, and started driving to town. Luckily we didn't have to drive far (and by didn't have to drive far, I mean there was a liquor store literally 3 minutes down the road). Newfoundland isn't known for its wine, so we picked up a bottle of Cali merlot for the sunset. However, I did stumble across some local desert wine made of blueberries and partridgeberries. It was called Moose Joose, so obviously I had to buy it to bring home.
We drove back to Bottle Cove for the sunset at "Trails End" and enjoyed Merlot out of Tim Horton's coffee cups (cause why not…?). The sunset was one for the books. Without a cloud in the sky, the sun turned from a red fiery ball to orange and fuchsia and then disappeared below the horizon, giving us the perfect ending to an awesome adventure.
OUR ITINERARY
MONEY SAVING TIPS:
SAVE ON ACCOMMODATION
Camping: Camping in Gros Morne doesn't have to be so rough. And opting to stay at a full-service campground is a great alternative to renting an Airbnb inside the park.
Some of the amenities of the park's full service campgrounds include hot water, hot showers, lighted/heated bathrooms, flush toilets, kitchen areas, fire pits, electricity hookups and even wifi.
Resources:
Airbnb & Hostels: If camping's not your thing, staying with Airbnb or in a hostel is your next best option.
SAVE ON FOOD
Save money on food and drinks by taking advantage of happy hours, where you'll often find deals such as half priced appetizers or 2-for-1 drink specials – a great option is the Merchant Warehouse Retro Cafe & Wine Bar located in Woody Point.
Stop at the grocery store and stock up on food for breakfast and lunch. It will save you a lot of money on food if you're not eating out for all three meals.
SAVE ON FUN
Get outside! There are tons of outdoor activities in and around Gros Morne: whale watching, kayaking, museums, boat tours. A plethora of options can be found below on the official site of Newfoundland Labrador Tourism.
To save money on tours, ask about tour coupons. Often times you can cut the cost of a tour if you take more than one through the same company, such as BonTours.
But check out park's Canada guide to the hiking trails of Gros Morne. Hiking and wildlife viewing are free!
Resources:
---

WHAT I PACKED (Late August):
Tip: The weather changes quickly – bring layers and quick drying clothing
Packable down jacket
Rain jacket
Sturdy hiking boots
Bean boots
Hiking socks
2 pairs leggings
1 pair hiking pants
Wool base layer pants
Wool base layer long sleeve
1 tshirt
1 plaid shirt
1 long sleeve shirt
2 tanks
1 sweatshirt
Baseball cap
Beanie
Gloves
GoPro Hero5
Osprey daypack
Osprey 3-day pack
Tent & rain fly
Sleeping bag
Sleeping pad
Pack towel
Flashlight & batteries
First aid kit
Lighter
Sunscreen
Paper map & compass
Plastic bags
Camp soap
Camp meals
WANT TO SAVE MONEY TRAVELING?
Check out my list of reliable budget-friendly travel resources that are guaranteed to save you the most money, without compromising your experience.