10 Must-See Places on Iceland's Southern Coast

The hardest part of traveling Iceland is, without a doubt, deciding how to spend your time; sifting through which places you absolutely must see, because, well, there's a whole lot in Iceland worth seeing. Snow capped volcanoes, shimmering glaciers, steaming hot springs, crashing waterfalls, and jet black floodplains all fight for your attention. If you've been here before, then you know exactly what I mean.
But if this is your first visit to the Land of Fire and Ice (or if you're just coming back for more) and you're wondering where to start, then the good news is that I've taken some of the work off your hands by whittling down a list of some places along Iceland's most famed southern coast that you definitely shouldn't miss.
All equally breathtaking, these stops make great individual day trips from the city or are easily combined into the ultimate southern coast road trip.
.
The Route

The Sights
Listed in order of increasing distance from the Keflavik airport.
The Blue Lagoon
Touristy? Yes. But worth it? Also, yes. Going to Iceland without visiting the Blue Lagoon is like going to Paris without seeing the Eiffel Tower. Plus, a soak in the milky waters of this man-made lagoon is the perfect (and ultra-relaxing) way to start or end your trip.
Book in advance here.
Where to eat: Find traditional Icelandic cuisine at the on-site LAVA restaurant
Where to stay: Anywhere in Reykjavik or on the Reykjanes Peninsula
Reykjavik
Iceland's colorful and quirky capital and the country's largest city. No trip to Iceland is complete without a trip to Reykjavik. With attractions such as the Blue Lagoon, viking history museums, colorful murals, and endless shopping, Reykjavik has something for every kind of traveler. Not to mention an impressive number of bars, restaurants, and bistros, staffed with world-renowned chefs serving traditional Icelandic cuisine. Take a day to wander the streets and see what the city has to offer.
QUICK GUIDE:
Shopping streets: Laugavegur and Skólavörðustígur
Where to eat:
Best Traditional Icelandic Food: Old Iceland Restaurant
Best Cafe/Bistro: Snaps Bistro Bar
Best places to try all weird things: Bjarnarhöfn Shark Museum, 3 Frakkar Hja Ulfari
Where to sleep:
Coolest hostels: Loft Hostel, Galaxy Pod Hostel
Coziest hotels: Reykjavik Residence Hotel, Hotel Odinsve

..
What to see: Hallgrimskirkja Cathedral (buy a ticket to the tower for the best view of downtown Reykjavik), Sólfarið Sculpture (Sun Voyager), National Museum of Iceland, Icelandic Phallological Museum
Where to catch the sunset like a local: Kvika Foot Baths..
The Golden Circle
If you've even so much as googled anything about traveling in Iceland, I'm willing to bet you've already come across The Golden Circle. The area itself is generally very touristy, but for good reason.
Located about 1 hour from Reykjavik, the Golden Circle makes a great day trip to experience all of Iceland's different geological features in one go (waterfalls, geysirs, hot springs, volcanic craters, etc).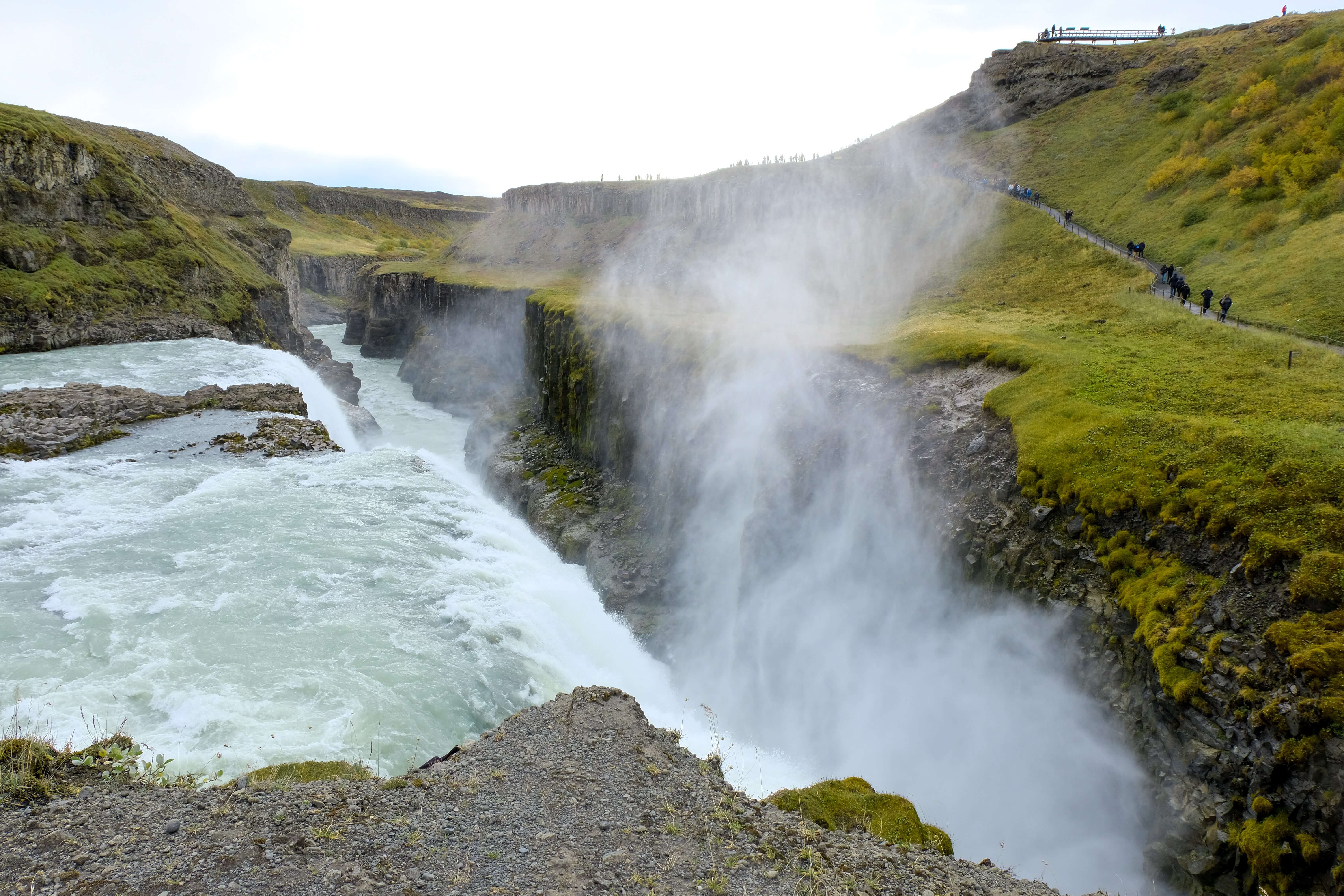 You can easily drive it yourself, or as part of a tour – which can be organized from the airport or from your hotel.
Don't miss: Geysir geothermal area, Gullfoss waterfall, Kerið crater ($5 entrance fee), Secret Lagoon ($28 entrance fee), Þingvellir National Park & the Silfra Fissure..
Seljalandsfoss & Gljúfrabúi
Seljalandsfoss is another waterfall that you'll see featured on everything from travel guides to postcards. These falls are a little – ok, a lot – touristy, but definitely a spot you can't miss. This waterfall is unique in that you can walk all the way around it and if you visit around sunset, you might even get lucky enough to watch the falls turn gold.
Seljalandsfoss is easily visible from Route 1. You'll have to pay a small fee to park in the main lot.
When you start itching to escape the crowds at Seljalandsfoss, head next door to Gljúfrabúi .
Appropriately named "canyon-dweller", Gljúfrabúi is located inside of a canyon just off the path next to Seljalandsfoss. Pack your rain gear if you want to get up close. You'll have to wade through a river to enter the canyon, where you'll then get soaked by the mist from the falls.
Tip: if you're a photographer, bring a wide-angle lens for this one!
Where to eat: Seljaveitingar Ehf. The cafe right next door to Seljalandsfoss. They sell delicious sandwiches, soups, pastries, and coffee to go. .
Seljavallalaug
A 15-minute hike will deliver you to Iceland's oldest swimming pool, nestled in the valley of towering mountains laced with delicate waterfalls. The pool is filled with hot water that trickles down the side of the mountain from a volcano that's covered in ice.
The temperature of the pool is luke-warm and filled with algae, so it's up to you if you want to take a dip. But even if you don't go swimming, the hike is worth the view of the surrounding valley.
What's nearby: Skógafoss, Seljalandsfoss, Gljúfrabúi.
Skógafoss
One of the most iconic waterfalls in Iceland. Skógafoss tumbles 200 feet over the edge of a cliff, creating huge clouds of mist that reflect vivid rainbows when the sun comes out. The base of the falls is flat, so you can walk right up to it to give your photos some perspective (but you'll get soaked, so dress accordingly).
Skógafoss is easily accessible from Route 1. Leave about an hour minimum to explore the base of the falls and climb the stairs along the side to the viewing platform.
What's nearby: The Skógar Museum. Or If you want to make Skógafoss an all-day (or multi-day) adventure, you can continue hiking the trail that starts at the top of the falls..
Reynisfjara Black Sand Beach
The most well-known black sand beach in Iceland and voted as one of the "Top 10 Non-Tropical Beaches to Visit on the Planet" by National Geographic.
World-famous for its towering basalt columns, miles of jet-black shoreline, and mesmerizing sea stacks, this beach also makes several guest appearances in Game of Thrones.
Reynisfjara is located only 2.5 hours from the city and can easily be made into a 1/2 day destination by itself or a full-day adventure combined with other stops along the way.
What's nearby: Town of Vik, Vik i Myrdal Church, Dyrholaey, Reynisdrangar, DC3 Plane Crash, Reynisfjall
Where to eat: Sudur Vik Restaurant. Serving Icelandic fare, comfort foods, asian cuisine and everything in between. This place gets crowded, though, so make a reservation in advance.
Eldhraun Lava Field
This isn't as much of a destination as it is a quick stop, but you'll want to be sure to keep an eye out for the Eldhraun Lava Field (although you definitely won't miss them).
The Eldhraun Lava Field is 550 square kilometers of razor sharp lava rock created during the third largest eruption since the Ice Age. Today, the solidified lava field is covered in a thick, spongey blanket of vibrant green moss.
And, trust me, you won't miss it. If you drive down Route 1 and the landscape suddenly turns to vibrant green fairy-tale-like mounds for as far as the eye can see, then you've found it.
.
Skaftafell (Vatnajökull) National Park
Skaftafell (also known as Vatnajökull) National Park is Iceland's largest national park and one of the country's most visited places. It's a great place to experience a range of Iceland's most extreme and diverse landscapes, including glaciers, icebergs, dramatic valleys, and lush vegetation.
Check in at the visitor's center for hiking information, travel guides, or to book a tour to explore the area. If you want to walk on a glacier, this is the place to book glacier walks and ice-cave tours year round.
And don't miss out on the hike to Svartifoss waterfall while you're here. A 35-45 minute moderately difficult hike will bring you right to the base of the waterfall, surrounded by massive basalt columns in the middle of a deciduous Icelandic forest. And you might even have the whole place to yourself..
Jökulsárlón Glacial Lagoon & Diamond Beach
Diamond Beach and Jökulsárlón are located off Route 1 and, in my opinion, are two of the most unique and beautiful places along the South Coast.
Jökulsárlón Glacial Lagoon is located in Vatnajökull National Park and sits beneath Vatnajökull, Europes largest glacier. The lagoon is a humbling testament to climate change in the arctic. As the glaciers melt, massive chunks of ice break off into the lagoon.
The icebergs eventually make their way into the Atlantic Ocean, where the tides polish and shape them into captivating ice sculptures that are then washed onto the black sand shore of Diamond Beach.
The Glacial Lagoon and Diamond Beach are located right across from each other off Route 1. If you want to see how Diamond Beach got its name visit at sunrise or sunset to watch the sun illuminate the icebergs.
What's nearby: Continue driving 1 hour east to see the mountains and black sand at Stokksnes
---
And if you just skipped down to the bottom…
…no worries – I got you. Here's a summary of all the must-see places along Iceland's south coast (in order of increasing distance from Keflavik airport)
Blue Lagoon
Reykjavik
Golden Circle
Seljalandsfoss & Gljúfrabúi
Seljavallalaug
Skógafoss
Reynisfjara Black Sand Beach
Eldhraun Lava Field
Skaftafell (Vatnajökull) National Park
Jökulsárlón Glacial Lagoon & Diamond Beach
---
Did I cover it all? Feel free to drop a comment and let me know what you'd add to the list!
---
.
Pin for later
WANT TO SAVE MONEY TRAVELING?
Check out my list of reliable budget-friendly travel resources that are guaranteed to save you the most money, without compromising your experience.